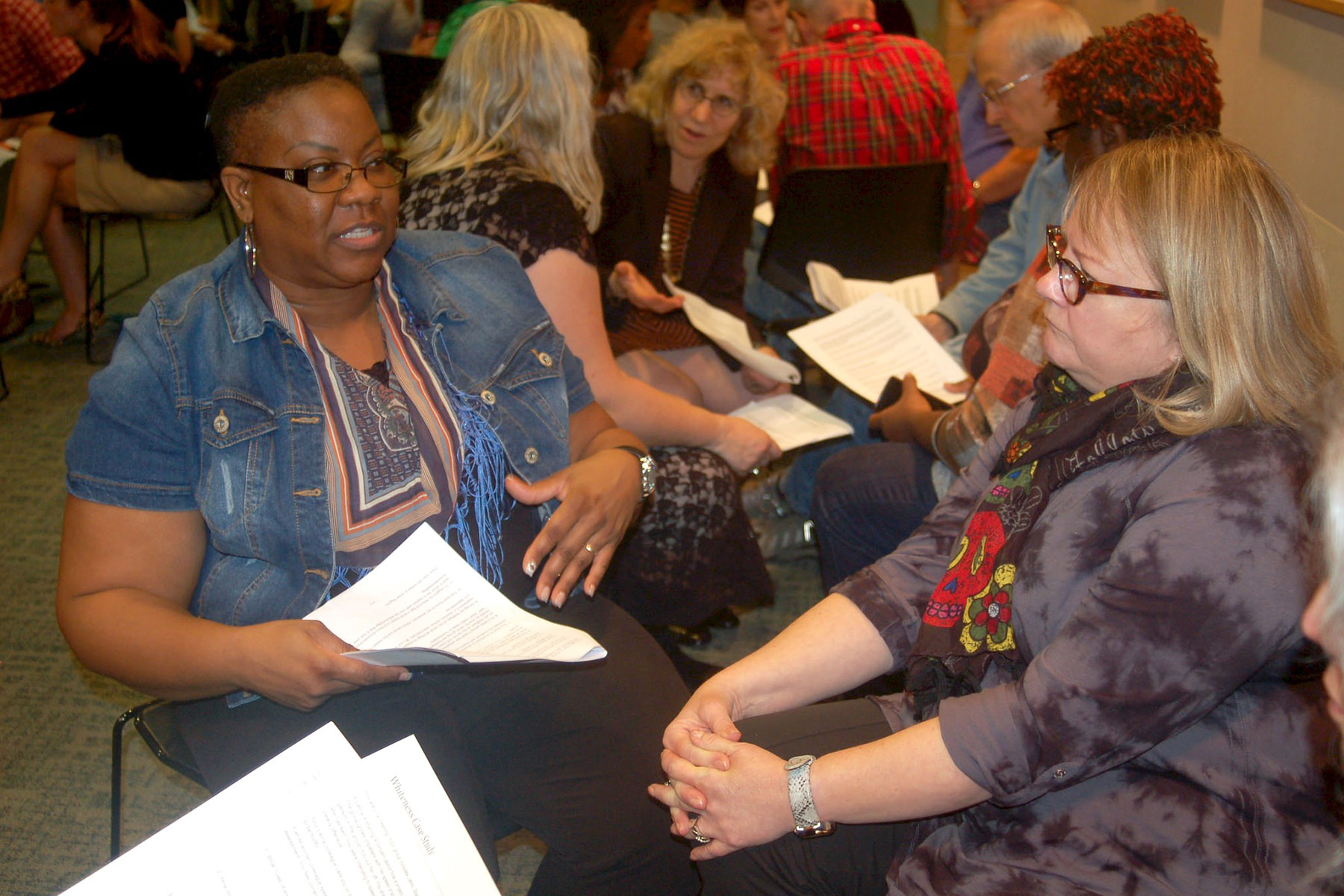 Williams said that she still feels like she has to prove herself every day.
At 50, Lisa Williams said that growing up as a black person, she was conditioned to "move out of the way" of white people.
"White people get to move through the world every day, comfortably," Williams said. "I move through the world as if I am a thief or a criminal. Uncomfortably."
Williams made her comments at a recent YWCA Southeast Wisconsin "talk back" on racial justice, held at Bay View Public Library, 2566 S. Kinnickinnic Ave. An earlier conversation on racial justice hosted by the YWCA was held at the Shorewood Public Library. More than 200 people participated in the two events.
Attendees at both events were asked to read "11 Common Ways White Folks Avoid Taking Responsibility for Racism in the U.S." written by Robin DiAngelo.
"What stands out often are the places of vulnerability people put themselves in," Martha Barry, YWCA racial justice director, said about the conversations.
Those in attendance included black, white, Hispanic and Asian people, ranging from high school sophomores to retired Milwaukeeans.
Like Williams, Terri Ellzey, 46, said she has faced racism throughout her life. As a black woman, Ellzey said that she is often questioned about the way she speaks and where she received her degrees.
"Growing up and even a few years ago too, there have been a number of occasions where someone will say, 'Oh, you speak so well, where are you from?'" Ellzey said.
Ellzey said Milwaukee, where she has been living for 35 years, introduced her to racism.
Ellzey and Shelly Schnupp, who is white, discussed the "bystander effect"—when people, black or white, see racism and do not say anything about it.
Schnupp, who has been the associate director at UWM Helen Bader Institute for Nonprofit Management for more than 10 years, said she wants to change how she thinks about racism.
Ellzey said that it is amazing to hear people say that they do not think about race. Schnupp and Ellzey agreed that, usually, those people are white.
"If you say you don't think about race, it is amazing because you live in this psychological cul-de-sac where you don't have to think about something I have to think about every day," Ellzey said. "It is almost weird and scary to think that people don't think about it."
According to Barry, after participating in conversations such as those offered by the YWCA, attendees start to recognize that "understanding racism can be a journey."
"In order to understand the world, you are going to have to diversify your world," Barry said.
Ellzey and Schnupp agreed that having an open conversation helped them understand more about each other's point of view on racial issues.
"Part of thinking about race, for me, is being patient on my end, and thinking that white people may want to learn," said Ellzey. "We have to … have these dialogues so that we know each other's experiences."