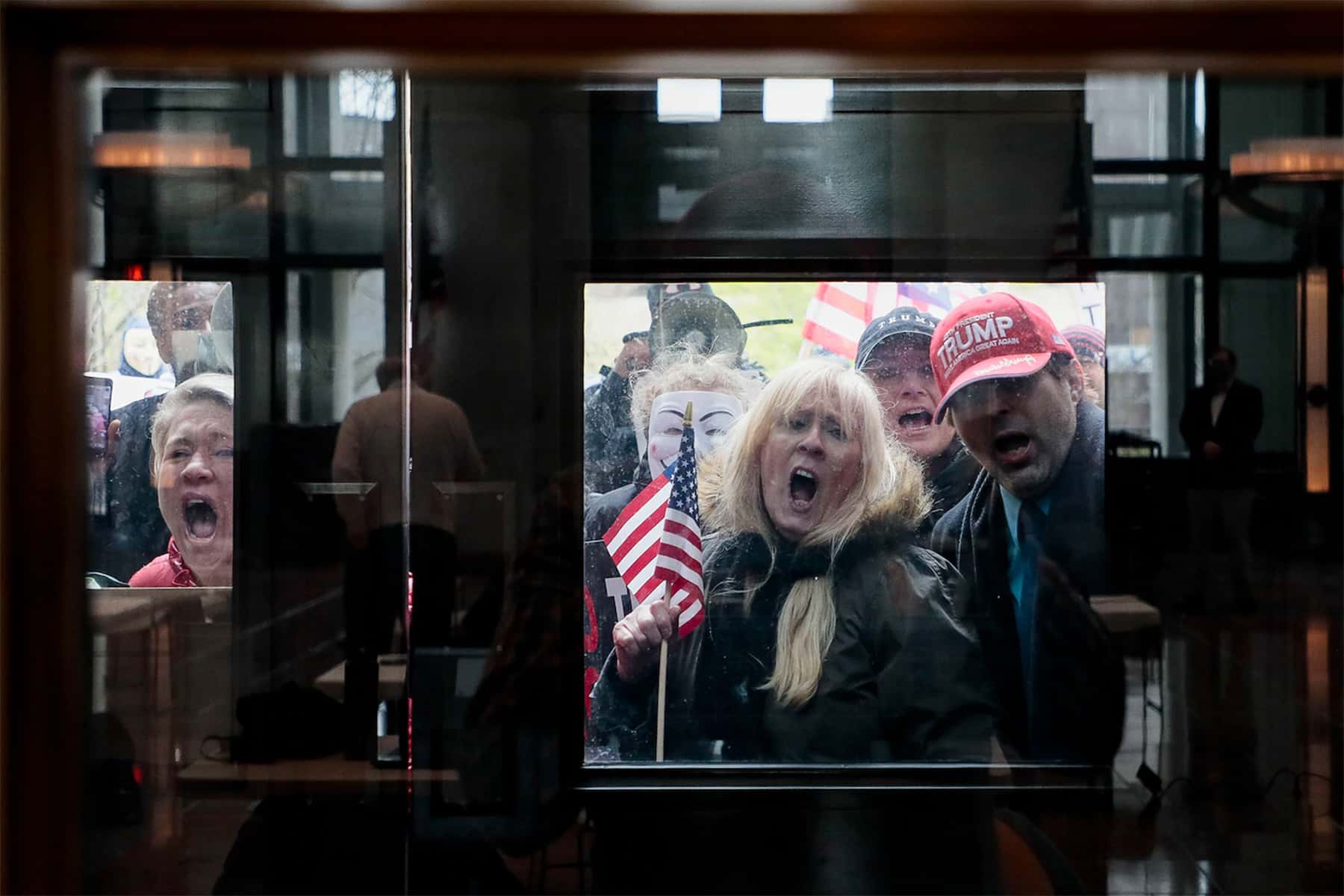 Donald Trump posted highly incendiary tweets stoking protests against physical distancing and other coronavirus stay-at-home measures in three states led by Democratic governors on April 17, days ahead of a planned protest in Wisconsin.
"LIBERATE MINNESOTA!" the US president wrote in capital letters on Friday, April 17. "LIBERATE MICHIGAN!" He followed up with a third tweet: "LIBERATE VIRGINIA, and save your great 2nd Amendment. It is under siege!" – a reference to Virginia's governor, Ralph Northam, last week signing into law new measures on gun control.
Trump has repeatedly ignored his own entreaty to put partisan politics aside during the coronavirus pandemic. His latest provocative interventions followed demonstrations against stay-at-home orders in Michigan, Ohio, North Carolina, Virginia and other states that have drawn elements of the far right.
While protesters in Michigan, Ohio, Kentucky and other states claim to speak for ordinary citizens, many are also supported by street-fighting rightwing groups like the Proud Boys, conservative armed militia groups, religious fundamentalists, anti-vaccination groups and other elements of the radical right.
Some protesters have carried guns, waved Trump and Confederate flags and sought to frame the debate as a defense of constitutional freedoms. They also have been egged on by conservative media hosts from Fox News. The pattern of rightwing groups promoting public protests, while still more radical groups use lockdown resistance as a platform for extreme rightwing causes, looks set to continue in events advertised in other states over coming days.
Protesters are planning a "Freedom Rally" in Wisconsin following the extension of a stay-at-home order by Governor Tony Evers, marking the latest public backlash to state efforts to slow the spread of the coronavirus. The demonstration, led by ReOpen Wisconsin and Wisconsinites Against Excessive Quarantine, is scheduled for April 24, the day the States's initial order was slated to expire.
In Wisconsin, there are nearly 4,000 coronavirus cases and nearly 200 deaths, according to a running tally by the Johns Hopkins University. The kind of irresponsible actions by such protesters puts states in the position where they might have to extend stay-at-home orders.
Trump has offered mixed messages, from claiming "total" authority to order an end of the stay-at-home measures, to issuing phased "guidelines" that passed the buck on to governors to make decisions for when and how to reopen. His tweets on April 17 appeared to undercut warnings from his own experts and drew sharp criticism.
Jay Inslee, the Democratic governor of Washington, tweeted in response: "The president's statements encourage illegal and dangerous acts. He is putting millions of people in danger of contracting COVID-19. His unhinged rantings and calls for people to 'liberate' states could also lead to violence. We've seen it before. The president is fomenting domestic rebellion and spreading lies even while his own administration says the virus is real and is deadly."
The protests have earned comparisons with the Tea Party movement of a decade ago and more are expected in coming days, with the tension between public health and economic reopening viewed through an increasingly partisan lens. Uncertainty and fear over the economic impact of stay-at-home orders is fueling a sort of culture war between conservatives, whose political strength now comes from rural America, right now less affected by the virus, and liberals, whose urban strongholds have been most affected by it.
"History books will say in April of 2020, when the pandemic had already claimed 35,000 lives, the president of the United States incited people to storm their statehouses with AR-15s and AK-47s." – Beto O'Rourke, a former Texas congressman
According to Pew Research, 81% of Democrats and Democratic-leaning independents say their greater concern is that governments will lift these restrictions too quickly. About half (51%) of Republicans and Republican leaners say their bigger concern is that state governments will act too quickly while slightly fewer (46%) worry more that restrictions on public movement will not be lifted quickly enough.
The
Milwaukee Independent
began reporting on what was then referred to as the mysterious "Wuhan Virus" in January 2020. Other local media did not picked-up on the story until many weeks later. Our early features focused on the economic impact, social issues, and health concerns long before other Milwaukee news organizations even mentioned the coronavirus. Over the following year, we have published hundreds of articles about the pandemic and how it has affected the lives of Milwaukee residents. This extensive body of work can be found on our
COVID-19 Special Report
page, a chronological index of links by month. Our editorial voice remains dedicated to informing the public about this health crisis for as long as it persists.
For medical resources, please visit the
CDC's COVID-19 page
or the
Wisconsin Department of Health Services
. All editorial content published by
Milwaukee Independent
can be found at
mkeind.com/COVID19
. With a mission of transformative journalism, our staff is free from commercial bias and are not influenced by corporate interests, political affiliations, or a public preferences that rewards clicks with revenue. As an influential publication that provides Milwaukee with quality journalism, our award-winning photojournalism and features have helped to achieve a range of positive social impact that enriches our community. Please join our effort by entrusting us with your contribution. Your Support Matters -
Donate Now