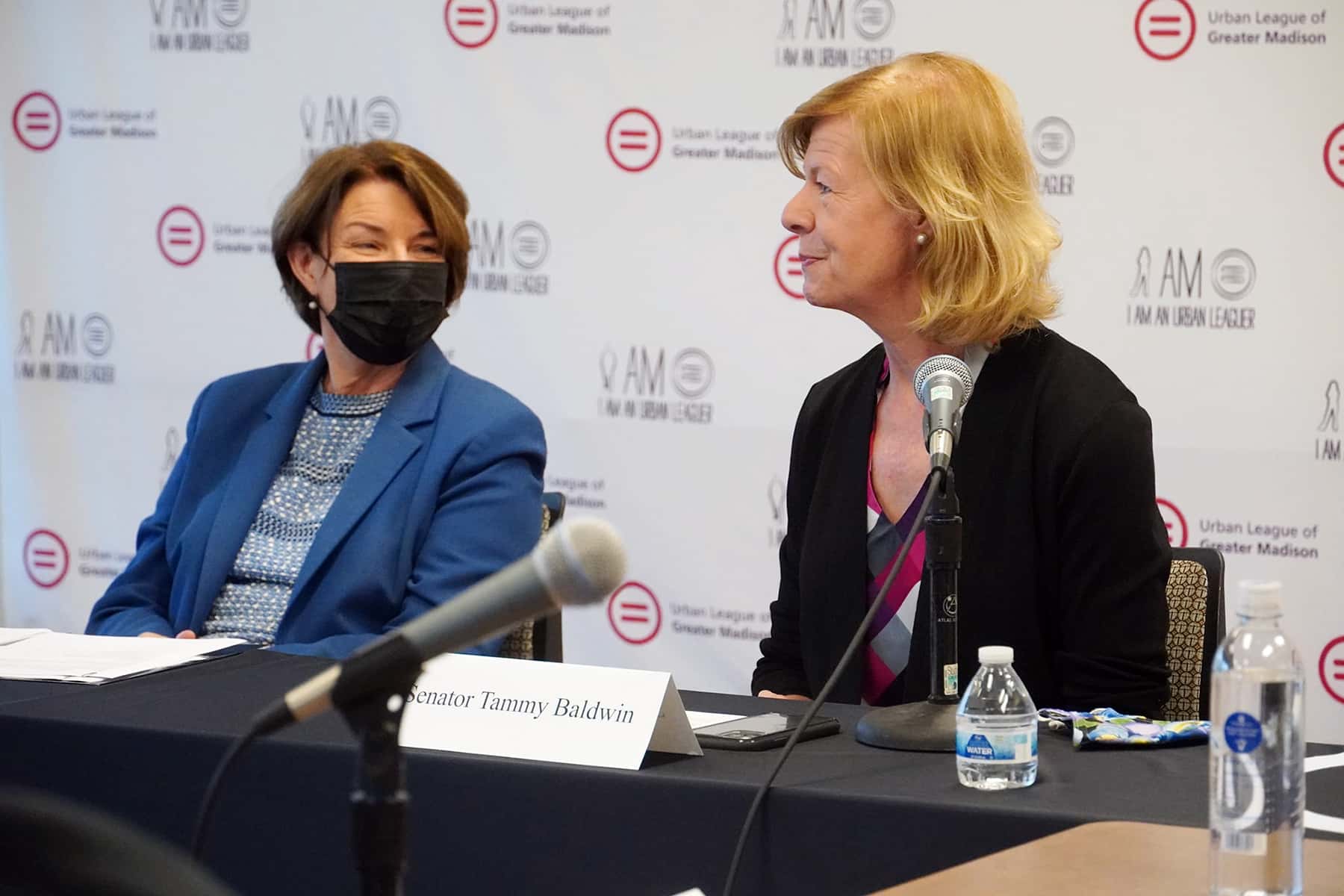 Two Democratic U.S. senators from the Midwest brought their party's push to make voting easier and end congressional gerrymandering to Madison on August 25.
During a roundtable discussion at the Urban League of Greater Madison, U.S. Senators Amy Klobuchar, D-MN, and Tammy Baldwin, D-WI, talked about the path forward for two federal election bills, one of which passed the Democratically-controlled U.S. House on Tuesday with no Republican support.
The John Lewis Voting Rights Advancement Act would restore voting rights protections that have been dismantled by the U.S. Supreme Court. The measure is named for the late Georgia congressman who fought for civil rights in the 1960s. Wisconsin's congressional delegation voted along party lines, with Democrats all in support of the legislation and all Republicans against.
A companion bill, called the For the People Act, also faces GOP opposition and has stalled in the U.S. Senate with Democrats divided on whether to make procedural changes that could push the bill through the Senate, where party control is evenly split.
Still, Klobuchar said she remains optimistic. She called state election laws that could make it harder for people to vote "evil" and said the country has proven it has the will to act on divisive issues.
"That's what you saw with civil rights in the '60s when bad things were happening in states. They came to Washington expecting that is the place where they could find salvation," said Klobuchar.
Changes included in the For the People Act would make it easier to vote in federal elections, end congressional gerrymandering, overhaul federal campaign finance laws, increase safeguards against foreign interference and strengthen government ethics rules.
Baldwin said results of the 2020 election should no longer be in dispute by supporters of former President Donald Trump. And that election changes sought by the GOP would make it harder for some to vote.
"Right now, in the wake of Trump's 'Big Lie,' voting rights are under attack across the country, including here in the state of Wisconsin," said Baldwin.
Governor Tony Evers recently vetoed six Republican-backed bills that he said would have put up too many barriers to voting, like limiting drop boxes for absentee ballots. Meanwhile, a congressional committee led by Democrats held hearings on the January 6 attack on the U.S. Capitol.
"Our democracy is under attack. And we know that democracy is a key ingredient to America's DNA. It is not a Republican or Democrat idea. It is an idea that has made American great," said Ruben Anthony, president of the Urban League of Greater Madison.
Senator Tammy Baldwin / Facebook
Donate: Wisconsin Public Radio