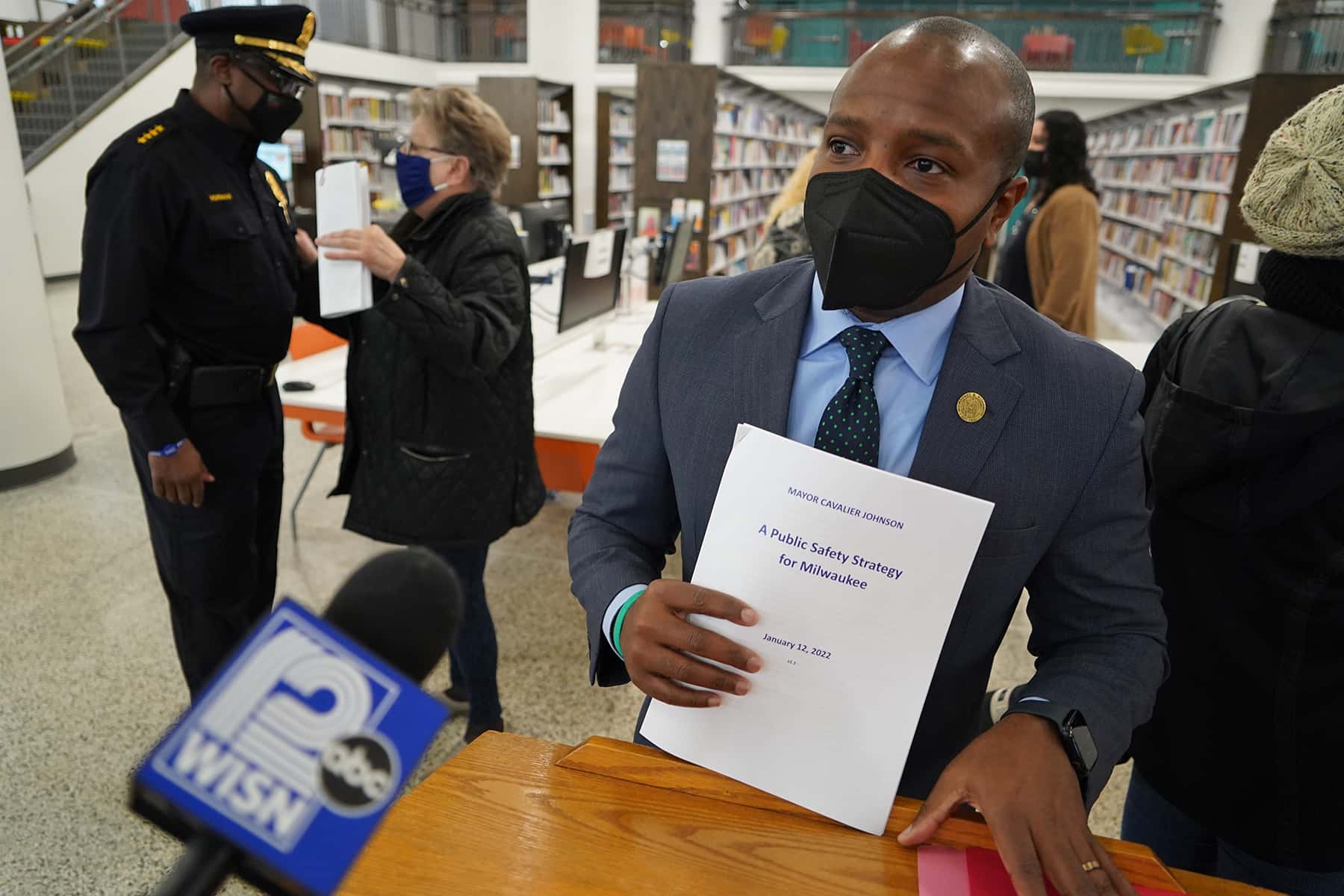 As Milwaukee struggles through another year of public health issues from the COVID-19 pandemic, it faces safety problems from crime and growing community violence. Acting Mayor Cavalier Johnson was joined by City leaders and local stakeholders for a press conference on January 12 at the Mitchell Street Library, where he addressed the situation and outlined a comprehensive plan to reduce violence and ensure safety.
The plan, A Public Safety Strategy for Milwaukee, aims to coordinate a multifaceted strategy of three priorities that includes law enforcement, community healing, and neighborhood-level investments. Mayor Johnson stressed how important it was for the city to partner with Milwaukee Police Chief Jeffrey Norman and MPD leadership, especially the rank and file law enforcement officers who put their lives on the line every day, and members of the community to build trust.
"Milwaukee is at a critical junction. As Mayor, I am committed to the leadership and dedication needed to move this city from a public safety crisis to security and prosperity," said Mayor Johnson. "After five years of decreasing violence we have broken homicide records in two consecutive years. Residents deserve to feel safe. As a parent and as a life-long Milwaukeean, I am committed to turning the tide on violent crime and giving our families and communities the safety, security, and healing we deserve."
Experiencing violence in the city was not something new for the Mayor. In August 2019, then Alderman Johnson was driving with his family when his car was struck by gunfire. The incident happened near his home on Milwaukee's northwest side.
Under his plan, the city would also address the root cause of violence and build up local communities through implementation of the "Blueprint for Peace," created by the Office of Violence Prevention. Mayor Johnson promised to invest $5.5 million in Milwaukee's Office of Violence Protection through the American Rescue Plan Act fund.
"In neighborhoods across Milwaukee, I have met with families that have been impacted by crime. I know what they're feeling. I know their desire to change course from the violence that we see in our city. When my own vehicle was hit by gunfire, I felt a range of emotions. I felt anger, I felt frustration, and I felt hopelessness, because I was powerlessness to prevent situation that happened," said Mayor Johnson. "In my case, nobody was even injured. My son was shaken up. I was shaken up. My daughters were asleep, fortunately, but nobody actually was injured. So I'm aware of the trauma and grief of others who are dealing with actual violent injury and actual death. So it's time for a different path to reduce violence, a path that includes added resources and a commitment to support the approaches we know will work."
Mayor Johnson said that one of the most important elements for the plan to succeed was to engage with local residents and community members, to help sustain safer neighborhoods and invest in upstream crime prevention. He noted that the impact of violent crime was far-reaching, and any one life lost equated to generational trauma felt by many more people connected to the victim. The problem historically has never been something that law enforcement alone could solve. Which is why Mayor Johnson wants equitably invest in prevention and healing to address violence before it happens.
"As Mayor, I am tackling these challenges head on. I am committed to improving the health and safety of our community by reducing violence, supporting social services which address the root causes, and wellness programs which promote community healing," added Mayor Johnson. "To accomplish my vision for a safe and prosperous Milwaukee, I will build upon my work with governmental partners, community-based organizations, the private sector, and most importantly, neighbors and community members. I will continue to work with stakeholders to build on successful strategies to bring folks together to move the needle on gun violence."
As with any complex problem, there is no simple antidote. Reducing crime will take a comprehensive, multi-faceted, neighborhood-level approach. Milwaukee is currently in the midst of violence that unacceptable and unsustainable. The cost of trauma is also far too high, both in the many people it affects and the economic impact.
Mayor Johnson also thanked Chief Norman for demonstrating his sincere commitment to community engagement.
"What's different from prior administrations is that this is something more than I ever saw in my 26 years with this particular department, in how we are being intentional in our conversations, intentional in our working together, and many of us have been doing this without having to be pushed to do this," said Chief Norman. "The acting mayor is very insightful to bring all of these partners here. This is truly how things get done. Our resources are finite. This plan has incorporated a lot of things and it aligns with a lot things the Milwaukee Police Department is working on, and most importantly, it talks about partnerships."
Mayor Johnson visited local businesses along Historic Mitchell Street, meet with the owners and workers, and highlighted economic development and small business support efforts in the city. He was joined by Nancy Bush, Executive Director of the Historic Mitchell Street Business Improvement District (BID) and Commissioner of City Development Lafayette Crump for the outdoor walking tour.