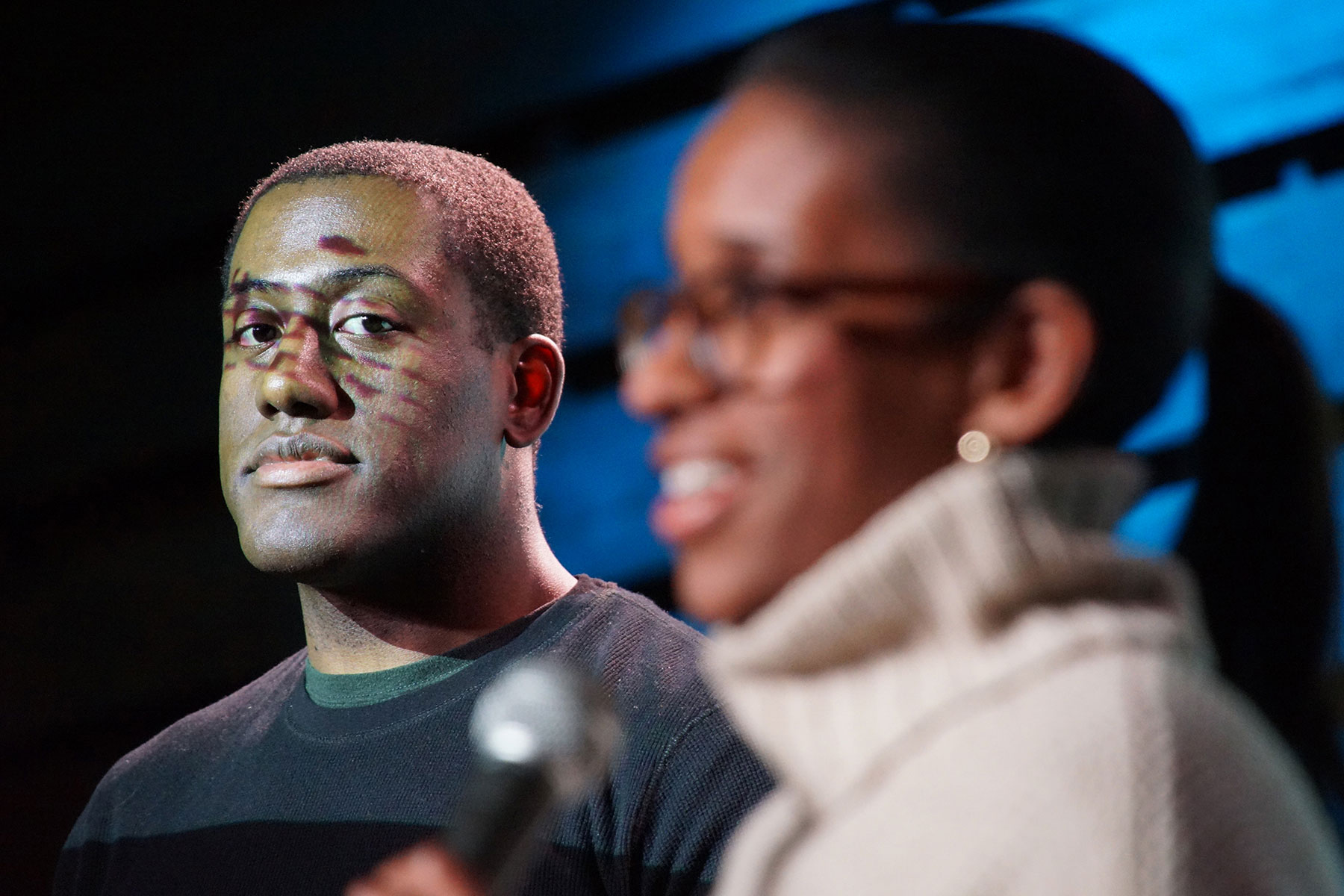 Popular Milwaukee DJ Tyrone Miller re-launched his "Scratch Sessions" program to help Milwaukee youth learn how to DJ as a method to discover alternative music careers.
Dria Rushing knew since her youth that she wanted to be a DJ. At age 10 she created her performance name, DJ Drip Sweat. As she progressed through school she admired hip-hop in all of its forms and continued to be involved with music into high school. Now at the age of 20, she came to realize that the equipment associated with her dream was costly and out of reach.
"One day in high school my mom took me to see a DJ that she knows, DJ O," said Rushing.
Although the meeting went well, Rushing understood that would never go beyond that because it was always about the equipment and not having equipment. In September, Rushing attended her first Scratch Session, a DJ class hosted by Tyrone Miller, aka DJ Bizzon.
"Had I never walked in here, I would not be DJing right now," Rushing said, who has since gone on to DJ regularly at a local bar.
As for Miller, who has been a DJ since 2007, his career inspiration came from a love for music and distaste for other DJs.
"I was hearing DJs that I didn't like and thinking, 'Oh, I could do better,'" Miller said.
Now Miller is a youth DJ instructor, conducting Scratch Sessions at the Jazz Gallery Center for the Arts, 926 East Center Street in Riverwest.
Scratch Sessions are free and available to high school youths ages 12 to 19 who are interested in turning their passion for music into a career. Miller knows some students are not focused on becoming rappers or singers and would prefer to be DJs.
"I know that accessing equipment is tough, expensive and complicated at times, so I just want to make it more available for the community," Miller said. "I really enjoy seeing kids come out of their shells and getting money in their pockets."
Miller uses Serato DJ software, vinyl turntables and Traktor equipment to teach his students the basics of being a DJ. The cost to buy the three products can be up to $300. Since Miller pays for rental space and equipment, he seeks donations and time from volunteers. Some drop off food for the meetings, other volunteers are DJs themselves.
"When it comes to youth work and nonprofit work, sometimes funding determines what you are able to do or not and I wanted to do something that whether there were donations or not we would still be able to be here," Miller said. "Youth will always know that they can be here on Mondays, they have a safe space to come to, they have food to eat and they have other good people in the community to work with."
The sessions are open-ended, so students do not receive a diploma or certificate of completion. Instead, they are given the opportunity to accompany Miller to his personal gigs and receive a portion of the fee. Miller has been teaching students at Ronald Reagan High School how to DJ for the past nine years. He meets with 10 to 15 students once a week for two hours after school.
Adam Murphy, an instrumental music instructor at the high school, reached out to Miller while he was working with TrueSkool.
"I was aware of Tyrone's expertise as an instructor at TrueSkool and as a mentor to several spoken-word students at Reagan," said Murphy. "It's obvious that his knowledge of music and genuine concern and care for our students is taking the club to the next level."
Shaq Matthews started attending Scratch Sessions with Miller in late November. Matthews, who is about 10 years older than most students, wants to pursue DJing as a career. Matthews started DJing at home with her friends from their laptops, and performed for friends and family at neighborhood parties.
"From there, I was really inspired to learn more about the craft so I reached out to Miller," Matthews said. "I know I don't really fit the age parameters but I've seen him DJ and would love to learn, and he made it work."
Matthews has felt a positive vibe since she started coming to the sessions last November, and is rewarded to see people from the community stop by and offer their support.