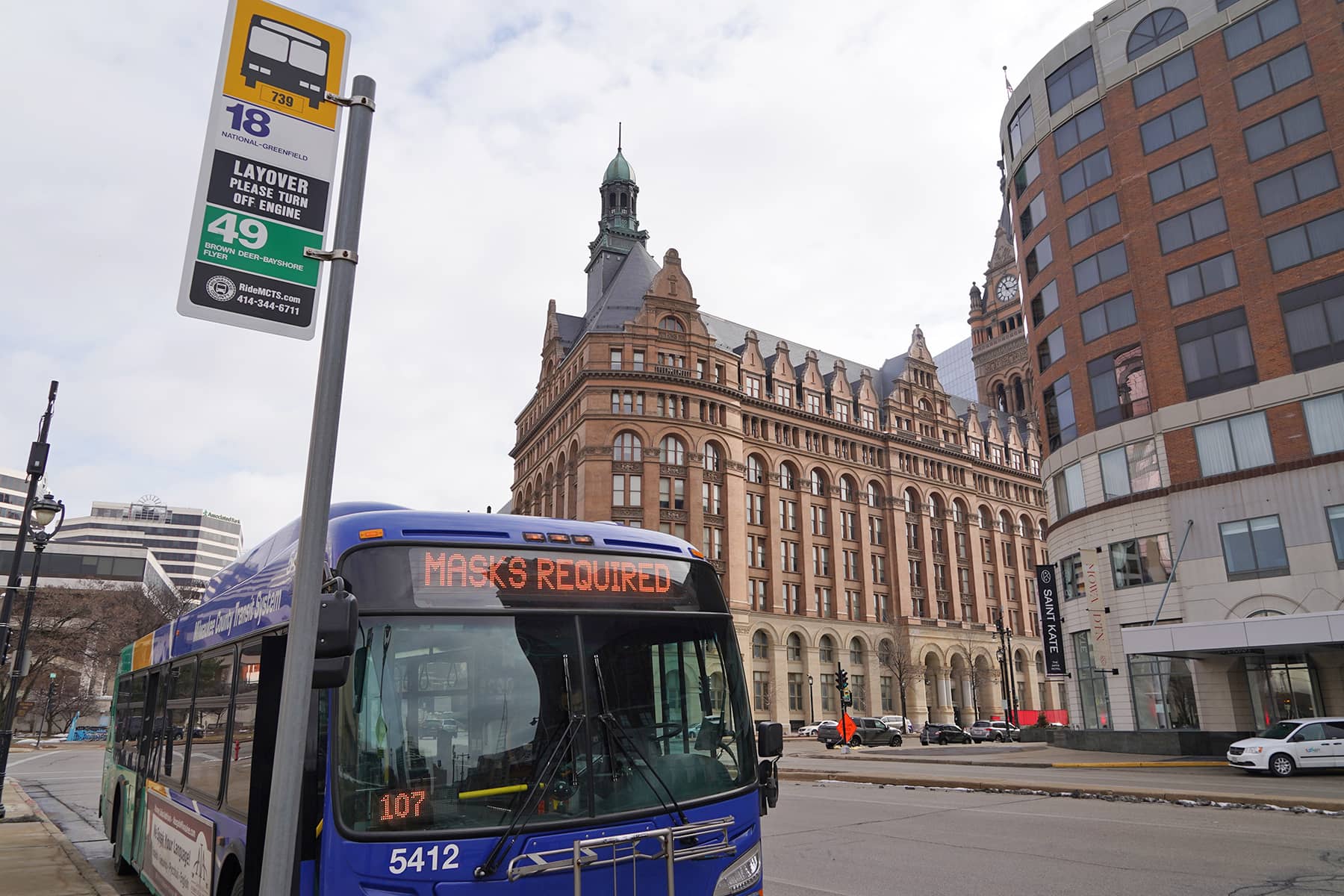 Wisconsin's transit agencies are trying to hang on to riders and attract new ones after two years that decimated ridership and have brought budget and staffing difficulties.
Milwaukee County had plans to overhaul its transit system before the pandemic. But the declines in ridership brought on by a shift to working from home and ongoing worries about virus transmission has made it even more urgent for the transit agency to bring in new riders and retain existing ones.
The county transit system is nearly a year into its MCTS Next redesign, which includes making 60 percent of buses arrive at least every 15 minutes during service hours, up from 40 percent. The system removed some stops that were close together, shortening some routes while extending others. It's been in the works for years, but wasn't fully implemented until last summer.
"With COVID hitting in 2020, we had to adjust some of our plans in terms of outreach and such," said Tom Winter, director of scheduling and planning for MCTS. "But the basic tenets of providing more frequent service in neighborhoods where there's more people and more jobs were valid regardless of the pandemic."
Transit agencies around the country were seeing declining ridership even before the COVID-19 pandemic. Shelter-in-place policies created even steeper drops. The federal pandemic relief packages set aside money for the states to spend on transportation, but those efforts have been criticized for directing funds into highways rather than transit. In Milwaukee, for example, millions are going toward the controversial expansion of the I-94 interstate. At the same time, the Wisconsin legislature is cutting funding to Madison and Milwaukee by 50 percent over the next two years.
The Milwaukee County Transit System is expecting a $32.8 million budget deficit by 2025. Those state cuts, budget difficulties and a bus driver shortage prompted the suspension of specialty routes like its Freeway Flyers and shuttles to Summerfest, the state fair, Brewers games and the city's ethnic festivals.
Winter said the agency has seen about a 15 percent increase in ridership since it rolled out all three phases of MCTS Next last summer. But it's still only got about 60 percent of the ridership it had pre-pandemic.
"We're trying to get back to that original number, but given that the pandemic is still in play, it's going to be kind of a big hill to climb going forward," he said. "This is kind of a big question across the country, of what is that new normal for transit ridership, given all the larger structural changes that are going on in our economy."
A recent report from the Wisconsin Policy Forum found that Madison saw the steepest drop in transit ridership — it has been down 65 percent or more since the first month of the pandemic. There were also declines in Eau Claire, Green Bay, Oshkosh and other transit systems.
Winter said Milwaukee is continuing to tweak its routes in response to rider and driver feedback — it's made sure all the bus drivers' routes have bathrooms they can access, for example. And it worked with the organization Beyond Vision to have one of the bus routes in West Allis stop at the organization's new facility, which opened last fall.
"We're always looking to continue to improve transit in the community, and we rely on the feedback from the riders, from the drivers, from other stakeholders to make that happen," Winter said.
Donate: Wisconsin Public Radio