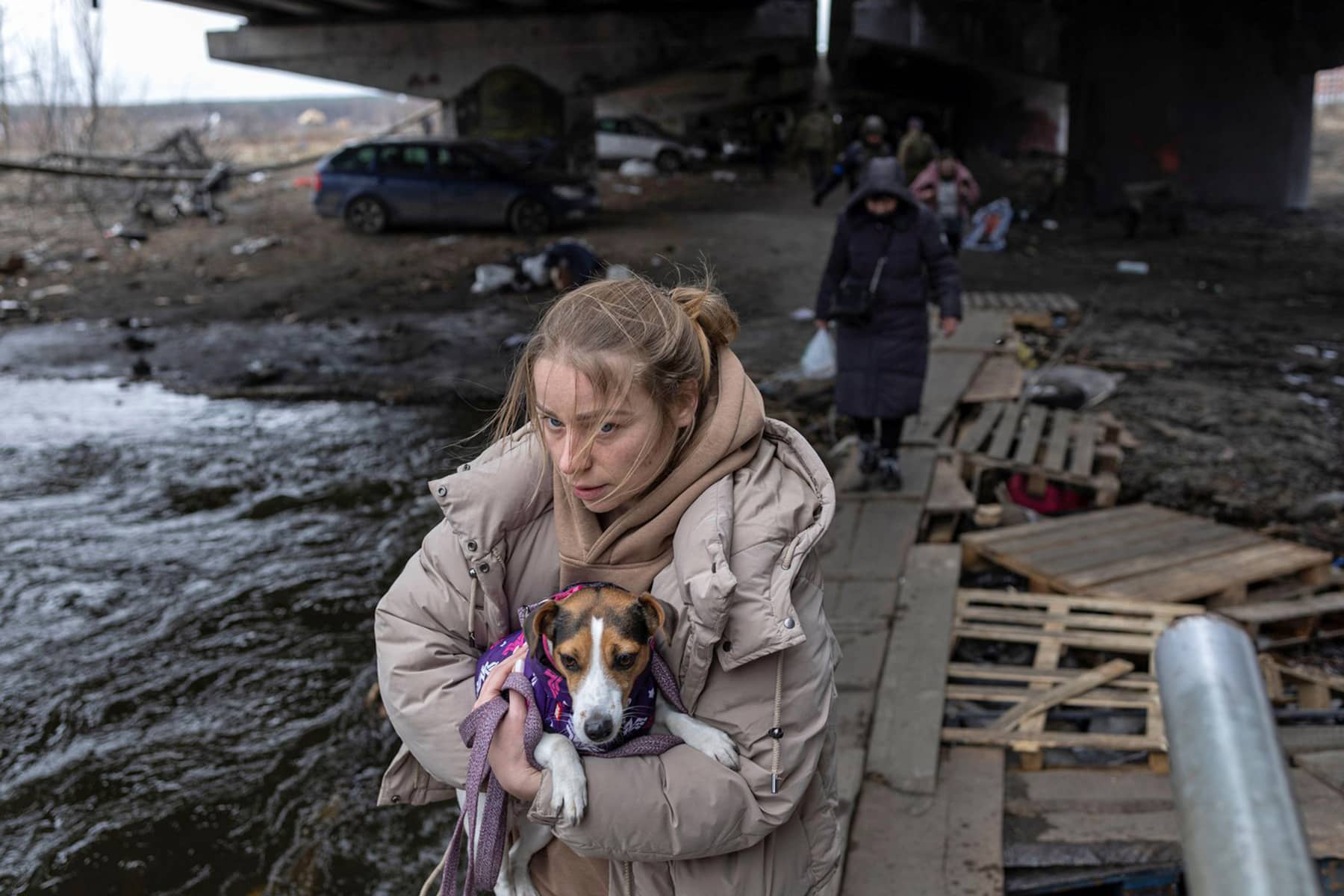 Three volunteers in Ukraine talk about putting their lives at risk to rescue abandoned dogs, cats, and pet birds in the early days of the Russian invasion when Milwaukee's sister city Irpin was under attack.
"What matters is that you're alive," my relatives and friends tell me since I evacuated from Irpin, on the outskirts of Kyiv. But it was not enough. Every time I look at photos of the city I used to live in, my heart sinks. When Russian troops launched a brutal assault on the city, hundreds of people faced the choice of staying in their homes or leaving – and needed help to do both. But animals also faced horrors. In the neighboring town of Hostomel, Russian soldiers are reported to have set fire to a stable, burning more than 30 horses alive. Conversely, one man travelled 94 kilometers from Irpin to the town of Korostyshiv, in Zhytomyr, with his two cows. While fleeing Irpin, many people took their pets with them, but some were not able to.
In the days after the Russian invasion of Ukraine, Dima Naumovich (27), Mariia "Masha" Kryvenko (27), and Anastasiia Trishkina (25) volunteered to help evacuate civilians and animals. During that period, Dima travelled 50 kilometers from Kyiv to Irpin every day to assist with evacuations – until he was hit by a sniper. Fortunately, the sniper missed, only grazing his temple. Today, Irpin's residents are clearing the streets after Ukrainian forces re-took control of the city. I spoke to the three volunteers about how they saved animals while Irpin was brutalized daily by Russian forces.
When did you become a volunteer?
Dima Naumovich: I'm an IT specialist from Belarus. I've been living in Kyiv for four years with my girlfriend Masha. On one of the first days [of the war], Masha saw a call for help on Instagram from a family who was trying to leave Irpin. That's how it started. Masha wrote that we could help and we began receiving dozens of requests every day – to evacuate someone's sister, someone's grandmother. Masha communicated with people and I would drive every day. At some point, people began to say they needed help evacuating animals. Since then, we've received hundreds of requests for helping pets. We also delivered humanitarian aid and food. I'd bring everything to the Romanivka bridge and transport things to people across the city. I'm still at it. Of course, Irpin is currently under Ukrainian control and they are rebuilding, but people still need help. I've come to know the town as if it was my own.
Mariia Kryvenko: I studied languages and specialized in Ukrainian, Belarusian and English. Before the war I made cakes and candy bars to order. After seeing a call for help, I started posting about the situation in Irpin on social media. We received lots of requests. People in a panic wrote to everyone they could think of. Sometimes we'd make it to an address and someone had already come to evacuate people or people had managed to evacuate themselves. It's harder to help now, because the situation is under control in the city and the authorities make sure there are no thugs. You can take people out but it's more difficult with animals because you need to have not only the keys to the apartment, but written permission from the owner. We still have a lot of animals needing evacuation on our list, where we got keys from the apartment owners, who are now somewhere in western Ukraine or abroad. Bear in mind that these are animals which haven't eaten for a month. We simply don't have time to wait for legally certified documents granting us permission to take animals from homes. We'll come up with a solution.
Anastasiia Trishkina: I'm from Luhansk and moved to Kyiv after the war [in 2014]. I studied psychology and international business but I work in consulting. I've been running an Instagram account helping dogs get adopted. It all started before the full-scale invasion, when I saw a puppy on the street and decided to find him a home. I have found plenty more puppies in that situation, everything took off, and, as a result, when the war started I already had 50 dogs under my care who needed a home. When the war began, I realized I needed to help dogs. Some of their owners left them deliberately, some went abroad or to Lviv and are unable to pick them up. At the moment, there's only five of these 50 dogs left. The rest have returned home or found new families. I used to live between Vyshorod [a town north of Kyiv] and Irpin, but there was so much shooting I thought I wouldn't survive. I've only been able to leave recently and have been working remotely. There's some difficulties at the moment: any person who is in someone's apartment without permission will be deemed to be a looter. Even if they have the owner's keys or their passport. We contacted the police but they said: "Guys, these people abandoned their pets, why are you risking your life?" But we can't leave the animals. We plan to contact city mayors for authorization. Let's hope that many people will come back and pick up their pets. We had this one guy travel nine hours back from Warsaw after we'd evacuated his dog. Our group is growing and the number of calls for help is increasing.
Why were the animals abandoned?
Anastasiia Trishkina: There are three reasons. First, some people thought they would be leaving for a few days and then coming back, but this didn't happen. Secondly, many hid in shelters near their houses and didn't take their animals with them. One day they were told to leave urgently and couldn't go back home to pick up their pet. And thirdly, some people left animals with neighbors and friends, who didn't take the animals with them when they left. Some let animals out into the street but others locked them up inside apartments.
Mariia Kryvenko: I remember another story: on 24 February, a married couple in Irpin heard explosions and decided to leave for a village on the border with Belarus to pick up their children and parents. They packed their things and left their pets in their flat, thinking they'd be able to come back a few hours later and take everything. On their way back, they realized they wouldn't make it to Irpin. There were traffic jams and fighting had already started. So they went to Fastiv [a city to the south of Kyiv], without their cat or their things. They were very worried and asked a neighbor to drill a hole in their door and pour food through the hole. When we picked up their cat, we noticed she hadn't even lost weight. There are lots of volunteers. But we've noticed some scammers have also appeared, sometimes posing as volunteers and taking pedigree animals.
What was your first day volunteering with evacuations in Irpin like?
Dima Naumovich: At first, everyone was allowed in and you could drive to Irpin. When I made it to the crossing on 5 March, I didn't know that it was impossible to pass by car – the bridge had been blown up. I had to leave my car, to cross under the bridge by foot and to have volunteers take me where I needed to go. We picked up a family that wanted to leave and then I walked with them under the blown-up bridge so that I could drive them to Kyiv. That's generally how I proceeded.
Mariia Kryvenko: The more dangerous it got in Irpin, the tougher the checkpoints became. It was easier when Dima was carrying humanitarian aid, as it was easier to explain what he was doing. Civilians weren't allowed in Irpin at all, especially in the last days [before it was liberated].
Everyone was shocked by the photographs of dead people on the streets of Irpin and Bucha, who lay there for days. Obviously, this is something you faced every day…
Dima Naumovich: I didn't see mass graves, but I saw bodies of civilians lying on the streets, particularly on streets which had been controlled by the Russians. When the city began to be liberated and the Russians began to leave, I was able to go to parts of the city that hadn't been safe before. On these streets I saw many dead bodies. Perhaps you know that in Irpin the streets run in straight parallel lines – Pushkinska, Kyivska, Universitetska. There were snipers in the houses in these streets and they shot a lot of people. I saw these bodies repeatedly. No one could retrieve them because it would have been too dangerous. Some people had also been killed by shrapnel. I counted 15 people in total.
Russian forces did not completely occupy Irpin, the fighting was constant there. How did you manage?
Dima Naumovich: For some reason, I didn't feel fear. Even after I was shot, I went back 'to the battle' to get people out of town. I drove into a zone that was not controlled by either our military or the Russians – that's where the shelling was hardest and there were tank battles. If I had been scared I would probably not have gone. Many volunteers were wearing bulletproof vests and helmets, but I drove without protection. One day, the Romanivka bridge came under shelling and everyone hid, but I just sat quietly in my car, my back to where they were shooting from. I wasn't visible in my car. Soldiers shouted at me: "What's wrong with you? Just leave!" but I couldn't get out because I had five cats and one bird in the car. I said: "I won't leave them."
Sergi Mykhalchuk, Maks Levin, and Ukraine Presidents Office