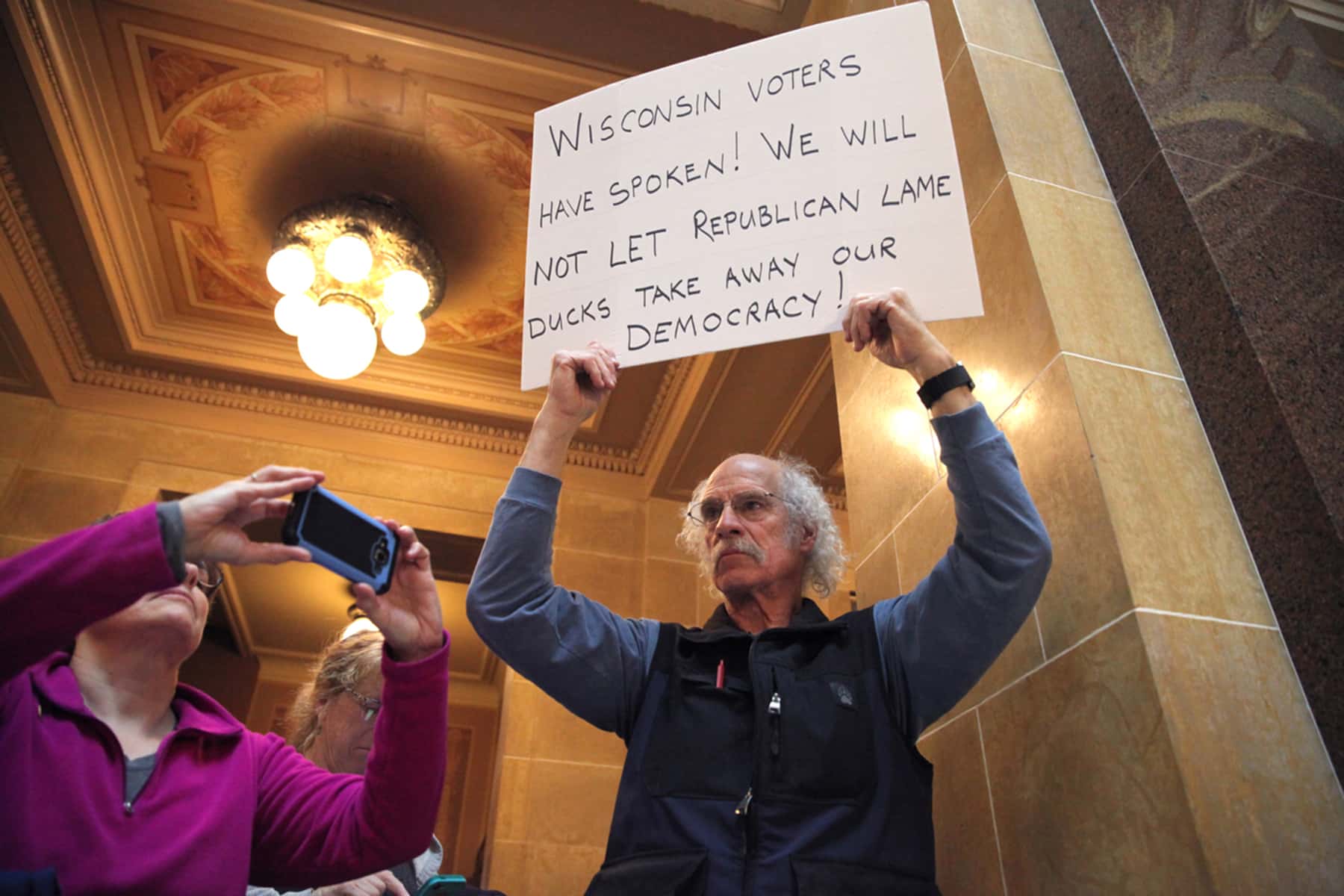 From December 3 through the early morning of December 5, 2018, members of the press, the public, and legislators bustled through the halls of the Wisconsin State Capitol in Madison as the Senate and Assembly held an extraordinary session to push through a series of fast-tracked bills before Governor Scott Walker leaves office in January.
The bills represent sweeping efforts to shift power to the Legislature from the executive branch, limit early voting and enact major changes to road spending, agency oversight and public benefits. Critics say they were clearly aimed at stripping power from incoming Gov. Tony Evers and incoming Attorney General Josh Kaul, but Senate Majority Leader Scott Fitzgerald, R-Juneau, said the bills were little more than legislative "inside baseball."
Reporters Emily Hamer and Coburn Dukehart were at the Capitol during the lame duck session and present a snapshot of images from those contentious few days.
"Do not believe that we are still living in a functioning democracy. We are not. Republicans across this country are doing everything they can to impede, alter and override the power of the personal vote. This strikes at the very heart of democracy, both undermining people's faith in it and contorting it until it no long resembles what it claims to be. Republican power is increasingly synonymous with white power. The party's nationalist tendencies are increasingly synonymous with white nationalism. If the Republican Party can't maintain power in the democracy we have, it will destroy that democracy so that its power can be entrenched by limiting the impact of the vote." – Charles M. Blow
Coburn Dukehart and Emily Hamer
Coburn Dukehart and Emily Hamer
Coburn Dukehart is the digital and multimedia director. Her role includes directing its visual strategy, creating visual and audio content, managing digital assets and training student and professional journalists. Dukehart has a master's degree in photojournalism from the University of Missouri, and has previously worked as a senior photo editor at National Geographic and NPR. Her multimedia work has been honored with a Webby, a Gracie, a Murrow, and duPont awards, and she was nominated for a national Emmy. She specializes in documentary storytelling and visual reporting, and is a member of the National Press Photographers Association and Investigative Reporters and Editors. She is based in Madison, Wisconsin.
Emily Hamer is a recent graduate of UW–Madison with degrees in journalism and philosophy. She has formerly worked as an intern for University Communications and WisPolitics, and as an editor at The Badger Herald newspaper.
The nonprofit Wisconsin Center for Investigative Journalism collaborates with Wisconsin Public Radio, Wisconsin Public Television, other news media and the UW-Madison School of Journalism and Mass Communication. All works created, published, posted or disseminated by the Center do not necessarily reflect the views or opinions of UW-Madison or any of its affiliates.