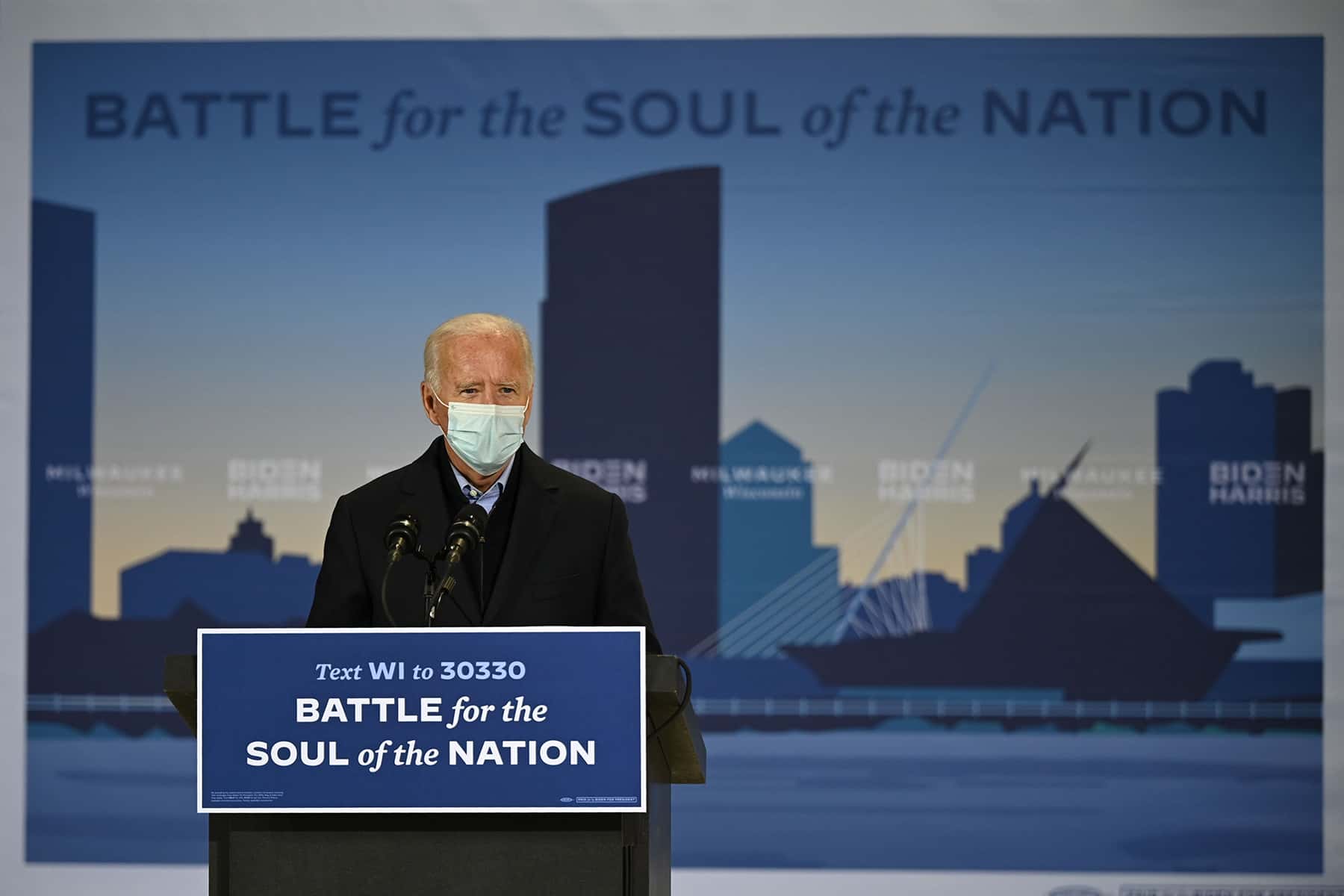 Democratic presidential nominee Joe Biden narrowly won Wisconsin a day after the election on November 4, a key victory in his pursuit of the White House. President Donald Trump's campaign promised it would be immediately subject to a recount.
Even with Wisconsin, the presidential race was undecided Wednesday afternoon because neither candidate had reached the required 270 electoral votes. Biden won 10 votes by capturing Wisconsin by fewer than 21,000 votes, or about six-tenths of a percentage point, based on unofficial results.
The Associated Press declared Wisconsin for Biden at 1:16 p.m. Wednesday, November 4.
Biden was leading 1,630,334 votes to President Donald Trump's 1,609,586 votes at 7:00 a.m. Wednesday following a long night of ballot-counting, and with few votes still out. This margin developed in the early morning as Milwaukee, Green Bay and Kenosha reported the results of their absentee ballots.
In a live statement from Wilmington, Delaware a little after 3:00 p.m., Biden highlighted massive national turnout – the most votes ever cast in a presidential election – and specifically noted the 20,000 vote margin in Wisconsin.
"After a long night of counting, it's clear that we're winning enough states to reach the 270 electoral votes needed to win the presidency," Biden said. "I'm not here to declare that we've won, but I am here to report that when the count is finished, we believe we will be the winners."
Biden took the lead after 3:30 a.m. Wednesday when the city of Milwaukee added its absentee ballots to its total. Milwaukee is a heavily Democratic area, and absentee ballots were even more heavily Democratic than votes cast on Election Day. In all, the Associated Press showed Biden with more than 317,000 votes in Milwaukee County to Trump's 134,000. Shortly after 6 a.m., Brown County added Green Bay totals, which bolstered Biden's lead, and results from the city of Kenosha added to it, as well. Trump's campaign said that they will pursue a recount.
Biden Win Mirrors Trump's 2016 Victory
The win for Biden comes four years after Trump carried Wisconsin by fewer than 23,000 votes. The extremely close margin was an echo of 2016, when the state voted for Republican Trump by less than 1 percent, and of Democratic Gov. Tony Evers' 2018 victory, which he won by just over 1 percent. But it was a surprising result to the political world, as public opinion polls had consistently shown Biden with a comfortable lead. The polling error, too, was an echo of 2016.
The state smashed 2016's voter turnout figures, and results from the Democratic stronghold of Dane County showed record-setting voter turnout there. Biden beat Trump by a 53-point margin, 77 percent to 22 percent, in the county that is home to Madison. In 2016, Democrat Hillary Clinton won 70 percent of the vote in Dane County and Trump won 23 percent. Turnout in Madison alone was 84.7 percent of registered voters.
But Trump's base turned out, too. In central and Northwoods Wisconsin, Trump repeated or expanded his large 2016 margins. In Marathon County, Trump won by 18 points, matching his 2016 margin. In Oneida County, Trump beat Clinton by 19 points in 2016. He led by 15 points there. And Trump gained votes in many rural counties, as well as in Sheboygan and Fond du Lac counties.
A onetime Republican stronghold that appeared to show signs of shifting was Ozaukee County. With most ballots counted shortly after midnight, Trump led by about 11 points. But in 2016, he won the county by 19 points. Ozaukee County is one of the suburban Milwaukee "WOW" counties that have historically been a source of Republican strength in Wisconsin. Trump also lost some ground in Waukesha County, though the county remained solidly Republican. Trump won Waukesha County by 21 points, compared to 27 points in 2016.
Clerks in some cities spent all night tallying votes. Wisconsin law doesn't permit absentee ballots to be tabulated before its Election Day, and the surge of voters who cast absentee ballots as a precaution against the coronavirus meant clerks were swamped with hundreds of thousands of ballots — and statewide, nearly 1.9 million absentee ballots had been returned as of Monday, according to election officials.
Early Voting Shattered, Wisconsin Might Hit Record Turnout
After shattering early voting records, Wisconsin voters from the rural north to the urban southeast came out in force on an unusually warm Election Day, even as coronavirus cases hit a new daily high and political tensions ran high in the battleground state. There were no reports of major problems on Tuesday, November 3.
Behind the scenes, work started right as polls opened to count the more than 1.9 million absentee ballots that arrived before Election Day. The Trump and Biden campaigns closely watched absentee and in-person voting for any irregularities.
AP: Wisconsin Voters Sour On State Of Nation
Voters in Wisconsin gave Biden its 10 electoral votes while holding negative views about the country's direction, according to AP VoteCast, a survey of the American electorate from The Associated Press. The poll found the coronavirus pandemic was top of mind for voters, with more than 4 in 10 calling it the most important issue facing the nation.
Biden, Trump Sought To Win Wisconsin, Other Battleground States
Wisconsin was one of several states believed to be key to the presidential election where results weren't final Wednesday morning. The upper Midwest — including Wisconsin, Michigan and Minnesota — was also a crucial part of Biden's campaign strategy. He held a drive-in voter rally Friday in Milwaukee. By Wednesday afternoon, Minnesota, Michigan and Wisconsin had been called for Biden.
Late Tuesday night, Biden made remarks in Delaware to a drive-in audience, declaring "we believe we're on track to win this election."
"We knew because of the unprecedented early vote, and the mail-in vote, it was going to take a while," Biden said. "We're going to have to be patient until the hard work of tallying the votes is finished. And it ain't over 'til every vote is counted, every ballot is counted."
Trump campaigned hard in Wisconsin, especially in the closing weeks of the campaign. He held six rallies in the state in September and October, including in Mosinee, Green Bay, West Salem and Waukesha.
As vote counting continued, Trump spoke from the White House in the early hours of Wednesday morning. He used the fact that he was, at the time of his speech, ahead in vote totals in Wisconsin and Pennsylvania to argue that further counting of already-cast ballots would be unlawful.
"We'll be going to the U.S. Supreme Court," Trump said. "We want all voting to stop. We don't want them to find any ballots at 4 o'clock in the morning and add them to the list."
No state ends election night with a certified vote total, and in numerous states, though not in Wisconsin, the law permits the counting of ballots that arrive days after Election Day. Results in Pennsylvania and Michigan were expected to take days or longer to finalize. Wisconsin's result was expected Wednesday morning, November 4.
Rоb Mеntzеr, Mаdеlіnе Fоx, Аndrеа Аndеrsоn, Jоhn K. Wіlsоn, аnd Dаvіd Hylаnd
Donate: Wisconsin Public Radio