Sherman Park $1 property details disappoint residents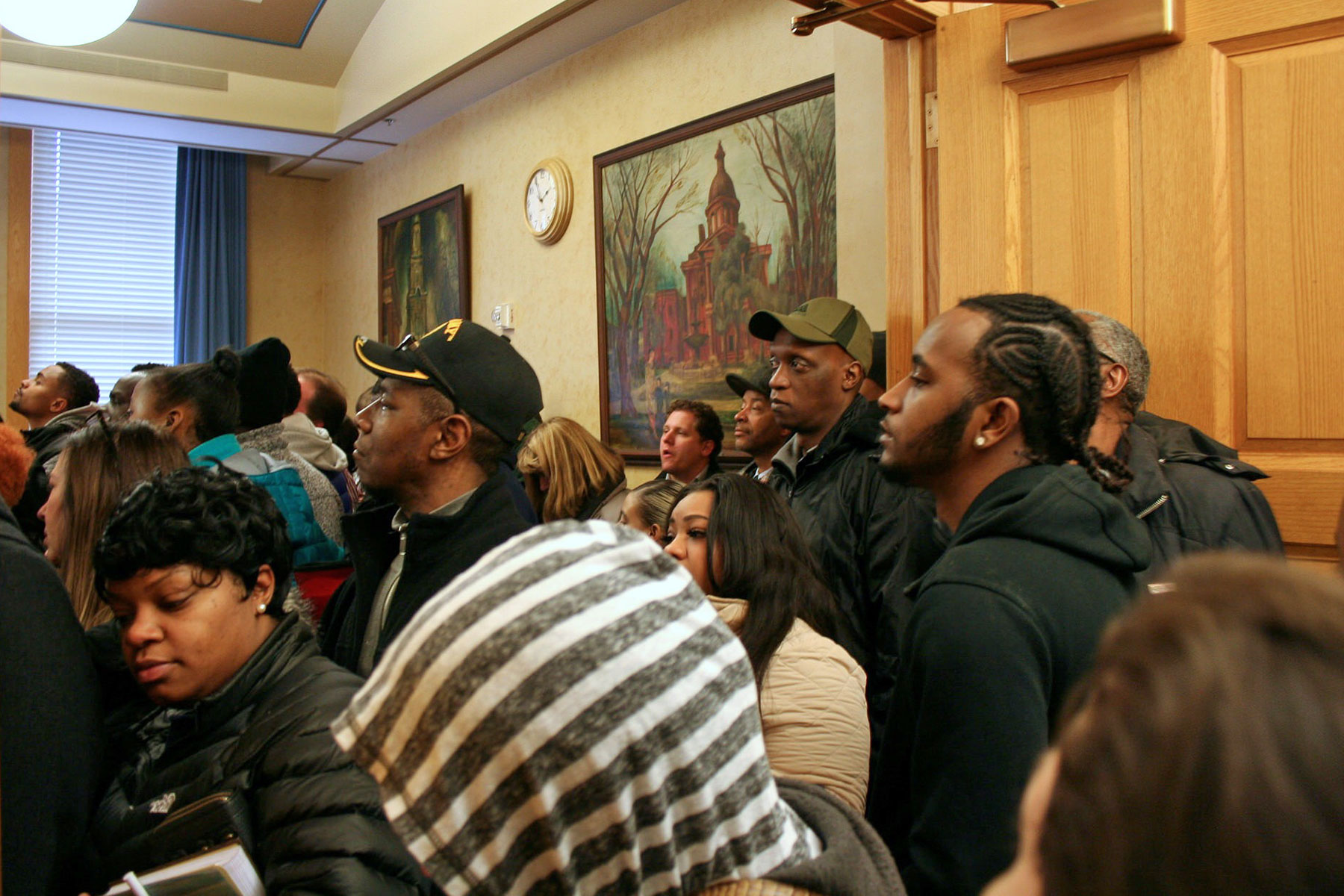 An informational meeting Monday at City Hall disappointed hundreds of city residents hoping to take advantage of a new program that will sell city-owned foreclosed properties for $1. Only developers can purchase the properties.
The recently announced City of Milwaukee program allows developers to buy city-owned foreclosures in the greater Sherman Park area for $1; they would be required to employ one unemployed or underemployed individual on each project.
Participating developers also will be required to buy at least five one- or two-family homes, and will receive a $10,000 grant per home. Developers must renovate the homes to be code compliant and can rent, offer a rent-to-own program or sell to owner-occupants once the repairs are made.
"I have my reservations," said Sherman Park Community Association Board President Barry Givens. "History has shown that investors come in, they sweep up property and they don't really take care of their properties. And, there's a reluctance from … some of the absentee landlords in trying to address the issues that the community raises."
"The key word here is developers," added Vaun Mayes, founder of Program the Parks and a resident of Sherman Park. "Clearly this program was not built for the benefit of the community."
According to Department of City Development (DCD) officials, the Milwaukee Employment/Renovation Initiative (MERI) is a response to sometimes-violent demonstrations in August that occurred in the wake of a police killing for which the officer has since been charged. The Wisconsin Department of Financial Institutions committed $2 million for housing rehabilitation, demolition and deconstruction, $1 million of which will go to rehab properties in the area bounded by Lloyd Street, Capitol Drive, 60th Street and 20th Street.
District 7 Alderman Khalif Rainey, who represents the Sherman Park area, called MERI "the mayor's proposal" adding the Common Council did not have the discretion to structure the program as they liked.
Rainey said he and District 15 Alderman Russell Stamper, who has expressed support for the initiative, had to push for home ownership to be an aspect of the program. "We did the best we could to make it the best for the people who live in the neighborhoods, and the people who are actually going to be there on a regular basis," said Rainey.
Mayor Tom Barrett's office did not respond to requests for comment.
Carl Quindel, president of Strong Blocks, a Milwaukee organization that helps renters become homeowners, commended the city for trying to find a way to "dispose of tax foreclosures in a responsible way" and said he hopes this program will be another tool for them to do so. Still, he said whether or not that's the case will likely rely on how the program is implemented and what developers are selected as partners.
According to DCD, there are 200 city-owned homes in the area defined by MERI. The hope is that 100 of those homes will be renovated as part of the program, said Deputy Commissioner Martha Brown.
As of December 8, the city owned 1,251 foreclosed buildings, about 90 percent of which are residential properties. The number of properties acquired by the city has steadily risen since 2009, when it acquired 461 properties. Rules changes in 2015 allowed the city to foreclose on homes that are tax-delinquent for a year, as opposed to waiting three years. It has acquired 1,870 properties since 2015.
Mayes said he would like to see houses in the area be brought back to livable conditions, but was skeptical of outside investors with no stake in the community acquiring assets in the neighborhood. He said the focus should be on addressing poverty, crime and employment in the area.
The eastern end of the defined area overlaps the 53206 ZIP code, the poorest in Milwaukee, where almost 48 percent of residents live below the poverty line. Ninety-four percent of the residents in 53206 are African-American, according to the 2015 American Community Survey. Two other ZIP codes, 53216 and 53210, cover the western end of the area; both have poverty rates above 25 percent.
DCD spokesman Jeff Fleming said that the goal is to "turn vacant, city-owned homes into neighborhood assets" and to provide employment opportunities. "Our aim is to build on the existing strength of the neighborhoods," wrote Fleming in an email.
According to the MERI Request for Qualifications (RFQ), developers must employ an unemployed or underemployed individual for at least 500 hours on each property. The individuals must be referred by a local construction trades program or Compete Milwaukee, a city-run transitional jobs program; or must be certified under the city's Residents Preference Program (RPP).
But Givens called the hiring requirement "ridiculous." "Why is it that they're only obligated to hire one person?" he said. "I mean, there's a lot of folks that are willing to work if they can find work."
Mayes, who was previously a construction supervisor at Milwaukee Community Service Corps (MCSC), said renovation projects are "not a one-person job" and there should be more disadvantaged workers employed on MERI rehabs. Alice Hungerford, finance manager at MCSC, confirmed that crews of 10 to 12 people work on larger residential renovation projects.
Mayes, Givens and many others said they would have liked to see the opportunity to acquire city-owned property extended to community organizations and individuals who live in the area, as well.
Darrell Marbley, pastor of Westside Missionary Baptist Church, who has lived in Sherman Park for more than 20 years, said he understands why the program was structured as it is but that the developers who were at the meeting are not from the area. "That's not a recipe to keep that community afloat," he said.
Juli Kaufmann, a developer who has worked in the Lindsay Heights neighborhood and primarily deals in commercial property, also questioned whether a $10,000 grant is enough of an incentive, considering the repairs that will have to be made. According to DCD, the average scope of work per home is about $50,000 in the designated area, but many homes exceed that figure, according to the RFQ.
Kaufmann said, instead, the goal should be to maximize home ownership. Michael Gosman, executive director of ACTS Housing, an organization that has helped connect more than 2,000 people with homes in the central city over the last 20 years, agreed.
Bianca Shaw, a former Sherman Park resident, spoke to a packed room at City Hall Monday. "This is not for us," she said, referring to the program.
"We have to show up, like we showed up today," she added, encouraging people to contact their representatives. "We come down here and we get mad, but we've got to take control of our own neighborhood. We're letting our elected officials make decisions for us, because we're not holding them accountable."