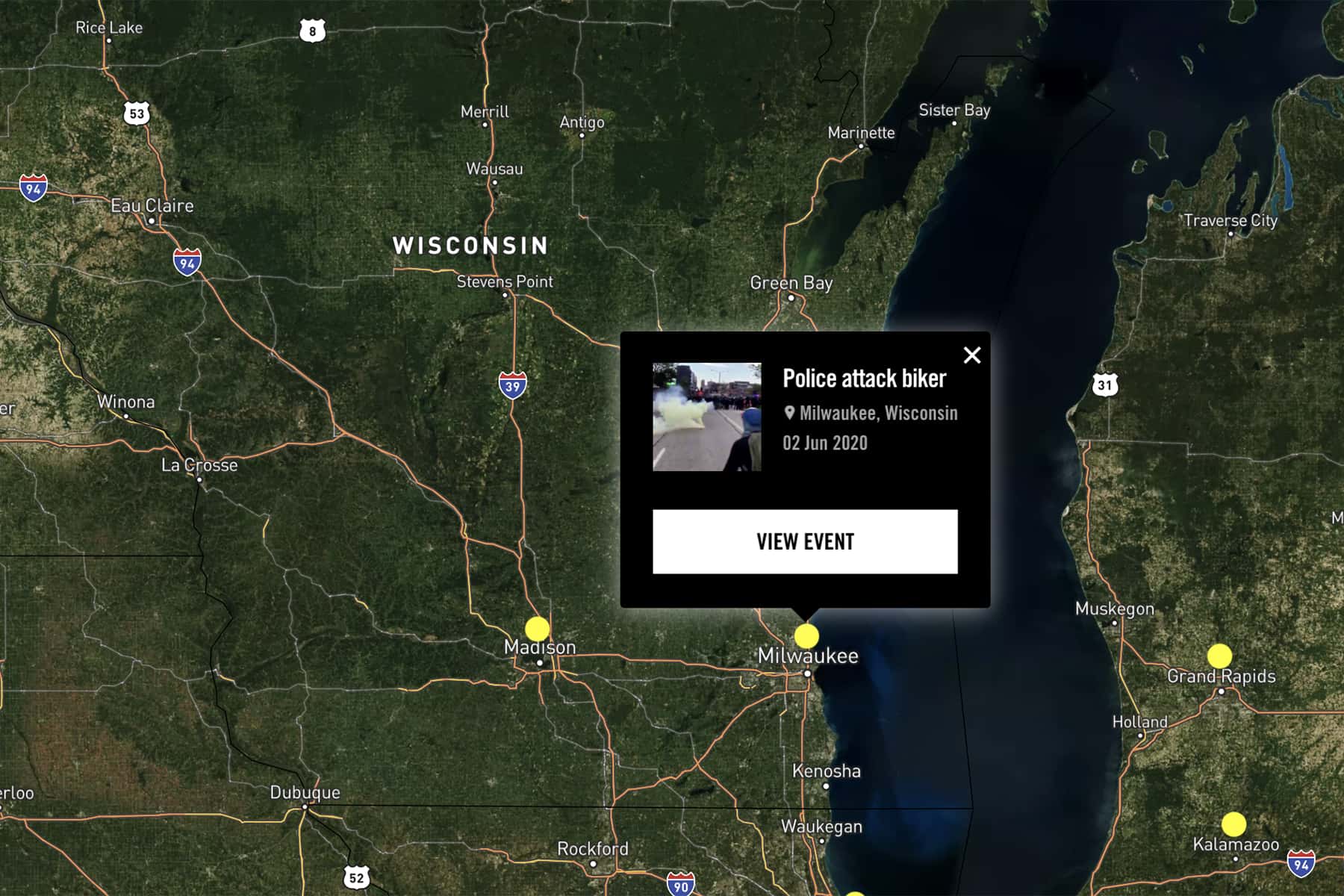 Amnesty International recently launched an interactive map highlighting incidents of police violence that included Milwaukee and Wisconsin as part of a new campaign calling for systemic changes in policing.
Police forces across the United States committed widespread and egregious human rights violations against people protesting the unlawful killings of Black people and calling for police reform. Amnesty International documented 125 separate examples of police violence against protesters in 40 states and the District of Columbia between 26 May and 5 June 2020.
After the May 25 death of George Floyd, hundreds of thousands of people in America and other countries protested against racism, police violence, and to support the Black Lives Matter movement.
"The analysis is clear: when activists and supporters of the Black Lives Matter movement took to the streets in cities and towns across the United States to peacefully demand an end to systemic racism and police violence, they were overwhelmingly met with a militarized response and more police violence," said Brian Castner, Senior Crisis Advisor on Arms and Military Operations at Amnesty International.
The research showed that law enforcement officers violated human rights daily out on the streets instead of fulfilling their obligations to respect and facilitate the right of people to peacefully protest.
The unlawful use of force included beatings, misuse of tear gas and pepper spray, and the inappropriate firing of less-lethal projectiles, such as sponge rounds and rubber bullets. Those abuses were committed by a range of security forces from state and local police departments, federal agencies, and the National Guard.
"The time for applying band-aids and making excuses for a few 'bad apples' has passed. What's needed now is systemic, root-and-branch reform of US policing that brings an end to the scourge of police use of excessive force and extrajudicial executions of Black people. Communities should not live in fear of being harmed by the very officers that have sworn an oath to protect them. Officers responsible for excessive force and unlawful killings must always be held accountable," added Castner.
Open source investigation into protests
To evaluate these incidents, Amnesty International's Crisis Evidence Lab gathered almost 500 videos and photographs of protests from social media platforms. The digital content was then verified, geolocated, and analyzed by investigators with expertise in weapons, police tactics, and international and US laws governing the use of force. In some cases, researchers were also able to interview victims and confirm police conduct with local police departments.
Amnesty International's analysis map revealed a dizzying array of violations by police forces across the country, including in 80% of US states. The violations were not limited to the largest cities.
Legal analysis of use of force
Excessive use of force against peaceful protesters violates both the Constitution and international human rights law. Law enforcement agencies at all levels have a responsibility to respect, protect, and facilitate peaceful assemblies. While the majority of the protesters have been peaceful, some protesters have used violence. In many cases, however, rather than respond to individual violations, security forces have used disproportionate and indiscriminate force against entire demonstrations.
"Real, systemic and lasting police reform is needed at all levels to ensure that people across the country feel safe to walk the streets and express their opinions freely and peacefully without facing a real threat of harm from the very officers that are supposed to protect them. This is a Constitutional right that is mirrored in international human rights law; to deny this right with physical violence, tear gas and pepper spray is a hallmark of repression," said Brian Griffey, USA Researcher/Advisor at Amnesty International.
These headline links feature the daily news reports published by Milwaukee Independent about the George Floyd protests, the revival of the Black Lives Matter movement that followed, and their impact on the local community in for 8 months from May to December of 2020.