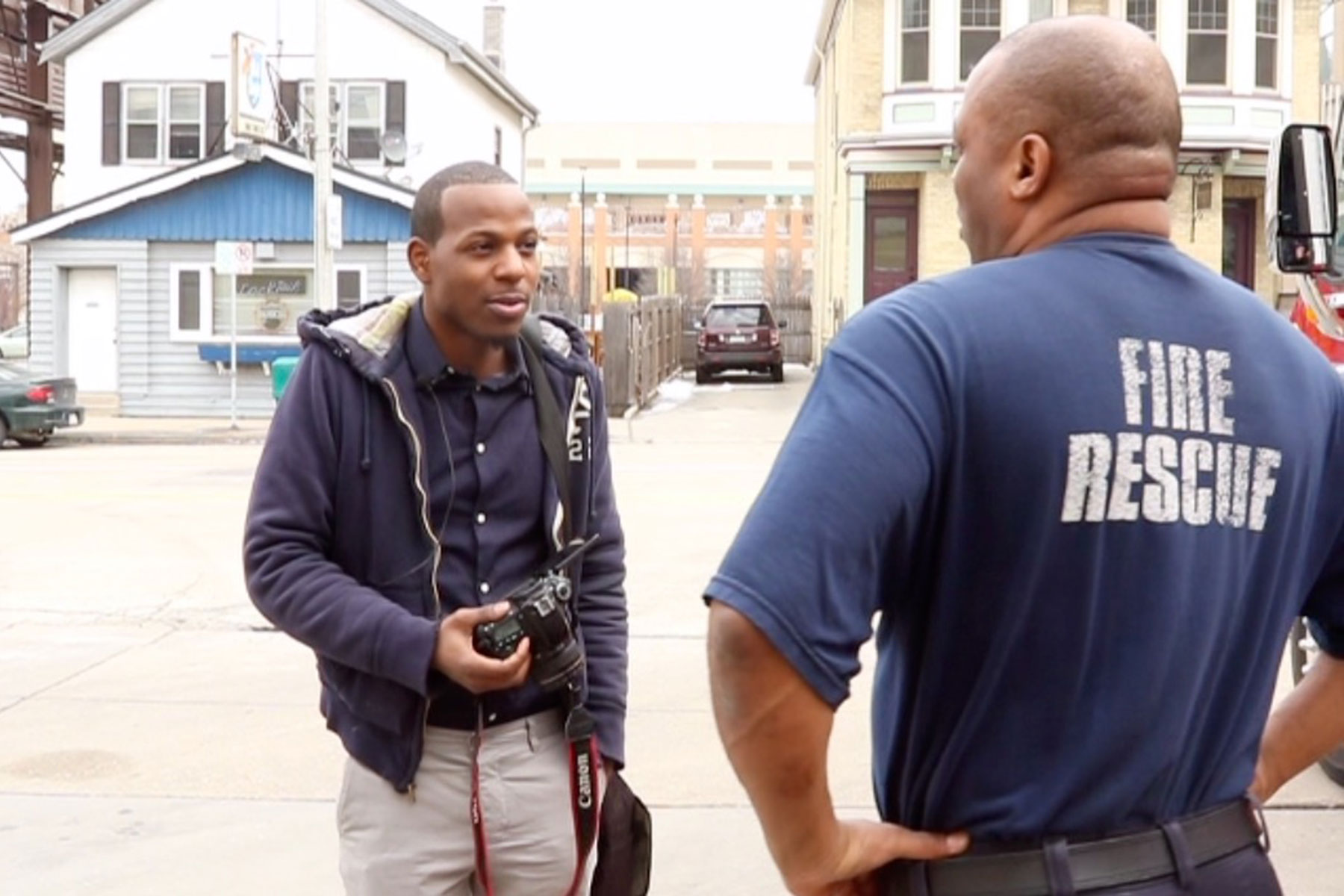 Carrying his Canon camera and flashing a wide smile, Mario Sinclair walked up to a fireman on an overcast day across from the Milwaukee Public Museum and asked simply, "What are you most afraid of in life?" The fireman shared how he had almost died in a house fire while on the job.
Ten minutes later, Sinclair found himself talking to a man with a blue bandana wrapped around his left leg walking in front of the Milwaukee Public Library. "Tell me your life story," Sinclair asked. The man talked about doing harm to someone who had abused a woman he loved.
Almost every day for 14 months, Sinclair, 24, has been walking up to strangers, asking for a moment of their time, getting them to share something personal about themselves and taking their pictures. Sometimes the interactions are five minutes, sometimes up to two hours. He then publishes a quote and photo from the interaction on social media and a website.
Sinclair is founder of Humans of Milwaukee, an offshoot of Humans of New York, the widely popular collection of man-on-the-street stories. Begun six years ago, the Empire State-based project has a Facebook page with 17 million likes and recently was turned into a book.
The Humans of Milwaukee Facebook page has 13,000 likes and portraits of about 200 people who live, work, serve or play in the city; wearehumansofmke.com has 15 portraits and quotes.
Sinclair grew up in Milwaukee and lives near the University of Wisconsin-Milwaukee, where he is a junior pursuing his bachelor's degree in social work. He is also a volunteer teaching assistant in a first-grade class at the Milwaukee Math and Science Academy.
He aspires to help young people better themselves, perhaps by running a community center. He practically grew up in one, living with his father, a member of the Black Panther party who admired Malcolm X, his mom, who was politically involved through social work, and 14 brothers and sisters. His parents were also gamblers, he said. He pauses, and ambient noise fills the silence. "Some nights, my parents wouldn't come home."
At 16 years old, Sinclair got his first job as an education coordinator at Neighborhood House. He later took a mundane office job, but hated it, often finding himself distracted on Facebook while there. One day, a friend shared a story from Humans of New York. This got Sinclair thinking about people in his city.
"I love my city," he said. "I know there are positive things here. We are all humans and we all have stories to share."
Sinclair launched Humans of Milwaukee as a personal project with limited resources, but soon realized it had the potential to spotlight the humanity in a disconnected city that too often draws negative headlines. He found that people would go deeper and show their vulnerabilities if he presented himself as honest and caring. His favorite questions to ask are: What has been your greatest struggle in life thus far? What are you most afraid of? What is the happiest or saddest memory or day in your life? Tell me your story – who are you? Why Milwaukee?
He also discovered that his interaction with strangers made them feel good, too.
"That was different," Darin Jones, the fireman, said of his encounter with Sinclair. "I liked it."
After interviewing the man with a blue bandana in front of the library, Sinclair gave him $3. The man had only asked for a dollar. Sinclair's motto: "If I got it, why not give it?"
Sinclair has three other people helping him with Humans of Milwaukee.
Laytee Norvek, 24, a senior majoring in marketing at UW-Milwaukee, said that she had "never thought about people outside my own life" before joining forces with Sinclair in January.
"He has a huge heart," Norvek said. "He is just trying to reunite everyone in Milwaukee."
For his part, Sinclair said he is trying to change the city with his camera and his heart. "I get to do what I love every day with Humans of Milwaukee," he said.