Hotels begin sprouting in Milwaukee ahead of 2020 Democratic National Convention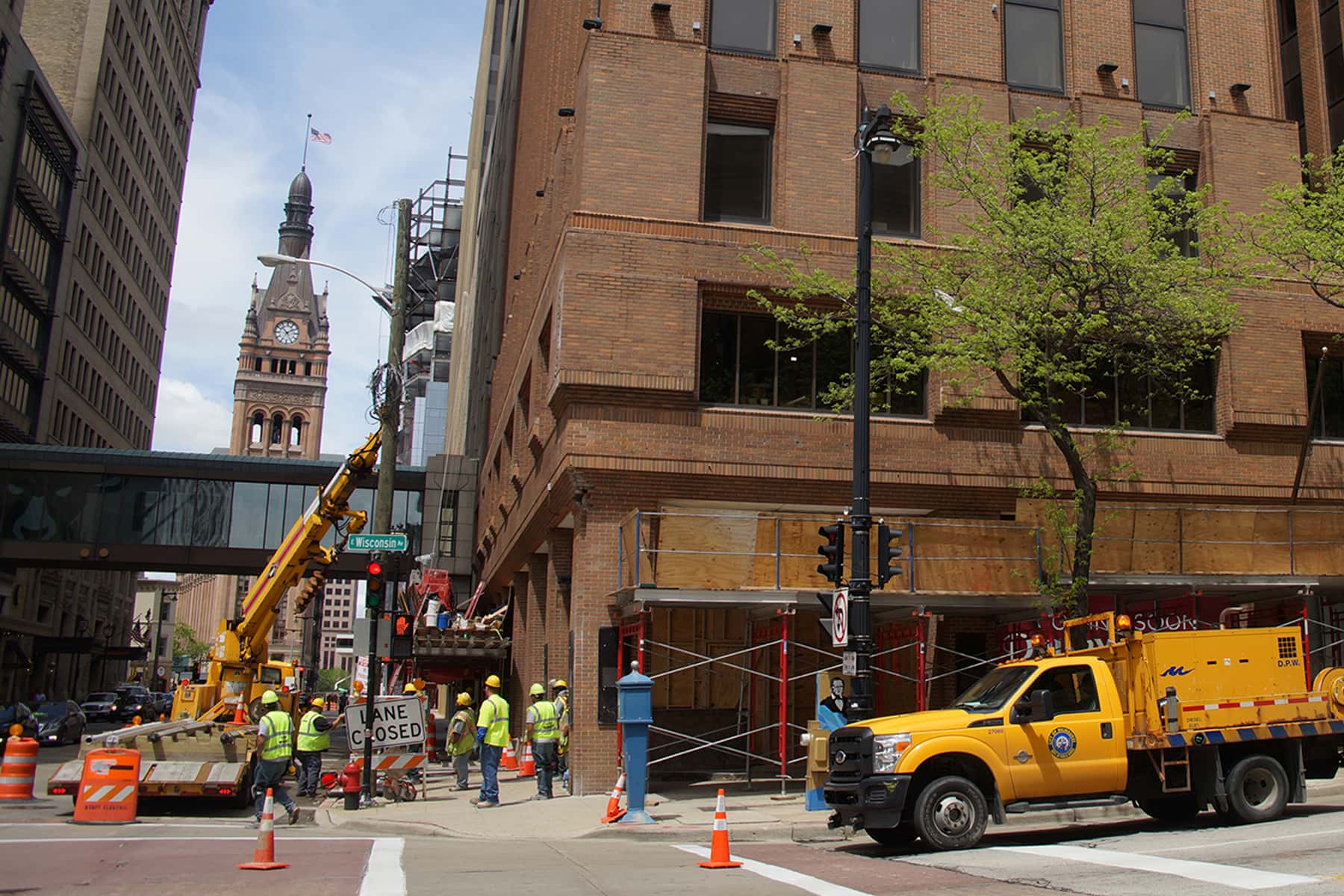 Preparations are picking up steam as Milwaukee gets ready for the Democratic National Convention next summer.
A cherry picker has been parked at the corner of Water and Wisconsin. Worker are using it to drilling holes into the side of a tall brick building, three stories up. The former office complex is going to be the new home of a Drury Hotel.
The tourism group VISIT Milwaukee estimates 50,000 people will pour into the city for the Democratic National Convention, which runs from July 13 to 16 of next year. The Democratic National Committee sought a guarantee of 16,000 hotel rooms within a 40-minute drive of downtown Milwaukee. VISIT Milwaukee President Paul Upchurch said he was confident the Milwaukee area has the space to house all the delegates.
"We do big pretty well, you just have to plan for it. Certainly all the hotels downtown, most of the hotels in the surrounding suburbs will participate as well, but yeah the Drury's on the list and I know they're working hard to make sure they're ready," Upchurch said.
The Drury is one of several hotels under construction or being renovated that will be ready in time for the convention. New construction amounts to at least 3,000 additional hotel rooms.
"We have one going up on Michigan and Jefferson. That just started construction. We've got the Milwaukee Athletic Club, which is undergoing a renovation. You've got others, Potawatomi is adding hotels to their casino," added Upchurch.
Steve Baas of the Metropolitan Milwaukee Association of Commerce, expects many people who live near downtown, to rent out their homes.
"I think you're going to see a thriving Airbnb business. I think you'll have some who are here for shorter periods of time, some who are here for longer periods of time," said Baas. "We've just got to make sure we're doing the best job of impressing every one of those 50,000 people so they want to come back."
One challenge will be moving people to and from the convention floor at the Fiserv Forum, and related activities. Sally Shepherdson, director of Bubblr Bikes, has already been expanding inventory, to bring more bikes for rent into town during the convention.
"We probably will have to. We also this year will launch a pilot and then have ready in full force next year, the first in the country fleet of adaptive bikes that will be integrated into our bike share program, so that we can truly serve all the people," said Shepherdson.
The adaptive bikes are for riders who have disabilities. An expanded streetcar system also could help people get around during the Democratic National Convention. City leaders are proposing several extensions of The Hop, including one route that would stop near the Fiserv Forum.
Donate: Milwaukee and Wisconsin Public Radio