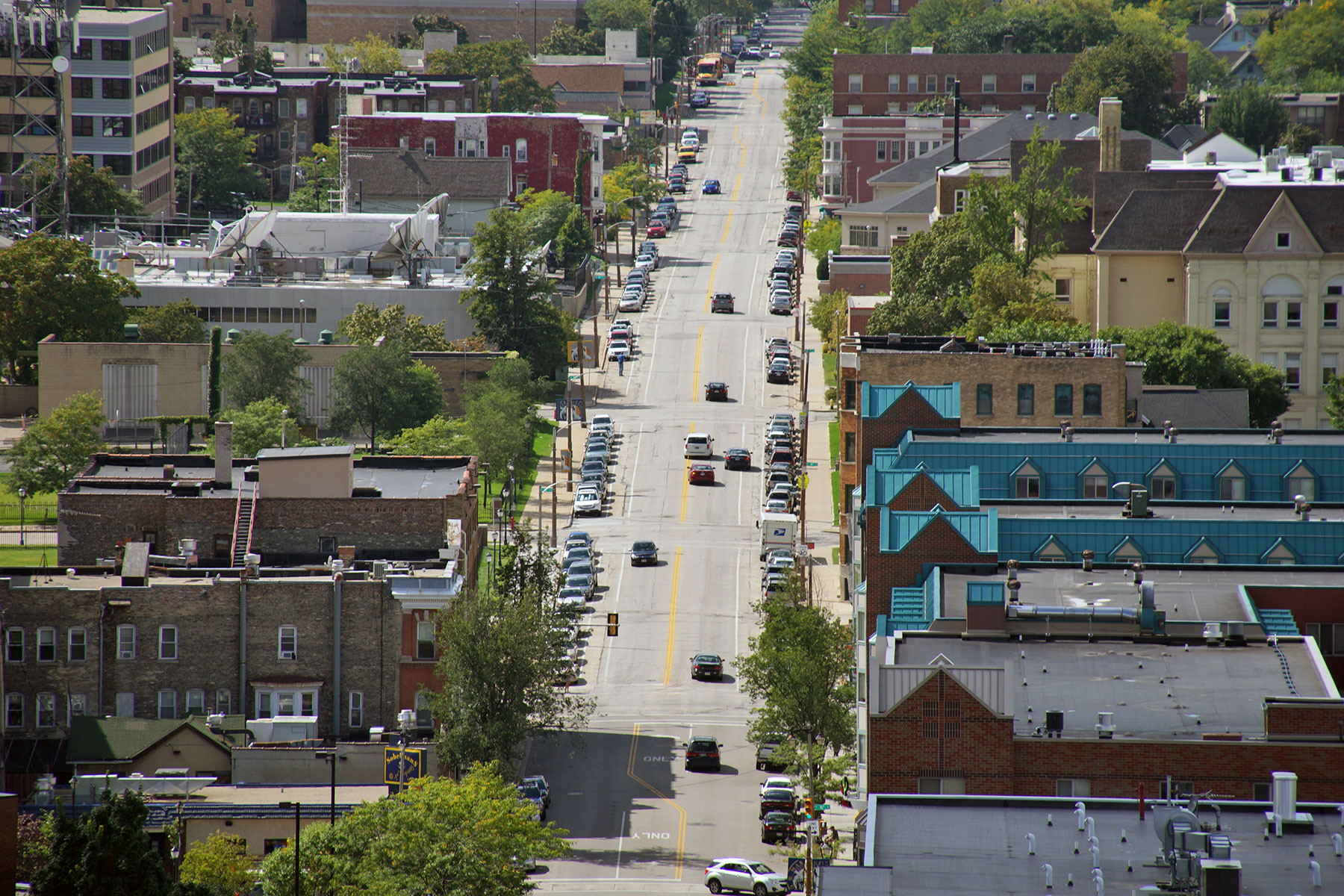 Marquette students and community members are working to eliminate the food desert on the Near West Side by coming up with ideas to bring a grocery store to the area.
Marquette University and Near West Side Partners are teaming up for a "Grocery Challenge" intended to bring a new grocery store to the Near West Side.
"Bringing a grocery store to the area should be good for the community," said Marquia Currin, 31, who lives in the Avenues West neighborhood. " I just want to be able to get the things I need when I travel to a store and sometimes the local convenience marts don't provide that."
Currin attended a kickoff event for the Grocery Challenge on Jan. 31. She is most concerned about feeding healthy food to her 9-year-old daughter and the new baby she is expecting. "My little girl Sonji is my world and this little baby inside of me also means the world to me so keeping them healthy is my number one priority."
The project's primary goal is to generate innovative, affordable and sustainable models to bring fresh foods to the Near West Side. Dr. Christopher Simenz, clinical associate professor in the Marquette University physical therapy program, and Keith Stanley, Near West Side Partners executive director, are co-leading the challenge.
"We're thrilled to see the leadership of Marquette University and its students in moving this forward," said Stanley. "As always, we will work closely with our residents, other business owners and elected officials to determine the winning student or student group and identify an appropriate site in support of positive economic development in the Near West Side."
Simenz noted that the project should affect the lives of everyone in the Near West Side community. "This isn't a Marquette project; this is a community project," Simenz said.
"We want grocery options that are inclusive to everyone who calls the Near West Side home — our students, longtime residents and those who work in the area," stressed Kelsey Otero, associate director of the Marquette University Social Innovation Initiative. "A challenge format allows new and innovative ideas to emerge; we want to see out-of-the-box thinking and change the narrative around food access."
Otero cited a recent study suggesting there that there is enough demand in the area to support two mid-sized grocery stores.
The owner of Quick Pick Foods, 2336 W. Wisconsin in the Avenues West neighborhood, said he had not heard about a potential new grocery store on the Near West Side, but noted, "I don't think that it will affect my store." The man, who declined to give his name, added, "I get a lot of business throughout the day and I have good relationship with my customers so my store will be fine."
Resident meetings will be held on Feb. 20 and in early March to explain the complexities of the grocery store business, and introduce innovative grocery models.
Teams will have day-to-day support from Marquette staff and guidance from university leadership, Near West Side Partners staff and others interested in supporting the challenge. In addition, student teams can participate in a speed-networking event featuring local grocery experts to get feedback on ideas and suggestions for next steps. Teams will consist of both students and Near West Side community members.
Students and community members can focus their efforts on one of six areas: small footprint stores, food pantries, existing retail spaces, co-ops, alternative grocery models and food literacy.
On April 20, teams will pitch their recommendations to a panel of judges including Marquette leaders, representatives of the Near West Side Partners anchor organizations (Aurora Health Care, Harley-Davidson, Marquette University, MillerCoors and Potawatomi Business Development Corp.), grocery and food experts, and community members. The judges will decide on one or more ideas to pilot next fall.
Winning teams and ideas will receive seed funding from the Marquette Office of Research and Innovation to help implement the pilots. Initial funders will receive an equity stake in the company.
"A great neighborhood cannot exist without healthy food options," said Otero, but there are so many options that could work for all of the different people who live, work and visit the Near West Side."