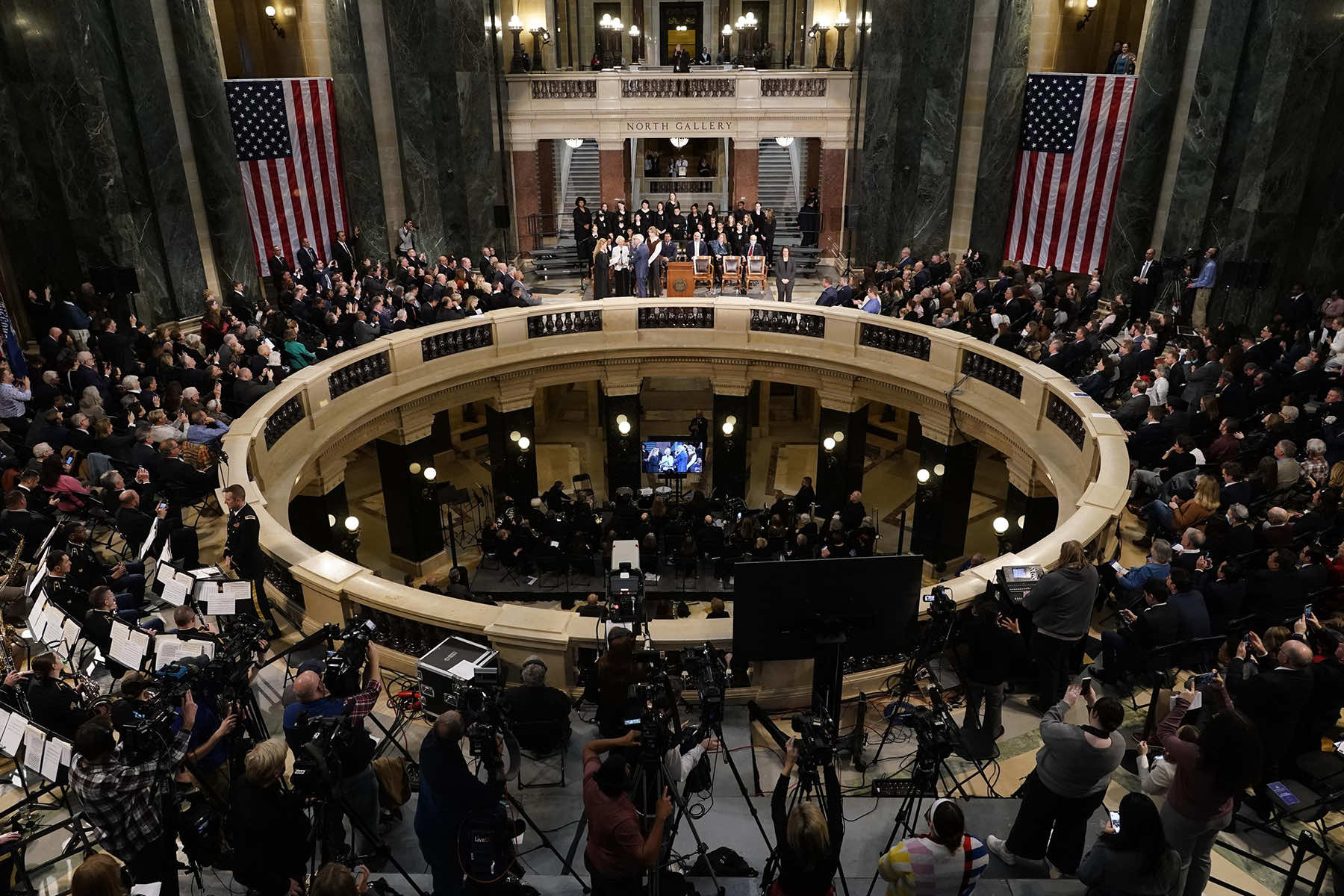 Governor Tony Evers started his second term on January 3, but scores of holdovers from the Democratic governor's first term are stuck in a kind of legislative limbo.
Nearly 180 people appointed by Evers to lead state agencies, boards and commissions had yet to be confirmed by the state Senate, according to lists provided in mid-December by the governor's office and the nonpartisan Legislative Reference Bureau.
That includes five Cabinet members who continue to lead state agencies despite having never been confirmed by the Senate. While they have all the duties of other cabinet secretaries, they're technically secretary-designees, which means they can be fired by the Senate.
A sixth unconfirmed cabinet secretary, Karen Timberlake, stepped down at the end of Evers' first term from her role leading Wisconsin's Department of Health Services.
Governor Evers: 'Tell me what I need to do'
During the Republican primary for governor, at least two GOP gubernatorial candidates promised to replace Evers' yet-to-be-confirmed appointments to the Board of Regents, which oversees the University of Wisconsin System, the Milwaukee Journal Sentinel reported.
But shortly after winning reelection by about 3 percentage points in November, Evers said it's increasingly foolish for the Republican-led Senate to keep slow-rolling the confirmation process with the hope that a Republican governor will be elected.
The day after his successful reelection, Evers told reporters he was asking Senate Majority Leader Devin LeMahieu to make clear what needs to be done to get appointees confirmed.
"Tell me what I can do to get you to move on these issues," Evers said. "He needs to tell me. If it's going to be impossible, it's going to be impossible. But the idea (can't be) that we're going to shut down the Board of Regents and DNR (Department of Natural Resources) for another four years, hoping that they're going to win another election."
LeMahieu, a Republican from Oostburg who served his first term as majority leader last session, was reelected majority leader by Senate Republicans in November. His office did not respond to a request for comment.
Speaking to reporters after a luncheon on November 22, LeMahieu didn't name specific Evers appointees with whom he took issue. He indicated he'd at least be willing to refer more Evers appointments to committee hearings, which he said might or might not lead to a full vote before the Senate.
"We're going to treat appointments like we would in any typical session," LeMahieu said. "They're gonging to be referred back to the committee, they're going to go through the committee process, and if we find consensus on them in the caucus, we'll take them the floor and confirm them."
Why unconfirmed status leaves scores of appointees in limbo
In most cases, cabinet appointees can go about their jobs with or without Senate confirmation, but there has been a noteworthy exception to that rule.
In 2019, Republican Senators fired Department of Agriculture Secretary Brad Pfaff when they voted against confirming his nomination. The party-line vote marked the first time in three decades that lawmakers had fired a member of the governor's Cabinet.
Today, five of Evers' unconfirmed cabinet secretaries could be vulnerable to the same fate. They are:
Department of Administration Secretary Kathy Blumenfeld
Department of Financial Institutions Secretary Cheryll Olson-Collins
Department of Safety and Professional Services Secretary Dan Hereth
Department of Tourism Secretary Anne Sayers
Department of Workforce Development Secretary Amy Pechacek
Until recently, Fred Prehn, one of former Republican Governor Scott Walker's appointees to Wisconsin's Natural Resources Board, refused to step down from his position even after his term expired. The Board sets environmental policy on contentious issues, including PFAS regulation and quotas for wolf hunting.
The Wisconsin Supreme Court gave that approach a legal seal of approval last year, when it ruled 4-3 that Prehn could continue serving on the board. But Prehn told Evers last month that he would resign from the position on December 30.
Evers' pick to replace Prehn, Sandra Dee Naas, still hasn't been approved by the Senate. Another Evers appointee, Sharon Adams, also hasn't been confirmed by the Senate to the Natural Resources Board, but she's been serving on the public body because Walker appointee Julie Anderson agreed to resign when her term ended.
State Senator Tim Carpenter, D-Milwaukee, said it was past time for his Republican colleagues to act on gubernatorial appointments. Carpenter introduced a resolution in 2021 that would have set a 10-day deadline for nominees to be sent to committee followed by a 50-day deadline for the committee to make a recommendation. After that, the Senate would have 40 days to vote the nomination up or down.
"I do believe a lot of damage is being done to the integrity of the Senate," Carpenter said. "And the question would be: What next, just for partisan purposes? People want us to work together and solve problems, otherwise they wouldn't have reelected Governor Evers."
Donate: Wisconsin Public Radio