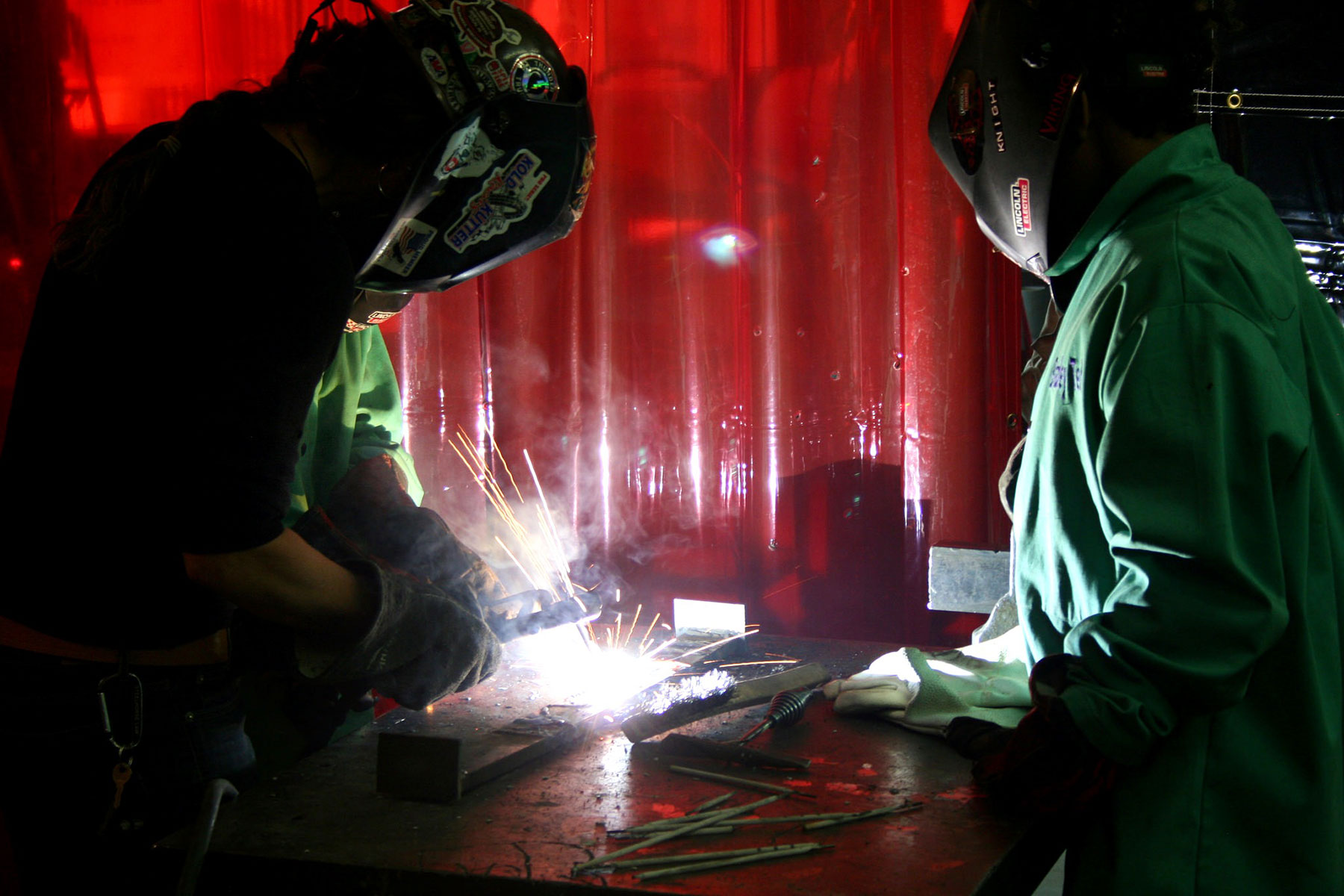 After graduating from Custer High School 16 years ago, Tim Brown interviewed with company after company looking for carpentry work, but found no one willing or able to hire him.
Ultimately a referral from one of those interviews led to a career in masonry (bricklaying).
"The guy who interviewed me for carpentry, he could've said, 'Here's a [plumbing] contact.' I would've [taken] whatever was available," said Brown.
Now an organizer with the Bricklayers and Allied Craftworkers of Wisconsin, Brown goes to career fairs and other events hoping to provide people with information and a connection to an industry that offers family-supporting jobs.
"I want to provide other people the opportunity that I didn't have," he said.
Recently Brown operated a bricklaying station at the second annual Career Day at Lynde and Harry Bradley Technology and Trade High School, an event that aims to provide students with hands-on experience and connections in the building trades. Twelve building and construction trades, including concrete-laying, painting, plumbing, iron work and carpentry, were represented at the event; more than 300 Tech students participated throughout the day.
While the career day was open to all students, it was targeted toward incoming freshmen, according to Scott Sommer, who teaches computer programming and acts as a liaison between the school and its business and educational partners to provide internships, apprenticeships and other career-related opportunities for students. Sommer said many new students are undecided about what they want to do.
"The real goal of any teaching program is to help [students] understand their passion as early as you can, so that they're connecting education with a career possibility," he said.
Last year, 856 students were enrolled at Bradley Tech, down from 1,045 in 2013-14. The school, which has struggled to graduate and educate students as of late, has been at the center of Milwaukee Public Schools' reform efforts. Tech was recently added to the district's list of community schools, a model that includes shared leadership, high-quality and culturally relevant instruction, wraparound services, community engagement and restorative discipline. In early 2015, Tech committed to strengthen ties with UW-Milwaukee and MATC in an effort to improve performance and increase the pipeline of students entering the trades.
Students were asked to fill out a feedback form that asked what stations they visited, whether there was a specific trade they are interested in and if they would like to be mentored by someone in that trade. This mentorship program, which started in partnership with the Milwaukee Building & Construction Trades Council last year, matches students with mentors who meet with them one on one, every month.
"The trades really is an opportunity that can lead to anything you want to make it," said Dan Bukiewicz, president of the Building & Construction Trades Council and an electrician.
Bukiewicz, who served for two years as an alderman in Oak Creek, has contributed to contract negotiations, conducted estimates for jobs and now is "the spokesman for all the trades." Bukiewicz said that he's known individuals involved in the trades who have taught at MATC, owned their own business, become city inspectors or engineers and more.
Bukiewicz added, "You get exposed to so much; it's endless, the possibilities."
The building trades, Bukiewicz said, provide "family-sustaining careers with zero student debt attached" and can be the best opportunity for someone who might not see college as an option. He stressed that the industry is particularly looking for people of color and women, saying, "It's our future workforce."
Tech's students are 92.8 percent black and Hispanic, populations that have been hit hard by unemployment and incarceration in Milwaukee. Almost 90 percent of students are categorized as economically disadvantaged.
Jalen Jackson, a Tech sophomore whose brother and uncle also attended the school, said he feels he and other students are "getting prepared for life." Jackson said he never thought he would like working with his hands, but that changed after a woodworking class, where he made a birdhouse, table and chair.
Zantrell Irvin, a freshman, said he wants to play basketball but if he doesn't make it pro, a career in the trades can provide him with a good wage right out of school, which will allow him to do what he wants in life.
"It's something good and positive to do," he said.