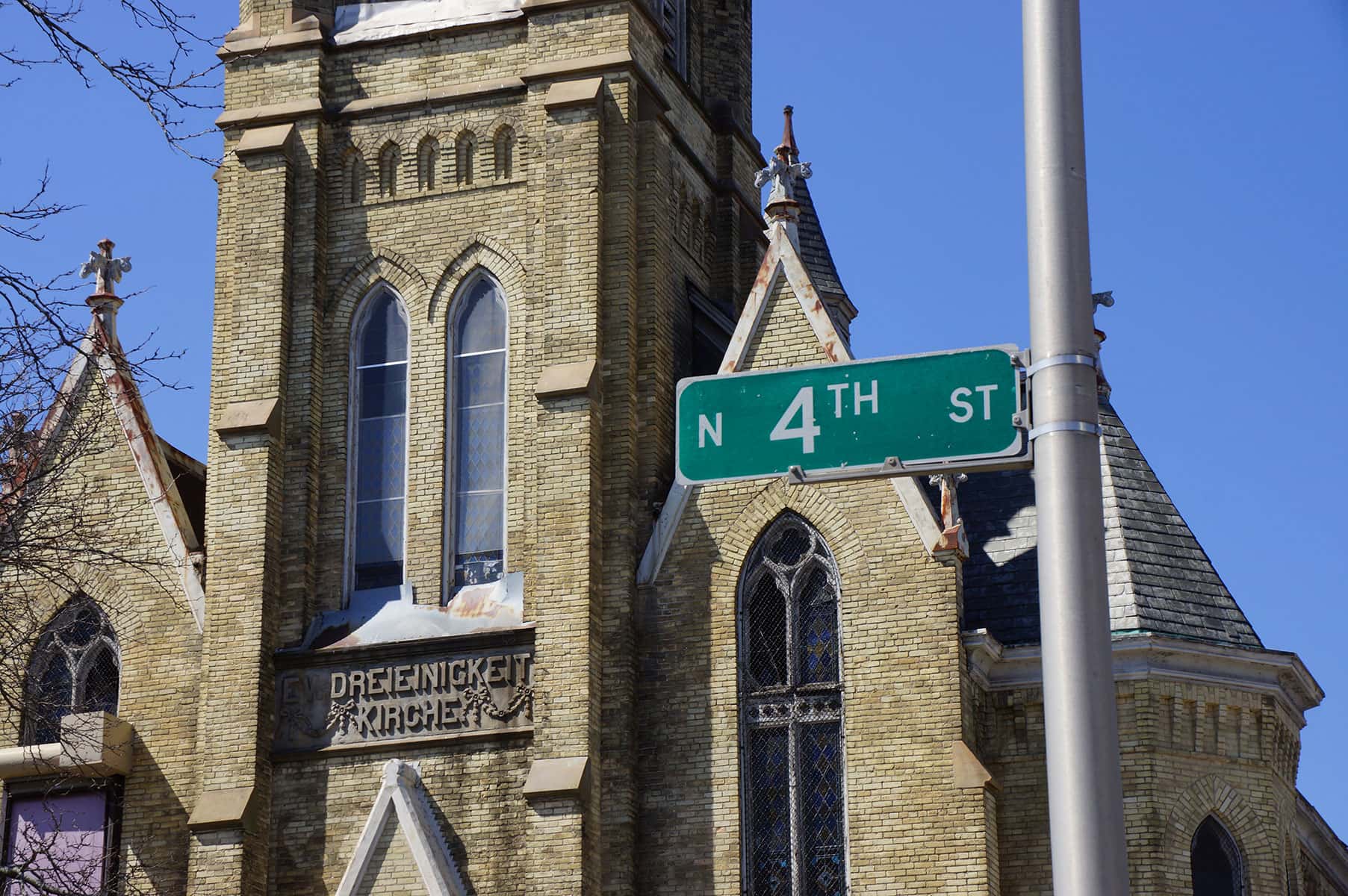 German-Americans are joining with historic-restoration advocates and civil rights groups in a "Rescue and Restore" campaign for King Solomon Missionary Baptist Church, formerly Dreieinigkeitskirche.
The structure is a landmark on 4th St., one block north of North Ave., in the Harambee/Bronzeville neighborhood, adjacent to Halyard Park, Brewer's Hill and Riverwest.
German immigrants were the initial settlers of the neighborhood. German Evangelical Lutherans formed a congregation called "Dreieinigkeitskirche," meaning "Trinity Church," and erected a magnificent building in 1892.
Vivid stained-glass windows and murals honor the early German political and business leaders of Milwaukee.
The German Lutherans made civil-rights history in 1896 when their pastor, the Rev. George Hirtz — withstanding a tremendous national protest — presided over the marriage of David P. Redd, a black man, and Gertrud Farun, a white woman.
While some of Hirtz's congregation left in protest, most of the congregation stuck with their courageous pastor. Hirtz remained at the helm of the church for another 15 years.
King Solomon Missionary Baptist Church was founded in 1958 and has been in the Dreieinigkeitskirche building since 1977. King Solomon is a stabilizing influence in the community, assisting its own congregants as well as area residents with projects that include a food bank and lunches for the homeless. The congregation's leaders encourage civic involvement — and the church is a forum for politicians and civic leaders.
The church choir and congregation members participate in civic events such as Milwaukee Shakespeare in the Park, held in COA's Kadish Park, a few blocks from the church.
"German-Americans, African-Americans, thriving Americans and modest-income Americans are all working together to accomplish this great task," the church says. "In honor of the German founders — and the worshipers of today — we will rescue and restore the building's German-American / African-American artistic, cultural and civil-rights heritage."
Over the years, King Solomon's members have dug deep into their pockets on numerous occasions to pay for exterior and interior restoration projects. But maintaining the structural integrity of a 125-year-old building is a challenge.
Today, the structure needs significant repairs to its roof, exterior brickwork, heating system and electrical wiring. The glorious stained-glass windows also need some loving care.
Estimated cost for complete restoration of the building is over $500,000. The work does not need to be done all at once. The project will proceed in stages as funds become available.
The "Rescue and Restore" Steering Committee includes respected Milwaukeeans who are not members of King Solomon; they are committed to German heritage and historic preservation.
The Steering Committee's fund-development program includes grant applications to foundations and corporations, church members' own fundraising events, and donations from the community at large. The Steering Committee is also seeking support from Milwaukee-area residents of German descent whose ancestors founded and attended Dreieinigkeitskirche.
Funds for the Rescue and Restore campaign are at all times strictly segregated from general church revenues. Rescue and Restore is in the process of becoming a 501(c)3 nonprofit.
Expenditures are reviewed by an independent "Rescue and Restore" Audit Committee.