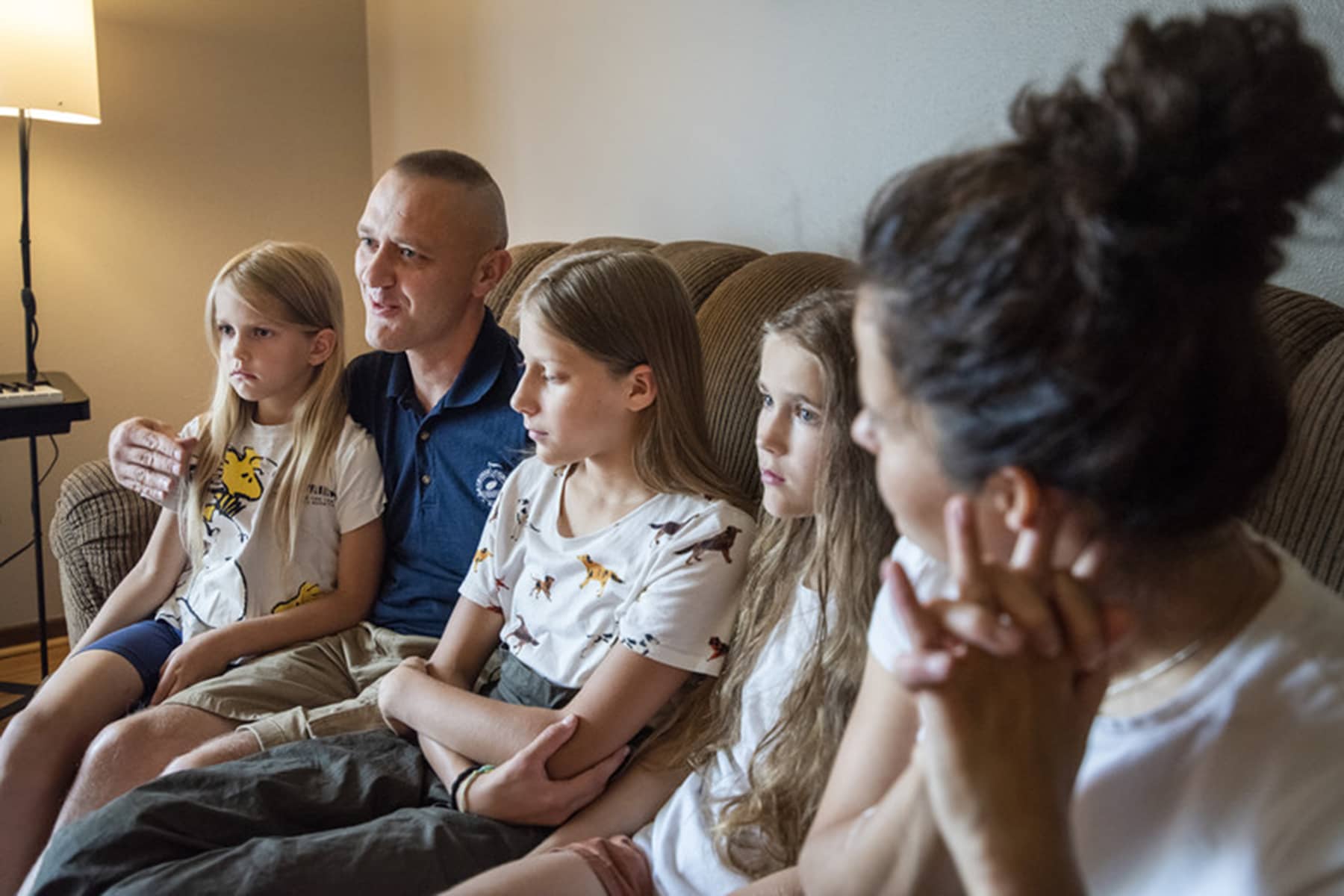 Peter Sokor has been playing piano since childhood, and at his home in Ukraine, he made his living giving lessons to adults and children. He enjoyed teaching people and planning large concerts where students would invite their families, friends and coworkers to see them perform.
As Russia started invading Ukraine in February, Peter, his wife, Kseniia, and their three daughters, Sara, Yeva and Maria, fled their home near Kyiv, the country's capital. At first, Peter tried to bring his keyboard along as they made their escape. But as their journey continued he had to leave it behind.
"I need to play," he said, describing the piano as a way he can express himself.
One of the first things Peter acquired shortly after arriving in Wisconsin in April was a new keyboard. Two months later, with the help of a Stoughton-based aid organization, the family found a new home. Now the instrument sits on display in the Sokors' Stoughton apartment — a place the Stoughton Resettlement Assistance Program, or SRAP, has helped them get. And once again, Peter is able to offer lessons to locals interested in learning to play — though for now, purely on a donations-basis.
The Sokors were one of four Ukrainian families SRAP has helped place in a fully-furnished apartment or home. The program will cover families' rent, utilities and anything else they need as they adjust to life in the United States.
Kay Weeden, a co-coordinator of the program, said when SRAP first began organizing in late 2021, members initially planned to help resettle Afghan families who were seeking refuge at Fort McCoy. But in mid-February, Weeden said the Afghan refugees were all relocated to other communities in the U.S. Soon after, the war between Russia and Ukraine started and SRAP volunteers shifted their efforts to resettling Ukrainian refugees in Stoughton.
"When we started, we were just going to try to help one or two people," Weeden said. "Since then, we've decided that this works and we formed a 501(c)(3) and have been applying for funding wherever we can get it."
SRAP members have worked closely with residents and local organizations to raise money and collect items for the Ukrainians, including furniture, household supplies and toiletries. The community's donations have taken a variety of other forms, such as paying for Sara, Yeva and Maria to take tumbling lessons and providing the families with new bicycles and helmets.
"Sometimes we are so surprised that we are not familiar with people, and they are so kind," Peter said.
Sara, Yeva and Maria were also enrolled in Charis Classical Academy when they arrived in Wisconsin in April. Maria said all of her classmates were nice and became her friends on her first day.
Before the Sokor family was connected with SRAP, an Oregon, Wisconsin couple named Maria and Ben Llewellyn served as the Sokors' sponsors, allowing them to travel into the United States
Maria Llewellyn spent part of her childhood and young adulthood in Ukraine. When the bombings started in February, she contacted her best friend and invited them to come live with her family. Her best friend's family left Ukraine with the Sokors, as they knew each other and had gone to church together. Maria said it was safer for multiple families to flee at the same time, as they traveled through unsafe terrain.
The families went to a refugee camp in Poland and then to the Czech Republic. Back in the U.S., the Llewellyns and their church raised money for both families and sent them monthly support for food, plane tickets and other living expenses. Through their continued connection with the Sokors, the Llewellyns extended them an invitation to stay at their home as well.
Maria's friend and her family, for the time being, decided to stay in the Czech Republic. But the Sokors took the Llewellyns up on their offer, flying first to Mexico, then to San Diego where they met with Ben Llewellyn and finally to Madison.
Since resettling in the U.S., Peter and Kseniia Sokor, and other Ukrainian families, have waited months to get their work permits, Maria said, with no word from the government on when their applications will be approved.
"We don't get any assistance," Maria said. "These people are getting nothing. They are relying just on sponsors to help them."
Maria said she has been regularly contacting representatives to try and speed up the process, and in the meantime, her family has also been sponsoring more Ukrainian families, helping to "give them a chance of a better life."
As more refugees continue to seek safety in the U.S., Weeden said SRAP plans to expand and work with other populations in the future who are escaping persecution or war.
"We would like to be that organization and start to build Stoughton as giving it the reputation for being the friendly city that it is," Weeden said, "welcoming newcomers with dignity and respect for their culture and with enthusiasm."
SRAP is accepting household item donations on SignUpGenius and uses GoFundMe for fundraising efforts.
Donate: Wisconsin Public Radio