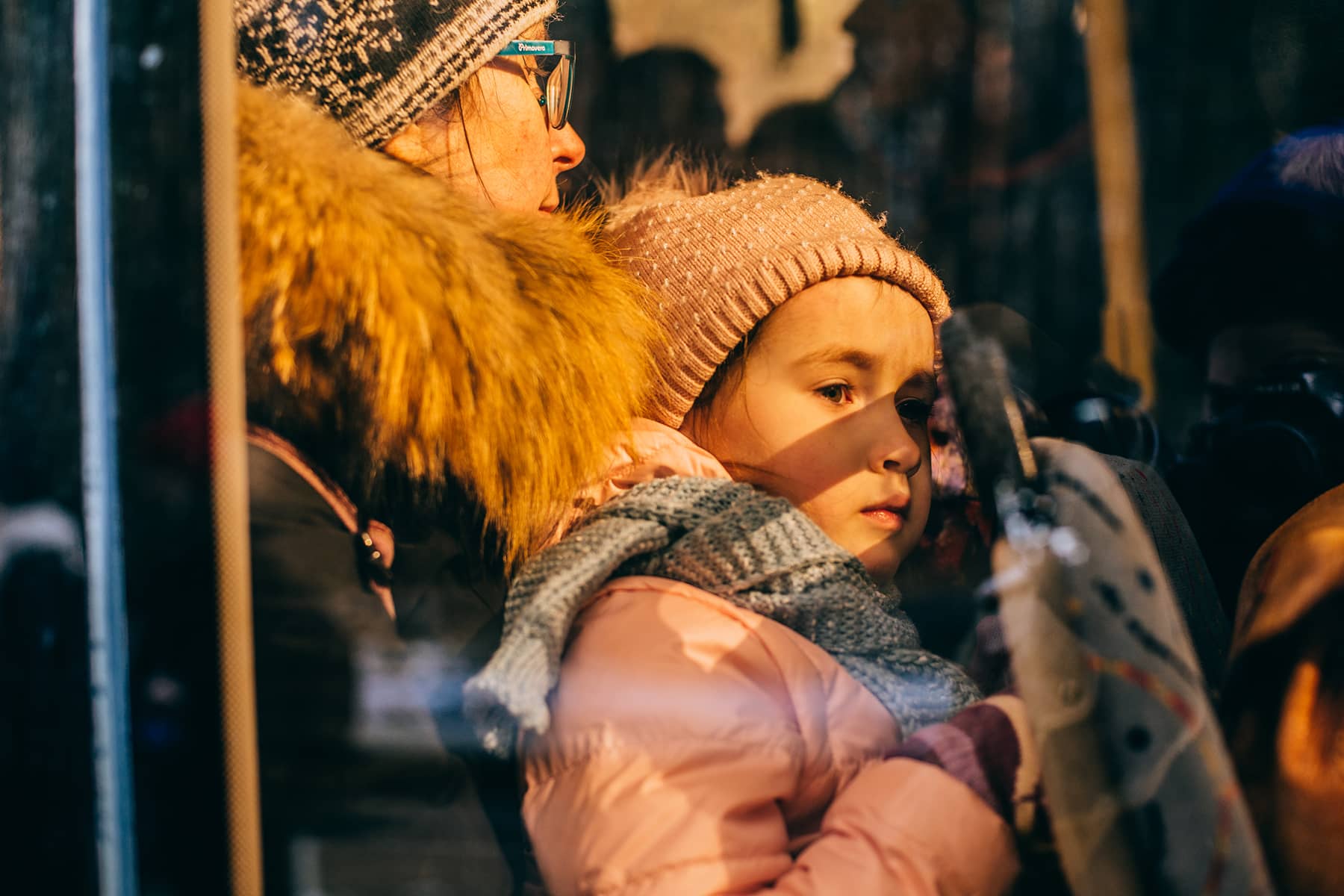 A recap of the situation in Ukraine, where millions of children and their families have been uprooted from their homes.
The war in Ukraine has devastated lives. Across the country, millions of families have been forced to leave their homes, fleeing missiles and air strikes. Many children have been separated from their families and hundreds have been injured.
March 9, 2022, A father with a child while crossing destroyed bridge. They wrapped themselves in a piece of white cloth, trying to to avoid an attack.
The city of Irpin, near the capital of Kyiv, has been a hotspot for violence since the start of the war. Shells have destroyed civilian buildings and much of the infrastructure. There is no water, electricity or mobile communication in the city. Escape, for a time, seemed impossible – in March, a shell destroyed the railway line connection with Kyiv and a bridge to the capital was blown up. Desperate, many people tried to leave on foot, sometimes under fire.
March 9, 2022, An Orthodox priest gives communion under the destroyed bridge between Irpin and a road to Kyiv.
Alla and Dmytro Voznesenskyi, with their children Platon and Nastya, spent five days in a neighbor's basement before finally deciding to cross the bridge on foot on March 9. Every moment was filled with fear – just days earlier, meters from the evacuation bus, an entire family had been killed by shelling while crossing.
March 8, 2022, A family evacuated from Irpin, Kyiv region, with the help of volunteers.
Many people have fled to Kyiv or the west of the country, to cities like Lviv. In the first weeks of the war, Kyiv Central Railway Station was overcrowded. Trains evacuated thousands. Often, train compartments were at double capacity and many of those fleeing left their belongings at the station. Now, the crowds have dispersed and transport hubs like these have become places of salvation and hope.
February 25, 2022, A family at Kramatorsk rail station is waiting for an evacuation train to Kyiv.
The east of the country has also suffered. Many people have fled the city of Kramatorsk amid rocket attacks which have killed and wounded scores. Shelling makes leaving Kramatorsk by train much more difficult. But thousands try.
February 26, 2022, a family with small children is hiding at night in Vokzalna underground metro station in Kyiv. The metro station has become a place of salvation and hope. From the first days of war it has been used as a shelter. Some families stay there for the night.
Many families flee their homes to protect their children, who do not always understand everything that is happening. They want their children to sleep peacefully, to eat normally and not cry from the explosions. Often, they flee with just a small suitcase.
February 26, 2022, Children play and have fun in Vokzalna underground metro station in Kyiv, imagining themselves as the heroes of adventure movies.
UNICEF Executive Director Catherine Russell has said that this war has led to one of the fastest large-scale displacements of children since World War II. According to UNICEF, 4.3 million children have been displaced. This is more than half of the country's child population (7.5 million). More than 1.8 million children have become refugees and crossed into neighboring countries. Another 2.5 million are internally displaced inside Ukraine.
UNICEF and its partners are working hard to reach children in Ukraine and neighboring countries with humanitarian assistance. In Ukraine, UNICEF has delivered medical supplies to 49 hospitals in nine regions – including Kyiv, Kharkiv, Dnipro and Lviv – improving access to health care for 400,000 mothers, newborns and children. UNICEF continues to distribute water and hygiene items to vulnerable communities.
In addition, UNICEF is increasing the number of mobile child protection teams working inside acute conflict zones from 22 to 50 and has delivered 63 trucks of lifesaving supplies to support the needs of over 2.2 million people. In the coming weeks, UNICEF will start emergency cash transfers to the most vulnerable families and establish child-friendly spaces in key locations across the country.
Julіа Kоchеtоvа and Оlеna Hrоm