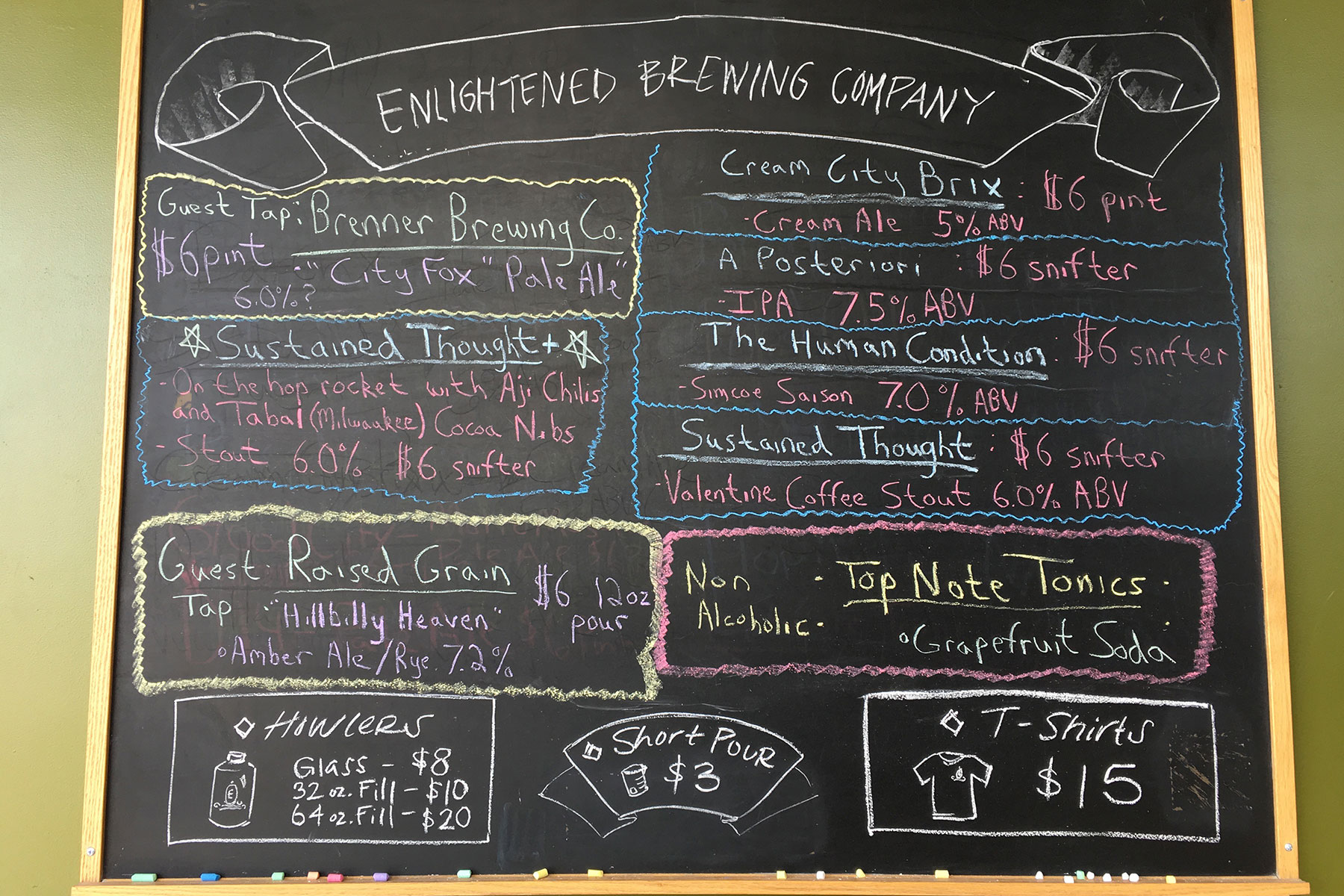 When you hear Tommy Vandervort and James Larson tell the story of opening a brewery together, you'd be forgiven for not immediately thinking of the word enlightened.
To hear them tell the story you might think of words like backbreaking, tireless, work-of-love, or even hard labor. But keep listening and you'll soon find that these two are more enlightened than you might think.
Together, Tommy and James mashed in on Enlightened Brewing Company's first batch of beer in the early days of 2015, when shadows linger long into the cold morning of the Wisconsin winter and snow has lost its magic.
In those early days, James and Tommy would occasionally schedule twenty-two hour, marathon brew sessions so that they could fill a 3 BBL fermentor using their 1/2 BBL brew system. Even as recently as the summer of 2016, when Tommy and James moved Enlightened into a larger space in the Lincoln Warehouse, they spent two eighteen hour days installing a thirty-five foot long floor drain: one day cracking up the concrete floor, using only sledgehammers, and a second day mixing and pouring fresh concrete around the new drain.
When it came to installing five 3 BBL stainless steel fermenters, along with the matching mash-tun and hot liquor tank, it was Tommy and James — with the help of Mike "Gutes" Guten Last Name — who assembled, positioned, and leveled the new equipment. In that move to Enlightened's new tap room on the southwest or corner of the Lincoln Warehouse, the only three things Tommy and James didn't do were the plumbing, the electrical, and the glycol system used to regulate the temperature of the fermenters.
And guess who stood on scaffolding to paint the ceiling. Or who hung new sign hanging outside that taproom. Or who installed the draft system behind their custom bar. Guess who works that taproom every weekend.
That's right. James Larson and Tommy Vandervort.
Yeah, you could be forgiven for not immediately thinking that anything about starting a new brewery from scratch with no investors is enlightened, but listen a little closer and you'll discover two brewers for whom owning a brewery is a way of living the life they want to live. Brewing is hard, but through that labor Tommy and James have found freedom, independence, and a kind of nobility. James says it best, "it's hard work making beer, but it's fun. There's a certain pride," he continues, "in opening up a bottle or pulling on a tap handle and having that beer be something you made." Picking up on this theme, Tommy adds "sure, we could use use hundreds of thousands of dollars … but we have a lot of pride in everything we've done here by ourselves."
Craft Ethics: "Taking pride in working toward a thing that's your own."
— Tommy Vandervort
That same dedication is something you can taste in their beer. "There's always improvement to be done," says James, the Director of Operations and Head Brewer, speaking of crafting a beer. "It's a work in progress and it always will be, and that's something I think comes through in the beer." Take their a Priori Pale Ale. It took "six tweaks and one major overhaul," over the course of a year, to get the beer where they wanted. What began as a hoppy amber ale became a pale ale; changes to the hop bill and other subtle tweaks followed. The result is a bright, light, hop-driven beer with a malty undertone that is a lovely example of a style which is becoming a central part of Milwaukee's craft beer renaissance.
It turns out that the tireless pursuit of great beer is a necessary ingredient of success for a small brewery. When they opened Enlightened Brewing Company, Tommy's previous work as a bartender meant he was well-connected enough to hit the ground running. But as James puts it, "love is the first sale; consistency and the quality keep people buying beer."
James tends to talk a lot like that. In the foreground is a scientific focus on consistency, repeatability, a thorough managing of all the details involved in brewing, but behind it lurks a little bit of poetry, a little bit of love for the beer. Unquestionably James' background — a Master's Degree in Brewing and Distilling from Heriot Watt University in Edinburgh, Scotland, an internship at Bell's Brewery in Michigan — informs his brewing practices, but as I talked with him, I began to see that there was something more.
As he and Tommy told the story of opening a brewery, and as I began to understand just how much work that involved, I started to wonder what it was that drove them to open a brewery. That's when he told me this: "Life in a cubicle is less and less likely to get you to a point of financial security and physical and mental well being, it's not as fulfilling as making your own guitars, making your own bike frame, candles, pint glasses, whatever; if you can actually put your passion and your drive to work for you financially then the rest is gravy."
Simply Great Beer: "I'm the biggest anti-hype machine on the planet."
— James Larson
Head into Enlightened Brewing Company's tap room and you'll find plenty of wonderfully executed beers to keep you interested. What you won't find are beers-du-jour and beers chasing every hot market trend. "We just like good beer," Tommy explains. Which makes sense. In a time where so many breweries seem intent on creating the next rare beer, locked in a competition to see who can use the oddest adjuncts, Enlightened's taproom is a sane reprieve into a world where craft matters more than hype.
It's not that Tommy and James don't experiment or brew in new styles. Currently on tap they have The Human Condition, a Saison hopped with Simcoe, A Posteriori, their IPA, Sustained Thought, a Coffee Stout made with Valentine coffee — you'll even find beer run through something called a randall (or a hop rocket), which is used to infuse flavors into a beer directly before it leaves the tap. When I visited, Tommy and James had two versions of Sustained Thought on draft: one a regular keg, the other run through the randall, infusing it with cocoa nibs and chili peppers.
The focus is on quality. "We want to make the best beer that we can," says Tommy. At Enlightened, the goal is to "keep it simple and focus on the process," explains James; "improve the process and improve the beer." Sipping James' coffee stout, I first balked at his use of the word simple, but then I realized that in fact one of the defining qualities of great beer is how deceptively simple it can be. Like his Simcoe Saison. Matching hop profile to yeast character is no easy feat, especially with notoriously finicky Saison yeast, yet the end result tastes balanced, a natural pairing of flavors rather than a forced one. Likewise, Cream Ale is a real challenge to brew well because its exceptionally light character leaves no room for flaws, resulting in a beer that many might think of as simple even though its flavor profile is unforgiving. With the Cream Ale, as with all their beers, Enlightened Brewing Company has succeeded in creating beer that effortlessly conceals the care and attention to detail with which it is brewed.
A Brewing Community
When they opened in 2015, Enlightened Brewing Company was on the forefront on Milwaukee's craft beer renaissance. In the eighteen months since then, several other new breweries have opened. Prevailing logic would seem to dictate that with so many new breweries opening the competition among them would be intense. But as with so many things, Tommy and James' view on the subject is, frankly, enlightened.
James explains, "it should be a healthy competition." For him Milwaukee's craft beer is "a rising tide thing," the successes of individual breweries benefits all the breweries because they raise awareness about and bring attention to the entire beer scene. "We all want to be better than everyone else," James continues, "not in a detrimental way, not in a way that puts [a brewery] out of business, but in a way that makes us better and makes you better."
But in listening to Tommy tell the story of Enlightened's early days, I found that the feeling among Milwaukee's craft brewers is less one of friendly competition and more of genuine camaraderie and kinship. "We have a good relationship with the Milwaukee breweries that opened before us," he says, "we can learn a lot from them; they've been doing it for at least 20 years, and they've been helpful." That help has ranged from answering questions about taxes and state permits to sourcing hops and even loaning out equipment. Tommy goes on, "we were running a pump and we needed a variable frequency drive. Andy from Good City had one and he was very willing to just give it to us and show us how it worked."
The goal for Enlightened Brewing Company, and for other brewers I've spoken with, is to make Milwaukee a destination for craft beer drinkers. The way James and Tommy see it, making Milwaukee into a beer town on par with Portland, Denver, or Burlington is going to take a community of brewers who are all committed to promoting each other and to brewing great beer.
Beer as Humanism
As Milwaukee's craft beer renaissance continues, I know many people are anticipating the time when local breweries install production facilities and barrel aging programs, for a time when bottle releases attract the kind of attention and attendance seen in the country's most popular beer cities, but as I was sitting with James and Tommy at the bar they installed, I realized something: in the rush to appreciate great beer we can forget to appreciate the humans behind it.
There is something profoundly inhuman in the rush to acquire rare beers or in reducing a brewery to its aggregated Beer Advocate score — even in judging a brewery based on GABF awards. Sipping a Cream City Brix or tasting A Posteriori was as much about great tasting beer as it was about tasting the values of Enlightened Brewing Company: an honest, unpretentious dedication to crafting beer.
If that isn't enlightened, I don't know what is.
So as Tommy reminded me, "vote with your dollars," support local beer. Milwaukee's craft beer renaissance is for all of us, but it cannot happen without us, the drinkers, without our choosing to support the people behind the beer. And those are good people. If you don't believe me, go see for yourself. At least for now, Tommy and James are pouring great beer in their taproom every Friday and Saturday night.