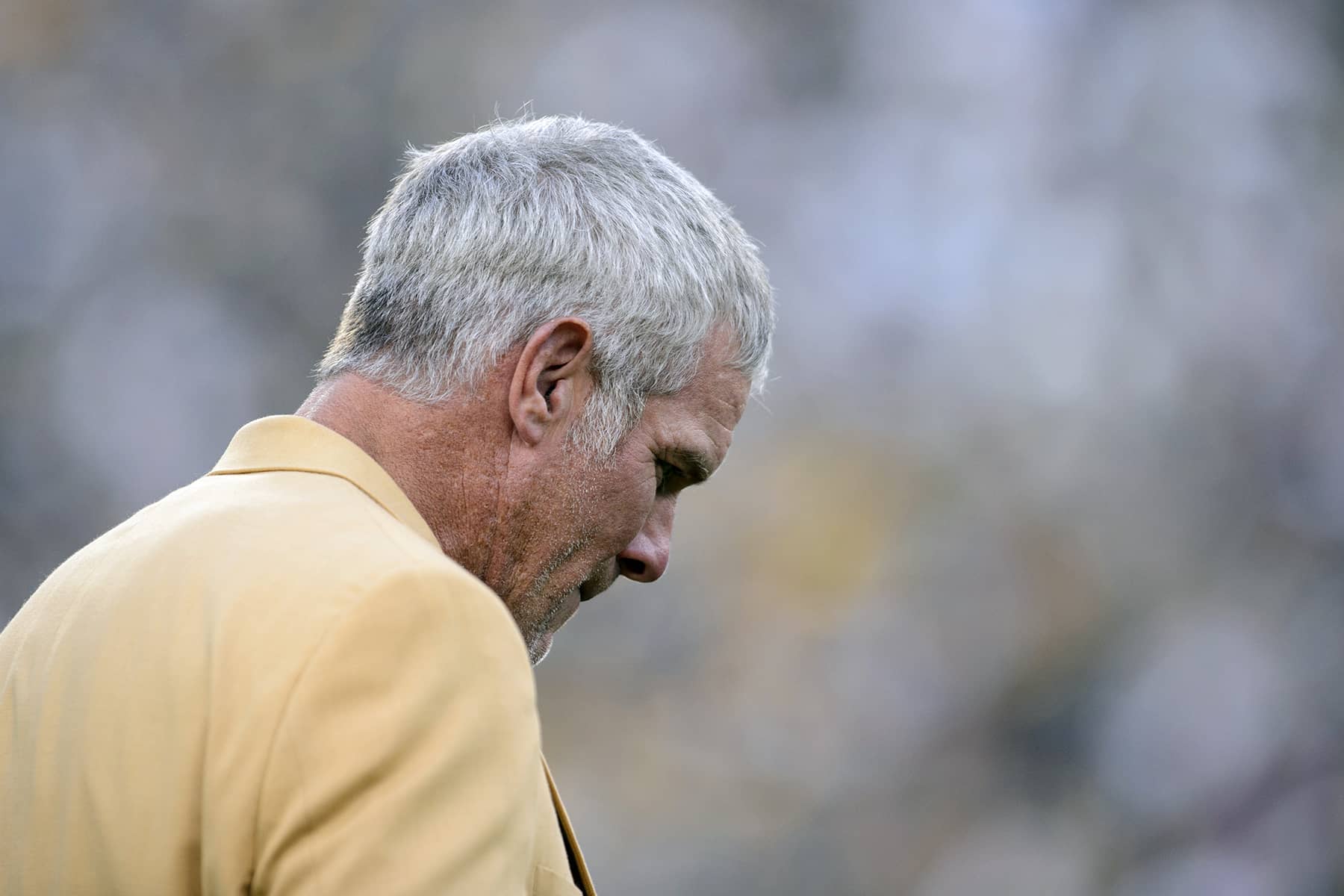 "If you were to pay me is there anyway the media can find out where it came from and how much?"
– Brett Favre text message to Nancy New on August 3, 2017

"No, we never have had that information publicized. I understand you being uneasy about that though…"
– Nancy New text message reply

"Oh thanks."
– Brett Favre reply
In recent weeks very little media attention has been paid to the welfare fraud scandal in my home state of Mississippi involving Green Bay Packer legend, QB Brett Favre. The multi-million dollar scam would seem to have all of the classic components to be a huge news story. Millions of dollars were diverted from the state Temporary Assistance for Needy Families (TANF) welfare fund to build a new indoor volleyball stadium that Favre's daughter would play in.
The then governor of Mississippi, Phil Bryant, has been implicated in the fraud and is turning state's evidence. Text messages between Favre and the Governor have been released showing that he did not tell the truth when saying he had not communicated with the governor. Favre received $1.1 million for speeches he never gave and eventually returned the funds but refuses to pay interest on the money he got.
You would think these things would be enough for a full blown media storm over the scandal. Instead, very little has been written and said by so-called "insiders" at ESPN. The national media spent so much time recently on the funeral of the British Queen that you would think the U.S. was a part of the United Kingdom.
We are now seeing a full-blown media storm as Boston Celtics head coach, Ime Udoka, has been given a year long suspension after having an affair with a woman who works for the team. A simple Goole search of "Ime Udoka suspension" returns 29 million results. Not so for the welfare fraud scheme in Mississippi.
What makes the fraud in Mississippi particularly egregious is that is was money taken from the poorest of the poor. "States use their TANF grants to fund monthly cash assistance payments to low-income families with children, as well as a wide range of services…" according to the Office of Family Assistance. Each state determines the financial benefits given to each family.
The fraudsters received $5 million for a volleyball stadium by the end of 2017. The Mississippi Department of Human Services (MDHS) reported that in 2017 only 1.42 percent of poor families who applied for assistance through the program were approved. A total of 11,700 families applied but just 167 were approved. Those that were approved received a measly $170 per month for a family of three. That family cannot earn above $680 in gross monthly income to be eligible for the program. For those who love to claim people are getting rich off of welfare, this should be enough to dispel that fallacy.
In addition to this scandal, the recent water crisis in the state capitol, Jackson, where 80 percent of residents are Black, is yet another stain on the state. Currently, multiple prosecutors in Mississippi are looking into this massive scheme to funnel welfare funds to wealthy celebrities like Favre. It is the largest documented case of welfare fraud in the history of Mississippi.
Favre has not been charged, and denies knowledge of where the funds came from. This seems hard to believe for many in Mississippi since the text messages were released.
The lack of attention paid to a man who earned $137.8 million during his career is not surprising to me. I certainly believe that if he was Black the response would be different. All we have to do is look back at the scandal that Michael Vick got caught up in for funding a dog fighting ring in 2007. Vick paid $34,000 to purchase the property where the dogfights occurred.
It became the biggest news story in the country for months.
Animal rights activists protested in New York outside NFL offices after Vick was charged in federal court with conspiring to engage in competitive dogfighting, procuring and training pit bulls for fighting and conducting the enterprise across state lines. In August 2007 Vick plead guilty, admitting to conspiracy in a dogfighting ring and helping kill pit bulls. He denied betting on the fights, only bankrolling them.
Vick was suspended indefinitely by the NFL and served 23 months in federal prison even though federal guidelines suggested a 12 to 18 month sentence. He lost out on the remainder of a 10-year $130 million contract he had signed with the Atlanta Falcons in 2004. He filed for Chapter 11 bankruptcy while in prison. He even admitted later that he felt he deserved to lose the contract. He was eventually able to return to the NFL and has been apologizing for the dogfighting since 2007.
The Michael Vick story was on the news incessantly for months. Googling "Michael Vick dogfighting" today returned 158,000 results. That event was 15 years ago. Googling "Brett Favre welfare fraud" returned just 163,000 results. The fact that a case from a decade and a half ago being nearly as newsworthy as a recent case of theft of funds from the poorest of the poor in the poorest state in the country says a lot about Americans sensibilities.
Apparently the nations' love affair with a White celebrity like Favre is enough to ignore an ugly scandal where money was stolen to build a volleyball stadium. When people try to tell me that race does not play a big role in America I can now include this scandal from my home state to prove them wrong. Perhaps if Favre is actually charged this may receive more attention. The fact that the known information up to now has not been enough to get the talking heads at ESPN, the National Football League offices and the NFL Hall of Fame to muster a statement about Favre says a lot.
I was recently back in my home town. I saw how the town continues to deteriorate. I visited the Emmett Till Interpretive Center in Sumner, Mississippi, just 30 or so miles from my hometown. It was a small building across the street from the courthouse where the murderers of Emmett Till participated in a sham trial where they were found not guilty by a jury of all-white men.
I spent a couple of hours taking with Benjamin Saulsberry, Public Engagement and Museum Education Director for the Interpretive Center. He is a young man that is dedicated to keeping the memory of the impact the Emmett Till murder had on the nation. The case galvanized the Black community and lead to the national Civil Rights Movement. I can only imagine what that center would like if it received sufficient funding from the state.
Next to the courthouse in both Sumner and my hometown of Charleston, stand large monuments to Confederate soldiers. It's a constant reminder to Blacks in the state that they are not valued. I also saw a White woman with a large Confederate flag on her shirt while I was back home. Mississippi is still Mississippi.
The welfare fraud case, and the Jackson water crisis are just the latest examples of how Mississippi does not care much about its Black citizens. Shame to the media that refuses to give more of attention to Brett Favre and his role in this ugly scandal.