Harpole Building: Bader Philanthropies names its Harambee HQ in honor of Reuben and Mildred Harpole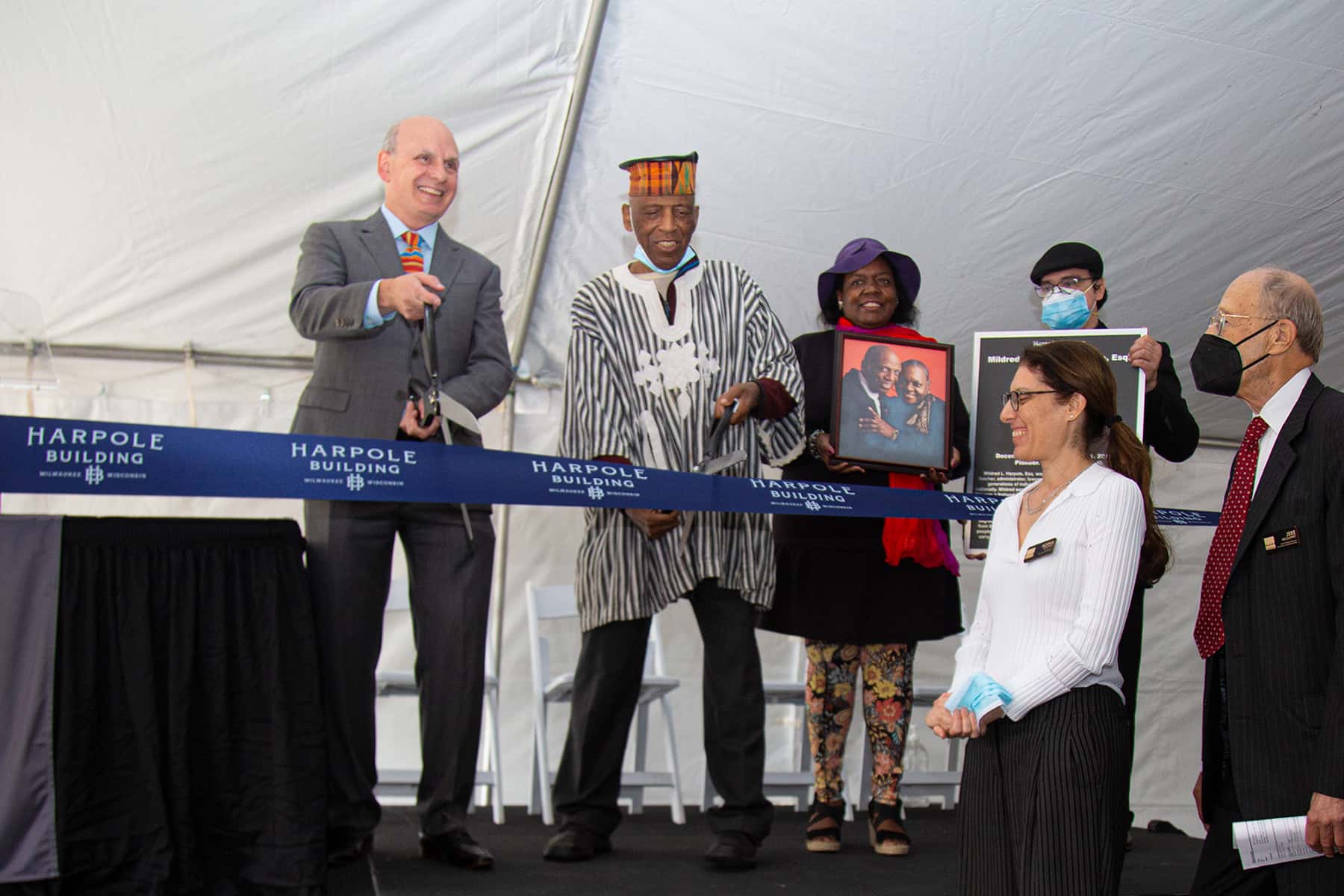 At a grand opening and ribbon cutting ceremony on October 12, Bader Philanthropies announced the name of the newly renovated Harambee neighborhood building located at 3338 N. Dr. Martin Luther King, Jr. Drive.
To be known as the Harpole Building, the name was selected in honor of Reuben and Mildred Harpole. The Harpoles have been community advocates, pioneers, and leaders that created a lasting impact on the Harambee community and the Milwaukee area. The couple fought for justice in Milwaukee for decades, and were known as the Black Mayor and First Lady to many.
"Reuben and Mildred spent the majority of their lives serving our community on many levels – in our schools, neighborhoods, philanthropy and through countless civic endeavors," said Daniel J. Bader, president and CEO of Bader Philanthropies. "This building and its tenants were born in response to what we heard directly from our neighbors. It's only fitting we name a community building to honor their determination and courage to make the lives of others better. It is a testament to their legacy that continues to inspire so many people today."
Mildred L. Harpole (nee Cowan) and Reuben K. Harpole, Jr. met in Milwaukee while both were attending college – Mildred at Marquette University, Reuben at Milwaukee Area Technical College. After Reuben served in the Korean War and Mildred completed her law degree at Case Western Reserve University Law School in Cleveland, at a time when women were not even encouraged to attend college, they married and established their home in Milwaukee where they raised their daughter and son, and engaged in community activism work as a couple.
Reuben and Mildred devoted their lives to advocate for Milwaukee's youth and vulnerable. Reuben worked as an outreach specialist at the University of Wisconsin-Milwaukee Extension, where he co-created the Center for Urban Community Development with Dr. Belden Paulson.
In 1998 Reuben became a program officer for the Helen Bader Foundation, now known as Bader Philanthropies, and established the first neighborhood engagement program for the foundation, the Sankofa program area. During his tenure he worked with countless community organizations to support business, education, and culture growth in Milwaukee, directing the selection of over 660 grants totaling more than $5.8 million.
During that time, Mildred advocated for education and racial housing equal rights. She worked at Milwaukee Public Schools as a reading specialist, and an administrator at Harambee Community School, often protesting against segregation and lack of resources at primarily African American schools including serving as a teacher in one of Milwaukee's Freedom Schools in the 1960s.
Mildred went on to serve as director at the Fair Housing and Equal Opportunity for the Milwaukee Office of the U.S. Department of Housing and Urban Development, where she advocated on issues concerning fair housing and homelessness for several years before finally retiring in 2002.
"I'm honored to have our name on this building, in a community that has meant so much to us throughout our lives," said Reuben Harpole. "It was my wife, Mildred, who inspired me to become an activist in the community. And I'm humbled by how it has inspired the community."
Throughout their lives, Mildred and Reuben held founding roles in many Milwaukee nonprofits and other organizations, including the Central City Teach Community Project, MPS Homework First Program, Milwaukee 100 Black Men, and the Children's Performing Arts group, among others. Reuben served as one of the early organizers of the Milwaukee Community Sailing Center. He also brought the Rites of Passage program with the late Dr. Anthony Mensah to Milwaukee Public Schools and elsewhere in 1980.
Mildred became national president of the Eta Phi Beta sorority and served on the City of Milwaukee Arts Board. She also co-founded and led the North Central Service Club, and promoted civic discussion forums as an executive committee member of the Community Brainstorming Conference. Both Reuben and Mildred played key roles in the establishment of Milwaukee's community health centers in the 1970s, now known as Milwaukee Health Services.
Reuben and Mildred received numerous awards and honors, including the Vatican II Award from the Milwaukee Archdiocese; the Frank P. Zeidler Public Service Award in 2013; and the first Distinguished Educator of the Year award at Celebrate Teachers & Teaching in 2015. On September 21, 2009, Reuben was honored as the official "Paramount Chief of Milwaukee" and received a portion of Second Street, near North Avenue, which was renamed "Reuben K. Harpole, Jr. Avenue.
"The first time I heard the word 'Harambee,' it was from Reuben," said Frank Cumberbatch, vice president-engagement, Bader Philanthropies. "It's a Swahili word meaning 'to pull together.' That is what Reuben and Mildred did for our community through the years they lived here – pulled us together and led us forward into a future we can continue to build toward."
The historic Harambee building houses Sam's Place, a Milwaukee-based eatery and jazz café; Shalem Healing, Inc., a 501(c)3 nonprofit clinic offering integrated and holistic health care to the community, including the uninsured and underinsured; and Refua Medicinals, a blend of traditional Chinese medicine and modern nutritional science that Shalem Healing's founder Dr. Robert Fox created.