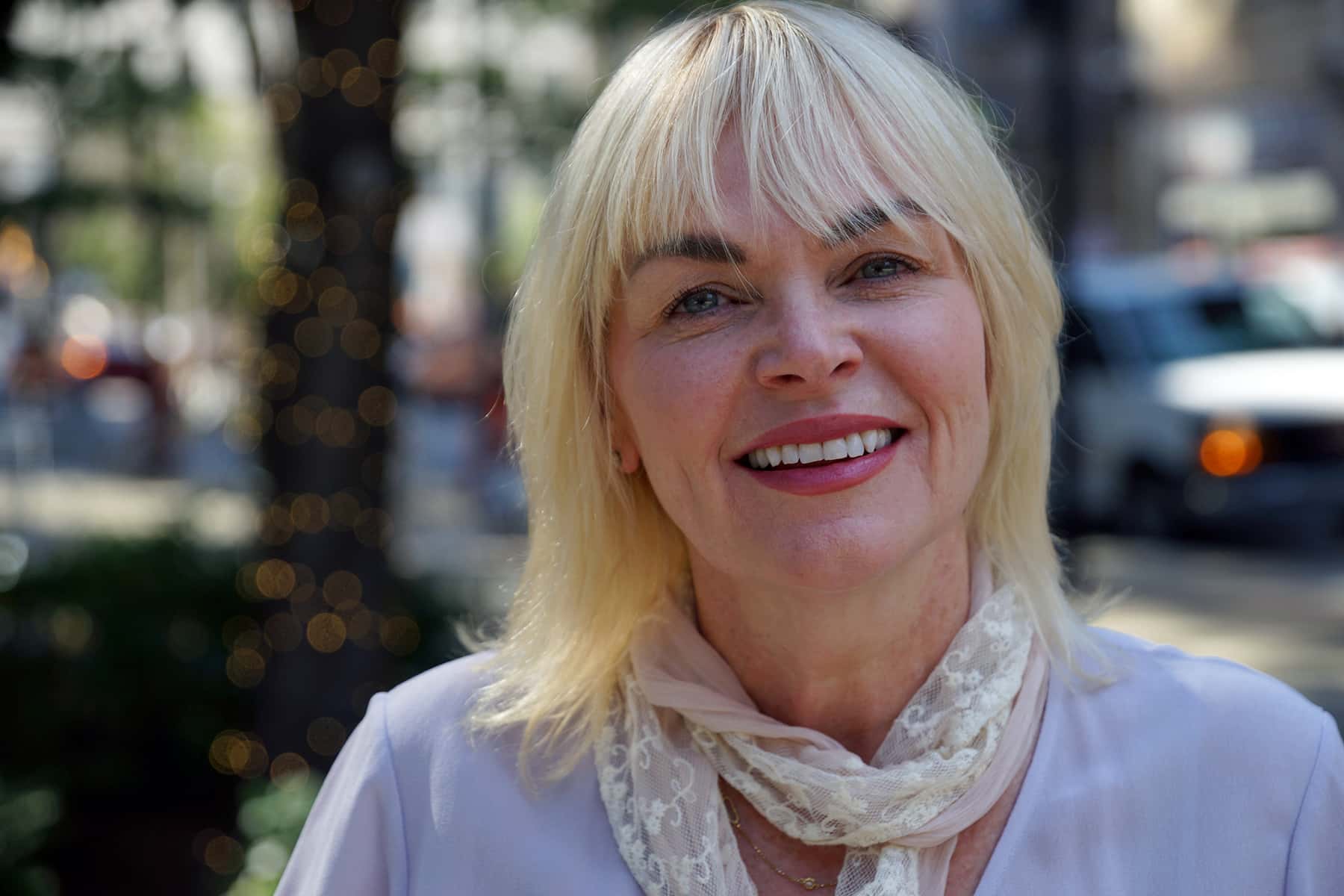 Growing up with a deep community connection to Milwaukee and the compassionate example of her family, Beth Weirick has spent her career as a champion of the city, its population, and the quality of life for area residents.
From her efforts to reinvigorate the downtown district and revive it as an economic and social hub for new generations, to mentoring other young women striving for leadership positions in the city's patriarchal business culture, to coping with the personal loss of her beloved husband Joe, Weirick's kindness, approachability, and positive nature stands as an inspiration for many.
Milwaukee Independent: What is the fondest memory from your youth, and who impacted your life the most while growing up? Do you still see their influence today?
Beth Weirick: My fondest memory from my youth is living across the street from my grandparents, Emil and Lillian. There were so many family gatherings, family traditions and memories around conversations, food, community and our family's Slovak heritage. My grandparents had great values and I learned so much from them – honesty, work ethic, integrity, a zest for life and a love of the outdoors. Their faith was so intense. They lived it and led by example, but never preached about it. They led our family with a great balance between work and play, along with an innate desire to always give back to the community. Neither of them ever exhibited or acted out of anger or said a bad word about anyone. They always led with love and kindness. To this day, they both continue to influence me in many ways. They were always recycling and taking care of Mother Earth in all they did. It was part of their natural lifestyle. They never had excess. They always had gratitude for all they had. They shared all that they had with family and friends. They always prospered and found things to be happy for. I loved eating cucumbers and carrots out of their garden. Sunday Soup at Grandma's was the best! So many great memories full of love and gratitude.
Milwaukee Independent: Why did you choose to live in Milwaukee and stay here? And, to what do you attribute your caring and passion for the city?
Beth Weirick: My grandparents, were the second generation of their families to live in Milwaukee. Both of Lillian's and Emil's parents moved to Milwaukee as adults from Slovakia. My understanding, from my grandparents, was that they were told good jobs were here – Milwaukee was the Machine Shop of the World. My great-grandpa, Peter Pecus, was an engineer with Allis-Chalmer's and played a role in building the Hoover Dam. My grandparents were always involved in the community growing up. Whether it was cleaning and decorating the church, setting up the neighborhood daycare, Sunday breakfast fundraisers after church, First Catholic Slovak Women, local elections, helping neighbors, gathering clothing for the poor and so much more. That involvement nurtured my engagement with the community. I recall loving this city immensely – even as a young child. When I was in 6th grade, I remember writing an essay on "What it Means to be an American Citizen." I remember even back in 6th grade, I wrote about how important it was to take care of your own backyard and to make your own corner of the world the best place it could be. I took first place in that national essay contest and received two trophies and a check. I remember how proud my grandparents were of that essay. They had a story published about it in the Slovak newspaper. I can't remember the name of the paper, but I do remember that they had it on display for all to see when they had visitors – which was regularly.
My love of the city probably also stems from my dad's adventuresome spirit. Our family of eight would regularly jump into the wood-paneled station wagon and go for Sunday drives. We would drive through every nook and cranny of our city, just to see what was going on. I always thought we had such an interesting city. I remember my first bus trip downtown with my friends, we went to see Boston and Journey at the MECCA. I remember vividly getting off the bus and thinking why is our downtown so dead? Seriously. I also remember my high school real estate teacher taking us downtown to meet with representatives of the new blue building. I had a lot of questions for the property manager that day. I was always intrigued with our city and, in particular, our downtown. The woman who spoke to our class is still working downtown today and has become a mentor and fabulous leader in the real estate community. You truly never know where life's twists and turns will take you. I feel blessed that my pathway led me to the work I am doing in my community.
Milwaukee Independent: What has your experience been like as a woman advocating for Milwaukee business interests, when most of those enterprises have lacked female representation?
Beth Weirick: Spencer's Gifts comes to mind. I can remember there were times I thought I needed to bring a penis to a meeting, just to be heard – sort of like a pet rock. I always persevered and remained focused on keeping my eye on the ball. I learned at a very young age to be prepared, do your homework, and to never let them see you sweat. I had some wonderful mentors in my life, both men and woman. I was fortunate to have family and friends who believed in me, which led me to build confidence in myself. I believe that being a young mother also gave me the drive to want to soar in order to be inspirational to my children, to have high standards, to set good examples, and to be a good mentor to others. I was always fortunate to be engaged in work that moved our community forward. I once called a meeting with some male leaders I worked with that I termed my "gentlemen" meeting. I had a list of issues that I asked to have resolved and I was very straightforward and honest. I told them unless things changed, I wasn't going to stick around. It was amazingly productive and the outcome was fantastic. It was a lesson to me that sometimes circumstances are not what they appear. A difficult, but open and honest conversation can work toward understanding, awareness, and change.
Milwaukee Independent: How do you stay so positive and optimistic in general, when much of our daily culture is very much the opposite?
Beth Weirick: I remember an ah-ha moment when someone said to me in my mid-20s "Beth, not everyone wakes up happy every morning." I realized just how fortunate I was to have the disposition I was born with and that was nurtured in me by those close to me. The environment I was raised in put me in a place where I created my own joy early on. I was able to find joy in so many things. I was the third child in a family of six children. We were a working-class Milwaukee family. My mom was employed at a JCPenney warehouse and my dad was an auto mechanic, and a really good one at that. They both worked really, really hard. We had all that we needed. We were fortunate to have a great early education at Holy Cross grade school, a close and healthy family, and we lived in a neighborhood where everyone looked out for one another. Don't get me wrong. I have had some really challenging and sad chapters in my life – divorce, financial challenges, and the most difficult of all, the loss of my best friend and husband, Joe Weirick.
I feel like I just recently started crawling out of a very dark hole from the heavy grief and loss. When you have a loss like that you become so aware of mental health issues, depression, suicide, and the fact that some people are just built differently. The loss of Joe led me to understand how people can feel deep loneliness and helplessness. Along my pathway to processing my grief, Kate Spade and Anthony Bourdain committed suicide. It made my heart so sad to know that two people who appeared to be phenomenally successful and fulfilled in their career paths would not have the resources or ability to overcome deep depression. I was never suicidal, but I related to that hopelessness that one can feel and really evaluated my fortitude and my future pathway. I resolved that I would work through my grief and make a way forward to find joy once again in my life. Just this past weekend, a friend had mentioned that it was nice to see some pep back in my step. I know I had to make a conscientious choice to "be happy" again and to look for the miracles and beauty in everyday life. I am choosing to be happy and positive.
Milwaukee Independent: How did you arrive at supporting gender equality, and what do you say to promote understanding and acceptance of LGBTQ issues?
Beth Weirick: I often ask myself "Was there a moment, a person, or a particular situation that influenced my perspective?" My values around gender equality and acceptance of LGBTQ issues came from a place of faith that was instilled upon me, that all human beings deserve equality and quality of life. I was raised Catholic and that's just the way my God appeared to me. Women and men alike have gifts to share and I believe – to the core of my being – that access to rights and opportunities should be unaffected by your gender or your sexual orientation. I see goodness in everyone. I wish I had a much more compelling story to tell around this, but as I was growing up this is how I believed a true Christian was. All I know is that I am so grateful for my belief system. I hope that throughout my life I am able to provide love and support to individuals who feel downtrodden, rejected, or unloved. I encourage people to be true to themselves. I believe that is when you become whole as a person and empowered to be the best that you can be.
Milwaukee Independent: What has leading charity initiatives taught you about yourself, and how to you manage your expectations for results?
Beth Weirick: Sometimes just a random act of kindness is a charity. I like those a lot. They are fun, spontaneous and they make my heart feel light. Relative to long-term initiatives I try to be very thoughtful. As I have grown wiser, I recognize that there is a need to evaluate the "why." Why is this needed? What is the situation? Why are there barriers to a solution? Is there a model already in place that just needs more resources or support? Have I (we) thoroughly vetted the proposed initiative to ensure that there are not unintended consequences? Is the model sustainable? Is the intent to be in place in perpetuity or short term? Do I (we) have the fortitude and resolve to see it across the finish line? Will it resonate with our community – partners, donors, clients, leadership? Answering all of these questions will typically guide in building a healthy framework and mission. I have learned that collaboration is critical, influencers are necessary, and philanthropists are pulled in many directions for many worthwhile causes. I don't see many overnight successes, but I am a believer that patience and perseverance are key and that good things are worth working for.
Milwaukee Independent: Why is collaboration important, how are you able to build coalitions, and what is your secret to ensure it is a balanced and mutual effort?
Beth Weirick: Collaboration is critical whenever you work for the good of the community. I learned at a young age it is best to have varying perspectives around the table. It is helpful to make space for opinions and beliefs from others. Experience has taught me that working in a united fashion to shape or mold a project, a program or an advocacy initiative has proven to be a winning approach. I don't know that I have a secret to ensure balance, but I do know that I am genuinely interested in a fair and balanced outcome. Open and honest dialog typically leads us to that end result.
Milwaukee Independent: What would surprise people to know about you? Or, what are some of your personal hobbies and private interests?
Beth Weirick: I'm not sure there is anything about me that would surprise people. I'm a pretty transparent person. My hobbies include cooking, eating, reading, being outdoors and travel. My private interests are time with my kids, grandkids, friends, and my dog – Bob.
Milwaukee Independent: What are you most proud of accomplishing so far in your life or career, and what goal are you still striving to reach now?
Beth Weirick: Personally, I am most proud of my children, Shawna and Justin. They are both amazing people that I now consider friends. In general, I am proud that I have been able to work for several decades to improve the conditions of our downtown and our community at large. My goals are to continue improving the quality of life for all in our community and to work to unite Milwaukee, so we can be proud to raise our children and grandchildren here.
Milwaukee Independent: What has been the biggest challenge for you recently, personally or professionally, and how are you processing the experience?
Beth Weirick: Personally, by far the loss of my husband, Joe, has been the greatest struggle for me. There were many sad and dark days where all I did was pray that tomorrow would be a better day and that the pain would somehow be eased. When you love deeply, you hurt immensely. Over time, I have come to a place of gratitude. Gratitude for the love I knew in Joe, for the sacred times we shared, and for the special love that will forever be in my heart. Joe's love and spirit lives on in many ways. Through my "bonus" kids and my four grandchildren, Joe's legacy will live on.
Milwaukee Independent: So many of Milwaukee's historic traditions had vanished by the early 1990s, so why did you feel the need to resurrect them and what did you learn from those efforts?
Beth Weirick: There are two traditions that come to mind where I played a role with my organizations in their return. The first was the return of the Shamrock Club Saint Patrick's Day Parade to Downtown Milwaukee, and the second is the return of downtown Christmas décor. Over 25 years ago, I had the pleasure of serving as the Executive Director of the Westown Association. I had a board member who suggested we bring back the parade. It was a tiny bit controversial, but most people were very excited about it. To this day, over two decades later, the Shamrock Club of Milwaukee proudly presents the parade with over 120 units featuring Irish dance groups, pipe and drum corps, and local dignitaries and celebrities. The collaboration between the Westown Association and the Shamrock Club of Wisconsin remains strong in bringing this gift to the community.
The return of Christmas décor to the streets of Downtown Milwaukee took place 22 years ago. It was a beloved tradition and the community embraced the return with enormous gratitude. Milwaukee Downtown, BID #21 has continued this tradition for 22 years now and each year we focus on ensuring that our community feels connected and inspired. Throughout the years, we have expanded the street décor to include décor in three downtown parks – Pere Marquette Park, Zeidler Union Square, and Cathedral Square Park. We have added numerous events including the Milwaukee Holiday Lights Festival Kickoff Extravaganza, Cocoa with the Clauses, the Jingle Bus, and Santa's Mailbox. We are so proud to include children throughout the greater Milwaukee area in this project. This past year, several thousand children helped decorate the trees in "Community Spirit Park" at Cathedral Square Park. It is truly a season of joy!
Milwaukee Independent: What are you doing to prepare the Downtown BID for the Democratic National Convention (DNC), and do you feel the city will rise to the challenge?
Beth Weirick: We are so thrilled to be able to have the opportunity to showcase our beautiful city for the DNC in 2020. We recognize that Downtown Milwaukee will be the front door to our entire community and we want every Milwaukeean to be proud of our city. Our organization is preparing by engaging in conversations with some of our sister cities that have hosted either the RNC or the DNC the last two rounds. We have learned a lot from them and will be putting their best practices in place. We are prepared to continue our fabulous work with our Clean Sweep Ambassadors who keep our streets and sidewalks clean and shiny. Our Public Service Ambassadors, who serve as our walking concierges, are really looking forward to welcoming over 50,000 guests and making them feel at home in our city. We are planning exciting, patriotic-themed landscape décor in our regular planter beds. Plus, we are developing a communications plan with a variety of collaborative partners to ensure that the community is aware of all activities. We are very supportive of the initiative to "Light The Hoan" in advance of the convention, and believe it is a great way to showcase the city, our great Lake Michigan, and our beautiful skyline. We may have a couple of other little surprises up our sleeve as well!
Milwaukee Independent: Aside from the hype, what hope do you have as a result of the 2020 DNC coming to Milwaukee?
Beth Weirick: I hope that the preparation brings our community together and that we are all able to stand shoulder to shoulder to take this opportunity to showcase Milwaukee as a great place to raise your family, grow your business or career, host a convention or even retire. Unity will be critical.
Milwaukee Independent: How do you address the issue of Milwaukee neighborhoods feeling left out as downtown sees investments and economic boosts?
Beth Weirick: I hope that the very intentional work we are engaged in elevates the value that downtown brings to our entire city. While only 3% of the city's land mass, downtown currently represents over 22% of the city's tax base. That tax base is critical in offsetting the property tax bill that we as citizens of Milwaukee pay. The property value, the jobs, and the environment we are bringing to the entire community are truly an asset for all that live in our city. In addition, we work very hard to incorporate messaging and communications to ensure that all Milwaukeeans feel like this is their downtown. We are currently engaged in conducting a downtown perceptivity study that we are asking all Milwaukeeans to participate in. We encourage everyone to go to feedback2019.com and let us know what we are doing well and what can be better in our downtown. We take this feedback very seriously.
Milwaukee Independent: What question are you most often asked, and is there a particular subject you find that people avoid talking about with you?
Beth Weirick: People are always asking me "what are you working on?" It's so much that sometimes I wonder if they regret asking the question. Another very popular question is "What are they doing with the mall downtown?" I can hardly wait to show them because The Avenue is where our new offices will be located. Another recent popular question is "What is going on with all of the people living under the interstate and how can I help?" I try to help people understand that bringing food and tents is not the solution. If you want to be a true help to the individuals staying outdoors, please work toward supporting long-term sustainable housing options like the Housing First Program, which provides housing along with wraparound services for mental health and addictions. If you want to help with meals or short-term assistance, please volunteer or donate to one of our many wonderful Milwaukee shelters like Cathedral Center, St. Ben's, or Sojourner. I certainly hear a lot of editorial from people with great ideas and suggestions for projects and programs that we should implement. I love that people care enough to share. Regarding subjects that people tend to avoid with me – personally, people avoid the conversation around the death of my husband. I think loss, grief, and death are a difficult subject for a lot of people. I just want people to know "It's ok to talk about Joe. That's how his legacy will live on."
Milwaukee Independent: If you had the ability to send a message back in time to the 20 year old version of yourself, what would you say?
Beth Weirick: Be present for each moment and enjoy each chapter of your life.
Milwaukee Independent: What aspect of Milwaukee do you want to see improve? Is it possible to achieve? And, what would it take to successfully accomplish?
Beth Weirick: I would like to see poverty, segregation, and education addressed in our community. I believe the efforts of MKE United, along with many other groups, are working toward that end. This dialog must continue and a framework that is truly implementable should be built and adopted by our entire community. Leadership is key.