Art by Jeff Redmon fills Kohl's design lab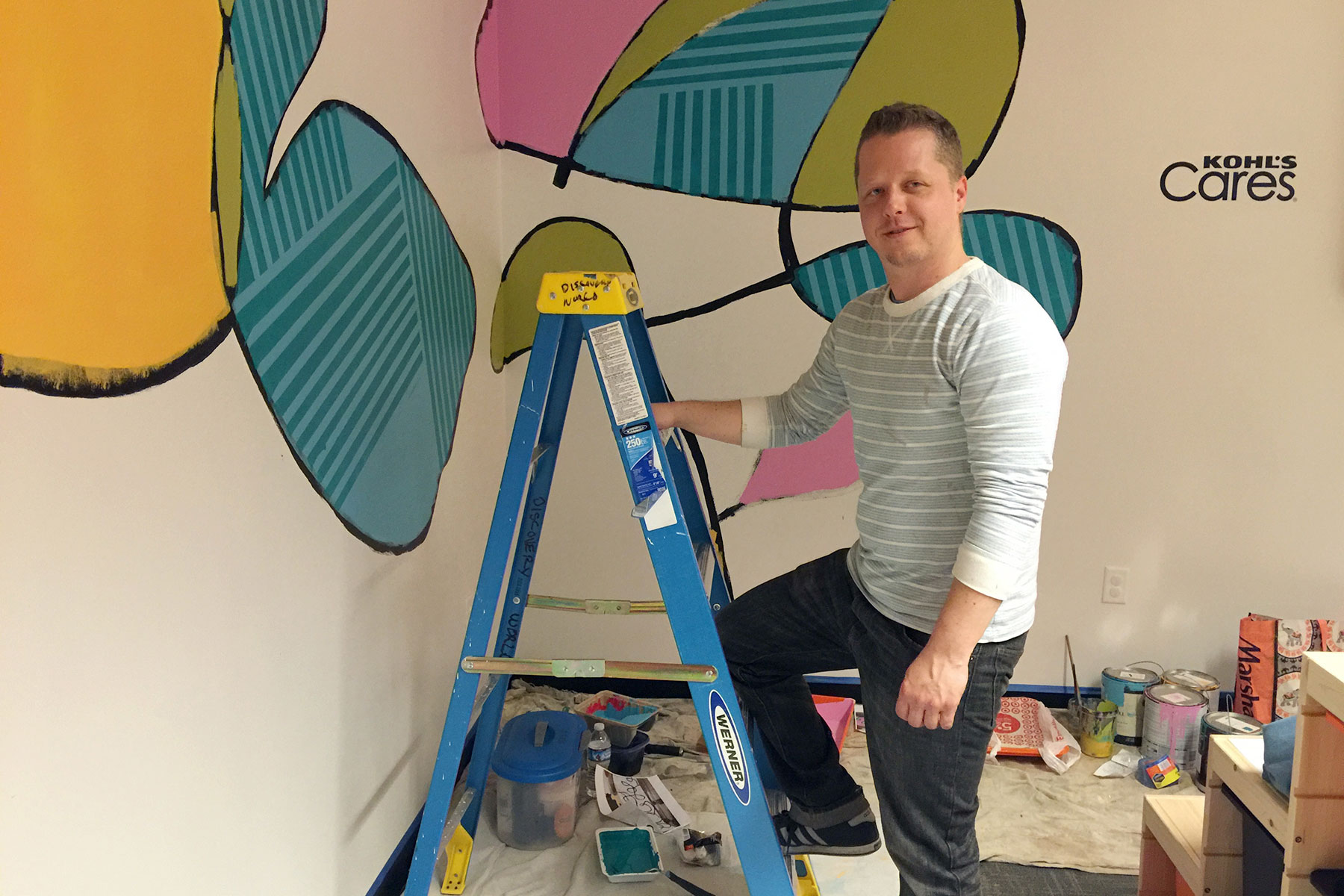 Dream it. Build it. Take it home. That is the message from the Kohl's Design It! Lab at Discovery World. The program has been wildly popular at the science and technology museum along the Milwaukee Lakefront, but lacked connecting with a key demographic until now.
"Coming out of 2014 there was a lot of feedback from visitors that the space was not diversified for a particular age group. Unfortunately we could not allow the under five year olds to come into the lab because we had nothing for them to do," said Justin Doll, Design Strategist & Director. "So our response was to create and provide a place exclusively for that age group."
Newly named The Kids Corner, the venue will open to the public later in May. The addition to the Kohl's Design It! Lab will provide an engaging and physical learning experience for the public.
Of particular interest is that local artist Jeff Redmon was commissioned to paint a mural for the new expansion. His artistic style will be a signature feature of the new space and draw additional attention.
"They asked if I was interested in creating a mural in the new Kid's Corner area of the lab," said Redmon. "It was a wonderful opportunity to be able to influence children with my art at such an early phase of development. Maybe it will help these kids to appreciate art more as they get older. I created a large mural for the area that is an enlarged colorful doodle in my style."
Doll discovered Redmon's work at the community art studio RedLine Milwaukee.
"I was speaking with Lori Bauman, one of the co-founders of Redline Milwaukee, and it just sort of sparked immediately. I have to get in contact with this guy," said Doll. "He's got some incredibly vibrant energy going on with his work."
Beyond the mural, Doll envisioned the venue as a way to display art. He felt it was a new opportunity for local artists to display their work in a very public space. Kohl's Design It! Lab sees over a thousand people visit per weekend. So it is a heavily trafficked area that will be opened up to showcase creative work from the community, and provide a new opportunity to exhibit their creations.
"Once I stepped foot into the lab space, I knew my work would fit there and enhance it. I like the idea of hanging my art in a vibrant work space, and I hope that it inspires visitors of all ages," said Redmon.
Open every weekend, the dynamic and stimulating space for kids will help them start to understand rudimentary ways of putting objects together and improve their sensory perception.
"We are making sensory boards that a one year old can feel what felt is, or feel what fur is, or feel some of the materials we encounter each and every day and take for granted as adults," said Doll. "So we are using that as a catalyst to get kids interested in materials technology and tools."
With a background in architecture and industrial dDesign, Doll develops intuitive curriculum balanced with interactive experiences for all ages.
"While in school I learned so much more than just architecture. I learned that creativity is at the center of everything. You can use creative methodologies not only in architecture, but in business, in marketing, in planning, literally everything. And because of that, I ended up here," said Doll. "It is up to us, as the Kohl's Design It team, to show people that they can really utilized creative observation and design methodology to enhance everything in life."
The Kohl's Design It! Lab was developed to offer secondary learning experiences as a supplement the classroom. Because it allows kids to utilize tools and equipment they do not have back at school, they are able to learn much more about the possibilities and usages of materials and technologies that they may have never had access to otherwise.