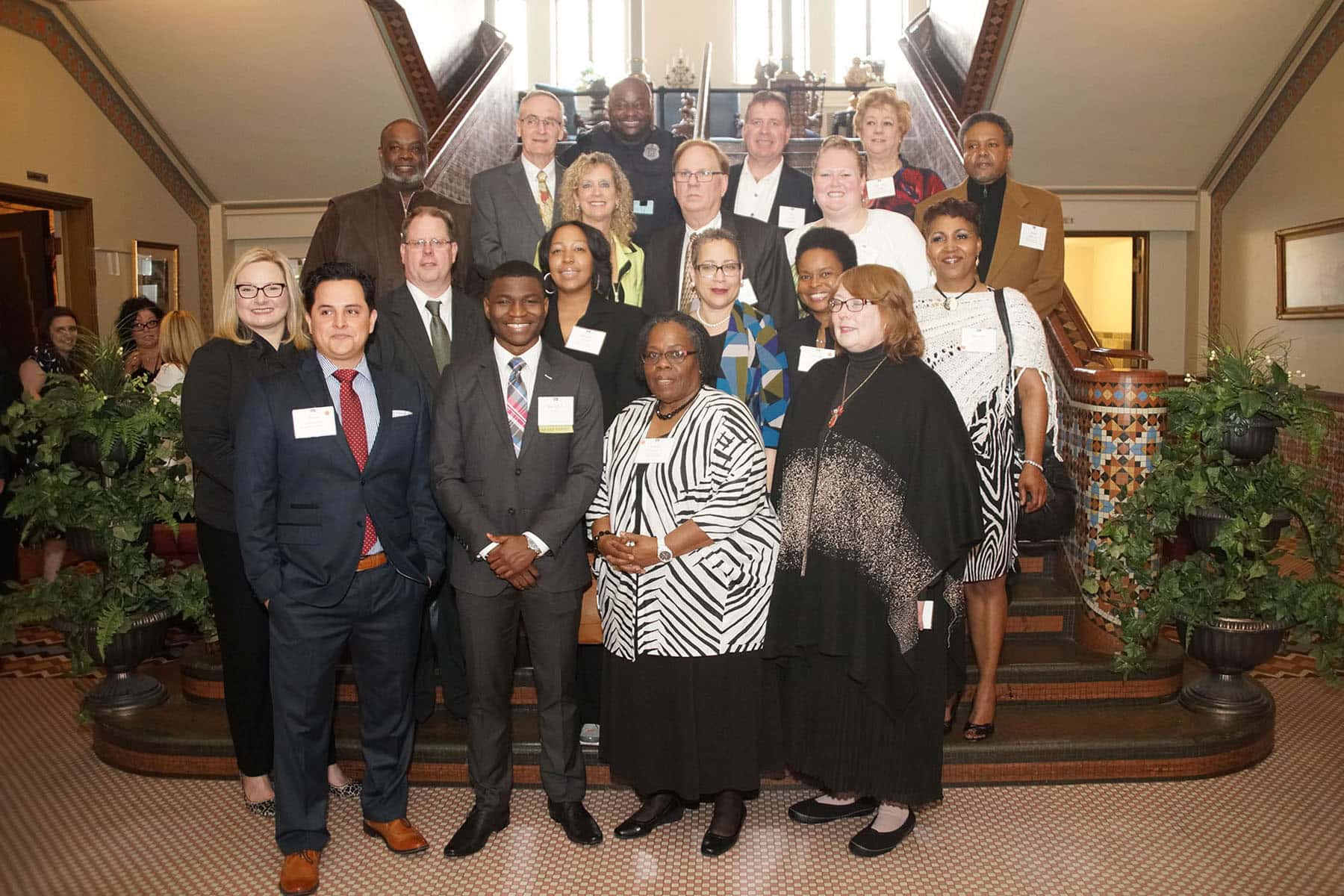 The Nonprofit Center of Milwaukee (NCM) presented the 2017 Inspire by Example Awards to six winners on April 19 at the Tripoli Shrine Center, honoring the dedication and impact of volunteerism in Milwaukee County.
The 35th Annual Volunteer Celebration, hosted by the Nonprofit Center of Milwaukee, highlighted the influence and outcomes of work by volunteers in the area.
Milwaukee takes its community service seriously, and is ranked third in the country for volunteerism. With 58 million hours of service last year, volunteers and their good deeds have accomplished important and positive results in social services, the arts, education, and the environment, so much is accomplished.
More than 70 individuals were nominated this year for the Inspire by Example Award. The six winners and their outstanding contribution were honored during the annual luncheon to a full house of more than 500 nonprofit leaders and supporters. The uplifting stories of each winner was a powerful tool for inspiring the crowd to give back to the community through continued service.
The winners for 2017 Inspire by Example Awards were:
Bill Buehler – Inspire by Example Adult Award
Since 2013, Bill has overseen the maintenance of Serenity Inns, a nonprofit dedicated to helping individuals committed to being drug and alcohol free. Not only is Bill an irreplaceable handyman, he is overseeing the renovation of a nine-unit apartment building. Described as part of the management team, he uses his skills to keep the buildings clean and safe, which allows the staff to focus on guiding those in recovery. Nominated by: Serenity Inns, Inc.
Devon Ellis – Inspire by Example Youth Award winner
Devonis a leader with Lead2Change, a youth-led philanthropic agency that empowers youth to be catalysts for change in their community. As a member of the Youth Advisory Council, he reviewed grant proposals and helped select the youth group recipients. He also served as the Finance Chair, participated in site visits and coordinating fundraisers. A senior at Rufus King High School, Devon tutors younger students to help them develop their reading skills and led a seminar on bullying for more than 40 students. Nominated by: Lead2Change
The Salvation Army Milwaukee County Chaplaincy Program – Inspire by Example Team Award
Last year Salvation Army Chaplains were deployed to 61 crime scenes, including homicides, house fires, and other disaster-related incidents. More than 1,135 hours were logged by these volunteers who provided emotional and spiritual support while standing alongside the families of victims of tragedies in their most volatile moments. This program is the only program in the United States to be directly integrated with the local police department. Nominated by: The Salvation Army Milwaukee County
Molina Healthcare of Wisconsin – Inspire by Example Business Award
Last year more than 380 Molina Healthcare employees donated almost 1,500 hours of service to a variety of organizations addressing community needs such as food, healthy living, literacy, caregiver support and homelessness. The company encourages employees to serve a minimum of 16 hours throughout each calendar year. The Helping Hands program outreach includes Boys & Girls Clubs, Feeding America, Journey House and other community programs. Nominated by: Molina Healthcare of Wisconsin
Susan Raines – Wile Volunteer Management Award
In the past four years Susan built the Pathfinders volunteer program to support every department in the agency. Volunteers provide 21,000 hours of service annually, empowering youth confronted by homelessness, crisis, or trauma to be safe and connected in order to develop a path towards self-sufficiency, healthier families, and a stronger community. Nominated by: Pathfinders
Gina Peter – Swigart Board Leadership Award
Gina serves on the board of the Zoological Society of Milwaukee, which supports the Milwaukee County Zoo and educates people about the importance of wildlife and the environment. Since her first day on the Board in 1996, she has helped to guide the Society through new programs, management, campaigns and events. Her leadership has fostered an environment of improved resourcefulness, increased collaboration, and an unwavering commitment to raise the bar. Peter also served on boards of the Milwaukee Public Library, Visiting Nurses Association, MMAC among others. Nominated by: Zoological Society of Milwaukee