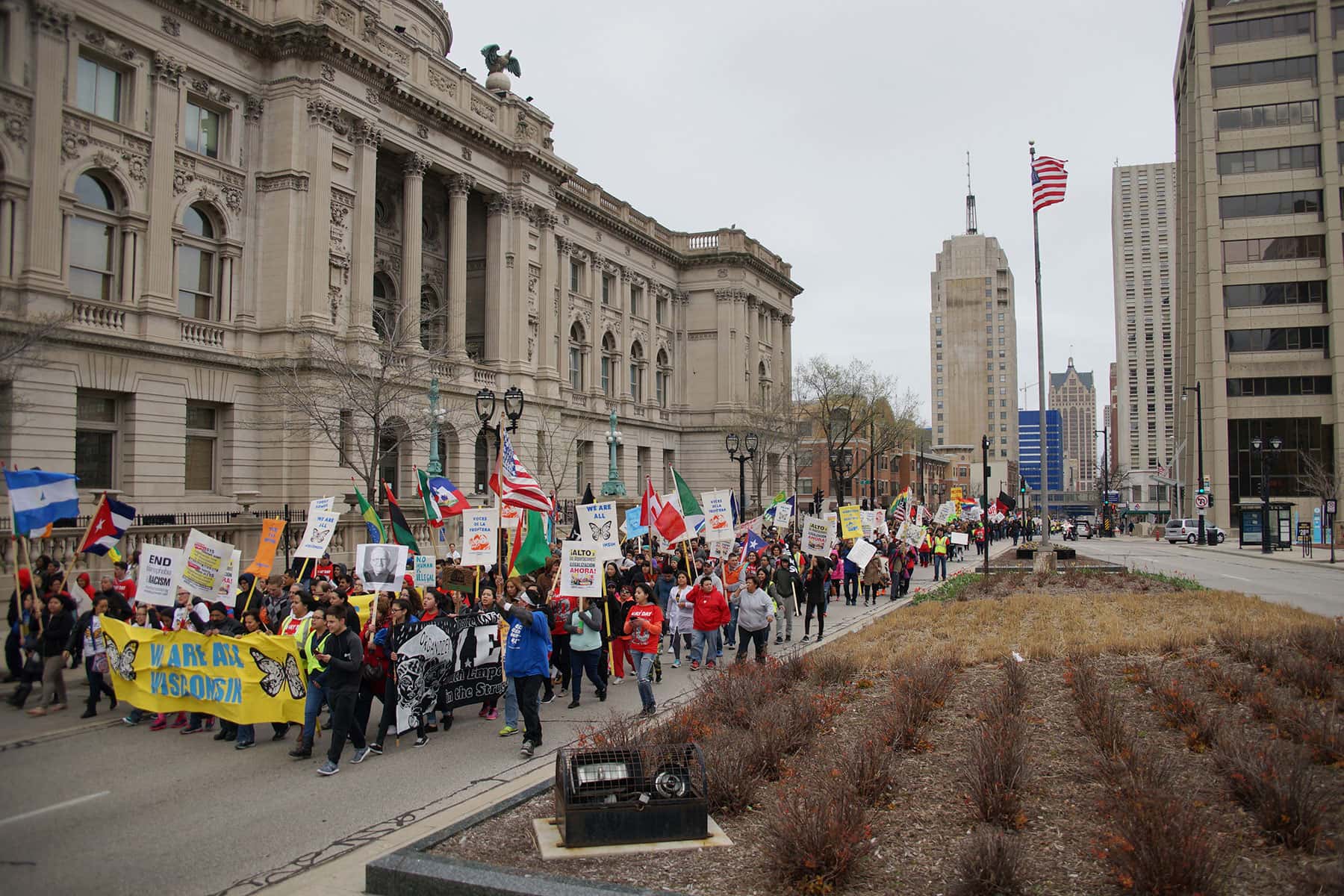 Voces De La Frontera organized the 10th annual May Day protest, leading thousands of marchers from Milwaukee's Southside over the 6th Street Viaduct to the Milwaukee County Courthouse steps downtown. Banners, signs, and flags all focused attention on the issues of immigration and workers rights, on the international day commemorating Labor. Elected officials from the city, County, and State joined the march and spoke in support of their cause.
This Photo Essay documents the logistics of the march, from its preparation to conclusion, and the 1.7 mile distance in between. Two hundred images were selected from the 4,233 photos taken along every step of the journey. They show both unity and community, as individuals came together to support social justice.
"We march to protest the politics of hate, and of racism that we're seeing played out not only in national politics, but also some of the states, including Wisconsin."
– Christina Neumann-Ortiz
"The civil rights and the human rights of people who live in this city will not be ignored or denied."
– Common Council President Ashanti Hamilton
"Day after day we live in fear of being arrested and deported."
"I'm boycotting Menard's because I'm not willing to pay for the further spread of hate, racism, and anti-immigrant politics."
"They didn't have a good English to Yiddish program in 1917 when my father came to Wisconsin."
– Former U.S. Senator Russ Feingold
"Sí se puede" (Yes, it is possible)
"We know that the Governor is trying to prevent us from creating local IDs."
There have been many marches since Father Groppi led his famous Civil Rights protest for fair housing in the 1960s, and each since shares a similar purpose and a few ghosts from that era. Regardless of language or motivation, these photos present the spirit of the march, with faces to offer understanding that statistics fail to express.