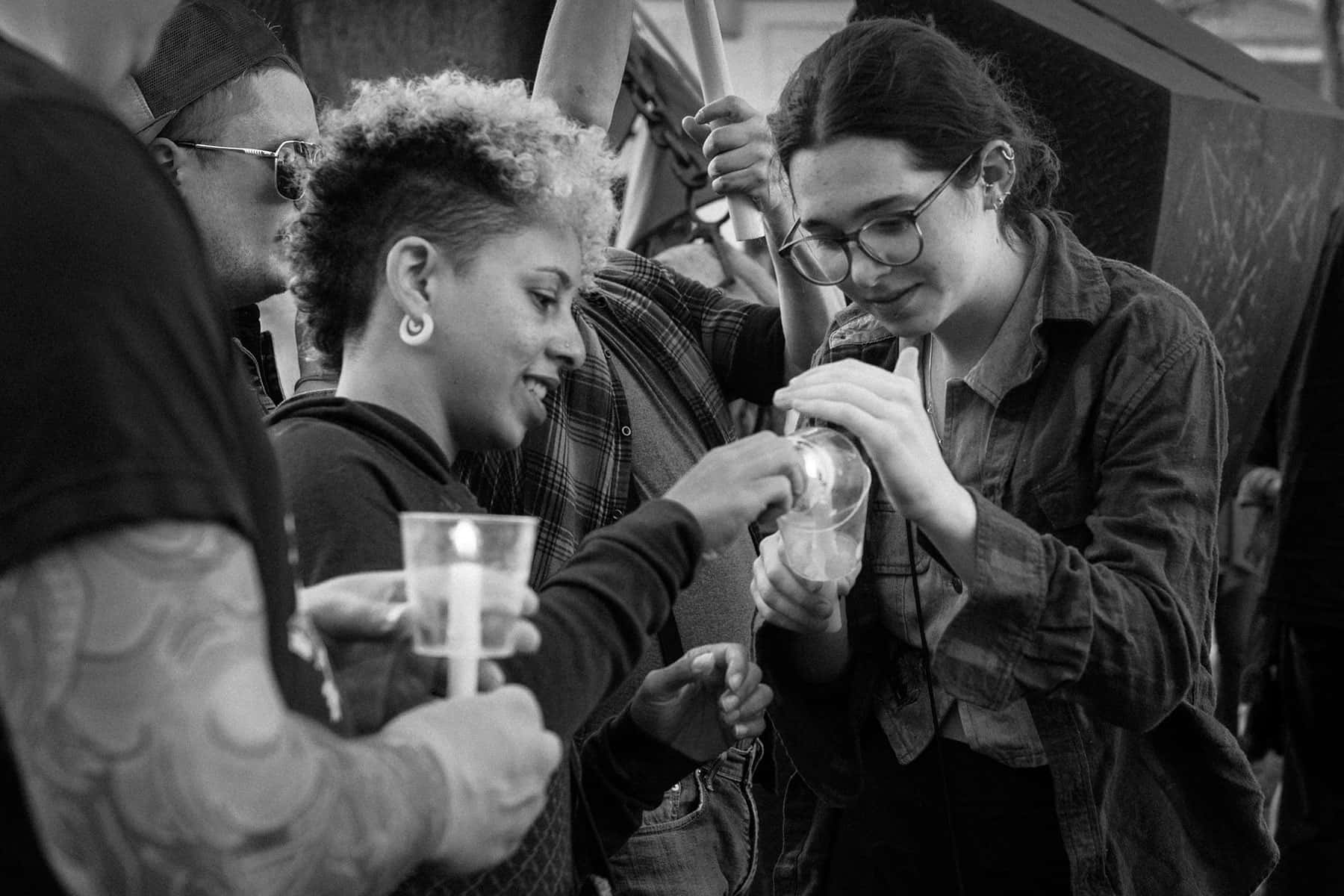 Residents of Milwaukee gathered on August 13 along with other groups around the country in remembrance of Heather Heyer, the 32 year old who was kiIIed by a white nationalist in Charlottesville, Virginia.
Editor's Note: A coalition of far-right groups invaded Charlottesville for a "Unite the Right" rally to oppose the removal of a confederate monument, and the re-naming of Lee Park to Emancipation Park. A huge counter-demonstration gathered in opposition to the message of hate and violence. Heyer was part of a group protesting the gathering of neo-Nazis, Ku Klux Klan, and other radical supremacist groups. In an act of terrorism, James Alex Fields Jr. drove his car at full speed into the crowd of counter-protestors, which resulted in 19 injured and the dеаth of Heyer. In Milwaukee, a large group of about 300 people rallied and marched in the Riverwest neighborhood Sunday night to register their outrage over the actions of white supremacists in Charlottesville. Photographer Jessi Paetzke documented the somber vigil showed support for the victims. Her account of the event is presented here, along with a collection of her stunning images.
When news broke about the clash between white supremacists and counter-protesters in Charlottesville, and the attack that followed, I could not get the images out of my head. So after I saw an innovation to a vigil and march in solidarity with the victims on Sunday evening, I knew I had to be there.
I arrived at Garden Park at the beginning of the event, and there was already a sizable crowd gathered next to the Riverwest Public House. Candles were passed out to those in attendance. Individuals helped those around them light their own candles. One woman mentioned to me that she was lighting the candle of her nephew at his first protest. A moment of silence was held for Heather Heyer and the other individuals injured in the Charlottesville attacks. Speakers from numerous organizations shared their thoughts and feelings on what had happened over the weekends, and the need to work together to take civic action.
Following the vigil, there was a short march around the block from Bremen, to Center, to Fratney, and back down Locust Street. Some people stood in front of their houses and cheered, while others joined the procession. A few hurled insults from their porches. These derogatory statements were met with calming words from the marshals of the march, and encouragement to not engage. The evening was a triumph of neighborhood solidarity. But as one speaker noted, change requires more than vigils and voting. It requires relentless action and engagement.
"80% of Confederate monuments were erected between 1898 and 1920. They were erected to celebrate the deconstruction of Reconstruction. They were erected to celebrate the Plessy vs. Ferguson decision, separate but equal. That statue in Charlottesville of Robert E. Lee was commissioned in 1917 by President Woodrow Wilson two years after he screened the white supremacy propaganda film, Birth of A Nation, in the White House. It was put up to celebrate the rolling back of civil rights. During the period from 1915 to 1922, more African Americans were Iynched and kiIIed and there were more riots than any other time in the nation's history." – Bishop William Barber