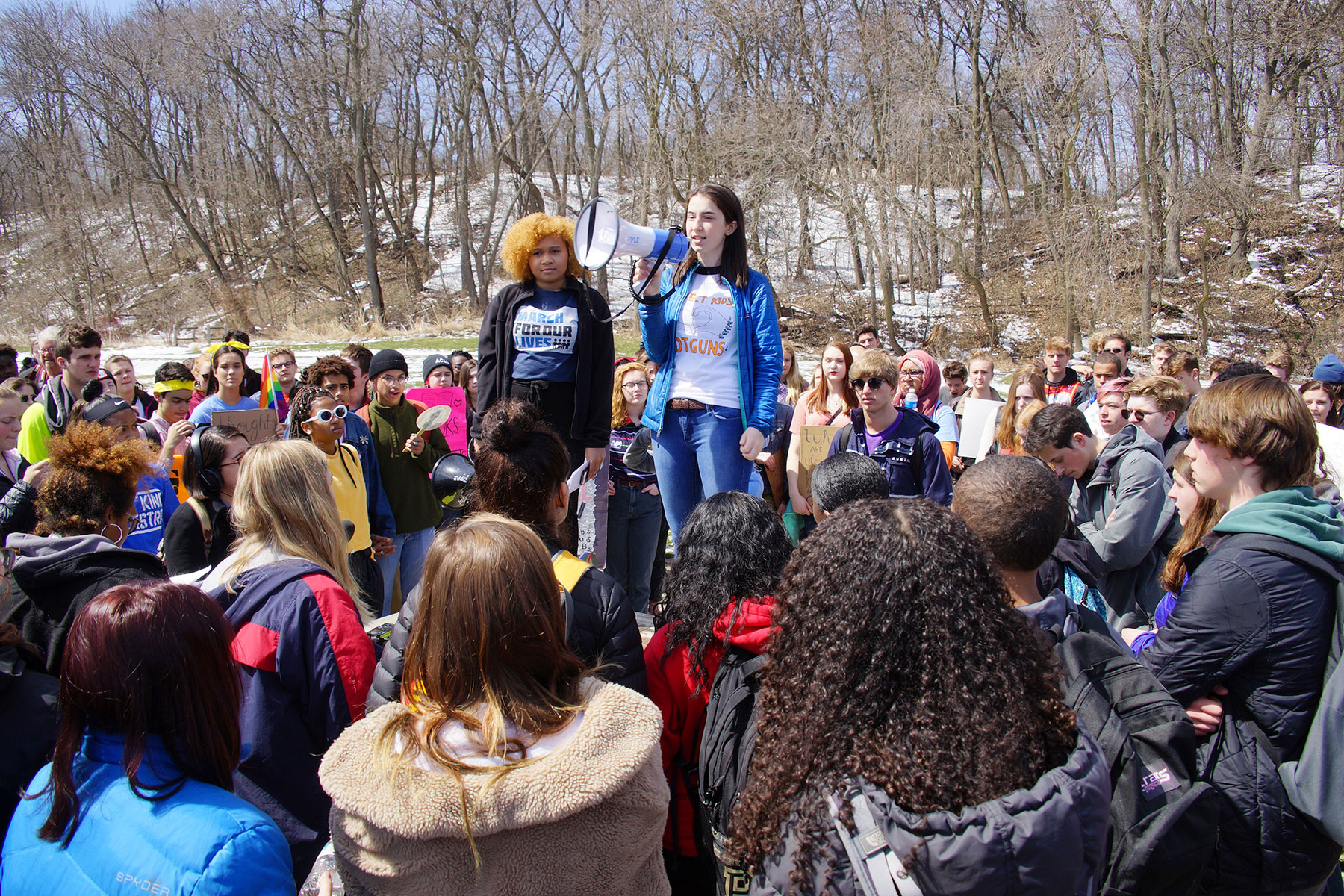 April 20 marked 19 years since the massacre at Columbine High School in Littleton, Colorado, where two heavily armed high school students shоt and kiIIed thirteen people. It has also been just over two months since the mass shооting at Marjory Stoneman Douglas High School in Parkland, Florida.
In the Greater Milwaukee Area and schools across the country, students stepped away from their desks at 10:00 a.m. and joined the National School Walkout. The action was part of the movement that began after Parkland, when students stood up to call for legislation to end gun violence.
More than two hundred students gathered at the Lake Michigan side of Lake Park for a half hour rally, before marching to the University of Wisconsin-Milwaukee for an afternoon of workshops from the YMCA of Milwaukee on social justice.
Organizers wanted to dispel the false narrative that there was friction between city schools like Rufus King and suburban schools like Shorewood. They felt that joining together on April 20 would send a message about their unity.
"We are standing united with one another. We're joining together for this walkout to show the Milwaukee area and really the country that this is an issue we're united on. We want to see change and work with one another until change is made." said Katie Eder, student activist from Shorewood High School. "If the politicians won't make the change, we're prepared to change the politicians. We want to send that message."
The event was organized by Eder, Tatiana Washington from Rufus King High School, and other classmates who participated in the March 14 walkout and the "50 Miles More" March to Janesville.
Eder and Washington bonded during the March 25 to 28 trek to Speaker of the House Paul Ryan's hometown, a protest inspired by Martin Luther King Jr.'s 54-mile march from Selma to Montgomery in 1965.
The April 20 rally was intended to keep the momentum going for efforts to end gun violence. The students are seeking gun control legislation that would include banning military-style weapons and all weapons of war, forbidding all accessories that turn semi-automatic weapons into automatic weapons, enacting a four-day waiting period on all gun purchases, requiring background checks on all gun sales, and raising the legal purchasing age of all guns to 21.
Another focus of the event was to educate the importance of getting youth to register and vote in the upcoming November midterm elections.
"I hope that people see how much gun violence hurts us all. I think that is the main message that we are hoping to send, this is more than just tragic school shootings. 96 people die every day due to gun violence. This affects the daily lives for everyone," said Washington. "It is ridiculous that we live in a country where there are children that can't play outside because there might be gunshots."