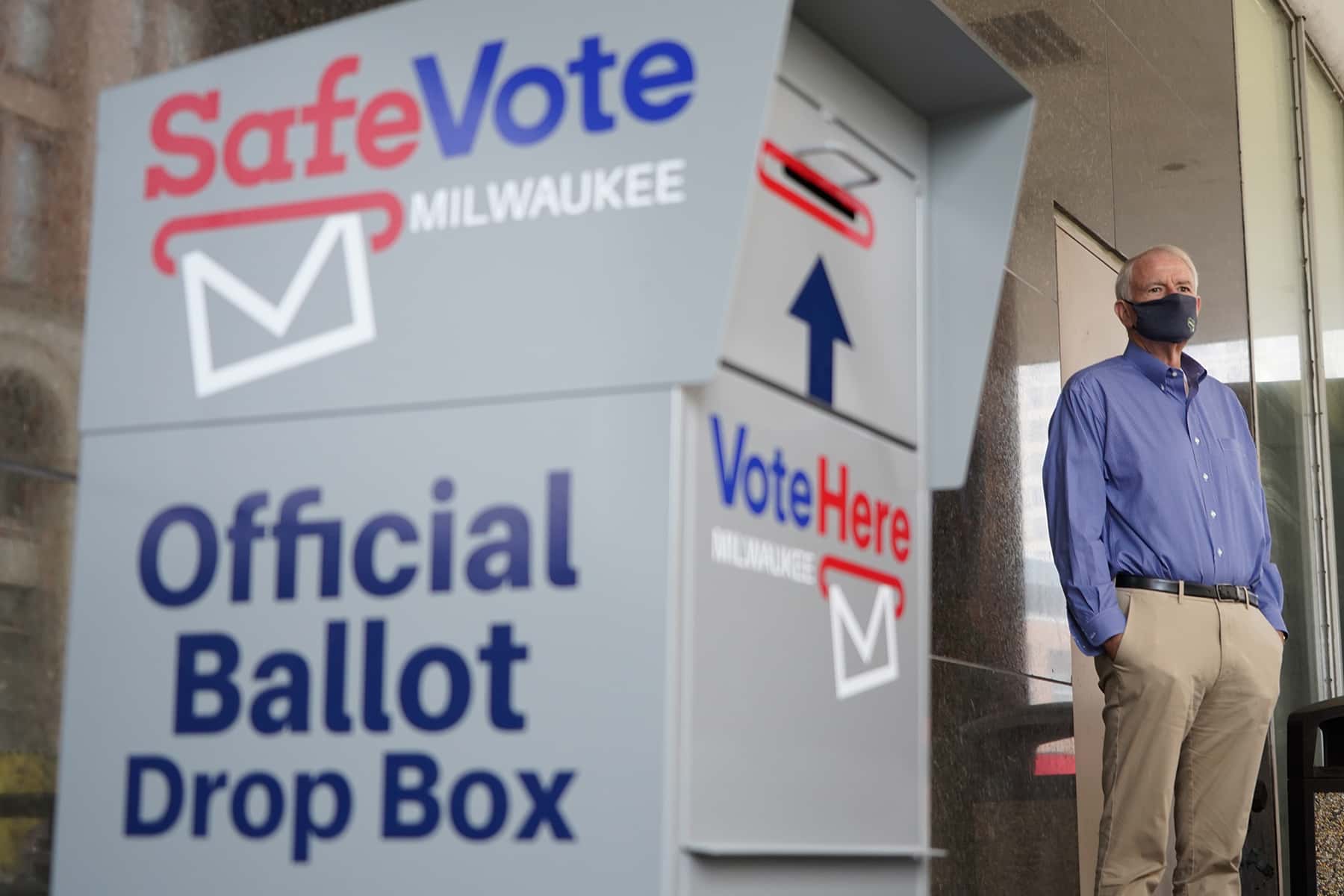 City of Milwaukee officials highlighted the addition of 15 new absentee ballot drop boxes with 24-hour access located throughout the city in advance of the 2020 presidential election, during an installation ceremony at the Frank P. Zeidler Municipal Building on September 10.
The City of Milwaukee estimates that close to 290,000 area residents will vote in the upcoming November 3 presidential election. Over 52% of voters, or 150,000 people, are expected to cast their ballots absentee by mail.
Mayor Tom Barrett was joined by Election Commission Executive Director Claire Woodall-Vogg, and Milwaukee Public Library Director Joan Johnson for the press conference to help inform the public about the expanded system designed to make the voting process easier during the pandemic.
"Given this surge in absentee voting, it is imperative for the City to provide easily accessible, secure and timely opportunities for residents to return ballots and, equally important, feel complete confidence that their votes will be counted," said Mayor Barrett. "We're doing everything we can to make drop boxes secure and easily accessible so that our residents can use them during this historic time."
Absentee ballot drop off boxes are being installed at 15 locations across the city, including outside the City Hall complex, the Election Commission warehouse located at 1901 S. Kinnickinnic Ave. and all 13 neighborhood-based Milwaukee Public Library branches. Milwaukee Public Library also offers voter assistance Tuesday to Saturday from 10:00 a.m. to 4:00 p.m. through October 14.
"Milwaukee Public Library has a long history with elections," said Johnson, who is also the City Librarian. "For decades, our staff has helped patrons register to vote and our neighborhood libraries have served as polling places. Civic literacy is an important pillar of our work at the libraries, and we are proud to expand our role in democracy by providing voter assistance, permanent and secure absentee ballot drop off, in-person early voting and Election Day voting."
Ballots can be dropped off at any location, 24 hours a day, up until 8:00 p.m. when polls close on November 3. The ballot boxes are designed to secure and protect delivered ballots, and each is monitored by video surveillance. Tampering with absentee ballots is a felony, and anyone caught doing so will be prosecuted to the full extent of the law.
Absentee ballots will be collected on a daily basis by Election Commission staff and be delivered to their offices. From there, the ballots will be processed as received and prepared for Election Day counting. Absentee voters can confirm that their ballot was received within 24 hours of delivery online at myvote.wi.gov.
As Election Day nears and drop boxes receive more activity, more frequent ballot collection will occur, twice daily if needed. On Election Day, absentee ballots will be collected every other hour up until 8:00 p.m.
The Election Commission can cancel and reissue a ballot if a voter makes a mistake, if the ballot is lost or if there is concern that the ballot wasn't received and records indicate it wasn't received.
"We are still seeing voters find that voting at home is convenient, it is easy and it's the safest way to vote. But with that said, there is a learning curve," said Election Commission Executive Director Woodall-Vogg. "The Election Commission will be doing everything in our power to educate voters on how to make sure that their vote counts, including updating our absentee instructions to have visuals of where the voter should sign the signature envelope and creating educational videos about how to complete your absentee ballot envelope to be sure that it is counted."
Wisconsin is a no-excuse absentee voting state, meaning a voter does not need to explain why they need an absentee ballot in order to request one. Voters should start receiving their absentee ballots by mail beginning next week.
The deadline to request an absentee ballot is the Thursday before the election, but the Election Commission cautions voters that the date is not a realistic deadline given Federal obstructions from the Trump Administration with the mail delivery schedule. If using a drop box to return an absentee ballot, October 26 is the deadline to request a ballot. Voters who wish to complete the entire process by mail, without using a drop box, have a deadline of October 20 to conduct their voting.
The City of Milwaukee currently has 171 neighborhood-based Election Day polling places, and the number could still increase before November 3. In the past, the City has offered 180 polling places. Since the August 11 election, the City has received 11,000 applications for poll workers. The total number of staff for Election Day is anticipated to be 2,400 workers.