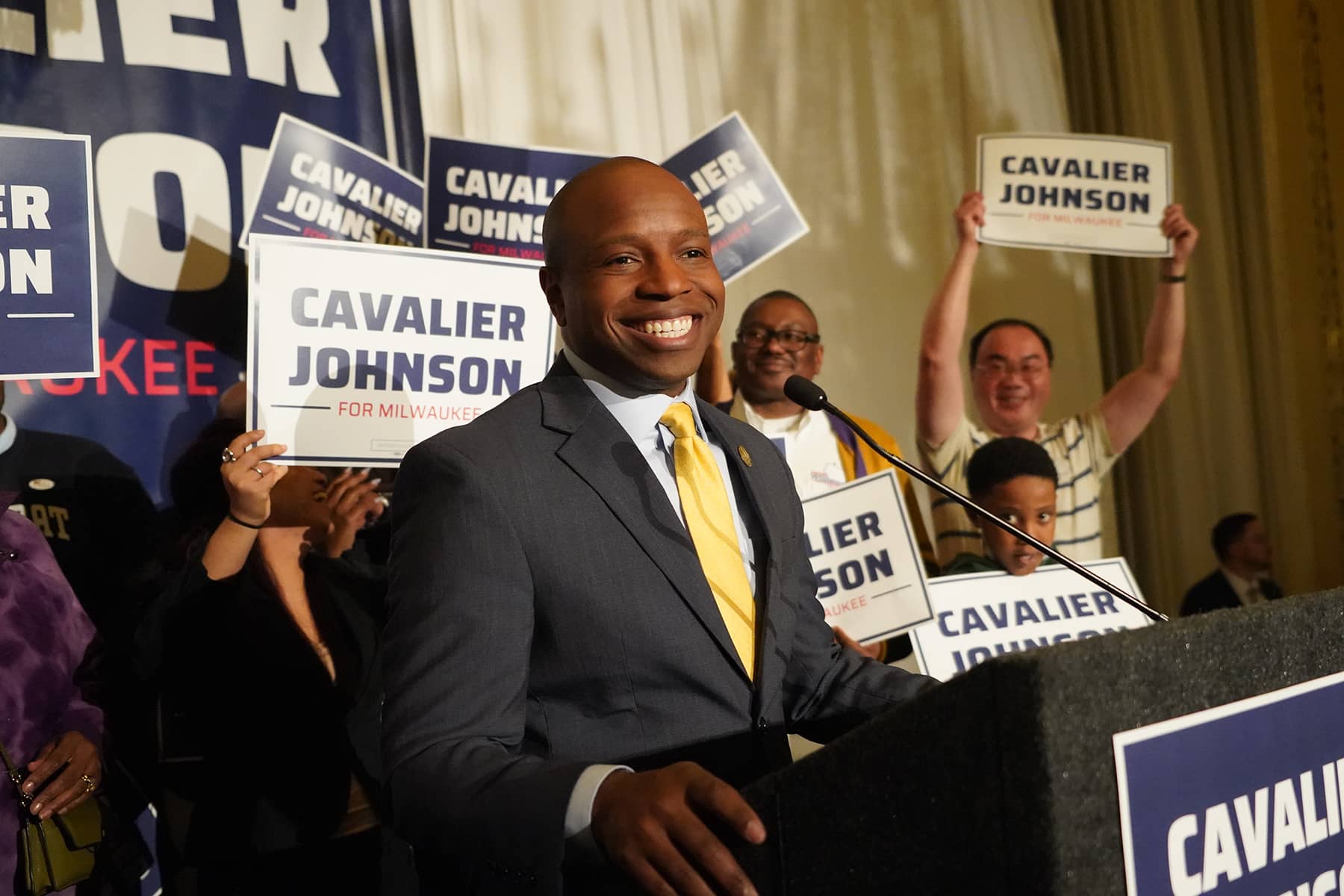 Acting Mayor Cavalier Johnson won the special election for Mayor of Milwaukee on April 5 by more than double the votes of his rival candidate and former Alderman Bob Donovan.
Mayor Johnson held his campaign's victory party at the Hilton Milwaukee City Center, where supporters gathered to watch the election results. Public turnout was slightly lower than the Spring 2020 election for Mayor, with 86,686 votes cast.
Johnson got 71.69% of the votes (62,143) to Donovan's 28.31% (24,543), with all of the precincts reporting.
"We want our city to be loving, to be nurturing, and to be stable. That's why I ran for Mayor. And now we've taken a key step on the road towards renewing our city's promise," said Mayor Johnson in his victory speech. "We have a lot to do. We must address our crisis of gun violence and unsafe streets. We need to restore our neighborhoods, create jobs, and grow our city. And we also need to repair the broken relationship that we have with our state government. That's what I've been talking about on the campaign trail. That's what I'll be working on in the Mayor's office in the days, the weeks, and the years to come."
As Common Council President, then-Alderman Johnson took over as Acting Mayor after Tom Barrett departed to become U.S. Ambassador to Luxembourg just days before Christmas last year. The transition made Johnson the second Black Mayor of Milwaukee.
As a result of the special election on March 5, he now has the distinction of being Milwaukee's first elected Black Mayor.
"My message this whole campaign has been that we want a safer, a stronger, and a more prosperous Milwaukee," said Mayor Johnson. "I said we needed to have a bold vision, we needed to stand up for one another. And now, today, this city for the first time in our 176 year history has elected its first Black Mayor."
Much of the compressed election cycle featured debates between Johnson, 35, and Donovan, 65, which centered on issues of public safety, jobs, and education. Those topics were reflective of the 2016 election when Donovan failed in his bid for Mayor against incumbent Barrett.
"It's this lived experience that's woven into my DNA. And I carry that with me. So whether I'm meeting with school kids, the men and women who sweep the streets, or corporate CEOs, that carries with me. My calling is service," said Mayor Johnson. "I am a son of this city, and now we must continue our work. Our next step is to listen. We know that safety and prosperity are the guideposts. We need every idea we get in order to achieve our goals. No idea is too small, no idea is too big. I want to hear from everyone."
Johnson was born in Milwaukee and raised in the 53206 ZIP code. He attended Bay View High School and UW-Madison. After graduation he went on to work in then-Mayor Barrett's office. By 2016 he ran and won a Milwaukee Common Council seat to represent the District 2. He won reelection in 2020, and was also elected by fellow council members to become the Common Council President.
"I hope that all the black and brown boys and girls who wake up tomorrow – and as they get ready for school, they do so knowing that we have shown here today that no matter where you live, or how much or how little your parents make, and no matter the color of your skin, that in Milwaukee there's a place for you too," added Johnson.
With 40% of the city's population being Black, Johnson had echoed Barrett's campaign theme of needing a Mayor to unite Milwaukee, not divide it. The few policies that Donovan offered centered on talking points of "Law and Order," which played to his White conservative base.
Both Johnson and Donovan had said during campaign debates that Milwaukee needed to rebuild its connections with Madison. The city has faced years of declining shared revenue, a form of state-sanctioned socialism. Milwaukee's tax resources have been steadily redistributed by Republican lawmakers in Madison to fund rural governments across Wisconsin that lack the economic resources to sustain their own local services.
Mayor Johnson has said that Federal stimulus money would help cover some of Milwaukee's budget shortfalls. But he insisted that the city needed more ways to sustainably raise money for its budget in the long term. Mayor Johnson said previously stated his determination to work with folks in Madison.
"I'm a political realist, and I understand that Republicans are in charge of the Legislature. We have to work with them to move things forward."