Unifying against racism: "Freedom Together" advocates demand Congress take action on Immigrant Rights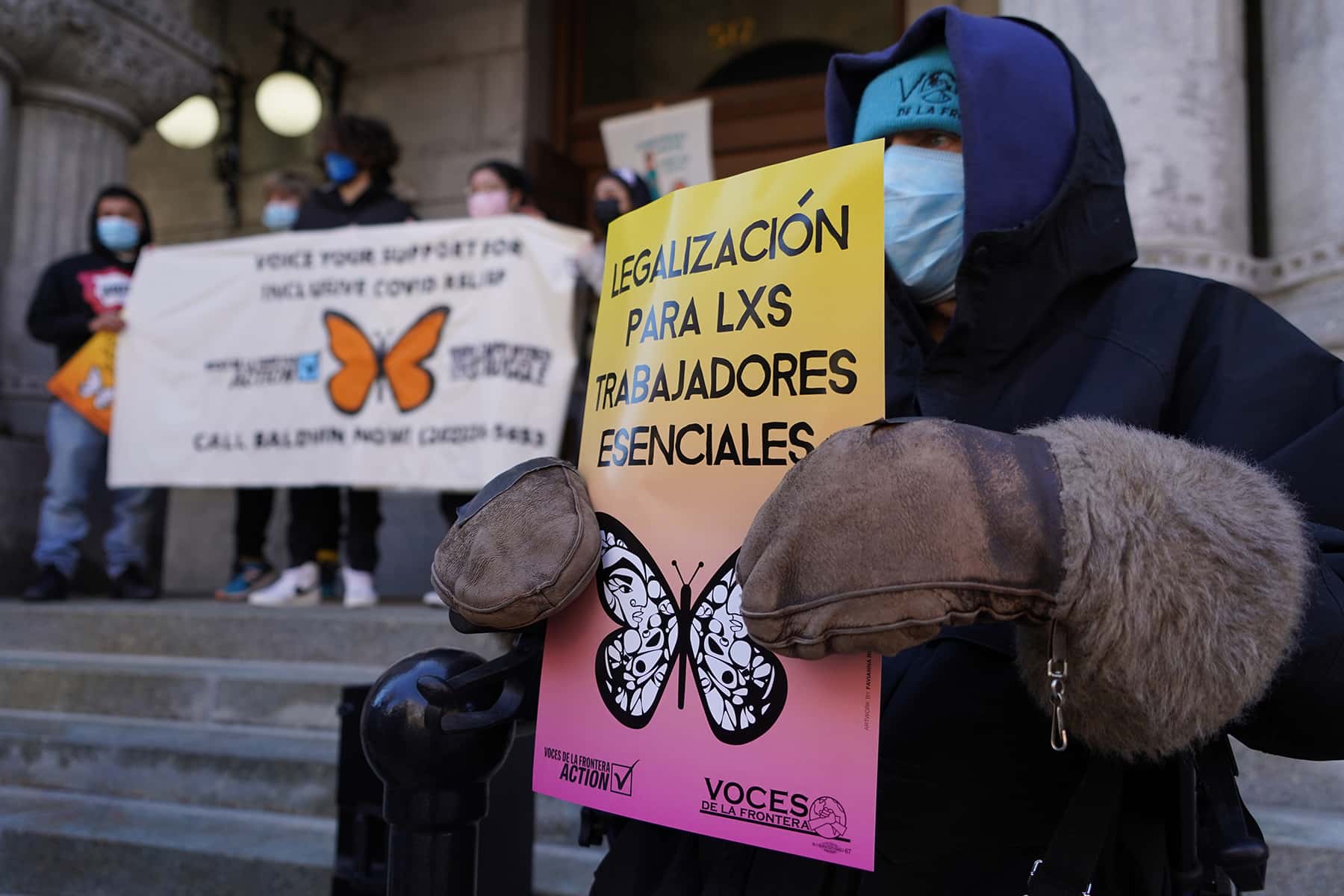 Voces de la Frontera held a "Freedom Together" Press Conference on February 27 on the steps of the Federal Courthouse downtown, outlining demands for Immigrant Rights.
A collection of community advocates spoke about expectations from the White House and the 117th Congress, and shared a Wisconsin-based organizing strategy to ensure that the key demands were met. Speakers included Christine Neumann-Ortiz, Executive Director of Voces de la Frontera; Reverend Greg Lewis, Souls to the Polls Milwaukee; Neri Mayorga, Immigrant Essential Worker in the Meatpacking Industry; Angela Lang, Executive Director of Black Leaders Organizing Communities (BLOC); Luis Tapia, Dreamer and Essential Worker in the Service Industry; Katherine Villanueva, YES! member at Milwaukee School of Languages and member of a mixed immigration status family; and Mandeeq Abdulahi, YES! member at Riverside High School.
"We had to work really hard to give Biden a chance in our communities, because of Obama's legacy of enforcement and deportations. We need our progressive congressional representatives to throw down with us, especially our progressive Black and Latinx caucuses. We elected this administration to challenge institutionalized racism, so what are they going to do about it? In June or July of 2021 this window of opportunity to enact meaningful legislative change will be gone, once the second COVID-19 reconciliation bill passes. We are hopful, but this will only work if we show up in strength and numbers NOW." – Christine Neumann-Ortiz
The two demands were straightforward in their focus for relief, recovery, and citizenship. They also sought simple justice during the pandemic for Black, Brown, Latinx and immigrant communities in Wisconsin that continue to struggle during the pandemic.
"Our immigrant community members have and always will be a staple part of our communities. During these challenging times, they have been tirelessly working and haven't received any government support due to their status. Being able to survive during a global pandemic shouldn't be something to pick and choose about. We demand them to be included in the next stimulus bill and to have a pathway to citizenship." – Katherine Villanueva
The first was the inclusion of all immigrants, including those who file taxes with an Individual Taxpayer Identification Number (ITIN), in federal pandemic relief. And the second, the legalization of essential workers, Dreamers, TPS holders, and their families in the second COVID-19 reconciliation bill, expected to be rolled out in late Spring or early Summer 2021.
"When Milwaukee's Black and Brown communities work together, we have power on our side. Together, we are nearly 60% of Milwaukee's population. And we have shared experiences in this struggle: the phenomenon of both Black and Latinx voters being cast to the side after the elections pass. The frustration over the lack of follow through from elected officials, the officials that our communities elected. And both of our communities disproportionately have essential workers on the frontlines in this pandemic. Our struggles are linked, and so is our path to liberation." – Reverend Greg Lewis
Starting with Day One of President Joe Biden's inauguration, the Latinx community has seen exciting developments for the national Immigration Rights movement. From executive actions such as the instatement of pro-immigrant executive orders and the introduction of President Biden's unprecedented U.S. Citizenship Act of 2021, to exciting congressional actions such as the introduction of Congresswoman Pramila Jayapal's Roadmap to Freedom resolution and Representative Joaquin Castro's forthcoming Citizenship for Essential Workers Act – the developments are a testament to the momentum of the national demand for Immigrant Rights.
"This pandemic has disproportionately affected both the Black community and the Latinx and Immigrant community in this country. Our struggle is linked, and so is our liberation. We stand with our Black sisters and brothers in Milwaukee in demanding justice for our communities during this pandemic. Black and Brown voters are a powerful block. Democrats are going to lose us if they do not meet our demands now. That is why we stand here with Voces de la Frontera fighting for immigration rights." – Mandeeq Abdulahi
For the necessary legislative change to occur, the proposed bills require bipartisan support to pass and the categorical rejection by Republicans makes gaining enough votes unlikely. That was why Voces de la Frontera, along with its national partners in the Fair Immigration Rights Network (FIRM), were focused on the inclusion and legalization of immigrants in the upcoming COVID-19 reconciliation budget bills. Those bills do not require bipartisan support, which means that Democrats need to stand united.
Congresswoman Gwen Moore was in Washington DC working on legislation and could not attend the press conference, but she sent a statement on the COVID-19 Relief Bill and Immigration which was read by Neumann-Ortiz. The Congresswoman said that the bill would create a path to citizenship for the 11 million undocumented individuals in the United States including an expedited path for DACA and TPS recipients, expands family-based and employment-based immigration, and provides other critical reforms to the immigration system, among many other changes.
"COVID-19 doesn't care about your immigration status. It takes no note of your citizenship. It is an equal opportunity predator which unfortunately has proved effective at destroying countless lives, having killed over 500,000 in our country, including over 6300 right here in Wisconsin. Too many essential workers don't make a living wage. They don't have paid leave so they don't really have a choice when it comes to whether to go to work. The minimum wage increase in the House bill will help provide a much needed pay raise for some of the most essential but underpaid workers. CBO estimates it would provide a raise for 17 million workers and lift almost a million people out of poverty. I am pleased that the COVID relief package moving through Congress includes provisions to allow more immigrant families to receive stimulus checks. This legislation will ensure mixed status families will qualify to receive payments for each family member with a Social Security Number. I supported efforts to provide stimulus payments to ITIN holders for example which was not included. I would like for this bill to include the requirement from last's years HEROES Act to require OSHA to issue a protective standard for workplaces that would protect all workers, including our most essential. But the rules of Reconciliation prevented that provision and many others. Hopefully by early March, I expect the House to start work on moving President Biden's immigration legislation to address many of the challenges facing our immigration system." – Congresswoman Gwen Moore