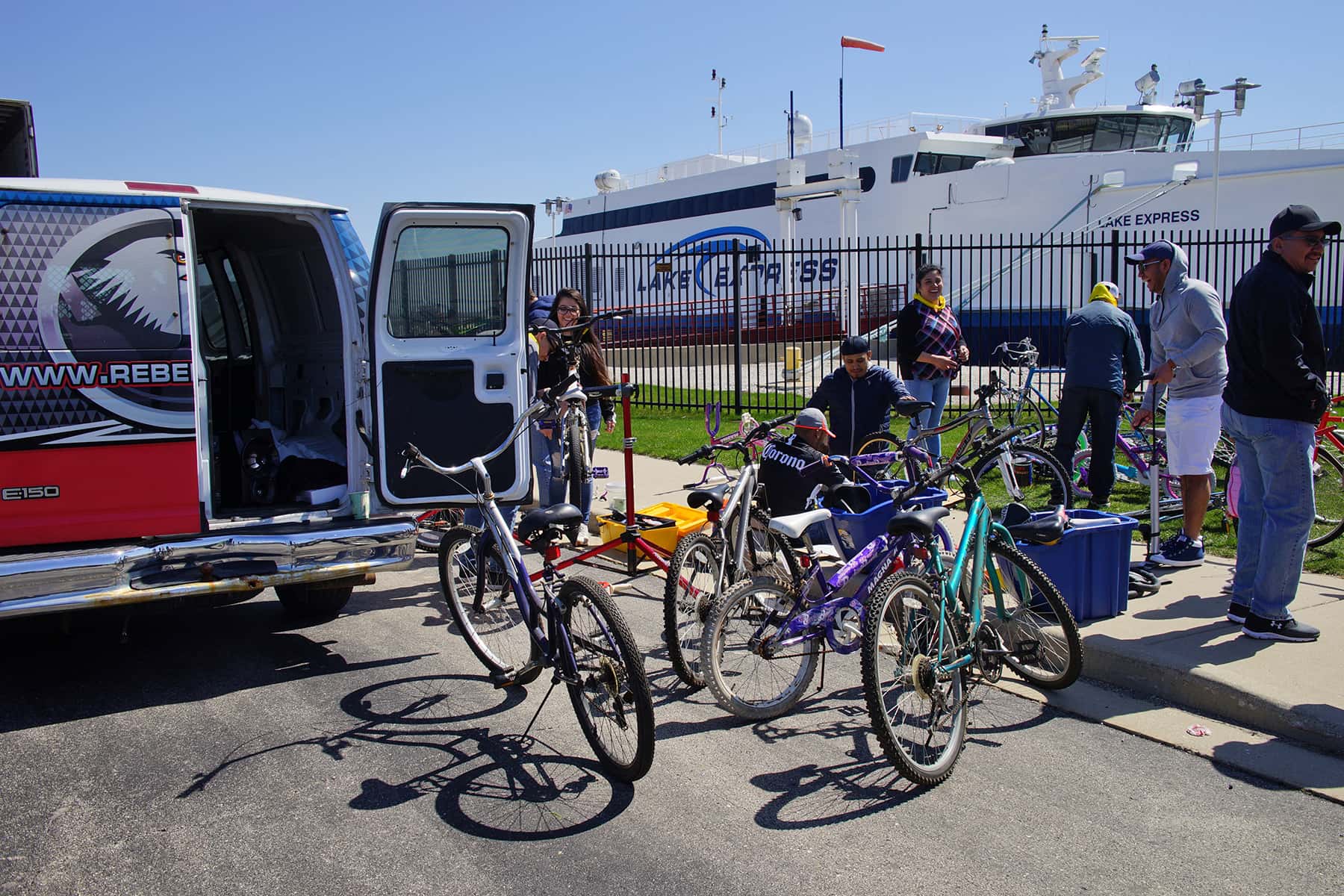 The Lake Express Ferry supported bicycle charities as a celebration of Earth Week and "green" travel options with its annual bike drive on April 26.
In appreciation of bringing a gently used bicycle to the Ferry Terminal for donation, Lake Express is giving donors a complimentary certificate by mail. It will be redeemable for one round-trip classic cabin ticket, with a $161 value.
The offer was presented to the first 500 bikes received, but even after that limit was exceeded the high-speed ferry service continued to offer free trips in exchanged for usable bikes.
"A few years ago this event really picked up and so instead of just collecting 500 bikes, we got a thousand, and that number just keeps growing," said Aaron Schultz, Senior Vice President of Lake Express. "Before the event started this morning, we already had a big crowd of people lined up. Some folks actually camped out so they could be the first in line to make their donation."
Donations will benefit programs supported by the Sixteenth Street Health Center and the Milwaukee Bicycle Collective, such as Southside Bike Day, Shop with a Cop in Ozaukee County, Milwaukee Public School Mountain Bike Program, National Night Out, DreamBikes, and Working Bikes.
"I got involved with this because a number of years ago a friend started something called the Southside Bicycle Day, said Mike Kryshak. "He is a pediatrician, and he got tired of seeing childhood obesity in underprivileged areas of the city. So he wanted to do something to help improve their health."
Kryshak owns Rebel Converting in Saukville, and his employees volunteered to help with the event on their day off. The bike drive is the biggest of its kind in southeast Wisconsin. Without the donations it gathers, many programs could not be supported including initiatives that help newly settled refugees.
"I just think it's super important for kids have bikes. For me, it was my first experience of independence being able to get around the neighborhood," added Kryshak. "I was a Milwaukee Sentinel newspaper delivery boy, so I'd be out 5 o'clock in the morning delivering papers. It gave me a sense of freedom and I think a lot of children are missing that nowadays."
Kryshak established a triage area at the Ferry Terminal to assess the condition of donations. Only bicycles in good working order were accepted, but some still required minor repairs, adjustments, or air for flat tires. Many bikes that could not be salvaged were set aside to be recycled or used for parts.
"These bikes go to our Southside Bicycle Day, that's happening June 29 at Kosciuszko Park," said Chris Rasch of the Sixteenth Street Community Health Centers. "We give away bikes to the community for free, and it's a really fun event. These are kids who would otherwise not be able to get a bike. When I was a kid, having one gave me a sense of freedom, so we are excited to pass along this experience. The effort is about helping the kids, trying to make our community healthier, and that brings a lot of joy."
Studies have found that children who start riding bikes at an early age are much more likely to continue into adulthood, which is important for exercise to maintain good health. Since 2010, Lake Express has collected and given out more than 5,000 bicycles through the program. Past drives have distributed bicycles in Milwaukee, Madison, Chicago, and internationally.
Another option to receive a complimentary round-trip ticket is to make an online donation to the Milwaukee Bicycle Collective. Lake Express begins its 15th anniversary season of service May 1. The Milwaukee-based service began in 2004, and it is the Midwest's only high-speed auto and passenger ferry.