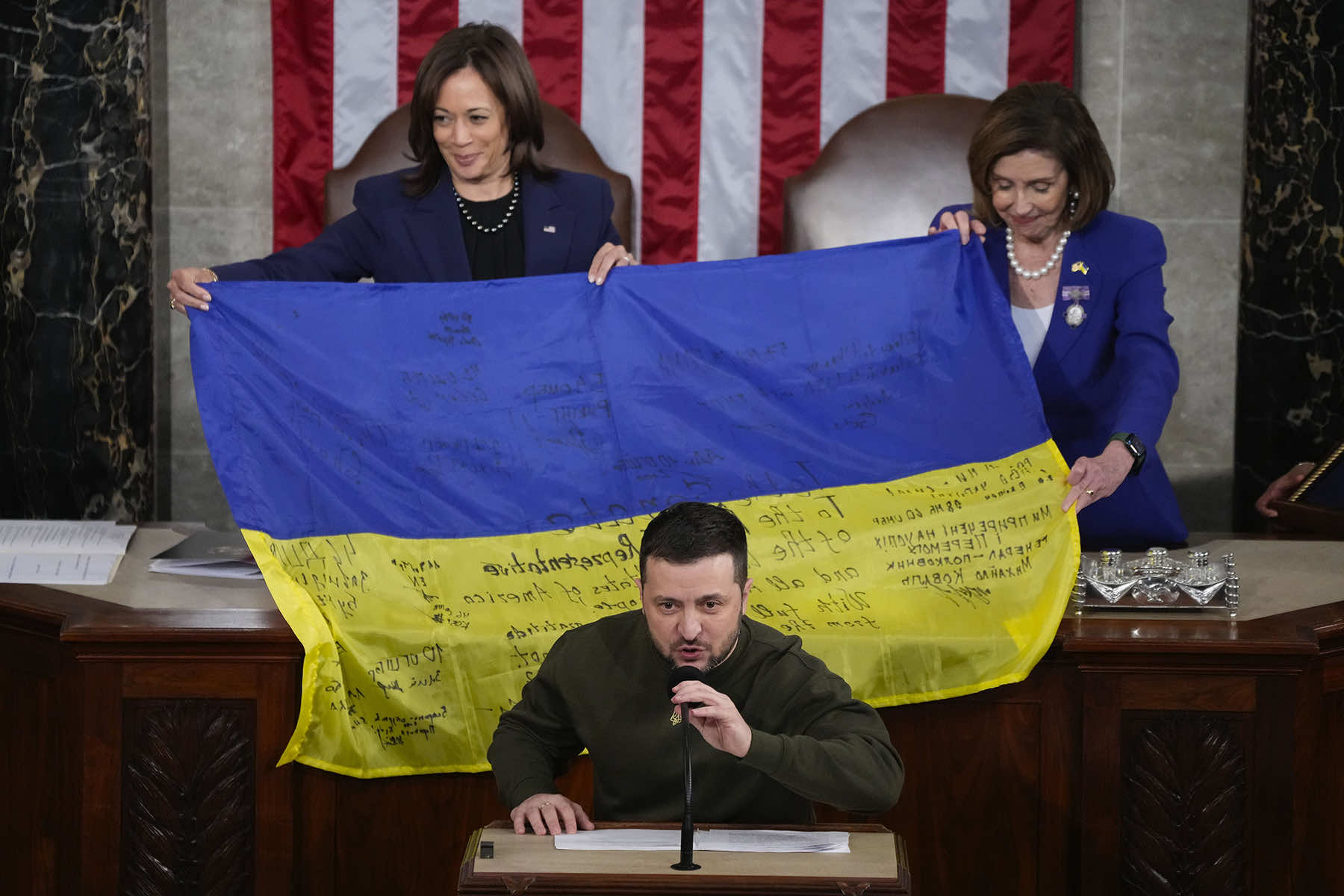 Ukrainian President Volodymyr Zelenskyy said on December 21 that "against all odds" Ukraine still stands, as he paid a defiant wartime visit to Washington to thank U.S. leaders and "ordinary Americans" for their support in fighting off Russia's invasion. He pledged there would be "no compromises" in trying to bring an end to the war.
Delivering an impassioned address to Congress aimed at sustaining support for his country's defense, Zelenskyy called the tens of billions of dollars in U.S. military and economic assistance over the past year vital to Ukraine's efforts to beat back Russia and appealed for even more in the future.
"Your money is not charity," he sought to reassure both those in the room and those watching at home. "It's an investment in the global security and democracy that we handled in the most responsible way."
The speech to Congress came after President Joe Biden welcomed Zelenskyy to the Oval Office, saying the U.S. and Ukraine would maintain their "united defense" as Russia wages a "brutal assault on Ukraine's right to exist as a nation" and pledged to help bring about a "just peace."
Zelenskyy, on his first known trip outside his country since Russia invaded in February, said he wanted to visit earlier and his visit now showed the "situation is under control, because of your support."
Speaking to lawmakers, the Ukrainian leader predicted that next year would be a "turning point" in the conflict, "when Ukrainian courage and American resolve must guarantee the future of our common freedom — the freedom of people who stand for their values."
Zelenskyy received thunderous applause from members of Congress and presented lawmakers with a Ukrainian flag autographed by front-line troops in Bakhmut, in Ukraine's contested Donetsk province, which was held up behind him on the rostrum by House Speaker Nancy Pelosi and Vice President Kamala Harris. Pelosi presented him with an American flag that had flown over the Capitol that day.
Declaring that Ukraine "will never surrender," Zelenskyy warned that the stakes of the conflict were greater than just the fate of his nation — that democracy worldwide is being tested.
"This battle cannot be ignored, hoping that the ocean or something else will provide protection," he said, speaking in English for what he had billed as a "speech to Americans."
Zelenskky appeared well aware of political divisions in the U.S. over prolonged overseas spending, and called on the House and Senate lawmakers to ensure American leadership remains "bicameral and bipartisan."
In a joint news conference with Biden, Zelenskyy was pressed on how Ukraine would try to bring an end to the conflict. He rejected Biden's framing of a "just peace," saying, "For me as a president, 'just peace' is no compromises." He said the war would end once Ukraine's sovereignty, freedom and territorial integrity were restored, and Russia had paid back Ukraine for all the damage inflicted by its forces.
"There can't be any 'just peace' in the war that was imposed on us," he added.
The highly sensitive trip was taking place after 10 months of a brutal war that has seen tens of thousands of casualties on both sides and devastation for Ukrainian civilians. Zelenskyy's visit was meant to reinvigorate support for his country in the U.S. and around the world, amid concerns that allies are growing weary of the costly war and its disruption to global food and energy supplies.
Just before his arrival, the U.S. announced a $1.8 billion military aid package, including for the first time Patriot surface-to-air missiles, and Congress planned to vote on a spending package that includes about $45 billion in emergency assistance to Ukraine.
Russia, Biden said, is "trying to use winter as a weapon, but Ukrainian people continue to inspire the world." During the news conference, he said Russian President Vladimir Putin has "no intention of stopping this cruel war."
The two leaders appeared to share a warm rapport, laughing at each other's comments and patting each other on the back throughout the visit, though Zelenskyy made clear he will continue to press Biden and other Western leaders for ever more support.
He said that after the Patriot system was up and running, "we will send another signal to President Biden that we would like to get more Patriots."
"We are in the war," Zelenskyy added with a smile, as Biden chuckled at the direct request. "I'm sorry. I'm really sorry."
Biden said it is "important for the American people, and for the world, to hear directly from you, Mr. President, about Ukraine's fight, and the need to continue to stand together through 2023."
Zelenskyy headed abroad after making a daring and dangerous trip on December 20 to what he called the hottest spot on the 1,300-kilometer (800-mile) front line of the war, the city of Bakhmut in Ukraine's contested Donetsk province. He praised Ukrainian troops for their "courage, resilience and strength" as artillery boomed in the background.
Poland's private broadcaster, TVN24, said Zelenskyy crossed into Poland early on December 21 on his way to Washington. The station showed footage of what appeared to be Zelenskyy arriving at a train station and being escorted to a motorcade of American SUVs. TVN24 said the video, partially blurred for security reasons, was shot in Przemysl, a Polish border town that has been the arrival point for many refugees fleeing the war.
Officials, citing security concerns, were cagey about Zelenskyy's travel plans, but a U.S. official confirmed that Zelenskyy arrived on a U.S. Air Force jet that landed at Joint Base Andrews, just outside the capital, from the Polish city of Rzeszow.
Biden told Zelenskyy, who wore a combat-green sweatshirt and boots, that "it's an honor to be by your side."
U.S. and Ukrainian officials have made clear they do not envision an imminent resolution to the war and are preparing for fighting to continue for some time. The latest infusion of U.S. money would be the biggest yet — and exceed Biden's $37 billion request.
Biden has repeated that while the U.S. will arm and train Ukraine, American forces will not be directly engaged in the war.
Biden and Zelenskyy first discussed the idea of a visit during a telephone call on December 11, with a formal invitation following three days later, according to a senior U.S. administration official. Zelenskyy accepted the invitation on December 16 and it was confirmed on December 18, when the White House began coordinating with Pelosi to arrange the congressional address.
The White House consulted with Zelenskyy on security, including the risk of Russian action while he was briefly out of the country, said the official, who declined to detail the measures taken to safeguard the Ukrainian leader. The official briefed reporters on the condition of anonymity because of the sensitive nature of the visit.
The latest U.S. military aid package will include not only a Patriot missile battery but precision guided bombs for fighter jets, U.S. officials said. It represents an expansion in the kinds of advanced weaponry intended to bolster Ukraine's air defenses against what has been an increasing barrage of Russian missiles.
Russia's Foreign Ministry has said the delivery of the advanced surface-to-air missile system would be considered a provocative step and that the system and any crews accompanying it would be a legitimate target for Moscow's military.
"It's a defensive system," Biden said of sending the missile system. "It's not escalatory — it's defensive."
It was unclear when the Patriot battery would arrive on the front lines in Ukraine, given that U.S. troops will have to train Ukrainian forces. The training, expected to be done in Germany, could take several months, the Pentagon said.
The visit comes at an important moment, with the White House bracing for greater resistance when Republicans take control of the House in January and give more scrutiny to aid for Ukraine. GOP leader Kevin McCarthy of California has said his party will not write a "blank check" for Ukraine.
Senate Majority Leader Chuck Schumer opened the chamber's session by saying that passage of the aid package and confirmation of the new U.S. ambassador to Russia, Lynne M. Tracy, would send a strong signal that Americans stand "unequivocally" with Ukraine. Tracy was confirmed later on a 93-2 vote.
The Senate's top Republican, Kentucky Sen. Mitch McConnell, said "the most basic reasons for continuing to help Ukraine degrade and defeat the Russian invaders are cold, hard, practical American interests." He said "defeating Russia's aggression will help prevent further security crises in Europe."
Russia's invasion, which began February 24, has lost momentum. The illegally annexed provinces of Donetsk, Kherson, Luhansk and Zaporizhzhia remain fiercely contested.
With the fighting in the east at a stalemate, Moscow has used missiles and drones to attack Ukraine's power equipment, hoping to leave people without electricity as freezing weather sets in.
Volodymyr Fesenko, head of the Kyiv-based Penta Center think tank, said Zelenskyy's visit to the U.S. "should determine the course of the war — Zelenskyy for the first time dared to leave Ukraine and is counting on being able to maintain, and possibly even strengthen, U.S. military and economic assistance."
Putin on December 21 told his country's military leaders that Russia will achieve its stated goals in Ukraine and use the combat experience to strengthen its military. His defense minister, Sergei Shoigu, said Russia's military must be expanded from the current 1 million to 1.5 million during the fighting in Ukraine.
HOW THE LATEST US AID MAKES UKRAINE STRONGER
The presence of President Zelenskyy in Washington put a dramatic exclamation point on the Biden administration's latest announcement of military aid to the war-torn nation. In ways big and small, the massive $1.85 billion package will expand the abilities of Zelenskyy's troops to take out incoming Russian airstrikes and continue counter-offensives to push back against the invading troops. It also allows President Joe Biden to deliver his commitment to one of Zelenskyy's most urgent battlefield requests — a Patriot missile battery.
And there is more aid to come. Beyond the assistance announced on December 21, Congress is poised to approve an additional $45 billion in military and humanitarian aid for Ukraine. The money is part of a massive government funding bill that would support Ukraine not only next year, but in some cases into 2025, assuring continued assistance even as the House changes hands to Republican control. A look at some of the weapons systems the U.S. is providing:
PATRIOT MISSILE BATTERY
Patriot missile systems have long been a hot-ticket item for the U.S. and allies in contested areas of the world as a coveted shield against incoming missiles. In Europe, the Middle East and the Pacific, they guard against potential strikes from Iran, Yemen and North Korea.
Zelenskyy and other Ukrainian leaders have begged the U.S. for months for a Patriot surface-to-air guided missile system that can intercept Russian missiles. U.S. officials said Wednesday they would take one from Pentagon training stocks and send it to Ukraine, marking a shift in the U.S. calculus. The officials discussed details of the Patriot decision on condition of anonymity, citing concerns about operational security.
The U.S. had been reluctant to provide a Patriot system, fearing it would provoke Moscow or risk that a missile could hit inside Russia and escalate the conflict. Russia's Foreign Ministry has made clear that delivering Patriots to Ukraine would be "another provocative move by the U.S." that could prompt a response from Moscow.
Another hurdle is training. U.S. troops will have to train Ukrainian forces on how to use and maintain the complex system. A senior defense official told Pentagon reporters Wednesday that the training will begin "very soon" and will take "several months." U.S. officials have said the instruction will take place at Grafenwoehr training area in Germany.
The Patriot also has somewhat limited capabilities and officials acknowledge it will not likely change the course of the war. Patriots have a long firing range, but can cover only a limited area. The Patriot's current interceptor missile costs approximately $4 million per round and the launchers cost about $10 million. Each Patriot battery can have up to eight launchers firing four missiles each.
At that price, it is not cost effective or optimal to use the Patriot to shoot down the smaller and cheaper Iranian drones that Russia has been using in Ukraine. The senior defense official said the Patriot will complement Ukraine's other air defense systems and would be integrated into a layered defense of the nation. The U.S. has a limited number of Patriots and they are in high demand, with many already deployed around the world. Since Ukraine will get one used to train U.S. soldiers, that is one less for troops to learn on.
SATELLITE COMMUNICATIONS SYSTEM
U.S. officials are being deliberately vague about the satellite communications that will be bought under the Ukraine Security Assistance Initiative, which provides funding for weapons and equipment to be purchased from commercial vendors. On December 21, the senior defense official said part of the $850 million in USAI announced Wednesday will be used for contracts to augment existing Ukrainian capabilities.
The official said that because of ongoing contract negotiations, the Pentagon could say only they were talking to a number of satellite communications vendors. Still, other U.S. officials acknowledged that the move will shore up a potential point of vulnerability for Ukraine after SpaceX founder Elon Musk said his company could no longer afford to provide the Starlink services for free.
Musk shipped the first Starlink terminals to Ukraine just days after Russia invaded in February, and as of October there were more than 2,200 low-orbiting Starlink system satellites providing broadband internet to Ukraine. In October, Musk asked the Pentagon to take over the costs for operating Starlink in Ukraine, and tweeted that it was costing SpaceX $20 million a month to support the country's communications needs.
The terminals and satellite connectivity they have provided Ukraine have "been the game changer" in allowing Ukraine's military and infrastructure to continue to operate, said John Ferrari, a senior fellow and space expert at the American Enterprise Institute. Although the funding announcement is general and does not cite Starlink, Ferrari said it would be more difficult to introduce other companies' satellite terminal systems onto the battlefield because they often do not operate well when mixed together.
JOINT DIRECT ATTACK MUNITIONS
Joint Direct Attack Munition kits, or JDAMs, are also being provided to Ukraine for the first time. JDAMs are essentially 500- to 2,000-pound "dumb" bombs that have been modified into "smart" bombs by adding a tail fin and navigation kit. That added kit enables troops to guide the munition to a target, rather than simply dropping it from a fighter jet onto the ground
The State Department said the JDAM "will provide the Ukrainian Air Force with enhanced precision strike capabilities against Russia's invading forces." U.S. fighter jets, bombers and drones can all fire the JDAMs, but officials declined to describe the modifications being made so the bombs can be launched by Ukraine aircraft.
Another potentially attractive element about the JDAMs is that the U.S. has many of them, so providing them does not involve the same type of stockpile pressures the U.S. has with other more limited munitions, said Mark Cancian a senior adviser with the Center for Strategic and International Security. But there is also a potential catch: The weapons are typically dropped from aircraft flying over or near the target. That may be more risky for Ukrainian pilots, since it could put them within range of Russian air defense systems.
Transcription of President Zelenskyy's Address to Congress
Dear Americans!
In all states, cities and communities. All those who value freedom and justice. Who cherish it as strongly, as we, Ukrainians, in all our cities, in each and every family. I hope my words of respect and gratitude resonate in each American heart!
Madam Vice President, I thank you for your efforts in helping Ukraine! Madam Speaker, you bravely visited Ukraine during the full-fledged war, thank you very much! It is a great honor, a great privilege to be here!
Dear members of the Congress – representatives of both parties – who also visited Kyiv! Esteemed Congressmen and Senators – from both parties – who will visit Ukraine, I'm sure, in the future! Dear representatives of diaspora – present in this chamber and spread across the country! Dear journalists!
It's a great honor for me to be at the U.S. Congress and speak to you and all Americans!
Against all odds and doom and gloom scenarios, Ukraine did not fall. Ukraine is alive and kicking.
And it gives me good reason to share with you our first joint victory – we defeated Russia in the battle for minds of the world. We have no fear. Nor should anyone in the world have it.
Ukrainians gained this victory – and it gives us courage, which inspires the entire world.
Americans gained this victory – and that's why you have succeeded in uniting the global community to protect freedom and international law.
Europeans gained this victory – and that's why Europe is now stronger and more independent than ever.
The Russian tyranny has lost control over us and it will never influence our minds again.
Yet, we have to do whatever it takes to ensure that countries of the Global South also gain such victory.
I know one more thing – the Russians will stand a chance to be free only when they defeat the Kremlin in their minds.
Yet, the battle continues! And we have to defeat the Kremlin on the battlefield.
This battle is not only for the territory – for this or another part of Europe. This battle is not only for life, freedom and security of Ukrainians or any other nation, which Russia attempts to conquer. This struggle will define – in what world our children and grandchildren will live and then – their children and grandchildren. It will define whether it will be a democracy – for Ukrainians and for Americans – for all.
This battle cannot be frozen or postponed. It cannot be ignored hoping that the ocean or something else will provide a protection.
From the United States to China, from Europe to Latin America, and from Africa to Australia – the world is too interconnected and interdependent to allow someone to stay aside – and at the same time – to feel safe when such a battle continues.
Our two nations are Allies in this battle.
And next year will be a turning point. The point, when Ukrainian courage and American resolve must guarantee the future of our common freedom. The freedom of people, who stand for their values.
Ladies and Gentlemen!
Americans!
Yesterday – before coming here to Washington DC – I was at the frontline, in our Bakhmut. In our stronghold in the East of Ukraine – in the Donbas.
The Russian military and mercenaries have been attacking Bakhmut non-stop since May. They have been attacking it day and night. But Bakhmut stands.
Last year seventy thousand people lived there in Bakhmut and now only few civilians stay.
Every inch of that land is soaked in blood. Roaring guns sound every hour. Trenches in the Donbas change hands several times a day in fierce combat and even hand fighting. But the Ukrainian Donbas stands.
Russians use everything they have against Bakhmut and our other beautiful cities.
The occupiers have a significant advantage in artillery. They have an advantage in ammunition. They have much more missiles and planes than we ever had.
But our Defense Forces stand. And we all are proud of them.
The Russian tactic is primitive. They burn down and destroy everything they see. They sent thugs to the frontlines. They sent convicts to the war…
They threw everything against us – similar to the other tyranny, which in the Battle of the Bulge threw everything it had against the free world. Just like the brave American soldiers, which held their lines and fought back Hitler's forces during the Christmas of 1944, brave Ukrainian soldiers are doing the same to Putin's forces this Christmas. Ukraine holds its lines and will never surrender!
So, here is the frontline – the tyranny, which has no lack of cruelty – against the lives of free people.
And your support is crucial – not just to stand in such fights, but to get to the turning point. To win on the battlefield.
We have artillery. Yes. Thank you. Is it enough? Honestly, not really. To ensure Bakhmut is not just a stronghold that holds back the Russian army – but for the Russian army to completely pull out – more cannons and shells are needed.
If so, just like the battle of Saratoga, the fight for Bakhmut will change the trajectory of our war for independence and freedom.
If your «Patriots» stop the Russian terror against our cities, it will let Ukrainian patriots work to the full to defend our freedom.
When Russia cannot reach our cities by its artillery, it tries to destroy them with missile attacks. More than that, Russia found an Ally in its genocidal policy – Iran.
Iranian deadly drones, sent to Russia in hundreds, became a threat to our critical infrastructure. That is how one terrorist has found the other. It is just a matter of time – when they will strike against your other allies, if we do not stop them now. We must do it!
I believe there should be no taboos between us in our alliance. Ukraine never asked the American soldiers to fight on our land instead of us. I assure you that Ukrainian soldiers can perfectly operate American tanks and planes themselves.
Financial assistance is also critically important. And I would like to thank you for both, financial packages you have already provided us with, and the ones you may be willing to decide on. Your money is not charity. It's an investment in the global security and democracy that we handle in the most responsible way.
Russia could stop its aggression if it wanted to, but you can speed up our victory. I know it.
And it will prove to any potential aggressor that no one can succeed in breaking national borders, committing atrocities and reigning over people against their will.
It would be naive to wait for steps towards peace from Russia – which enjoys being a terrorist state. Russians are still poisoned by the Kremlin.
The restoration of international legal order is our joint task. We need peace. Ukraine has already offered proposals, which I just discussed with President Biden – our Peace Formula.
Ten points, which should and must be implemented for our joint security – guaranteed for decades ahead.
And the Summit, which can be held.
I am glad to stress that President Biden supported our peace initiative today. Each of you, ladies and gentlemen, can assist in its implementation – to ensure that America's leadership remains solid, bicameral and bipartisan.
You can strengthen sanctions to make Russia feel how ruinous its aggression truly is.
It is in your power to help us bring to justice everyone, who started this unprovoked and criminal war. Let's do it!
Let the terrorist state be held responsible for its terror and aggression, and compensate all losses done by this war.
Let the world see that the United States is here!
Ladies and Gentlemen!
Americans!
In two days, we will celebrate Christmas. Maybe, candlelit. Not because it is more romantic. But because there will be no electricity. Millions won't have neither heating nor running water. All of this will be the result of Russian missile and drone attacks on our energy infrastructure. But we do not complain.
We do not judge and compare whose life is easier.
Your well-being is the product of your national security – the result of your struggle for independence and your many victories.
We, Ukrainians, will also go through our war of independence and freedom with dignity and success.
We'll celebrate Christmas – and even if there is no electricity, the light of our faith in ourselves will not be put out. If Russian missiles attack us – we'll do our best to protect ourselves. If they attack us with Iranian drones and our people will have to go to bomb shelters on Christmas eve – Ukrainians will still sit down at a holiday table and cheer up each other. And we don't have to know everyone's wish as we know that all of us, millions of Ukrainians, wish the same – victory. Only victory.
We already built strong Ukraine – with strong people, strong army, and strong institutions. Together with you!
We develop strong security guarantees for our country and for entire Europe and the world. Together with you!
And also – together with you! – we'll put in place everyone, who will defy freedom.
This will be the basis to protect democracy in Europe and the world over.
Now, on this special Christmas time, I want to thank you. All of you. I thank every American family, which cherishes the warmth of its home and wishes the same warmth to other people.
I thank President Biden and both parties at the Senate and the House – for your invaluable assistance.
I thank your cities and your citizens, who supported Ukraine this year, who hosted our people, who waved our national flags, who acted to help us.
Thank you all! From everyone, who is now at the frontline. From everyone, who is awaiting victory.
Standing here today, I recall the words of the President Franklin Delano Roosevelt, which are so good for this moment: "The American People in their righteous might will win through to absolute victory."
The Ukrainian People will win, too. Absolutely. I know that everything depends on us. On Ukrainian Armed Forces! Yet, so much depends on the world! So much in the world depends on you!
When I was in Bakhmut yesterday, our heroes gave me the flag. The battle flag. The flag of those who defend Ukraine, Europe and the world at the cost of their lives. They asked me to bring this flag to the US Congress – to members of the House of Representatives and Senators, whose decisions can save millions of people.
So, let these decisions be taken!
Let this flag stay with you, ladies and gentlemen!
This flag is a symbol of our victory in this war!
We stand, we fight and we will win. Because we are united. Ukraine, America and the entire free world.
May God protect our brave troops and citizens! May God forever bless the United States of America!
Merry Christmas and a happy victorious new year!
Слава Україні!
– Translation by The Presidential Office of Ukraine
Zeke Miller, Lisa Mascaro, E. Eduardo Castillo, Lolita C. Baldor, Tara Copp, AP Staff, and MI Staff
Patrick Semansky (AP), Andrew Harnik (AP), Jacquelyn Martin (AP), J. Scott Applewhite (AP), Carolyn Kaster (AP), and Presidential Office of Ukraine