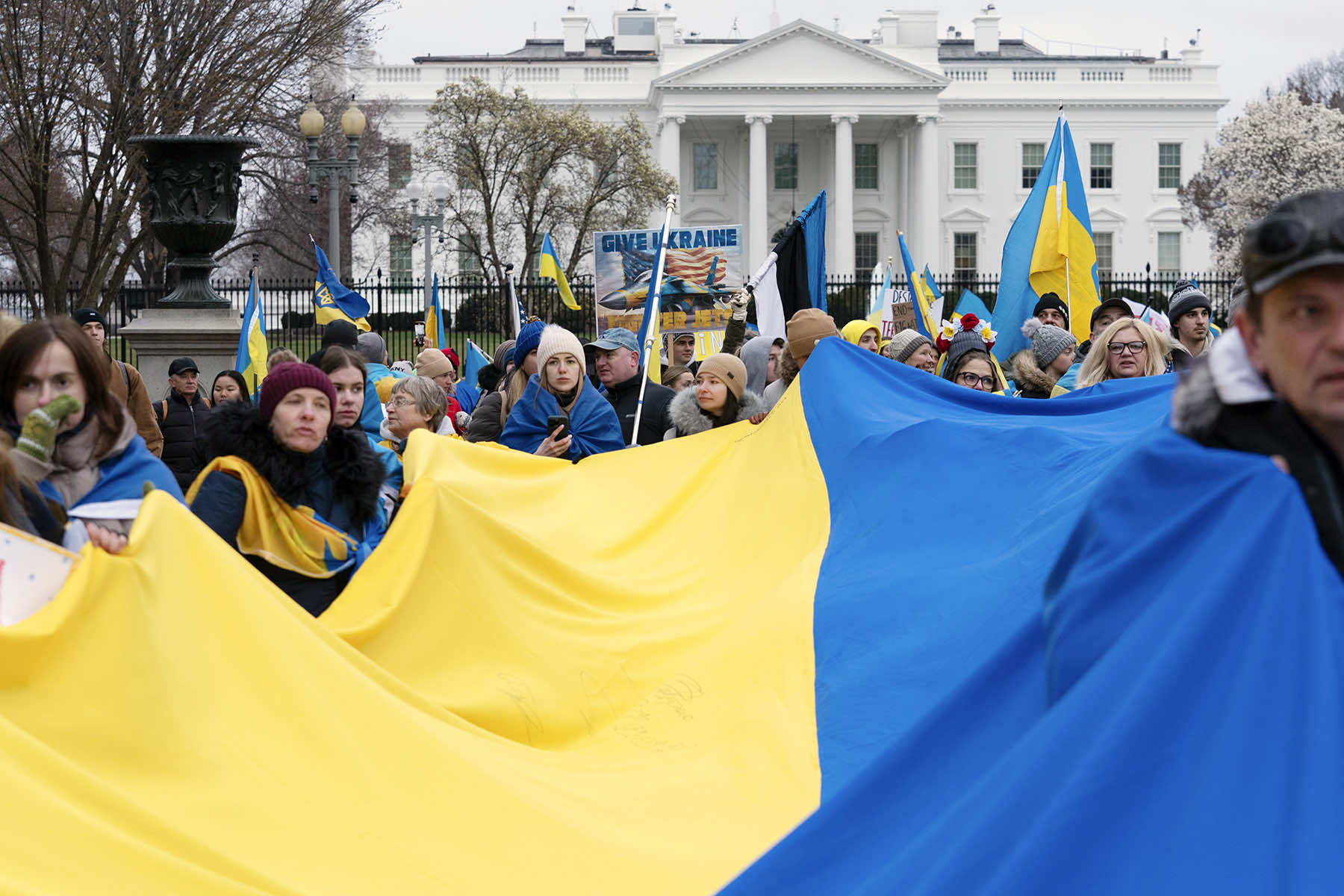 After the last Soviet troops left Afghanistan in 1989, defeated by an insurgency equipped and guided by the United States, a two-word cable arrived at CIA headquarters: "WE WON."
It was one of the last moments of the Cold War, credited with helping push the Soviet Union to collapse two years later. But the U.S. would leave behind a country that rapidly fell into civil war, eventually becoming al-Qaida's training grounds for the September 11 attacks and the site of a two-decade war that ended in U.S. withdrawal and defeat.
Decades later, one of the architects of the covert strategy against the Soviets has published a memoir that calls on President Joe Biden's administration to do more to support Ukraine's resistance against Russia.
In "By All Means Available," Michael Vickers also reviews what the U.S. can learn from its past missteps and missed warnings in Afghanistan.
In the 2007 movie "Charlie Wilson's War," which depicts the top-secret U.S. effort in 1980s Afghanistan, Vickers is shown as the CIA's in-house weapons expert who quickly knows what is needed by the American-backed Islamic fighters known as mujahedeen.
He was also portrayed as a whiz kid who can beat multiple opponents in chess without looking at their boards. In real life, he does not play chess.
The Biden administration has provided $40 billion in security assistance to Ukraine as well as intelligence support. It has withheld some missile systems and aircraft sought by Ukraine as it tries to avoid escalating the conflict into a direct war with Russia.
Vickers argues the U.S. can do more to help Ukraine win the war and deliver a strong blow to Moscow.
"The administration hasn't always been clear about what it really wants in Ukraine," Vickers said in a recent interview. "Saying, 'We'll be with them as long as it takes,' is not the same thing as 'We're going to help them win.' We ought to help them sooner rather than later."
Ukraine has begun a long-promised counteroffensive that Western officials believe is making slow and small advancements. Russian forces are thought to control roughly 20% of Ukrainian territory.
Russian President Vladimir Putin also appears weakened after an aborted mutiny by Wagner Group mercenaries who took the military headquarters in a southern city and approached Moscow before agreeing to a settlement.
The insurrection and resulting turmoil in Moscow "certainly open the opportunity space for the Biden administration," Vickers said. "But I think we'll have to see what happens."
The son of an Army Air Corps pilot in World War II, Vickers grew up in California and was the first in his family to attend college. During his final semester, he decided he wanted to try for a job in the CIA by first becoming an Army Green Beret. He would eventually join the agency in 1983, at the age of 30.
Just over a year later, Vickers was called into the office of Gust Avrakotos, who led the CIA's Afghanistan task force. By then, Soviet troops had been in Afghanistan for five years, ostensibly to support the communist government in the civil war.
According to Vickers, in Avrakotos' office was a "mannequin of a Soviet soldier wearing a gas mask, holding an AK-47 assault rifle, and outfitted in full combat gear."
"The mannequin reminded everyone that the Soviet-Afghan War was being fought with few restraints," he wrote.
The CIA brought together a disparate group to arm the Afghans, who used U.S.-supplied machine guns, mines, and anti-tank and anti-aircraft weapons against the better-equipped Soviets.
Saudi Arabia helped finance purchases of weapons and ammunition from Egypt and China that were moved through Pakistan and into Afghanistan. In Washington, U.S. Representative Charlie Wilson of Texas helped push through hundreds of millions of dollars in secret American financing.
Vickers said he oversaw the shipment of more lethal weapons, increased training and intelligence given to the resistance fighters, and ramped up covert influence campaigns. The first full year he was involved, 1985, was the "bloodiest year of the war," he writes, with more than 4,000 Soviet troops killed.
"In less than a year, I had gone from participating in operations to directing a secret war on an unimaginable scale," he wrote. "Only in CIA could this happen."
The war's rising toll led the Soviets to pull back from the war, slowly transferring responsibility to the local communist government and ultimately withdrawing in 1989.
Vickers left the CIA shortly afterward and would go into business and academia. But he rejoined government after the September 11, 2001, attacks, when the U.S. would go back into Afghanistan, this time with its own troops, and quickly topple the Taliban.
As a top Defense Department official under Presidents George W. Bush and Barack Obama, Vickers was involved in the U.S. operation to kill al-Qaida leader Osama bin Laden, the surge and eventual drawdown of American troops into Afghanistan, and countering the rise of the Islamic State group in Iraq and Syria.
The early U.S. victories in Afghanistan were followed by an insurgency that would drag on for two decades as the Taliban regained strength. The war ultimately ended in the failure of the U.S.-backed government in Kabul and a chaotic and bloody withdrawal in August 2021 that continues to stir anger in Washington.
And there were echoes of the 1980s. One of the leaders in the anti-Soviet resistance was the Pashtun commander Jalaluddin Haqqani. His son Sirajuddin became the leader of the so-called Haqqani Network, blamed for attacks on U.S. soldiers and Afghan civilians, and is now the interior minister of the Taliban government.
Vickers argued the U.S. had reached an effective stalemate in Afghanistan by the end of Obama's presidency. He criticizes former President Donald Trump for making a deal with the Taliban that he called a "surrender agreement," and Biden for following through with the withdrawal.
He remains an influential voice on Russia in Washington, having argued before the invasion last year that the U.S. should try to deter Moscow by moving combat aircraft to Europe and providing anti-armor and anti-aircraft weapons like it did in the 1980s.
Ukraine defied many U.S. predictions that its government would quickly fall to Moscow, and what some expected would be a guerrilla conflict has instead become a more conventional war with two forces dug in across hundreds of miles.
Vickers noted there were some similarities between the two conflicts besides the common opponent in Moscow. One of them, he argued in a recent interview, was that the U.S. would have to help rebuild Ukraine and establish security guarantees after the war ends.
As told in "Charlie Wilson's War," U.S. support for Afghanistan fell sharply in the years after the last Soviet general left, setting in motion internal wars and the rise of the Taliban — something Vickers noted today was "not a good series of events."
"The Ukrainians have been remarkable in how they've coalesced around their national identity and to defend their territory and their politics," he said. "But it's a crisis right now. And it's an existential threat. And so one does have to watch for all kinds of things."