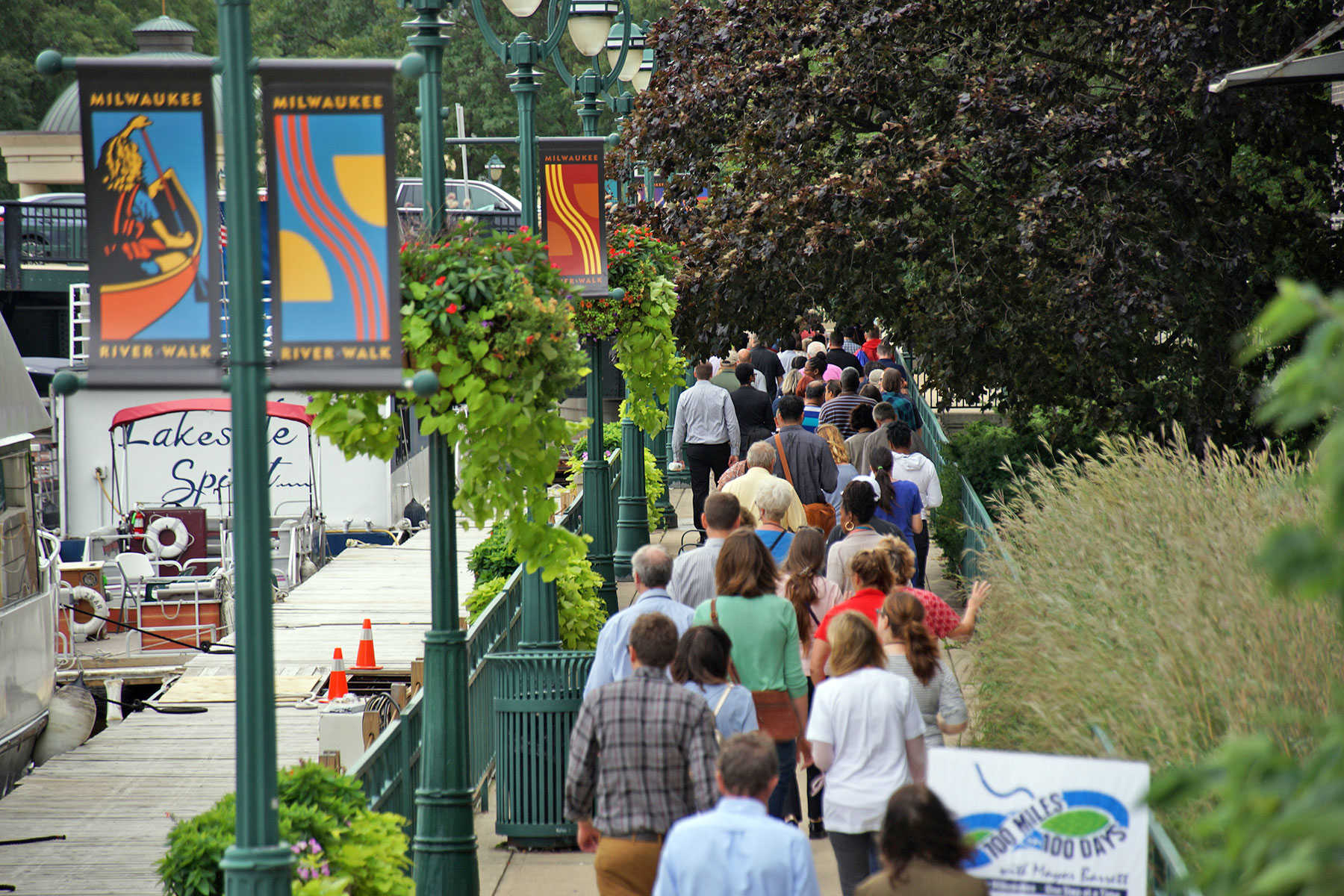 Milwaukee Mayor Tom Barrett hosted the finale to his 5th Annual Walk 100 Miles in 100 Days initiative on September 7 at Pere Marquette Park, with a walk around the new Fiserv Forum.
The last "Walk 100" for the year celebrated the end of the 2018 season, which has facilitated 125 walks over the program's half decade history.
Throughout the summer, participants were encouraged to walk on their own, in a group, or join one of the many community walks. The goal has been to work towards achieving 100 miles in 100 days, but has also served as a way of introducing residents to unfamiliar parts of the city. Several dozen participants completed the challenge in 2018.
"When it comes to our health and wellness, every step counts," said Mayor Barrett at the 2018 kick off event. "My Walk 100 Challenge is an effort to motivate people from all corners of Milwaukee to get out, stay active, and have fun. It's a great way to explore the beautiful neighborhoods of our community."
Mayor Barrett created the Walk 100 Miles in 100 Days Challenge in 2013 with the belief that when residents walk alongside people in their community, relationships are formed and our city becomes stronger. Walk 100's overall goal is to increase physical activity among residents while promoting the uniqueness of Milwaukee's neighborhoods. Throughout the summer, Walk 100 partnered with community organizations, elected officials, and residents to host walks in all corners of the city.
The untold story behind Mayor Barrett's inspiration for the initiative actually came from one of his daughters. She had just joined the Weight Watchers program, and talked him into participating with her. Since 2013, the Walk 100 has gone on to evolve into a platform that connects residents to others outside of their usual bubble as they walk, talk, and explore the diverse marvels that make up Milwaukee as a city of neighborhoods.
For the 2018 finale, the walk route left Pere Marquette Park and went past the Fiserv Forum on Vel R. Phillips Avenue, and included a part of the Riverwalk section along the Milwaukee River. Light food and refreshments were provided by local businesses, Funky Fresh Spring Rolls and Algo Dulce.