Stakeholders reflect on four year journey from Bucks ownership transition to new Arena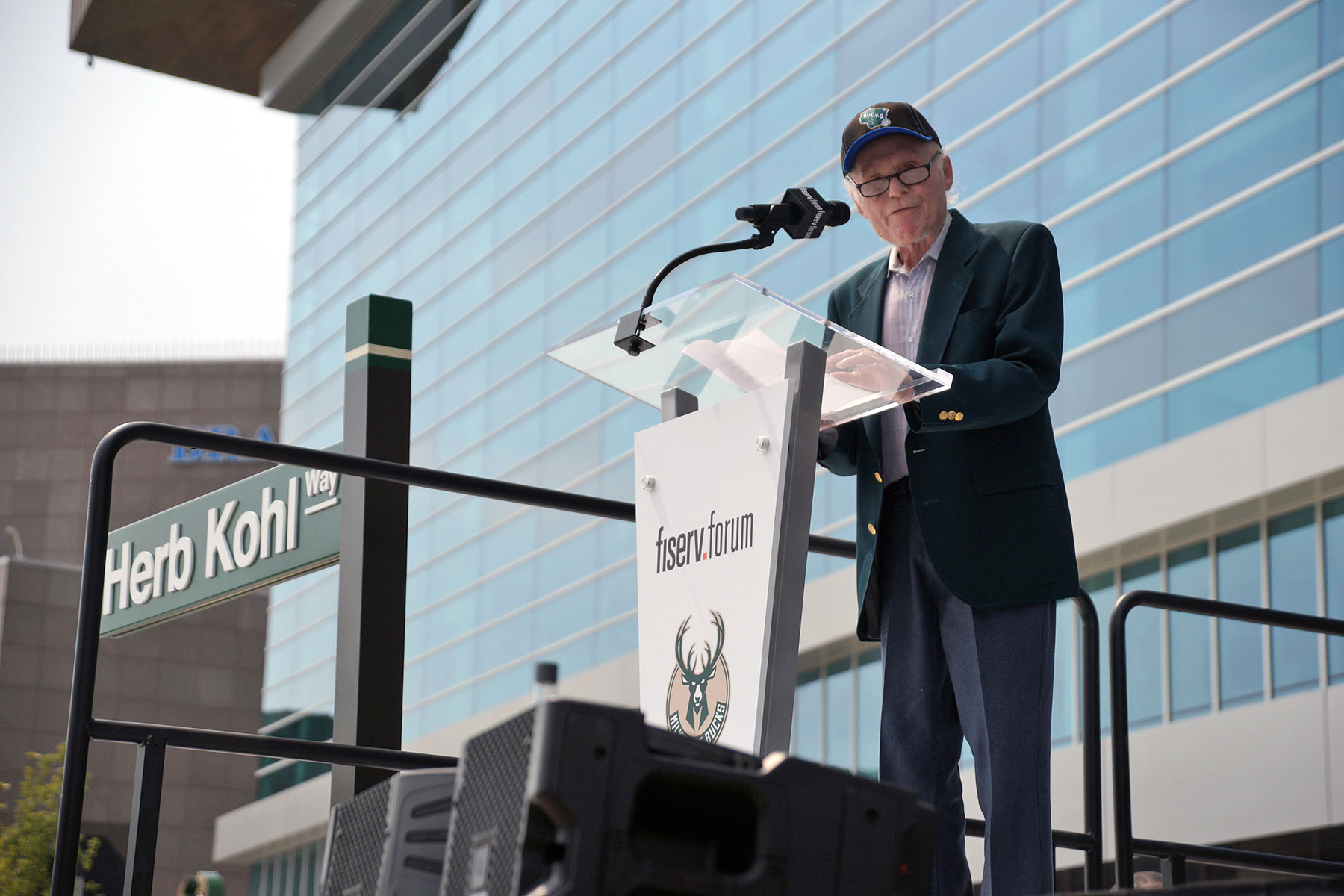 Former Bucks owner Senator Herb Kohl also attended the ribbon-cutting ceremony on August 26 and was honored by the Bucks for his 29-year stewardship of the team with the naming of Herb Kohl Way for the block in front of Fiserv Forum. The groundbreaking ceremony for the new arena was held on June 18, 2016, with substantial completion of the building having occurred on July 31, 2018. Over 3,800 craft workers spent two million total work hours building Fiserv Forum, with 76 percent of the contracts to build the venue completed with Wisconsin companies.
The audio was recorded live during the event on the plaza outside the Fiserv Forum, and quotes were provided after the ribbon-cutting ceremony concluded. The images capture highlights from the arena opening that saw tens of thousands of area residents attend in celebration.
"My teammates and I are extremely grateful to everyone who played a role in building our amazing new home – Fiserv Forum. Every detail is incredible for the players and the fans. We are excited to start the season and play in front of our fantastic home crowd in the NBA's best arena!" – Milwaukee Bucks Forward Giannis Antetokounmpo
"Today is a great day for our state. This beautiful, modern building will be used and enjoyed by millions of people. I'm proud to have been part of the process and congratulate the Milwaukee Bucks and our entire community. Let this day be the first of many future celebrations in the new arena." – Former Bucks Owner and Wisconsin Senator Herb Kohl
"Fiserv Forum, the Bucks' new home, is a big deal for Wisconsin and specifically for Milwaukee. Because of the way we structured the deal, the state will receive an actual return of $2.99 for every dollar in the project. This is one of the reasons we could bring Democrats and Republicans together from all over the state to support our plan. It will help revitalize downtown Milwaukee, and at a time when more people are working in Wisconsin than ever before, we need more reasons to attract talent to the state. A new arena and an exciting team will help attract and retain prospective employees. It's a slam dunk!" – Wisconsin Governor Scott Walker
"It's incredible to remember that, until a couple years ago, Park East was basically vacant. The fact that we now have a spectacular, world-class arena here will continue to have an enormous impact on our community. This arena means millions of dollars in our local economy, thousands of jobs and fantastic entertainment options, including our own Milwaukee Bucks. I'm beyond excited to see Fiserv Forum officially open, and I remain deeply proud of the role Milwaukee County played in making this project a reality." – Milwaukee County Executive Chris Abele
"Milwaukee is a major league city. Fiserv Forum, with its modern amenities and thoughtful design, and the Bucks' presence in Milwaukee affirm that. The Bucks organization has had, and I'm certain will continue to have a major impact on Milwaukee. We're confident Fiserv Forum will lead to new development in adjacent and nearby neighborhoods. We have already seen new activity at the Brewery, along Old World Third Street and in Haymarket. Bronzeville to the north and neighborhoods to the west will also see a positive impact." – Milwaukee Mayor Tom Barrett
"As the new Fiserv Forum has risen to change both the landscape and skyline of Milwaukee it presents an opportunity for us to visualize this new structure as an example of what can happen citywide. When shared destiny and common ground come together anything is possible. Multifaceted collaborations like this are what we need to build the future." – Milwaukee Common Council President Ashanti Hamilton
The ceremony was attended by current Bucks players Giannis Antetokounmpo and Khris Middleton, Bucks alumni Kareem Abdul-Jabbar, Vin Baker, Marques Johnson, Jon McGlocklin, Steve Novak and Michael Redd, Bucks owners Wes Edens, Marc Lasry, Jamie Dinan and Mike Fascitelli, Bucks General Manager Jon Horst, Bucks Head Coach Mike Budenholzer, NBA Commissioner Adam Silver, Wisconsin Governor Scott Walker, Milwaukee Mayor Tom Barrett, Milwaukee Common Council President Ashanti Hamilton, Fiserv President and CEO Jeff Yabuki and Bucks President Peter Feigin.