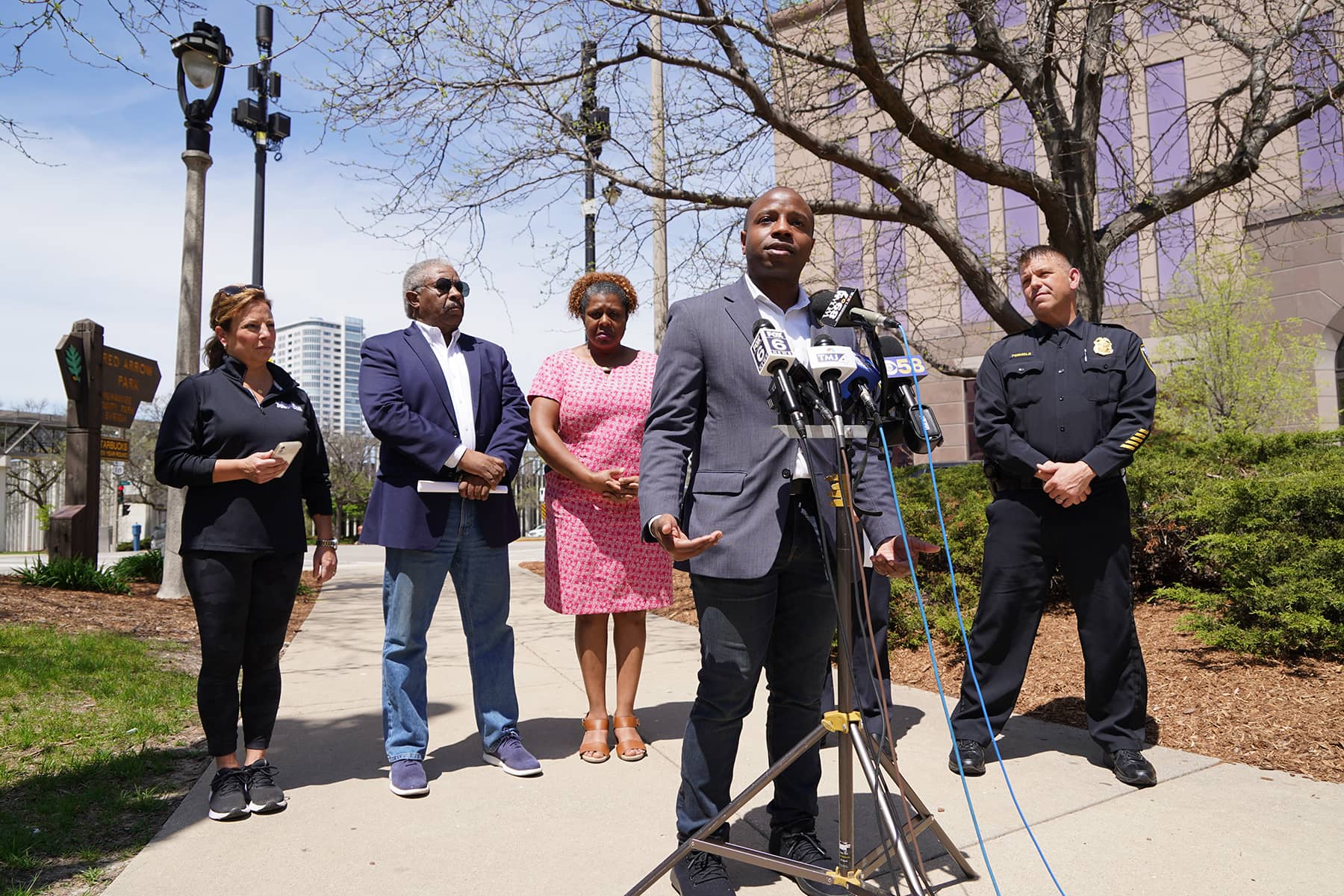 Downtown Milwaukee will be under a limited curfew for the rest of the weekend and a massive public watch party scheduled for May 15 has been cancelled, after 21 people were injured in three separate shootings near the Deer District where thousands had gathered for the Bucks NBA playoff game.
Mayor Cavalier Johnson held a press conference at the corner of Water and Wells Streets at Red Arrow Park to announce the curfew. He was joined by Assistant Police Chief Nicole Waldner and other community leaders. Under the emergency plan, anyone under the age of 21 in the downtown area must be off the street by 11:00 p.m. for the weekend. May 15 is particularly important, because the Milwaukee Bucks will play the decisive Game 7 in Boston.
Whereas, due to multiple shootings and violence occurring last night and early this morning in the Downtown entertainment areas in the City of Milwaukee; Whereas, it is expedient to protect the health, safety, welfare, and good order of the City of Milwaukee, its law abiding citizens and businesses that a temporary curfew be imposed limiting pedestrian and vehicular travel by persons under 21 years of age during the late night and early morning hours of tonight and tomorrow in order to stem this type of violence from happening in the City of Milwaukee; Now, Therefore, I, Cavalier Johnson, Mayor of the City of Milwaukee, hereby declare that: Pursuant to the authority granted to me by Wisconsin Statute SS 323.14(4)(b), and Milwaukee Code of Ordinance 6-07-3 1 hereby proclaim and declare a state of emergency in the City of Milwaukee and order an emergency curfew in the perimeter of Vel R. Phillips Avenue to Broadway Street and State Street to Knapp/McKinley Streets in the City of Milwaukee for all persons under the age of 21 from 11:00 p.m. May 14th, 2022 until 05:30 a.m. on May 15th, 2022 and again from 11:00 p.m. May 15th, 2022 until 05:30 a.m. on May 16th, 2022. All persons under age 21 shall cease vehicular and pedestrian travel on the public way, streets, sidewalks and highways and return to their homes, places of work or other convenient place. The following credentialed personnel, working in their official capacity, are exempt from this order: government, emergency services, utility services, medical providers, social services providers and press. Persons experiencing homelessness, fleeing dangerous domestic situations or seeking medical care are also exempt from this order.
In one of the shootings on May 13, seventeen people were injured when two groups started firing at each other. Three people were hurt in another shooting, and one in the third. All of the gunfire happened blocks from the arena where the Milwaukee Bucks lost to the Boston Celtics in Game 6 of the NBA's Eastern Conference semifinals. The victims range in age from 15 to 47-years-old, and all are expected to survive.
"We're going to take action, we're going to do something about what happened here, in this neighborhood," said Mayor Johnson. "We will not tolerate these sort of actions in Milwaukee. It's inherently unsafe. We've consulted with legal authorities about options that are before us. And there will be restrictions and limitations in place. To put it simply… if you intend to loiter, if you intend to act out and cut up, if you intend to do anything that is unlawful, then my message is simple: Don't come here. Don't come Downtown. Don't mess it up for everybody else."
Mayor Johnson said that the incidents extended beyond policing and into the broader community, and that Milwaukee residents had a responsibility to help stop crime in the city. He said that the Deer District shootings raised a bigger question about access to firearms, both in Wisconsin and the rest of the country. The Mayor also stressed the need for accountability for people who shoot in crowded areas.
"If somebody pulls a trigger anywhere in Milwaukee and somebody sees something happen, then folks have got to speak up. If they're willing to do that in a crowd of thousands of people downtown with police all around, they're going to go in your neighborhoods and do the same thing," said Mayor Johnson. "You've got to think about whether or not those folks should have access to a gun in the first place. I don't think it's crazy to say that those people should not."
Lawmakers in Madison have lifted gun laws in recent years, making access to weapons easier for people who should not have them – particularly those with mental health needs. Mayor Johnson said that stopping gun violence was not a partisan issue. But because state Republicans were unwilling to support common sense gun control measures, there was no ability at a local level to apply safety regulations.
In their announcement cancelling the watch party, the Milwaukee Bucks said they were troubled by the shooting, and condemned the devastating violence. They acknowledged that while the incidents took place outside of Deer District property, it clearly resonated with fans coming out of the arena and leaving the plaza.
"In order to allow law enforcement to devote needed resources to the continued investigation of last night's events, we have decided to cancel tomorrow's planned watch party on the plaza. Deer District businesses will remain open as usual. We continue to work with the Milwaukee Police Department and other public safety partners to provide a safe and welcoming environment for our fans. We plan to have further details soon." – Milwaukee Bucks
The shooting happened just outside the boundaries of the Deer District, a 30-acre entertainment district that developed after Fiserv Forum opened in 2018. It features numerous bars and restaurants where large crowds often assemble to watch major sporting events or to attend festivals.
The watch party likely would have drawn well over 10,000 people to the public space. The Bucks said 11,000 attended a Game 6 watch party, even as more than 19,000 others were inside the arena.
Police said ten individuals were taken into custody, and nine firearms were recovered. Officials stated that the incident was still under investigation, and more suspects were being sought. Assistant Chief Waldner said that guns were found under cars and noted that the city has seen a rise in thefts of guns from cars.
"What makes people think they can just have a shootout on a public street or in an entertainment district, whether police are there or not?" said Assistant Chief Waldner. "I think it goes toward respecting human life. There's this lack of consciousness that is really hard to police right now."
In a statement released on May 14, Forward Latino's National President Darryl Morin addressed the issue of gun violence in Milwaukee and what steps the state legislation could take. He said that while some may try to paint gun violence as a Milwaukee issue, most lives lost to gun violence in Wisconsin are historically those of men in rural settings who take their own life with a gun. As part of the 80% Coalition, Morin has been a leading advocate of gun law reforms for several years.
"We know that there are two actions overwhelming supported by the people of Wisconsin, both Republican and Democrat alike, and that we know would save Wisconsin lives. The first is to have the state legislature close loopholes that allow violent felons to purchase firearms online. The second would allow law enforcement and family members to request an Extreme Risk Protection Order (ERPO) in court, when they know of an individual or family member with a firearm who poses an imminent threat to themselves or others,"said Morin. "The proposed legislation is almost identical to the statute proposed and passed by former Governor Scott Walker that dealt with gun violence in domestic abuse situations. ERPOs have been found constitutional by even the most conservative members of the United States Supreme Court."