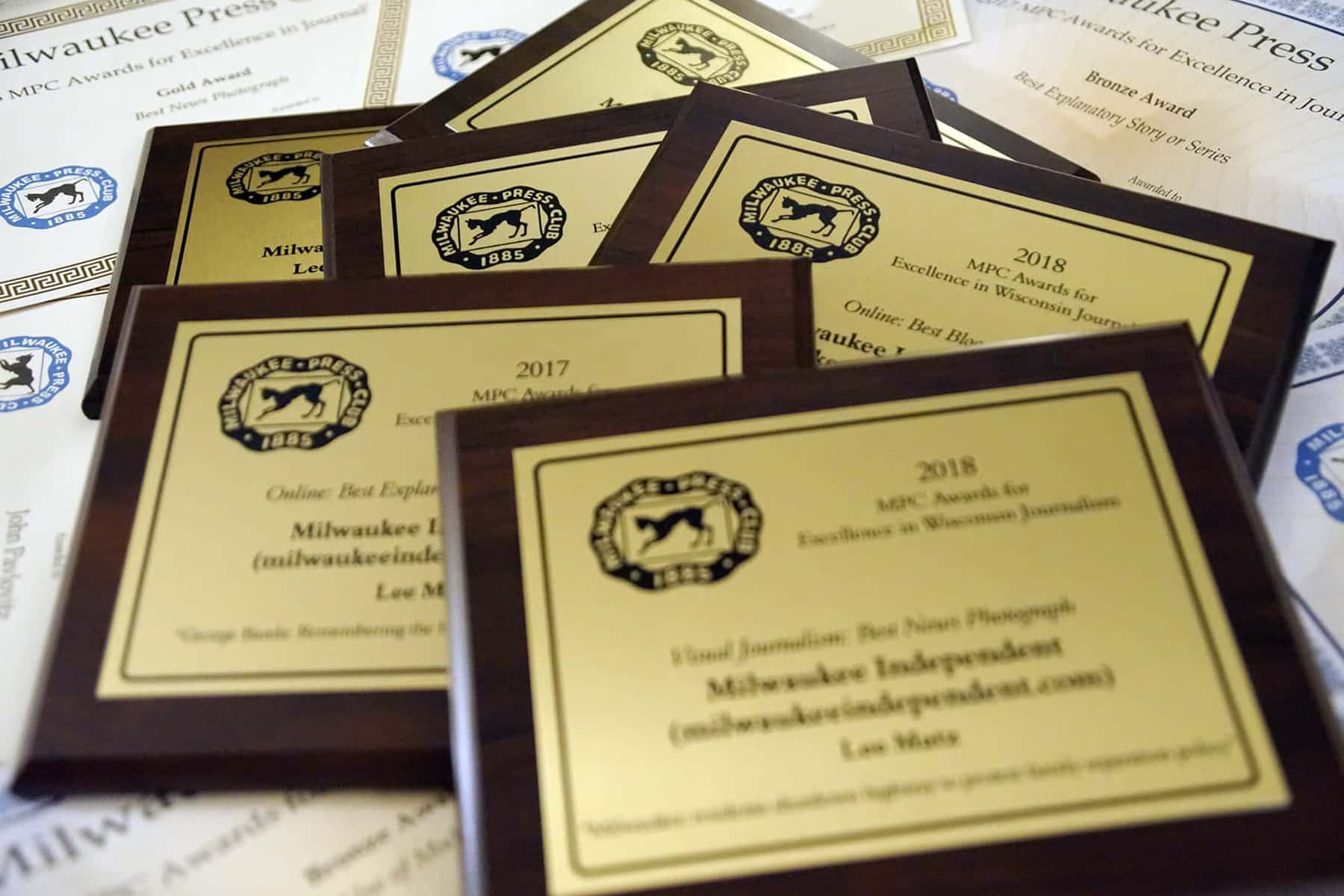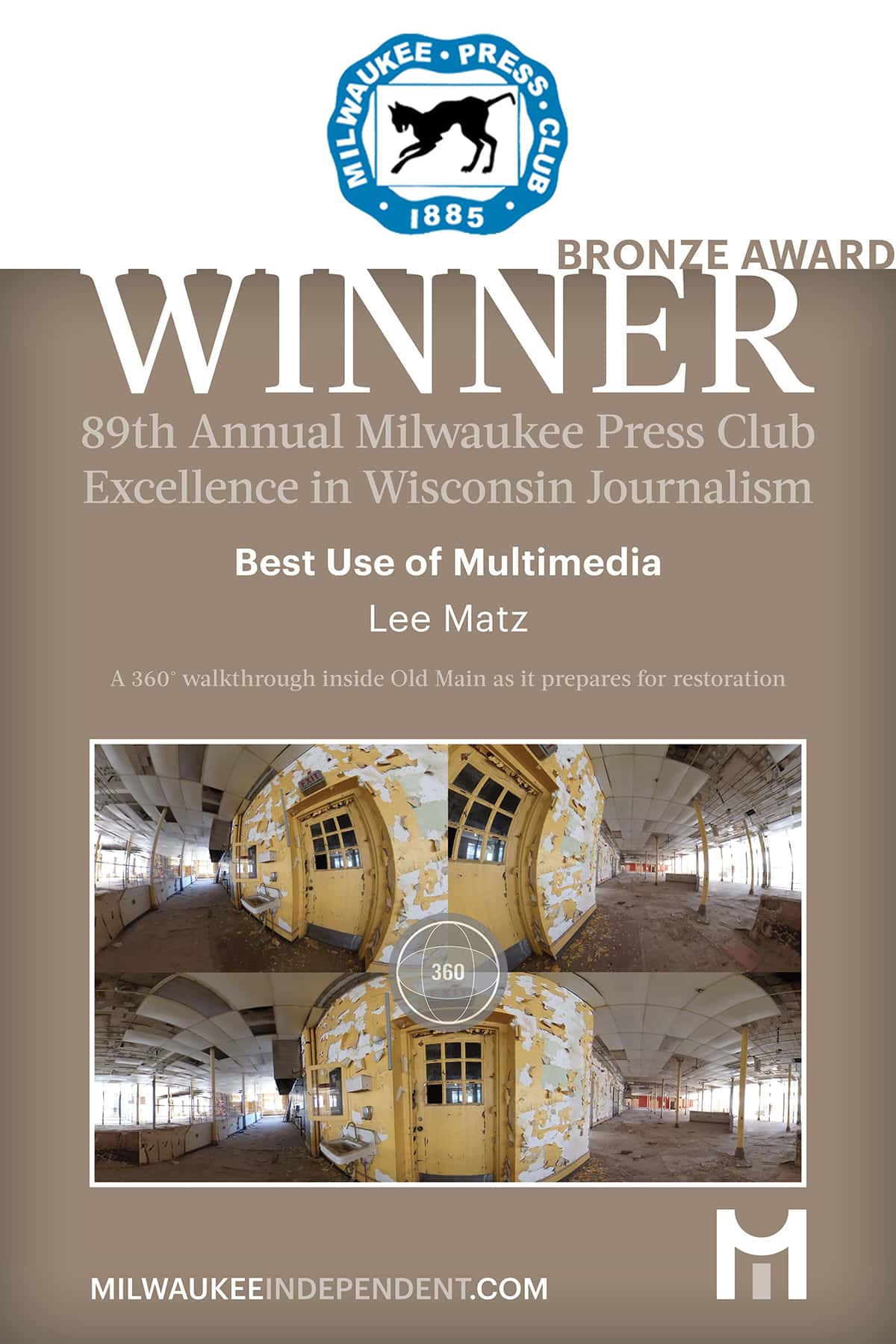 Winners of the Milwaukee Press Club's 2018 Excellence in Wisconsin Journalism competition were recognized at the May 10 event, with ten significant awards going to the Milwaukee Independent.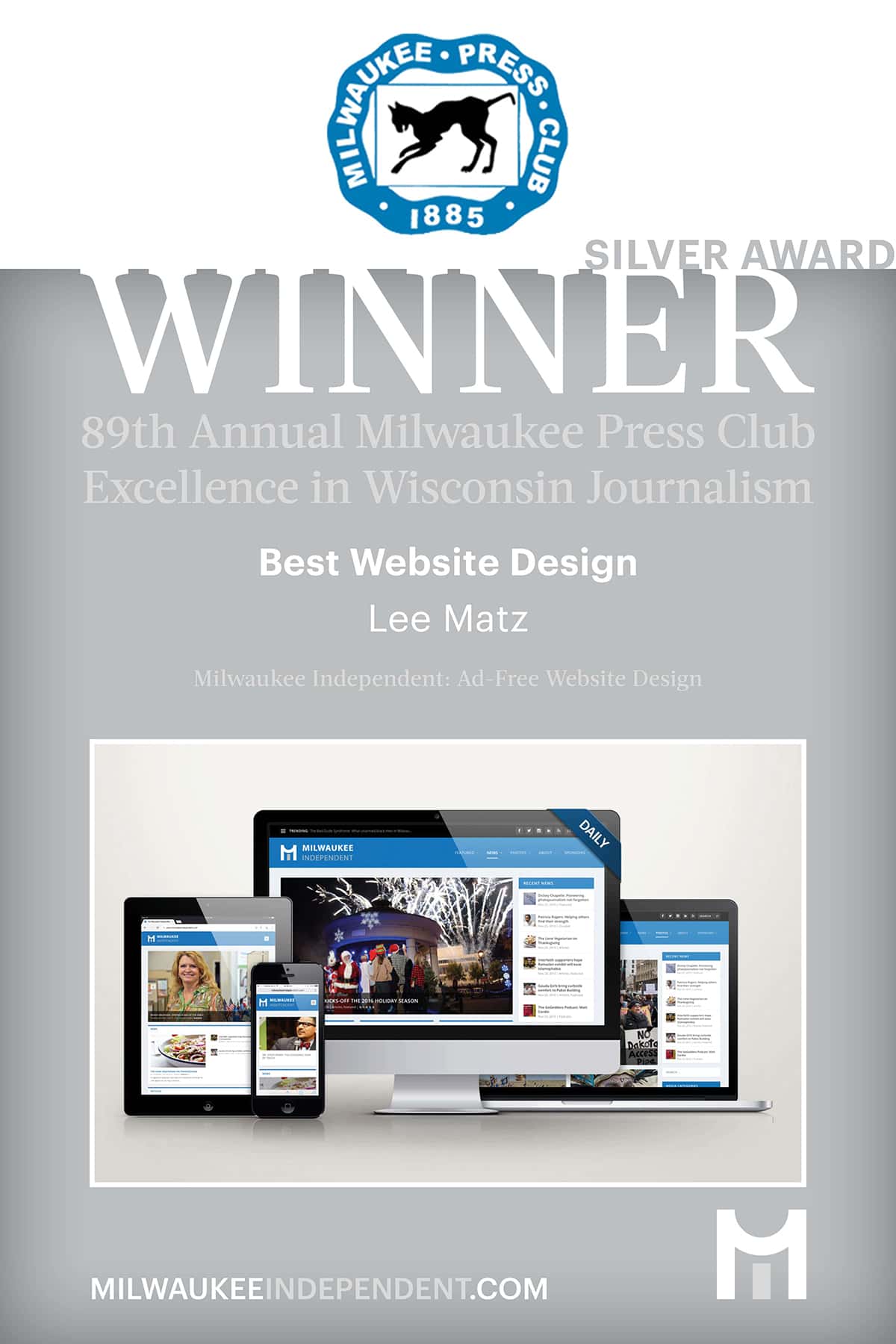 As the saying goes, if someone can make it in Milwaukee they can be a success anywhere.
While all news organizations and their staff dream of earning a Pulitzer Prize, that kind of lofty recognition usually does not impress a discerningly insular Milwaukee public. So, to compete against established hometown media groups and earn the peer recognition of our journalism work is a significant achievement. At the Milwaukee Press Club's 2019 Excellence in Wisconsin Journalism competition, for news produced in 2018, the Milwaukee Independent was awarded 10 distinctions.
That is double our awards from last year, and a total of 17 in 3 years. We built a news platform to speak in an honest voice, using journalism as a catalyst for transformative public change. While the mainstream media focuses on the number of eyeballs, clicks, and subscribers, our focus remains on telling stories that matter.
Not depending on an advertising model means that the Milwaukee Independent can cover news that we feel is important. We are not in the business to be popular, or appeal to the lowest common denominator. Instead, we want to motivate people to think for themselves, by providing dots of education that they can connect. Our "evergreen" approach means that even if people are not ready now, the material will be just as relevant in the future when they are better prepared to digest it.
The 10 honors awarded to the Milwaukee Independent and its staff covered the spectrum of categories. From best use of multimedia and web design, to best columns and photography – reflecting every type of discipline in journalism. From subjects like mass shootings, mass іncаrcеrаtіоn, gun viоIеncе, veteran issues, civil rights, immigration, architectural treasures, racism, freshwater surfing, LGBT stage plays, and community participation. Our words are shaped by a Milwaukee focus, matched with powerful local images. As readers follow our work, they are following in the footsteps of Milwaukee.
To quote our columnist Pardeep Singh Kaleka, "The real reward comes from giving genuine voice and depth to people and issues facing our generation and communities." In reference to last year, our goal for next year is not to win more awards, but to keep following our mission. The Milwaukee Independent will continue to look for ways to expand staff so more topics can be covered in-depth. As an advertising-free nonprofit media organization, we encourage those who value our news reports to support us.
I was supposed to leave for Yokohama at the end of 2017 to start an English news service before the 2020 Olympics. That move meant the Milwaukee Independent would have closed, and none of our 2018 work would have been produced. Instead, a single donation helped fund our mission to keep us going for another couple years. That gift allowed me to remain in my hometown and instead of being at the Tokyo Games in July 2020, I will be at the Democratic National Convention. In 2018, MI published a thousand news features and tens of thousands of editorial photos. These Milwaukee Press Club Awards are a clear statement of all the important stories that would have gone untold and the powerful images never captured if our work had ended. – Lee Matz
SILVER AWARD – WRITING: Best Column
From Pittsburgh's synagogue shooting to Wisconsin's Prison Industrial Complex
As a voice for the silent generations affected by Milwaukee's history of segregation, Reggie Jackson shares inconvenient truths about the need for economic rights to finish what the Civil Rights movement started decades ago. His monthly column offers deeply researched historical context, explaining to readers how a modern situation came to be, with a relatable commentary and solutions for how the community can improve its conditions. Jackson is a leading voice in Milwaukee on social justice issues affecting people of color, and how those problems affect the larger community. These samples from his monthly column feature the impact of hate crimes that target Jewish people, to the prison industrial complex that profits from black incarcerations, to veterans of color who are still denied the fulfillment of MLK's dream.
SILVER AWARD – VISUAL JOURNALISM: Best Illustration or Cartoon
Knezelism of the Week: December 10
This "Knezelism" an inspirational illustration by local artist Sherrill Knezel. It is part of a single-panel cartoon series published weekly that explores different aspects of self-identity and community building in Milwaukee.
GOLD AWARD – VISUAL JOURNALISM: Best News Photograph
Milwaukee residents shutdown highway to protest family separation policy
This photo captures a moment during the protest against family separations at the boarder, when hundreds of local residents shutdown the highway and blocked the streets about a fundraiser Donald Trump held for Wisconsin Republicans. Centered in the image is Christine Neumann-Ortiz, Executive Director of Voces de la Frontera.
BRONZE AWARD – VISUAL JOURNALISM: Best News Photograph
Golda Meir students join national school walkout against gun violence
Students across the United States walked out of classrooms on March 14 in an expression of mourning for the 17 killed at Marjory Stoneman Douglas high school in Parkland, Florida, and with a demand for action to stem the country's epidemic of gun violence. This photo captures a moment that day at the Golda Meir School in Milwaukee, as parents and family members joined with local students who pleaded for protection and legislation to make their young lives safer.
BRONZE AWARD – ONLINE: Best Use of Multimedia
A 360° walkthrough inside Old Main as it prepares for restoration
After years of deterioration, buildings at the Milwaukee VA that once gave Civil War veterans a safe place to heal were left vacant and endangered. Fundraising efforts have been underway to "Save the Soldiers Home," with plans to rehab the buildings and once again serve veterans with housing and treatment programs. This news article incorporates traditional photography with drone video stills, and 360° images. The combination of visual technologies gives the public the most comprehensive look inside of Old Main before restoration work begins in early 2019. No 360° have been previously published, a format that allows the viewer to look at a location in every direction by turning the camera.
SILVER AWARD – ONLINE: Best Website Design
Milwaukee Independent: Ad-Free Website Design
The layout and technical structure of the Milwaukee Independent's news platform was designed to be fully responsive to serve our readership across a host of access methods from mobile phones, to tablets, laptops, and desktop systems. The intuitive web format integrates text, images, and video with user consumption habits to provide of a consistent experience, that integrates with social media networks. Because the news platform contains no advertisements, users are not targeted with cookies or sales promotion technology. This allows the news to be presented in a distraction-free environment, without security concerns over user privacy.
GOLD AWARD – ONLINE: Best Blog
John Pavlovitz: How moral incompatibility creates family division and fuels public hate
As a Christian pastor and author of "A Bigger Table" and "Hope and Other Superpowers," John Pavlovitz writes about social and political topics from a liberal Christian perspective. His blog shares insights on the social effects from faith and its misdirection on social justice issues. He is unapologetic in his calls for people of faith to live their faith, and detailed in the exploration of community problems created when religion is used as a weapon.
BRONZE AWARD – ONLINE: Best Use of Multi-Platform Reporting
Blacks Do Surf: Water at the center of Milwaukee recreation and culture
Kenneth Cole, Lee Matz, Bill Pfeiffer, and Cheryl Mitchell
Lake Michigan is one of Milwaukee's biggest natural resources while also remaining one of its most under-reported locations. This news series combines traditional reporting with still photography, and video segments taken hundreds of feet above the Lake by drone, and several feet under its murky surface. The articles cover a surfing event and its social influence on the community, along with a classic deep sea dive. The combination and media formats shows how Lake Michigan is used by residents of all ages and ethnic backgrounds.
BRONZE AWARD – ONLINE: Best Column
Dominic Inouye: On showing up to make a better community with words and images
Dominic Inouye's monthly column has been exploring the nature of Milwaukee through walking its neighborhoods and examining the dynamics of its interwoven communities through photography. As a former Pfister Hotel Narrator and founder of the ZIP MKE photo project, his unique voice promotes cultural understanding on a range of subjects, from activating public spaces, to the building of connections between fitness and community, and even sharing stories from local Puerto Rican victims of Hurricane Maria.
GOLD AWARD – ONLINE: Best Column
Reggie Jackson: The shadow of racial hate from immigration to Milwaukee sports
As a voice for the silent generations affected by Milwaukee's history of segregation, Reggie Jackson shares inconvenient truths about the need for economic rights to finish what the Civil Rights movement started decades ago. His monthly column offers deeply researched historical context, explaining to readers how a modern situation came to be, with a relatable commentary and solutions for how the community can improve its conditions. Jackson is a leading voice in the Milwaukee on social justice issues not only affecting people of color, but how those problems affect the larger community. These samples from his monthly column feature the scope of immigration policy and family separations going back to the era of slavery, to the impact of institutional racism on Milwaukee sports and its local fans.
Sacred Cat and Headliner Awards for 2019
Chuck Todd, moderator of NBC's Meet the Press, was the Milwaukee Press Club's 2019 Sacred Cat Award honoree. The award, which has been given annually since 1973, recognizes excellence in journalism at the national level. Todd accepted the award at the club's annual Gridiron Dinner May 10 at The Pfister Hotel in Milwaukee.
The club also honored its 2019 Headliners, former Wisconsin Governor Martin J. Schreiber and Mary Lou Young, former CEO of United Way of Greater Milwaukee & Waukesha County. Winners of the press club's 2018 Excellence in Wisconsin Journalism competition were also recognized at the event.
"Meet The Press is an illustrious, valued broadcast journalism franchise, the longest-running program in television history," said Gene Mueller, Milwaukee Press Club President. "It is in great hands with host Chuck Todd. With journalism under scrutiny and the 2020 presidential election fast approaching, the Milwaukee Press Club couldn't have found a more worthy – and timely – Sacred Cat recipient."
Todd has been moderator of NBC's Meet The Press since 2008 and is the host of MTP Daily. Todd also is NBC News' political director and on-air political analyst for Nightly News with Lester Holt and TODAY. In addition, Todd is responsible for all aspects of the network's political coverage and is the editor of First Read, NBC's guide to political news. In January 2010, Todd helped launch The Daily Rundown on MSNBC.
Before joining NBC News, Todd was the editor-in-chief of the National Journal's The Hotline, a daily briefing on American politics. In his 15 years of working at The Hotline or one of its affiliates, including as editor-in-chief for six years, Todd became one of Washington's foremost experts on political campaigns of all levels. In December 2005, Todd was featured as one of Washingtonian's "Best Of" journalists.
After the 2008 election, Todd co-authored the book "How Barack Obama Won," which used election results and exit polls to analyze voting patterns state by state and the possible outlook for future elections. Todd has authored numerous political and media essays in outlets such as The Atlantic, The New York Times, and The Washington Post. Todd also has won several Emmy Awards for his reporting while at NBC News.
Past Sacred Cat honorees include Megan Twohey and Jodi Kantor, David Fahrenthold, Marty Baron, Ann Compton, Jonathan Alter, Cokie Roberts, Walter Cronkite, Malcolm Forbes, Judy Woodruff, Michael Bloomberg and David Maraniss.
The Headliner Awards are presented annually to those who are making a positive difference in Wisconsin.
Schreiber is an award-winning crusader for Alzheimer's caregivers and persons with dementia. Reaching audiences nationwide at live events and various media platforms, he uses humor and compassion as he shares lessons from his ongoing, decade-plus journey as a caregiver. His book, My Two Elaines: Learning, Coping, and Surviving as an Alzheimer's Caregiver, has won praise from caregivers across the country. In addition, Schreiber was named the No. 2 "Senior Social Media Influencer You Should Follow" by currents.greatcall.com. Net proceeds from book sales are used to promote Alzheimer's caregiver support.
Schreiber was a Democratic state senator from 1963 to 1971, when he took office as lieutenant governor under Governor Patrick Lucey. Upon Lucey's resignation in July 1977, Schreiber served as governor until 1979, the end of his term. He lost his 1978 bid for another term and joined Sentry Insurance in Stevens Point. He later formed a public affairs consulting firm and became a successful lobbyist.
Young, who retired in January, oversaw the 2015 merger of the former United Way of Greater Milwaukee and the United Way in Waukesha County, and transformed the organization into a driving force for social change. Under her leadership the organization saw substantial growth, from $45.5 million in 2009 to more than $60 million in 2017. Additionally, Young facilitated a $1 million gift from Johnson Controls to launch the Johnson Controls Volunteer Engagement Center in 2018. She continues to serve as a consultant on special projects for United Way and also heads MLY Consulting, LLC.
Prior to joining United Way, Young headed Global Community Relations for Rockwell Automation, where she managed Rockwell's annual $7 million+ philanthropic budget, which invested in community development and technology education worldwide. Under her leadership, the Rockwell Automation Charitable Corporation focused its funding on K-12 science, technology, engineering and math (STEM) programs to develop talent.
Past Headliner honorees include Gary Grunau, Juli Kaufmann, Carmen Pitre, Howard Fuller, Ted Kellner, Hannah Rosenthal, Ricardo Diaz, Linda Mellowes, Michael Pink, Barry Alvarez, Jane Pettit, Bud Selig, James Lovell, Ben Marcus and Steve Marcus.
Founded in 1885, the Milwaukee Press Club is the oldest continuously operating press club in North America. Its members represent a diverse community of media-focused professionals from nearly every local media outlet, and also include a strong contingent of public relations and marketing professionals and others with an interest in journalism and news media.