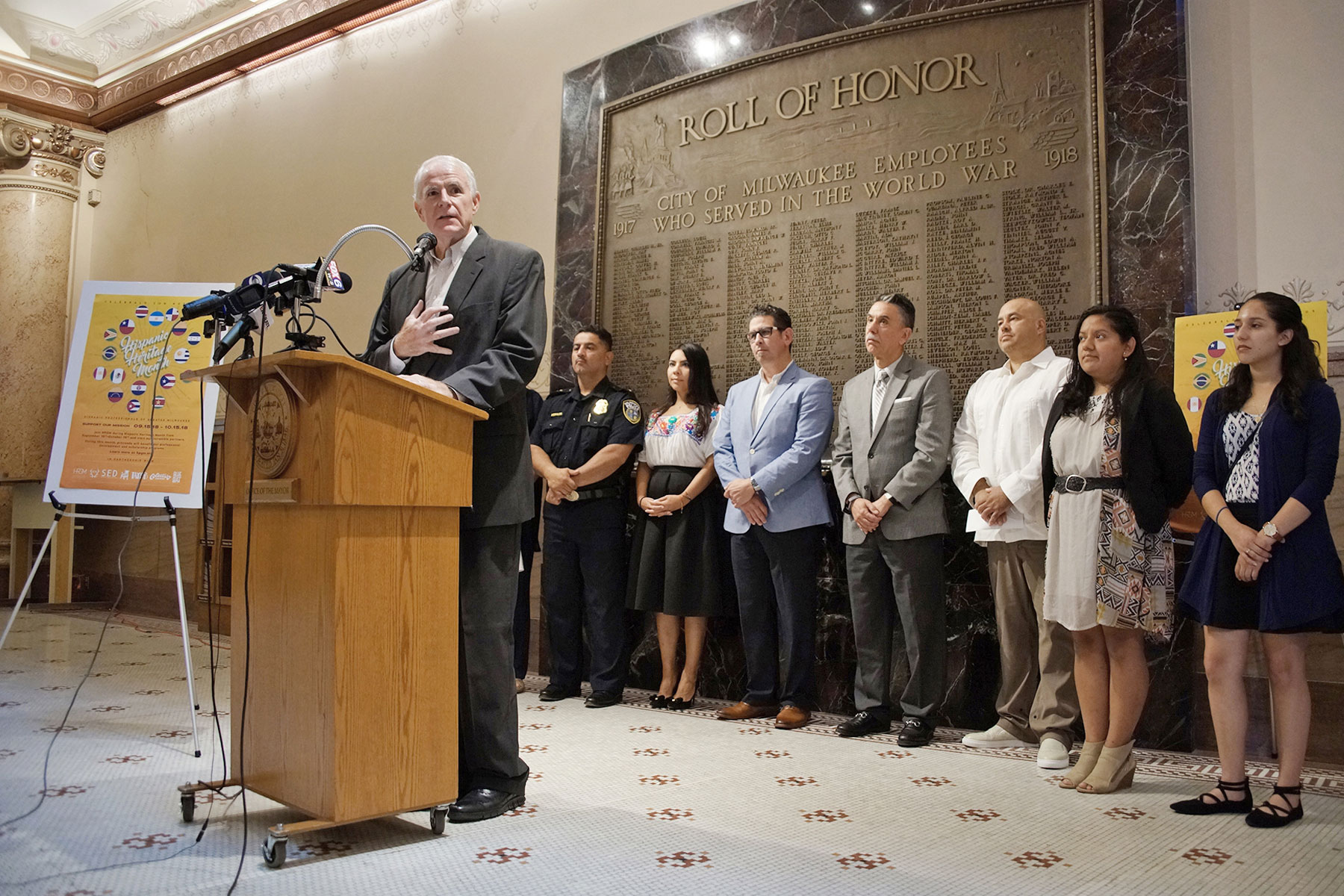 Mayor Tom Barrett designated September 15 to October 15 as Hispanic Heritage Month throughout the City of Milwaukee, during a recent press conference at City Hall. He encouraged the public to engage in the many city-wide events, to make the community stronger by embracing its ethnic diversity.
As the fastest growing population in Milwaukee, Mayor Barrett felt the proclamation would promote better understanding of Hispanic contributions to the city and encourage cross cultural dialogue.
"It is time to embrace the rich culture of the Spanish-speaking community, which includes a variety of nationalities, and celebrate the many accomplishments and contributions that the population has made to our community, going back many years," said Mayor Barrett.
Generations of Hispanic people have helped advance Milwaukee's economy, improved area neighborhoods, and made the life better for families. Following the lead of other months set aside to focus on the different ethnic backgrounds of residents, Hispanic Heritage Month hopes to create more recognition of the impact Hispanic people have had in the region, foster opportunities to share Latin American traditions, and reinforce inclusion through a variety of workshops, social gatherings, and special celebrations.
"It's a testament that we, as a community, are appreciated and that we matter. Being able to declare Hispanic Heritage Month is like nothing we have been able to do before," said Griselda Aldrete, President and CEO of Hispanic Professionals of Greater Milwaukee. "It is our goal to shine a light not only on this month, but on a community that has long been overlooked. This is a community that has a lot of potential, and a community I am proud to be a part of."
First settling in Milwaukee's South Side during the early 20th century, the Hispanic community was flourishing by the 1950s. Since then, the community has contributed greatly to the city's culture and economy, and continues to influence the present and future of Southeastern Wisconsin. A walk through the 12th District shows a great number of murals, educational and religious institutions, restaurants, and small businesses representing Hispanics.
Also joining the Mayor were other stakeholders supporting the month-long celebration, including Alderman Jose Perez; Ricardo Diaz, United Community Center; Alberto Maldonado, University of Wisconsin – Milwaukee; and Kathy Schwab, Milwaukee Brewers. A list of the events are posted on the Hispanic Professionals of Greater Milwaukee's website. http://www.hpgm.org/hispanic-heritage-month-events
"It's easy to forget that many of our Latinos and Latinas continue to struggle legally, socially, and economically in the margins of our society," said Alderman Jose Perez representing Milwaukee's 12 District. "For every successful entrepreneur or professional, there are several of our brothers and sisters who are unable to overcome the barriers that keep them from fully participating in our community's success. We hope that events like this express what we are most proud of, and build bridges instead walls."