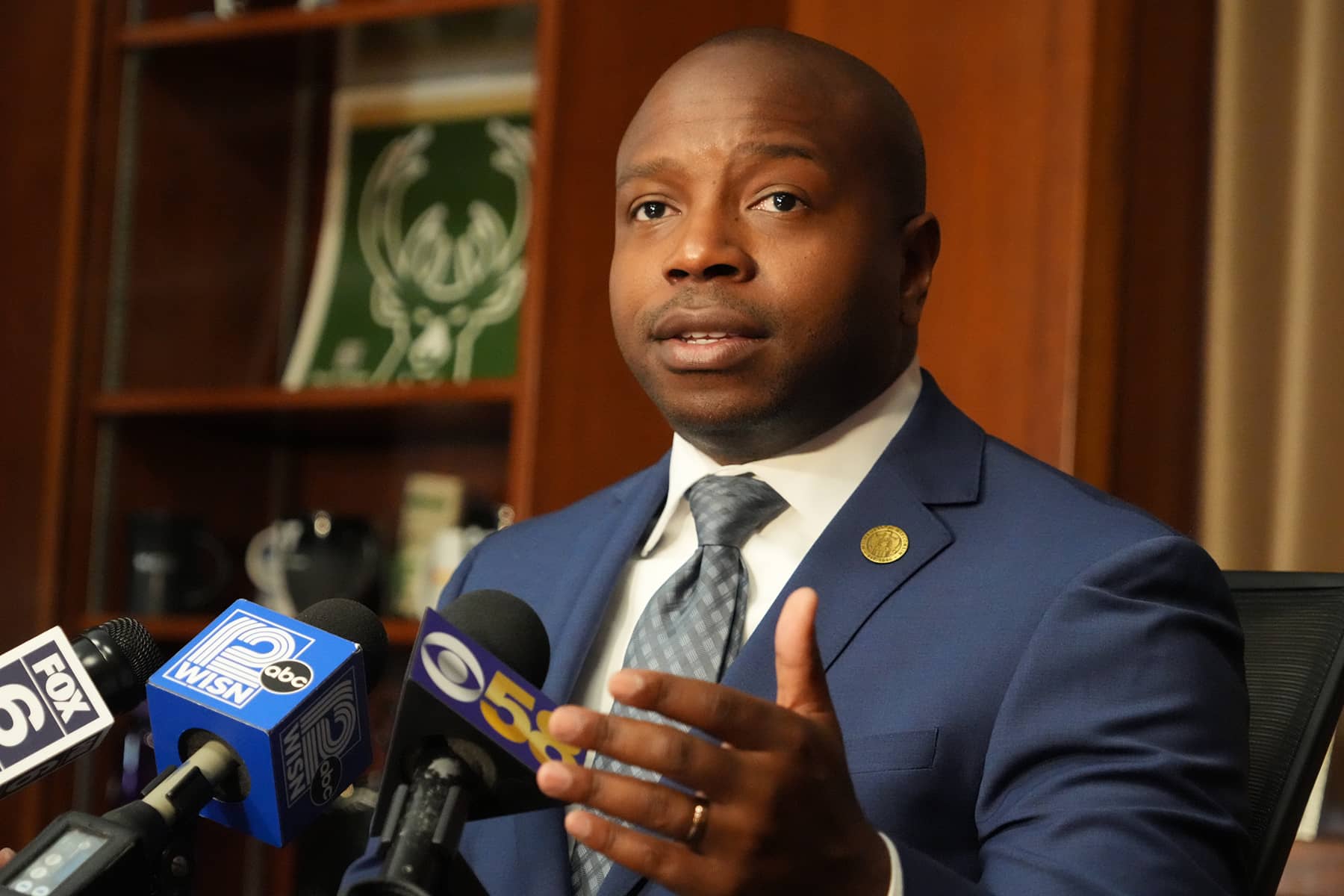 July 22 marked the 100th day since the inauguration of Cavalier Johnson as the first elected Black Mayor of Milwaukee. In recognition of that political milestone, Mayor Johnson held a press conference in his office at historic City Hall to release a report that detailed his efforts since April 13.
The First 100 Days report highlighted the evidence of accomplishments by Mayor Johnson in the areas of public safety and economic success, as the forty-fifth elected Mayor of the City of Milwaukee. It also focused on his effort to build new relationships with the state government, a necessity required to improve the city's dire financial situation.
"I have a lot of energy for this job. I continue to be energetic about the challenges that we face, and the opportunities that abound," said Mayor Johnson. "And so I'm interested in continuing to focus on working with our partners in all areas – whether it is out in the community, other levels of government, or the private sector – in order to tackle the challenges ahead so we can move the City of Milwaukee forward."
Soon after taking over "Acting Mayor" duties from departing Mayor Tom Barrett, who resigned on December 22, 2021 to become U.S. Ambassador to Luxembourg, Mayor Johnson reached out to Speaker Robin Vos to mend the fractured relationship between a progressive Milwaukee leadership and the conservative Wisconsin legislature. Speaker Vos was later invited for an in-person meeting at City Hall.
"When the speaker entered the office and came to shake my hand, he greeted me by saying, 'Wow, this is the first time that I've been in the Mayor's office.' So we are breaking down those barriers that historically have divided us, and are entering new terrain that has not been crossed before," said Mayor Johnson.
The Mayor said he believed that city government had a role to play in supporting commerce in Milwaukee, and to ensure that the future was built on a strong economic foundation. That would create opportunity and wealth for the city's workers and their families.
"The city has a dire fiscal position, and it has been very dire for some time. This is not something that sprang up overnight. This is something that has been in the works for a very long time," said Mayor Johnson. "We have escalating pension costs, We have rising costs as it relates to police and fire services, and our revenues – to be able to take on those costs have been declining or have been flat."
Milwaukee has lacked the ability to solve local problems on a local level, because of unbalanced restrictions dictated from Madison legislators. The promise of shared revenue has not been honored by the state for a long time. Nearly twenty years ago, Milwaukee got enough in shared revenue to pay for the entirety of the police department, one of the city's biggest budgetary expenditures. Now it is far less and not enough, falling short $100 million annually of what Milwaukee should be given.
"Our costs for services have has continued to rise, yet our revenues to be able to pay for it all have steadily declined or been flat. That's not a recipe for success," said Mayor Johnson. "And obviously, the state of Wisconsin knows how to get revenues into local governments. They are awash with cash. They have a huge surplus in the billions of dollars. Meanwhile, the City of Milwaukee and other local governments around the state are suffering. We are having to make real life choices about what we are going to cut, what services are we not going to deliver to our residents."
Since his early days as Acting Mayor, Johnson has consistently called on people throughout the city to step up and join the effort to reduce crime. He has clearly stated that the police perform a vital service in crime reduction, yet they cannot, alone, accomplish that goal. Meaningful involvement from people across the city was essential.
"Anytime any person gets hurt, especially via gun violence in the city, I'm alerted to that," said Mayor Johnson. "And so it is something that is always on the top of mind when I go out and talk to folks throughout the city. It doesn't matter what side of town I'm on – if I'm downtown, on the east side, the west side, northwest side, or the south side. Folks tell me about their concerns as it relates to public safety, especially on the issue of gun violence."
The Mayor reminded the public that the City of Milwaukee did not control gun laws. While there are local ordinances and enforcement, meaningful legislation is created at the State and Federal levels.
"People come to me, and they expect me to be able to solve the issue myself – from this office as Mayor. But that is just not how it works. And so that is also why it is important to continue building these relationships with Madison, to let them know that when laws are passed at the state level, and even at the federal level, they have an outsized impact on urban communities like Milwaukee," said Mayor Johnson.
Mayor Johnson's approach to public safety has included a focus on addressing the root causes of crime. He has shared his belief that when families are economically stable there is a decreased likelihood children's lives would veer into bad choices.
"It is a proven concept in Milwaukee that if you equip folks with housing first, then you are able to wrap other resources around them to make their lives more meaningful, more productive, get them in positions where they are more stable," said Mayor Johnson. "Jobs and economic development are key to Milwaukee's future as well. When we think about the City of Milwaukee five decades ago, we had the highest quality of life for African Americans. The stability from that time came from the fact that folks had access to family supporting work, not jobs where you had to work two or three jobs in order to make ends meet."
A key part of family supporting job was that those neighborhoods were able. They became cohesive because people lived there and stayed there long term.
"You did not have people moving in and moving out every every two months, like in some cases you see in Milwaukee right now. There is no way that you can create neighborhood cohesion and stability when you have that much movement," said Mayor Johnson. "As much as folks want for the police to have a beat cop on the street developing relationships, that is not possible when the face of the neighborhood changes every two months."
As the city's chief executive, Mayor Jonson said had the responsibility to deliver city services, to manage city departments, and to protect the city and its residents from anticipated problems. Mayor Johnson has been straightforward about the fiscal challenges facing Milwaukee, and he has prioritized work to establish sustainable revenue sources that are needed to deliver basic services.
Shortly after the conclusion of the news conference, Mayor Johnson took a home COVID test that produced a positive result.
"As recommended by the Centers for Disease Control, the Mayor will isolate himself – staying home and away from others – for the coming days. His symptoms are very mild. The Mayor has been tested on at least five occasions this week, and today's is the only test that returned a positive result."
Mayor Johnson is vaccinated and boosted, and the July 22 result was the second time this year he tested positive – the first on New Year's Day January 1.