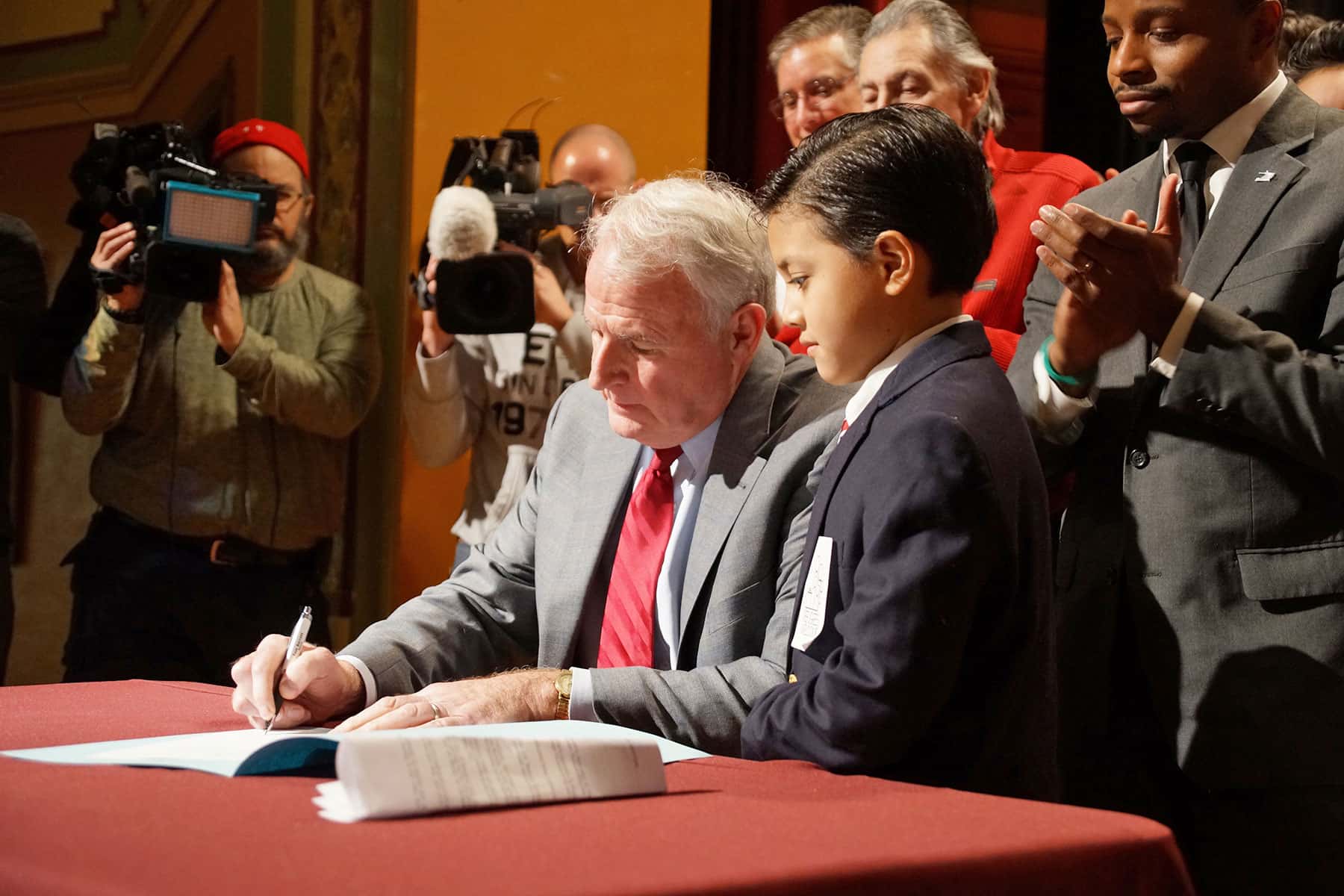 "This is the resolution expressing the city of Milwaukee's opposition to the Presidential Executive Order 13769: Protecting the Nation from Foreign Tеrrоrist Entry into the United States, and I'm proud to sign this with the help of people who love this country." – Mayor Tom Barrett
The City of Milwaukee took the official position of protesting President Donald Trump's travel ban, by passing a resolution against it in the Common Council on February 7.
"The resolution will go to the President of the United States, stating Milwaukee is in opposition of his executive orders," said Mayor Barrett as he signed the declaration.
The document was presented by Alderman Jose G. Perez with overwhelming support. According to the Legislative Reference Bureau, Milwaukee could be the first city in the U.S. to officially declare its opposition to the travel ban.
"The 13-2 vote to approve the resolution shows that while we may disagree on some issues, as a Council we are strongly united in our firm belief that the travel ban order is wrong, divisive, and that it is not based on facts," said Alderman Perez. "Whatever views you have on immigrants, that doesn't excuse this type of misfire, and the fear it has created. People feel that they're under siege in our own communities."
Alderman Perez released a statement thanking his co-sponsors, Alderwoman Milele A. Coggs and Alderwoman Chantia Lewis, and his colleagues who also joined as additional sponsors, Alderman Robert J. Bauman, Alderman Nik Kovac, Alderman Ashanti Hamilton, Alderman Khalif J. Rainey, Alderman Michael J. Murphy, Alderman Cavalier Johnson, Alderman Russell W. Stamper, II, Alderman Jim Bohl, and Alderman Tony Zielinski.
Alderman Nik Kovac posted his appreciation to Alderman Perez for his leadership on this resolution. "I am proud to stand with my colleagues, who are willing to speak truth to power in defense of our country's most important principles."
The resolution passed with Aldermen Mark Borkowski and Bob Donovan opposed.
"On the one hand, we want to be welcoming to individuals seeking asylum in our country, who are trying to get away from the tеrrоrs that they're experiencing in their own country," said Alderman Donovan. "We want to be that welcoming country. But we also have an obligation to ensure safety in this very dangerous world, the safety of our citizens."
At public gathering later in the day, hosted by the Unity for Human Dignity Coalition (#U4HD), Mayor Barrett talked further about why he felt the travel ban was not helpful to Milwaukee residents.
"The federal government has failed to pass meaningful immigration reform in this nation," stated Mayor Barrett. "What the President wants is for our Milwaukee police officers to act as federal agents, to do the job that the federal government has failed to do."
Under President Trump's executive order, local police would be required to support the immigration detention process. Those efforts would divert vital police resources that actually protect the local population.
"I want our Milwaukee Police officers to make the city safe. What the President wants will waste our limited resources. It also hurts police and community relations, and it's an excuse for the federal government to not fulfill its responsibilities."
Raul Ortiz, a child refugee from Honduras, stood with Mayor Barrett during the signing ceremony. While many Wisconsin children were at home playing Xbox or laughing as they watched cartoons, the eight year old Ortiz brought his powerful message to the community about liberty and freedom.
"When I was five years old, I was kidnapped by bad people who take children away from their parents. After that my mother brought me to the U.S.A. to be safe. This is how many people like me suffered in Honduras, because of gangs and viоIеncе," said Ortiz in English and later in Spanish. "I'm so happy to be safe here. My mother and I applied for asylum. We did not want to ever return to Honduras, because of the viоIеncе."
View the extended coverage of this complex event, with a full package of news features.