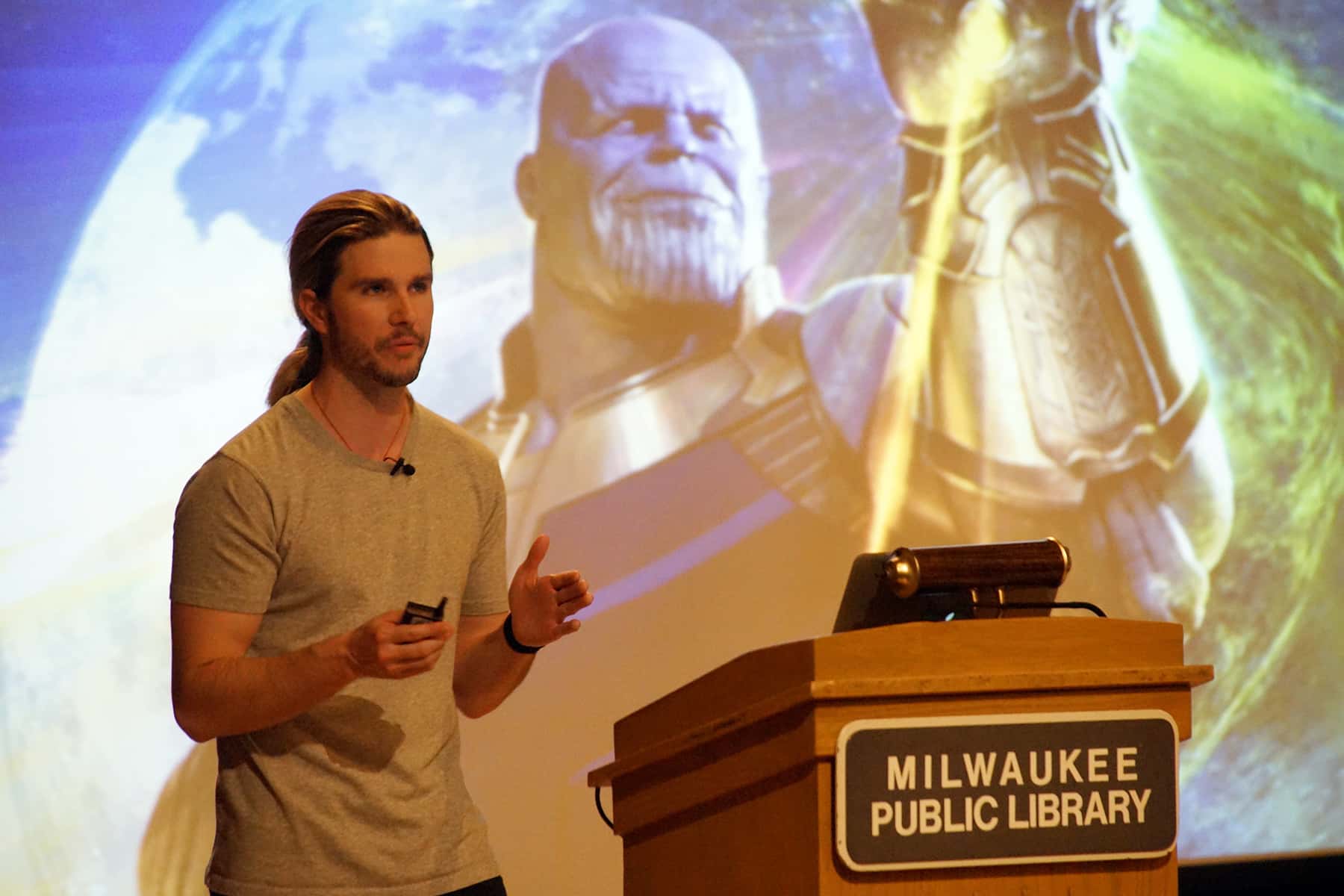 88Nine Labs hosted "The Science of Marvel: Kyle Hill on the Science of Superheroes" on April 3 downtown at the Milwaukee Public Library's Centennial Hall, putting a scientific spin on how Captain Marvel could survive in space or the thermodynamics of Spider-Man's web slinging.
Several hundred local families and students attended the event, programmed by 88Nine Radio Milwaukee's Digital Director Tarik Moody and presented by Northwestern Mutual. For fans of the 21 films in the Marvel Universe, Avengers: Endgame will be the culmination of intersecting plots and beloved characters that have stretched over a decade. While the super powers of those heroes range from believable to the fantastic, enthusiast do not always understand the science behind their cinematic abilities.
That curiosity is what Kyle Hill uses, capitalizing on the interests of popular culture to educate students about science. Hill is a Mequon native and graduate of Marquette University, who has become an Internet superstar. His YouTube Channel, Because Science has just under 1 million subscribers and tens of millions of views.
Favorite fandoms offer teachable moments about physics, engineering, math, and biology. Like learning about Captain America's strength, or what Groot is made out of, or why the Hulk is green, or why there is actually not a real Back Panther. Hill uses his streaming broadcast for explore whether superhero movies such as Spider-Man 2 could be real, like analyzing the kinetic energy of the train Peter Parker had to stop and the toughness of spider silk, to produce a plausible answer.
"I know I am not exactly the picture of diversity, so for programs like 88Nine's tech lab that introduces science, technology, engineering, and math to underprivileged kids – especially in a traditionally segregated city like Milwaukee – it is more important than ever to get kids interested," said Hill. "Unfortunately, they are often told its just not a field for them, and we need to change that."
Hill is currently a science communicator based in Los Angeles. His work has been published in WIRED, Popular Science, Slate, and The Boston Globe, and he has appeared as an expert on Al Jazeera America, BBC World Service, and Huffington Post Live. Hill is also the Science Editor of the popular web platform Nerdist.com.
The Milwaukee Independent was able to interview Hill just before his Science of Marvel presentation, and also recorded his keynote which included elements not yet released on his Youtube series.
The Milwaukee Independent: Since being away from Milwaukee, what do you notice most after coming back for this visit?
Kyle Hill: I've been gone for 4 years now, but Milwaukee still feels like Milwaukee. Being a Midwestern boy born and raised, the biggest differences to me between Milwaukee and Los Angeles are the people, the pace of life, and even just the spacing of things. Milwaukee feels more open and the air is a lot cleaner – there is not as much smog, and that's just a scientific fact. I like the pace of life in Milwaukee, I like the attitude of the people, and I love the architecture. I spent six years at Marquette, so I'm very familiar with this area and it's nice to be back. Actually, I have some of winter coats and boots that I never get to wear in LA, because it's always summer over there. I know that sounds nice in principal, but when you get there it like feels like one long day. After while it can drag on a person, so it's nice to come back home and recharge – even if it's snowing.
The Milwaukee Independent: What gives you the most enjoyment about sharing your love for science, and why do you incorporate things like Marvel's superheroes?
Kyle Hill: Whatever the latest pop-culture phenomenon is, to me that's an important part of the educational value I can present. It could be one of The Avengers characters, or DC's Batman, or some element of Frank Herbert's Dune. It doesn't really matter, they are just vehicles. The thing that's important to me is education, and so I will use pop culture icons to help young people get interested and even excited about science. I was fortunate to have some really great science teachers when I was growing up, so I want to make it fun like they did for me.
So, pop culture can be anything, but it's nice when it's so beloved like the Marvel Universe. I can make a lot of content around that, and it really reaches kids. For example, about five minutes ago a kid – he must have been under the age of 10 – came up to me. He said hello and told me he watches everything I do. Then he gave me a fist bump, because it's more hygienic and I've told people to do that instead of shaking hands so I don't get sick. To have a young kid say, 'Hey I like science, and part of what you do helped me realize that,' that's better than any paycheck to me.
The Milwaukee Independent: What has been the your most memorable public experience around doing scientific education?
Kyle Hill: One time I was moderating the Q&A for the "Bill Nye the Science Guy" documentary, the movie that came out about his life. So, he was there on stage and someone asked him what's next, what can we do with the legacy of this kind of thing, where does this kind of show go?
Bill Nye turned to me and he pointed at me and said, 'Kyle, he's the kind of thing that's what's next. I'm handing to the torch to him, so don't mess this up.' Well, that was really overwhelming, but it's something that I still carry with me. I'm really serious about the work I do, I've got to hold the torch and I can't mess it up. Sometimes it is a lot of pressure, because who wants to disappoint Bill Nye the Science Guy?
The Milwaukee Independent: Of all the common questions people ask you, what is it no one ever asks that you wish they would?
Kyle Hill: Hey man how are you doing? No one stops to ask me that.
When most your life is on the Internet, and most of what you do is public – everything that you think or say makes into a tweet – it's hard to maintain a real work-life balance sometimes. It can be a challenge, when my entire life is focused on trying to educate the public and be entertaining, and then go home to have some normal private time. So, if people were to ever ask me how I'm doing – once in a while, that would be nice. And, I would give an honest answer.