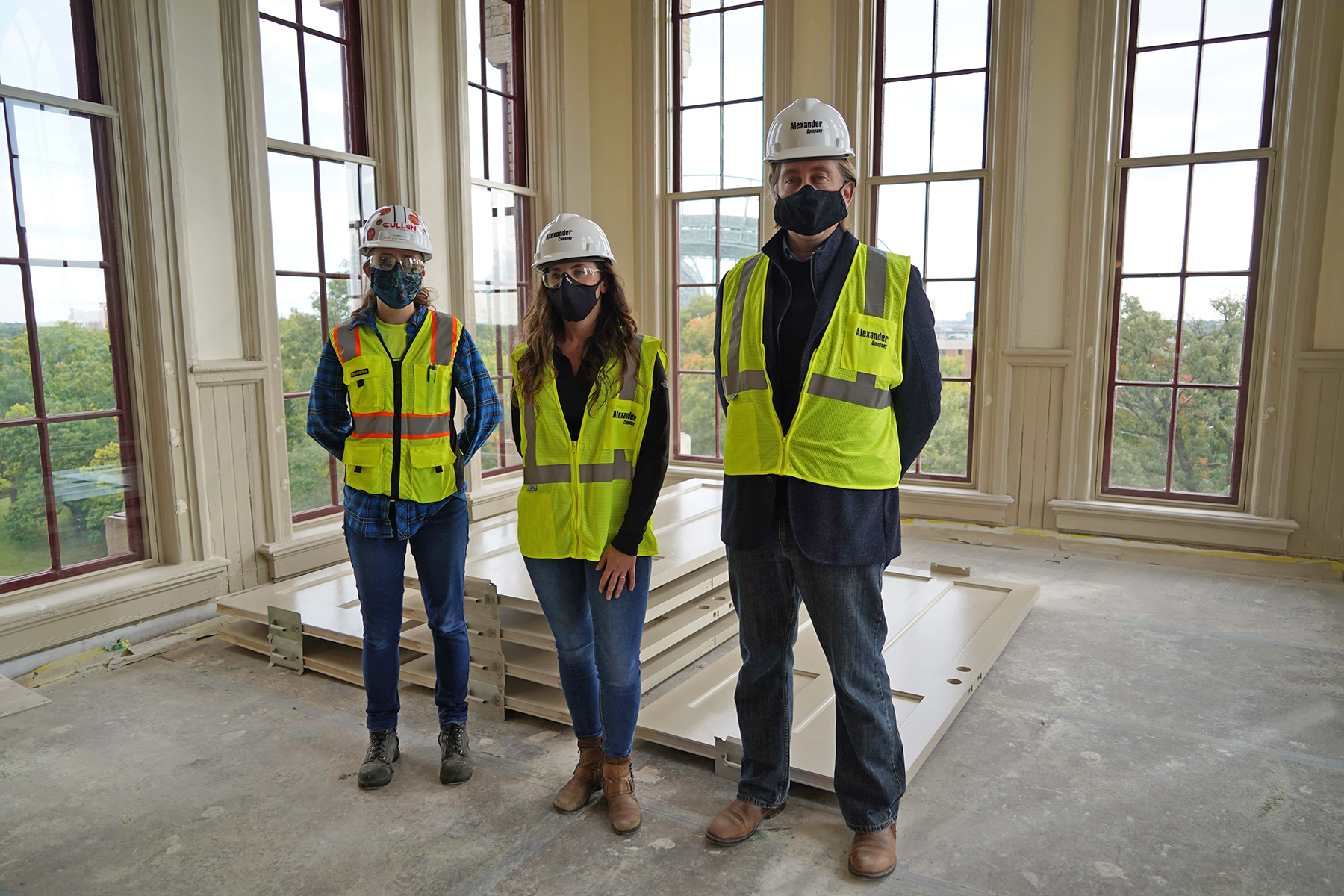 Known as Old Main, the Civil War Era Soldiers Home has been undergoing months of historic restorations and conversion into new apartments for Milwaukee area veterans, and remains on schedule for a March opening for its first residents.
A $200,000 donation from the project's lead contractor, JP Cullen, on October 29 added significantly to the funds being raised to complete the $44 million project. The complex of vintage buildings from the 1800s is located on the grounds of the Clement J. Zablocki Veterans Affairs Medical Center. Efforts to save the landmark from demolition began years ago, followed by work to preserve and repurpose the structure.
"The Housing Authority of the City of Milwaukee (HACM) is honored to continue its tradition of serving veterans by being a partner in the Soldiers Home project," said Willie Hines, Associate Director of HACM. "It is a labor of love that has required the collective effort of many to preserve this historic landmark and provide those who serve our country with high-quality, affordable housing designed for veterans so they have an opportunity to thrive."
In 1948, HACM began constructing the Berryland, Northlawn, and Southlawn housing developments to provide homes to nearly one thousand World War II veterans and their families. The agency has also renovated Surgeon's Quarters on the Veteran Affairs grounds and constructed Victory Manor at Westlawn Gardens, both of which offer veteran preference housing with supportive services available from community organizations.
"Old Main has been one of the most complex historic projects we've done yet. Complexity aside, this has been different for us from the beginning. Almost sacred," said Joe Alexander, President of the Alexander Company. "We continue to be very proud of our work in bringing these historic buildings back to life for the veterans they were initially built to serve, and very much look forward to welcoming them home this spring."
The Milwaukee VA Soldiers Home Historic District is a National Historic Landmark, and one of Milwaukee's most important historic assets. As part of an Enhanced Use Lease (EUL) agreement with the U.S. Department of Veterans Affairs (VA), The Alexander Company and the Housing Authority of the City of Milwaukee partnered to restore and rehabilitate six of the District's vacant buildings.
The buildings are in the final phase of renovations, which will include a total of 101 supportive housing units for veterans and their families who are homeless or at risk of becoming homeless. The project was primarily designed by The Alexander Company and Uihlein Wilson Architects, and built by JP Cullen. HACM has the responsibility of managing the housing. Funding for the $44 million project included $13.5 million from state historic preservation tax credits, and $19.6 million from federal affordable housing tax credits.
"The work that has been done so far on Old Main is nothing short of stunning," said Dr. Daniel Zomchek, Director of Milwaukee VA Medical Center. "This work is a testament to the care we provide our Veterans, and how this community has always stepped up to support that cause. Veterans and their family members will move into our new Old Main building this spring. That's appropriate since everything renews in the springtime, and this is a new chapter – a new part of our storied history, providing those who served with the world-class care they've earned and deserve."
In April 1864, a group of local women created a temporary home in downtown Milwaukee to service veterans with meals and medical care. The women raised $100,000, which was a staggering amount of money in the 1860s, and obtained a state charter for construction of a permanent facility. The women turned over the funds they raised to the federal government and the Milwaukee Soldiers Home opened in 1867 – one of the original three such facilities in the nation.
In March 1865, a month before his assassination, President Lincoln signed legislation to create a national system of homes for disabled veterans. It included his second inaugural address with the famous appeal to the nation to "care for him who shall have borne the battle."
For more than a decade, the Milwaukee Preservation Alliance has been at work to raise awareness of the Milwaukee Soldiers Home, and advocate that its vacant buildings be returned to their original purpose – the service of veterans.
"We are grateful that these historic buildings will be rehabilitated and reused so veterans can once again call the Soldiers Home their home," said Peter Zanghi, President of Milwaukee Preservation Alliance.
The Milwaukee Independent was given a tour of the progress, which is presented in this photo essay.