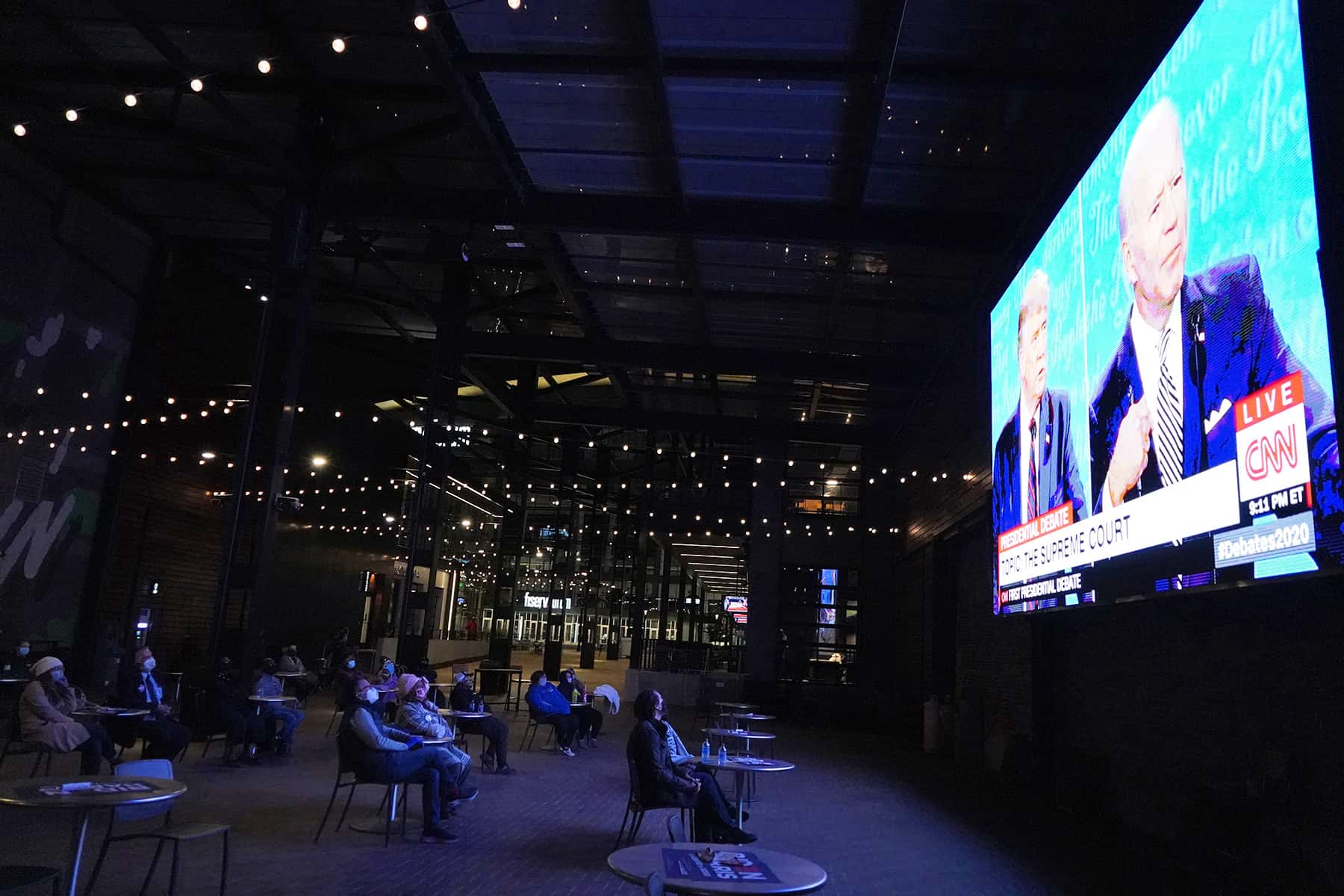 Democrats in Milwaukee held a watch party in the Beer Garden outside of the Fiserv Forum on September 29, for the first presidential debate between Republican incumbent Donald Trump and Democratic challenger Joe Biden.
Roughly two dozen people attended the private event, social distancing and wearing PPE, to watch what CNN's Jake Tapper called "a hot mess inside a dumpster fire inside a train wreck."
Mayor Tom Barrett and Milwaukee County Executive David Crowley spoke to the small crowd before the debate began, emphasizing the impact of the pandemic on the watch party. Trump's failed response to COVID-19 has already left more than 200,000 Americans dead, and his determination to strike down the Affordable Care Act by rigging the Supreme Court has made health care a major issue for the November election.
"Health care is on the ballot. COVID-19 is on the ballot, but it also comes down to Park Avenue versus Scranton, Pennsylvania," Mayor Barrett said. "I think that these debates are sort of a high-wire act where you have more to lose than you have to gain. You have your core supporters and 90% of people have decided, but you don't want to make a mistake."
For the 2016 election Trump won Wisconsin by a slim 23,000 votes, because tens of thousands of expected Democratic voters – primarily people of color – faced numerous Republican-designed barriers to hinder their participation and erode their enthusiasm.
"This is not 2016 and I think a lot of voters, who have lived through the past few years and seen so many injustices, are finally excited to come to the ballot box to defend our democracy," said County Executive Crowley.
The mood of those watching the early minutes of the debate reflected the national bewilderment over Trump's erratic and bombastic behavior, which shattered not only presidential decorum but basic decency – a trait he has never been able to show and for which his supporters cheer.
Trump fulfilled his reputation as a bully and went on the offense with a pugilistic attack on stage, leaving his Democratic opponent fighting to complete a sentence. News organizations fact-checked the rambling statements made by Trump, which was virtually an unbroken stream of lies and disjointed distortions of reality.
Debate moderator Chris Wallace of Fox News was not amused by Trump's behavior, delivering a several direct reproaches to Trump for his constant childish interruptions. But Wallace struggled to stop Trump and at times seemed to lose control of the debate.
The overall impression was that the first twenty minutes of the debate were denounced in real-time as a nearly "unwatchable" and a tedious "charade." For many progressive commentators, it was both a grotesque and depressing political display, especially considering the stark realities and the dire condition of America.
"Tonight, America saw a sad, unhinged, orange-in-the-face embarrassment of a president who showed no temperament to lead this country," said Adam Green, co-founder of the Progressive Change Campaign Committee, in the wake of the debate. "Trump would have done better to take Joe Biden's advice and – shut up, man — rather than show his inadequacy in tackling the coronavirus and economic plight of millions of Americans. It was an embarrassment. Joe Biden made clear that by replacing Donald Trump, we can achieve competence in the White House and address key progressive goals from health care to corporate accountability to tackling systemic racism."
At one point, Trump was asked point-blank if he would denounce armed White Supremacist groups like the Proud Boys, and ask them to "stand down" in order to quell violent confrontations at racial justice rallies in U.S. cities.
Instead of making a clear and straightforward condemnation, the president said such groups should "stand back and stand by." It was a clearly different signal that only fanned the flames of racism, embraced White Supremacy, and supported the deployment of state violence against Americans exercising their rights.
U.S. Representative Alexandria Ocasio-Cortez put the exchange, including the ominous and revealing choice of words by the president, in stark terms.
"Donald Trump is a White Supremacist. People have been warning about this for a long time," said Congresswoman Ocasio-Cortez. "They were ridiculed, called hyperbolic and radical – not because they were wrong, but because others couldn't accept that our country elected a White Supremacist as President. This is fascism at our door."