Empty Seats: The reckless need for something as meaningless as sports during a pandemic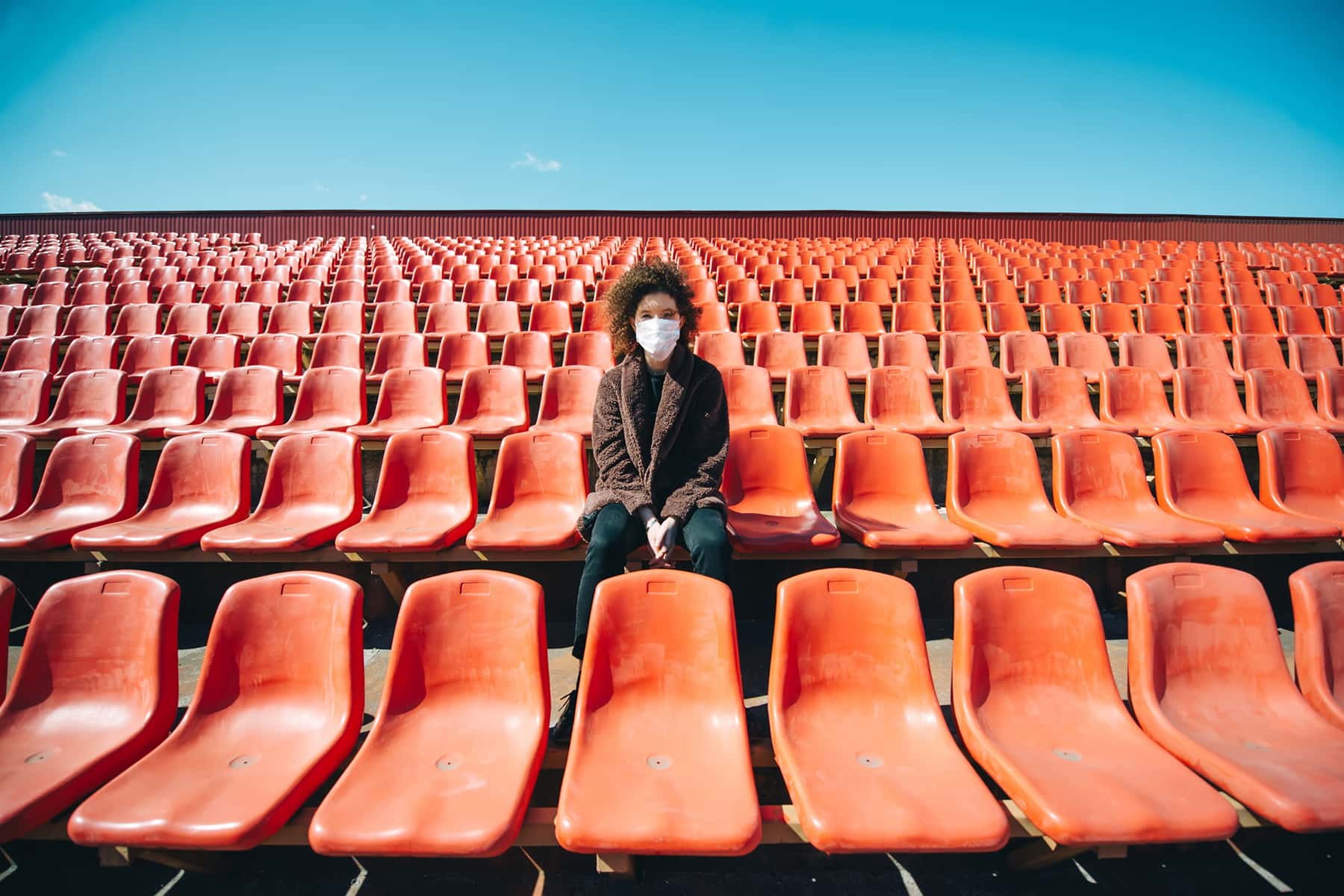 "Only thing we have to fear is fear itself." – Tom Brady, Tampa Bay Buccaneers Quarterback
"I am so deeply sorry our tournament has caused harm. Everything the organizers and I did the past month, we did with a pure heart and sincere intentions. We believed the tournament met all health protocols and the health of our region seemed in good condition to finally unite people for philanthropic reasons. We were wrong and it was too soon. I can't express enough how sorry I am for this and every case of infection." – World's number one men's tennis player Novak Djokovic
On the day the world surpasses 10 million confirmed coronavirus cases and approaches 500,000 deaths word comes out that over 150 college athletes have tested positive after being forced to return to campus for "voluntary" workouts. 16 of the 302 NBA players getting ready to gather in Orlando in what the NBA is calling a "Bubble" have already tested positive for the virus. 40 Major League Baseball players and staff have tested positive for coronavirus. Nearly one-third of all National Football League teams are apparently dealing with at least one positive coronavirus test. At least five Major League Soccer players have also tested positive. Eleven National Hockey League players have also had positive tests in recent weeks.
Despite this, Tom Brady says the only thing we need to fear is fear, while he continues to thumb his nose at the NFL Players Association union recommendation to not hold practices with his new teammates. Union head DeMaurice Smith is not happy with Brady and finally made a statement.
"Those practices are not in the best interest of player safety. They're not in the best interest of protecting our players heading into training camp. I don't think they are in the best interest of us getting through an entire season."
Brady stole the words of President Franklin Delano Roosevelt in his March 4, 1933 Inaugural address to the nation while facing the horrors of the Great Depression. We are in another economic decline which has been caused and exacerbated by the current pandemic. We are not in 1933 any more Mr. Brady.
As the President and Vice President continue to downplay the impact of coronavirus, only two US states are reporting a decline in new coronavirus cases compared to the previous week—Connecticut and Rhode Island. CNN reports that "a staggering rise was reported in 36 states, including Florida, which some experts have cautioned could be the next epicenter." The US has broken another record, reporting 40,173 new infections, on June 26, a record high for the country on any single day.
Their have been spikes in cases in the UK, Brazil, Peru, India, Chile, Mexico, Germany, Sweden, Argentina, Belgium, Indonesia, Kuwait, Poland and many other nations over the past month. The virus is accelerating its journey, infecting more than than 2.5 million Americans according to the Johns Hopkins Coronavirus Resource Center dashboard. The Centers for Disease Control and Prevention (CDC) Director Robert Redfield reported this past week that the number of cases is likely as high as 24 million, tens times higher than official tallies.
In the midst of this worldwide calamity there have been calls to get back to normal. There is no normal as long as this virus is around. For those who believe as one of my neighbors just said the other day "this is a hoax" your day of reckoning will come as well. As I've said before, the virus does not care that we don't care. It will continue to infect and kill until we become smart enough to fight with intelligence and not ignorance.
It does not bode well that once again just like on Memorial Day, the beaches at Bradford Beach were packed again. It does not look good when I see very few people wearing masks on a crowded Saturday afternoon on Brady Street. It makes me feel depressed when I know of someone with the virus who is flaunting his quarantine orders.
I will not waste time arguing with anyone about wearing mask because I know it's a waste of time. The stubbornness of Americans who claim "their rights" outweigh the rights of the rest of us to be safe is symptomatic of the arrogance that those in other countries have consistently expressed about this country. In state after state leaders have demanded and highly recommended that people wear face masks to protect their fellow Americans. In state after state people have basically said "screw you, you can't make me do it." The President has set the example by refusing to wear a mask in public.
His lack of leadership and the connection with Tom Brady's lack of leadership are not surprising to me. "We don't need a backup. We need a Tom Brady." Trump made that statement at a press conference after the Washington Post reported that Washington governor Jay Inslee objected to Trump's assertion that the federal government is prepared to serve as a "backup" to states in need during the COVID-19 crisis. The two have been friends for decades.
"The political support is totally different from the support of a friend … I didn't want to get into all the political (arena)… I wasn't going to do anything political. He always had a way of connecting with people and still does. Then the whole political aspect came. I think I got brought into a lot of those things because it was so polarizing around the election time. It was uncomfortable for me, because you can't undo things. Not that I would undo a friendship. But the political support is totally different than the support of a friend."
It is not my place to dictate who some one can have as a friend. For him to say Trump has a way of connecting people, Brady must not be cognizant of the type of people the President is connecting. My point is that Brady's attitude of holding practices with his teammates and totally ignoring social distancing norms is indicative of what the President also pushes. We have nothing to fear they both say.
"Cases are going up in the U.S. because we are testing far more than any other country, and ever expanding. With smaller testing we would show fewer cases!" – President Trump, 23 June 2020 Tweet
By refusing to acknowledge the truth that the virus is on a rampage, the President is sending a message that all is good. That message was sent by Vice President Pence at the first White House Coronavirus Taskforce public briefing in two months.
"We have made truly remarkable progress in moving our nation forward. We slowed the spread. We flattened the curve. We saved lives."
He went further by encouraging governors to go along with this charade. "I would just encourage you all, as we talk about these things, to make sure and continue to explain to your citizens the magnitude of increase in testing. And that in most of the cases where we are seeing some marginal rise in number, that's more a result of the extraordinary work you're doing" Pence said in a recent call.
We have been lied to for so long that it is difficult to believe that at some point someone will tell the truth. In the middle of all of this dishonesty, Dr. Anthony Fauci stands out. At the same briefing where Pence tried to downplay the risk, Fauci told us "As you can see we are facing a serious problem in certain areas. You have an individual responsibility to yourself, but you have a societal responsibility because if we want to end this outbreak, really end it… we've got to realize that we are part of the process."
In light of all that is going on with his pandemic, slowly but surely sports, both college and professional leagues, are planning to get back to business. I love sports and miss the games as much as anyone. I'm a diehard fan all the Wisconsin teams and have been since I moved here from Mississippi as a youngster. I love basketball and baseball but my favorite is football. I miss watching my Milwaukee Bucks, who at the time the season was paused had the best record in the NBA. I look forward to seeing how the Packers fair after their humiliating loss to the San Francisco 49ers in last season's playoffs. I can't wait to see Christian Yelich at the plate again for the Brewers.
Yet despite this love I have for those games, they are just that, games. And they are playing games with the lives of the players, their families, their fans and all of us really. Social distancing had a huge impact in slowing the spread of coronavirus and impeding this killing machine. Obviously the drastic measures taken inlaces like New York slowed the virus spread significantly. But it did not end it. Dr. Deborah Birx of the White House Coronavirus Taskforce said recently "What's really important is that people don't turn early signs of hope into releasing from the 30 days to stop the spread… If people start going out again and socially interacting, we could see an acute second wave really early."
In other words we are not out of the woods. We are in the midst the first wave, the second wave is months away. This virus will act like a tsunami, it will come in multiple waves—just when you relax too much—the next wave will crash ashore.
Getting back to having sports is somehow supposed to make us feel better. It will give us something to soothe our anxiety. We will be able to relax and root for our favorite player and teams. At the same time the virus will continue its onslaught. It won't disappear because we are sitting at home or in mostly empty stadiums watching athletes risk their lives to entertain us. It will continue to spread among the players and staff of these teams.
"We are terrified for our safety. Terrified to share COVID-19, unknowingly, with an older employee, a pregnant co-worker or anyone else who may have some sort of underlying condition. We all knew it would come to this. It was only a matter of time." – said one employee who works for the Texas Rangers baseball team and requested anonymity out of fear of repercussions by the organization.
On the other side of the world, tennis great Novak Djokovic decided that the coronavirus was not a threat to himself, his fellow players and fans and decided to host a series of exhibition games around Europe. It did not end well. Djovokic questioned in April whether he would take a vaccine if available. "Personally, I am opposed to vaccination, and I wouldn't want to be forced by someone to take a vaccine in order to be able to travel. But if it becomes compulsory, what will happen? I will have to make a decision. I have my own thoughts about the matter, and whether those thoughts will change at some point, I don't know."
In early June Djokovic began the open to the public tennis exhibitions in Serbia. He has since tested positive for coronavirus along with Grigor Dimitrov, Viktor Troicki, Borna Coric and Djokovic's wife. He cancelled the Adria Tour finals in Croatia, flew back to Belgrade, Serbia and received word that his infection was confirmed. To his credit he admitted that he was wrong. He announced on Twitter "Hi everyone – We're back in Belgrade and I've tested positive for COVID-19 as well as Jelena. The kids have tested negative. We will remain in self-isolation for the next 14 days and repeat the test in 5 days…I am so deeply sorry our tournament has caused harm. Everything the organizers and I did the past month, we did with a pure heart and sincere intentions."
Pure hearts and sincere intentions are the messages pro and college teams are sending as well. After all the sincerest love in this country is the love of money. Owners of professional teams have lost millions, colleges will lose millions if they don't play football or basketball.
Our beloved Green Bay Packers in 2019 that 42.6% of total annual revenue came from local and game-day revenue. CBS Sports polled NFL executives and reported "games without fans would cost $70 million in gate receipts per team."Some consider this to be a conservative estimate. This is why the NFL just recently announced they are going ahead with a full slate of games for the upcoming season.
"It's about money, clearly," one Western Conference executive told Bleacher Report. "I'm just curious to see what practices they use if multiple people get it. At what point do they shut it down?"
Major League Baseball on the other hand shortened their season to just 60 games because a big portion of the "boys of summer" has already passed. The NBA will resume its season on July 30 with 22 of its 30 teams. Each team will play eight games to determine the final playoff seeding. No fans will be allowed to attend the games. Playoffs will begin August 17 and the Finals will conclude no later than October 13. That is if there are no major hiccups along the way.
Multiple players have already announced that they will opt out of the remaining games for a variety of reasons. Trevor Ariza, of the Portland Trail Blazers, Davis Bertans, of the Washington Wizards, Avery Bradley, of the Los Angeles Lakers, Willie Cauley-Stein, of the Dallas Mavericks, and free agent DeMarcus Cousins have all announced they will not return this season. Superstar Kevin Durant, recovering from surgery for a torn achilles announced that even if healthy he would not return. He in one of several NBA players to have contracted the coronavirus.
"I was shocked. And then I was curious. I wanted to know what it meant. What is the virus about? I started to get information about it more and more. It calmed me down… I was just more curious to what I was dealing with and how I could fight it myself."
In a first, Morehouse, a historically Black college in Atlanta, announced that it is canceling its entire 2020 football and cross country season because of the coronavirus pandemic. Morehouse President David A. Thomas posted an open letter stating "I know this news will be most disappointing to our scholar-athletes, especially our seniors. I can only ask for your understanding and respect for the fact that the College is prioritizing your health and safety ahead of all else. We are committed to the principle that our athletes are first and foremost students."
Only time will tell if others will follow suit. Knowing the power of big money in the top division of college football and basketball. It is highly unlikely to see other cancellations despite growing numbers of cases. It's not necessarily a fear of these young players getting sick but more so about their family members and coaching staffs who are older and more vulnerable to becoming seriously ill and possibly dying forth virus.
The virus is becoming especially dangerous in the three most populous states in the country, Texas, California and Florida. Arizona has also become a hotspot. Florida, Texas and Arizona have each seen record numbers of infections for weeks in a row and rising hospitalizations. Texas Children's Hospital is now admitting adult patients to free up hospital beds in Houston due the the surge in COVID-19 cases.
Currently five MLB teams reside in California, two in Texas and two are in Florida. The NBA has two Florida teams, three Texas teams and four in California. The NFL has three California teams, two in Texas, and three in Florida. Earlier this month the National Hockey League's Tampa Bay Lighting and MLB's Toronto Blue Jays and Philadelphia Phillies shut down their facilities in light of rising numbers of players and staff testing positive.
Fans are tired of watching people playing video games against one another on ESPN. Watching old games does not have the same appeal as new, live games would for sports enthusiasts but this is the new normal as far too many say. There is nothing normal about this. We have to make sacrifices to get past this pandemic. College and professional sports teams need to make sacrifices as well. I understand the economic hit, but all nearly all MLB, NBA and NFL teams have billionaire owners. They will lose money but they can take the hit much better than the average American.
By Memorial Day over 40 million Americans were officially unemployed , with the real number significantly higher because of the way the Dept. of Labor counts the unemployed. There are multiple measures of unemployment in this country. The Dept. of labor list what's known as the U-3 measure as the official unemployment rate. That rate at the end of May was 13.3 percent down from 14.7 on April 30. A more accurate measure is what they call the U-6. It includes many not counted by the U-3 measure, including "Total unemployed, plus all persons marginally attached to the labor force, plus total employed part time for economic reasons, as a percent of the civilian labor force plus all persons marginally attached to the labor force." That measure was 21.2 percent at the end of May down from 22.8 on April 30.
Youth sports are an important element of the conversation that has mostly been ignored. The CDC has issued guidance on youth sports.
"If organizations are not able to keep in place safety measures during competition (for example, maintaining social distancing by keeping children six feet apart at all times), they may consider dropping down a level and limiting participation to within-team competition only (for example, scrimmages between members of the same team) or team-based practices only. Similarly, if organizations are unable to put in place safety measures during team-based activities, they may choose individual or at-home activities, especially if any members of the team are at high-risk for severe illness."
As we make tough decisions about opening or reopening of sports around the country it would be advisable to learn form the lessons of what happened when we ended stay-at-home orders and the impact that has had on the surge in coronavirus infections. As we read about people who pushed hard to reopen the economy who have now tested positive it is important to see how stubborn some of them still are.
One of the leaders of the ReOpen NC protest movement tested positive for COVID-19 in late April. She wrote on social media "I have been told not to participate in public or private accommodations as requested by the government, and therefore denied my 1st amendment right of freedom of religion." Tim Walters helped organize rallies with the group ReOpen Maryland and has now tested positive. He posted a since removed video saying "I was diagnosed yesterday at the ER with COVID-19 and here I am months after not wearing a mask at rallies, churches and so on and so it's funny how capricious this thing is." Walters has now said he got the virus because he's attempting to build a new church and "I got it because Satan deemed to get it. Because he wanted to quiet my work, to slow down the building of a church. That's what this is about. But the world won't see that. Why? Because they live behind a veil. They choose to hate God."
Whether he truly believes this or not, he is an example of many that have doubted the coronavirus and paid the cost of getting infected. Gerald O. Glenn, 66, the bishop and founder of New Deliverance Evangelistic Church in Chesterfield, Va died of COVID-19 in April after ignoring social distancing mandates saying "I firmly believe that God is larger than this dreaded virus."
It is unfortunate that so many deny the existence of this deadly virus and the impact of this pandemic which is still in its very early stages having been around since only January in the world at large. China had cases as far back as perhaps November. By the end of March, just over 4,000 Americans had been killed and over 42,000 worldwide had succumbed to the virus. By the end of April, COVID-19 had killed over 233,000 people including 63,000 Americans. As the calendar flipped to June over 104,000 Americans and 372,000 people worldwide had been killed by the virus which won't go away.
Sports can and will come back with fans in the stands safely at some point we hope. Sports without fans is pretty boring as many athletes have already said. But it is also much safer for us fans. I want the safety of the athletes, coaches, trainers, medical staff and others related to sports to be considered just as important. During WWII over 500 Major League Baseball players traded in their team uniforms to serve in the war. The games continued but without many of its biggest stars. The 1916 Olympics scheduled to be held in Berlin, Germany were canceled as were the 1940 Olympics due to WWII.
We have lost parts of NBA, NFL and MLB seasons due to labor disputes many times before. The 2011-12 NBA season was shortened to just 66 games due to a lockout instead of the traditional 82 games. The 1982 NFL season was cut to just 9 games due to labor strife. An August 1994 MLB strike led to the cancellation of the remainder of the season including that season's World Series. We survived all of those events and the sports world did not collapse.
Sports has become an important part of our lives but in the midst of a pandemic we need to focus all of our efforts on things more important than sports. The NFL has just 1,696 players, MLB has 750 players on active rosters during the season and the NBA has 450 players during a normal season. Over 73,000 players play college football and just over 1 million play at the high school level. Over 50,000 play college baseball and just about 592,000 play in high school settings. Only 4,511 players play college basketball and over 960,000 play high school basketball.
Sports will be missed by all of these players but we will be okay without them. I doubt that we will see sports diminish in the face of the pandemic because we are so "hardheaded" as I used to hear adults say about children years a go. Sports will more than likely continue to be played during the pandemic. I hope we become more sensible but I'm not holding out hope.
"Failed plans should not be interpreted as a failed vision. Visions do not change, they are only refined. And plans rarely stay the same. They are scrapped or adjusted as needed. Be stubborn about the vision, but flexible with your plan." – John C. Maxwell
"I think there's a lot of his peer group who are scratching their heads. His passion to do something good clouded all the information, all the science. It was a good cause, driven by the right reason, but the end result was pretty disastrous." – Paul Annacone
The
Milwaukee Independent
began reporting on what was then referred to as the mysterious "Wuhan Virus" in January 2020. Other local media did not picked-up on the story until many weeks later. Our early features focused on the economic impact, social issues, and health concerns long before other Milwaukee news organizations even mentioned the coronavirus. Over the following year, we have published hundreds of articles about the pandemic and how it has affected the lives of Milwaukee residents. This extensive body of work can be found on our
COVID-19 Special Report
page, a chronological index of links by month. Our editorial voice remains dedicated to informing the public about this health crisis for as long as it persists.
For medical resources, please visit the
CDC's COVID-19 page
or the
Wisconsin Department of Health Services
. All editorial content published by
Milwaukee Independent
can be found at
mkeind.com/COVID19
. With a mission of transformative journalism, our staff is free from commercial bias and are not influenced by corporate interests, political affiliations, or a public preferences that rewards clicks with revenue. As an influential publication that provides Milwaukee with quality journalism, our award-winning photojournalism and features have helped to achieve a range of positive social impact that enriches our community. Please join our effort by entrusting us with your contribution. Your Support Matters -
Donate Now