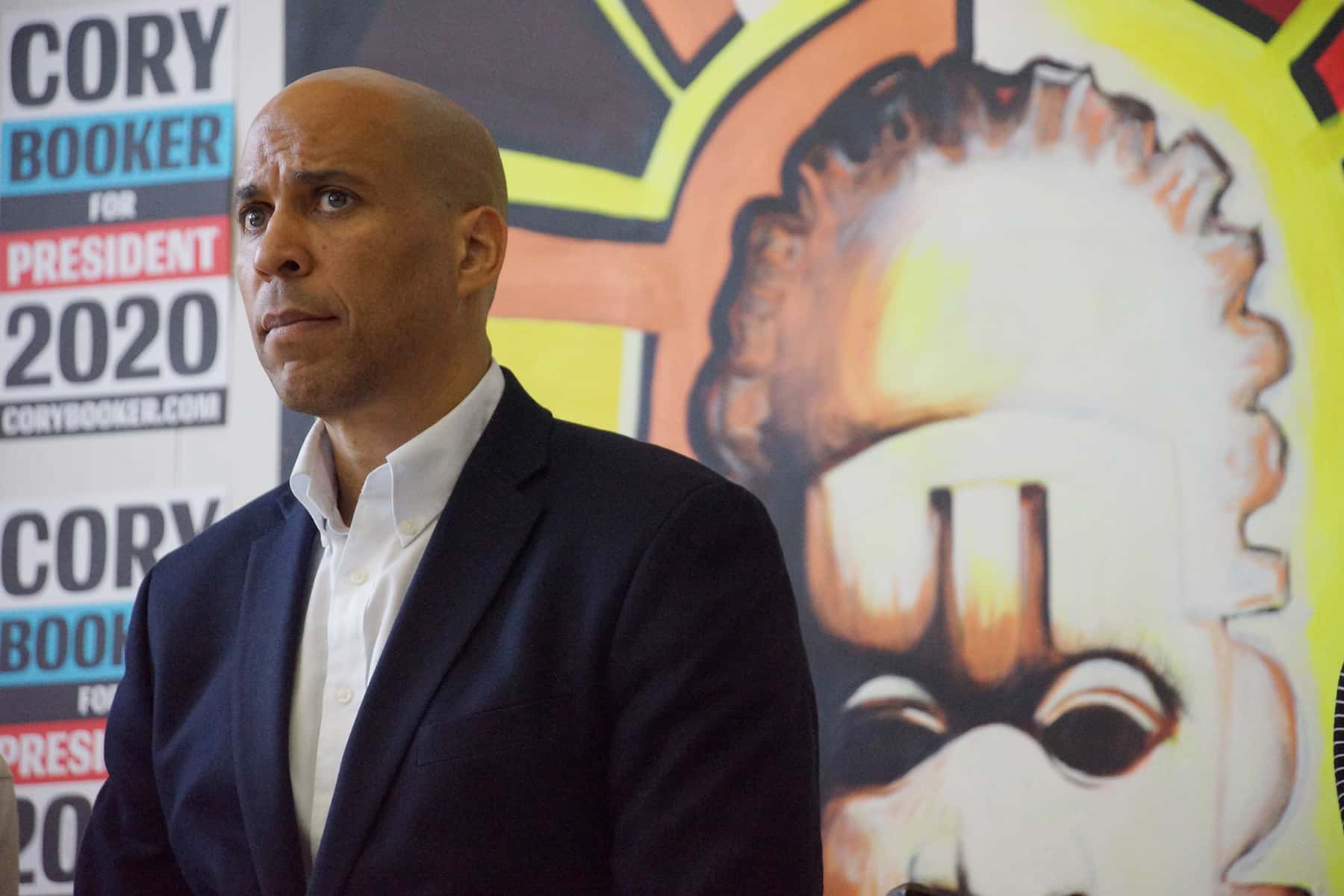 Coffee Makes You Black was standing room only on April 23 as it hosted a "Roundtable on Gun Violence Prevention" with Democratic presidential candidate Cory Booker, to talk about issues surrounding the national health crisis that affects all levels of society.
The 49 year old U.S. Senator from New Jersey selected Milwaukee as his first Wisconsin stop on the national campaign trail. He was both a moderator and contributor on the roundtable, which included Khary Penebaker, Tatiana Washington, Bria Smith, Heather Driscoll, Pardeep Kaleka, and Chantia Lewis. Each member shared their personal experiences from being affected by gun violence.
"This subject is very personal to so many of us," Senator Booker told the audience. "Me, because I'm a black man, and black males are 6 percent of the nation's population. But they make up the majority of homicide victims in this country."
Senator Booker said that gun violence had taken more lives in the last 50 years than all of America's wars, and he connected to problem to other issues like health care, education, and poverty.
"Our nation has gone into trillions of dollars of debt fighting wars and building prisons. We have created mass incarceration as our great, towering testimony for our collective treasure," Senator Booker said.
He highlighted parts of his plan that, as president, would try to remedy many of the contributing influences, like lowering the cost of prescription drugs, fully funding special education, lowering the cost of college, increasing wages, and modifying the definition of "work" to expand eligibility for the earned income tax credit.
"We are going to bring the fight like the NRA has never seen. If they're going to defend corporate gun manufacturers and represent their interests over the safety of people, we are going to bring that fight on every level necessary," the Senator explained. "I'm not going to telegraph all my punches, and you will be surprised at some of the things I will do as president to deal with this lobby. Curbing gun violence cannot just be solved in Congress. I am frustrated with politicians who all the best they can muster is to give 'thoughts and prayers' after each mass shooting."
The overall message from Senator Booker and the roundtable participants for how to address the problem was that the individual members of the public needed to get involved. The 90 minute conversation ended with a lighting round, where each panelist offered one parting thought.
"The easiest thing you can do is not just show up to big events like this, but sit in at state house, and in city hall meetings. Make sure that your voices are heard, because if you don't show up they're going to be doing something else that you don't like." – Khary Penebaker
"Something we didn't address was police brutality, which is also gun violence issue. And we have to work to improve police relations in Milwaukee and nationally." – Tatiana Washington
"We need to have intentional conversations with young people, so we can have social moments that continue to progress forward with each generation." – Bria Smith
"We could use all of your energy to support Moms Demand Action with our fight for commonsense solutions to the gun violence crisis. So please Text JOIN to 64433." – Heather Driscoll
"Staying connected and staying committed is vital. We can be inspired but we need to be purposeful and follow through, and that takes dedication. Having love is important, but showing it and sharing it is how we help each other." – Pardeep Kaleka
"Read the Milwaukee Blueprint for Peace, produced by the Office of Violence Prevention with support from the Common Council. And reach out to a trauma response team if you or someone you know is struggling. Make sure you know how to get ahold of help, and reach out for it." – Chantia Lewis
After then-candidate Hillary Clinton lost Wisconsin in the 2016 election by 23,000 votes after she did not campaigning in state, and because Milwaukee will be hosting the 2020 Democratic National Convention, Wisconsin has become ground zero for many Democratic hopefuls. The list of contenders who have made campaign stops in the state include Senator Bernie Sanders (D-Vermont), Senator Amy Klobuchar (D-Minnesota), former congressman Beto O'Rourke of Texas, and San Antonio Mayor Julián Castro.
"I will be showing up in Wisconsin a lot, trying to earn the support from the voters here. I believe that there is no pathway to the Democratic nomination without going through this great state," said Senator Booker. "Wisconsin is a priority, and after the nomination I will continue to talk to voters, from farmers to people who live in inner-cities, across the state. I'll be campaigning hard here to make sure we win this state in the general election for president."
The Senator felt he was a presidential candidate that could excite and energizes Wisconsin voters, because it was home to the same communities he had been serving in and leading. He talked about how critics had said a campaign powered by grace, love, and a deep faith in each other could not prevail. But he felt that was the only path to win as a candidate and a nation.
In his closing remarks to the north side community, Senator Booker shared a very emotional story and left the audience with a challenge.
When I was running for mayor of the city of Newark, young man hung out in the projects where I was living. I watched them grow up, and when there were problems with their behavior in my building I intervened.

There was this amazing young man, his named Ason Washington. He lived a few floors below me, and he remind me a lot of my dad. The same sense of humor, same natural leadership quality. But then I got busy running for mayor, and I didn't follow through on all the things that I was intending to do with him and those other kids.

But in my mind, I just thought I'll become mayor and then everything will be okay, and I can take care of all kids. So when I cam home at night, those guys were all in my lobby to cheer me on. They talked about how they were going to vote and make me mayor, and while it meant a lot to me I asked how – because they were not 18. But they were the greatest kids in the world.

After I got elected as mayor, I immediately had death threats. So, we had police officers in the project – which was the safest the projects had been in a long time. But the kids are not going to want to hang out with the cops around.

Long story short, the kids weren't there anymore. I lost track of them. One month into my time as mayor, I end up going to a crime scene. There was a shooting and I got there when the body was covered on the ground, waiting to be taken away. I was ministering to the living, talking to the residents about how this was not who we are, this was something we're going to change. I told them we're going to turn the city around, and I shared all the ideas, all the plans that we eventually did to lower violence.

But while I was standing there, I barely paid attention to the humanity on the sidewalk.

I went home that night to steal two hours of sleep, just trying to get whatever I could before I had to get back to being mayor. Back then, I pulled up my BlackBerry and looked at a list of incident from the day. I saw the homicide report, which gave the name of the victim. It was Ason Washington.

God had put this boy right in front of me. He was just like my dad, born to a single mom, born in a segregated community. Just like my dad, he was raised by his grandmother – but this time it was just a few floors below me.

I went to his funeral and everybody was at Perry's Funeral Home, in the lower part of the building. I didn't like going there because it was like descending into the hold of the ship, with these rickety stairs. And there we were, all packed in and chained together in our grief, piled on top of each other. We just moaned over another everyday reality in America, of a boy in the box.

I remember thinking, I'm the mayor of the city. It was 2006, and I was just elected, I was supposed to be the leader. But I was hurting so much, I felt so much shame that I didn't even stay. I ran out of there, jumped into my fancy new mayoral SUV, drove to City Hall, ran to my office and slammed the door. Then for the first time as mayor of New Jersey's largest city, I just wept.

I can member thinking that families were there for my father when he was in trouble. Another family took him into their home when he was in trouble. The church gave him money to go to college when he was in trouble. Folks were always there for him.

But at the funeral, we were gathered there in that room for his death. And I asked myself, where were we for his life?

I'm telling you right now, even while I am running a political campaign for the highest office in this land – I don't care how busy I am. I've learned in my life that the biggest thing you can do on any day is often to be a small act of kindness, of decency, and of love.

We must be leaders of love. We must be agents of love. We must not let despair have the last word. We must awaken the love and the conviction of everybody. These problems are bigger than us, but somehow we have a poverty in this nation – a poverty of compassion, a poverty of empathy, and a poverty of love.

Patriotism is the love of country. You cannot love your country unless you love your fellow countrymen and women.

Love says I will work for you. Love says it will sacrifice for you. Love says it will struggle, because injustice anywhere is a threat to justice everywhere.

Let us all be determined on this day. You may not be able to change the world, but you can make a world of change on this date to someone on some issue. Today is when we began transforming our tomorrow.

– Cory Booker, U.S. Senator and Democratic presidential candidate