On Broken Windows and Spreading Wings: Breathing Life into Butterfly Park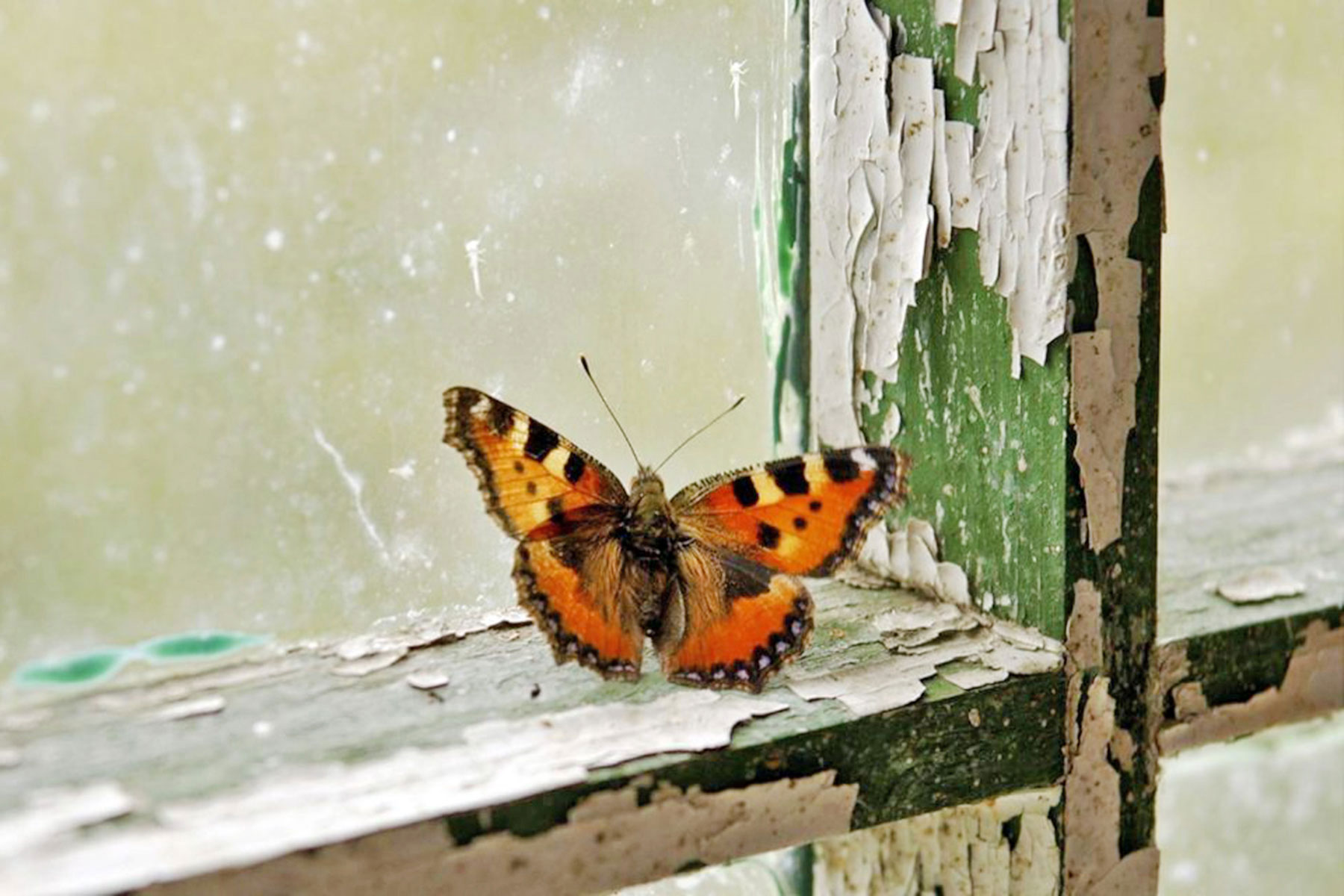 Dominic Inouye's column for the Milwaukee Independent has been exploring the nature of walking as a practice, as an integral part of street photography, and as a worldwide movement of neighborhood explorations called Jane's Walk.
After a cold winter and wet spring, the butterflies are back for a few months. Many people are luring the butterflies to their carefully planned gardens, designed to support them in all stages of their development. They have selected host plants on which the butterflies can sun and lay eggs, munch as caterpillars on bright, nectar-filled flowers, and hang out as chrysalises until they emerge. While it is relatively easy to attract butterflies to these gardens, some city spaces like Butterfly Park, Unity Orchard, and Scholars Park in the adjacent Sherman and Metcalfe Park neighborhoods, are struggling to attract residents and locals, engage them and sustain usership. Community residents are dreaming of how to restore these spaces so that they, like butterfly gardens, support the community in all stages of their development, both young and old.
In my last column, I lamented the same struggles that have plagued downtown's MacArthur Square for decades and cited many ideas about how to activate the space. At least during warm days, I have seen people at Butterfly Park sitting on a bench or a handful of children on the swings, even though since I was last there a month ago, one swing seat had gone missing, its chain wrapped hazardously around the top bar.
While MacArthur Square is hidden behind architectural behemoths, Butterfly Park's potential sits in plain sight at 38th & Meinecke. Yet this park in the center of the city is underutilized and neglected, in a neighborhood where gunshots sometimes seem more ubiquitous than the laughter of children doing what they do best – playing. There is no indication, even, why it is called Butterfly Park.
Butterflies, those ancient symbols of endurance and change, attract our attention with their iridescent wings and fascinating life cycle. If you grew up in the 1990s, you probably devoured Eric Carle's The Very Hungry Caterpillar. I was born a little earlier, in 1972, so for me it was Hope for the Flowers by Trina Paulus which became an international children's book sensation with its simple message of accepting one's true nature and the inevitability of revolution and transformation.
As a former high school English teacher, I recall the narrators of both Erich Maria Remarque's All Quiet on the Western Front and Tim O'Brien's The Things They Carried both observing butterflies alight on the corpses of young men. And inspired by Pavel Friedmann's poem "I Never Saw Another Butterfly," written while he was imprisoned in the Terezin Concentration Camp, The Butterfly Project has collected over 1.5 million handmade butterflies over the past 20 years from people dedicated to "hope as a vehicle for social change."
The Greek word for butterfly, psyche, means "soul" and was also the human lover of the mythical Eros. In Aztec and Irish lore, butterflies were considered the souls of the dead, and Christianity adopted them as obvious symbols of resurrection. The Chinese word for the winged creature, hú dié, translates loosely as "good fortune" and "long life." Aware of the butterfly's symbolic power, Camille Mays – community organizer for the Sherman Park Community Association, an avid gardener, and creator of the Peace Garden Project – wants to put a little love and soul back into Butterfly Park to ensure it has a long life.
The City of Milwaukee created Butterfly Park in 1982. The 1.5-acre park has three small paths, the longest one atop a miniature hill that cuts diagonally across the lawn. Sitting uninvitingly in the middle, an aging playground set (the park was last rehabbed in 1996) and the rickety swing set with a missing swing. Hidden behind the hill in a little alcove, a lofty but curious Muneer Bahauddeen sculpture seems to be missing something (in fact, the original bronze-cast West African stool that sat atop it was stolen some years ago). The park is relatively clean but sits empty much of the time.
38th Street is actually the border between the Metcalfe Park (on the east side of the street) and Sherman Park (on the west) neighborhoods. As the community organizer for the Sherman Park Community Association, Camille Mays cooperates with Danelle Cross of Metcalfe Park Community Bridges neighborhood association. Two resident-led community groups from the two neighborhoods, which share similar concerns about things like quality of life, safety and environment, have also formed: Center Peace (led by Tremerell Robinson and representing Metcalfe) and The Middle Ground (led by Cheri Fuqua and representing Sherman). I recently attended a monthly Middle Ground meeting with local residents, a police officer liaison, City representatives and others to listen to them strategize on a number of community issues.
One such issue: how to care for Butterfly Park and two pocket parks just north on 38th. I went to the Middle Ground meeting after seeing their park concerns on a Jane's Walk in May, organized by UWM architecture professor Arijit Sen, the director of the Buildings-Landscapes-Cultures Summer Field School. Community leaders, including Mays and Fuqua, led a group of students and other walk participants through their neighborhood. The goal of the Jane's Walk, for Sen, was to identify important sites of investment, disinvestment and potential and to discuss ways to keep the neighborhood safe, well-maintained and vibrant.
Along a short, two-block stretch north from Butterfly Park, many homes showed evidence of care and maintenance, but just as many occupied houses showed major disrepair and vacant houses had broken windows or ravaged porches. Dismayed, Mays assured me that there were even worse examples of neglect and vandalism on adjacent blocks. "What is the city going to do," Mays asked, "about these vacant, deteriorated, broken houses? It's that 'broken windows' theory. These houses make people hopeless, so much that they do not even want to take care of their neighborhood."
Just three years before Butterfly Park was created, James Q. Wilson and George L. Kelling first introduced what would become known as the "broken window theory," which argued that the presence of disuse or neglect, disorder or crime, in a neighborhood would lead to increases in the same.
Our walk also stopped at two textbook examples of the broken windows theory: a small site at 2577-2579 N. 38th called Unity Orchard and another at 2506-2522 N. 38th St. called Scholars Park, just across from Milwaukee College Preparatory School. The two sites were created in 2015 by HOME GR/OWN, an initiative of Mayor Tom Barrett and led by the City's Environmental Collaboration Office (ECO) to "transform targeted neighborhoods by concentrating City and partner resources, catalyzing new, healthy food access and greenspace developments."
In 2015, HOME GR/OWN's Partners for Place project created six new pocket parks and fourteen new orchard parks, planting 230 fruit trees. Their award-winning Ezekiel Gillespie Park and Fondy Park are two other examples of the initiative's dedication to improving the quality of life for previously undervalued Milwaukee neighborhoods. Their North Avenue Greenscaping Project is another. Something as simple as hanging baskets along North Avenue, explained Tim McCollow, project manager for HOME GR/OWN, can help change the perception of a neighborhood, both for residents and those traveling through.
"North Avenue is a feeder for people of stature on the west side to get to the lakefront and for people of stature on the east side to get to Mayfair, so if we can make the streets nicer, then that can change perceptions," McCollow said. And we all know of what perceptions McCollow refers to.
The residents around Butterfly Park wanted to change perceptions of their neighborhood, too. With input from local residents, HOME GR/OWN transformed two lots into Unity Orchard, with fruit trees and bushes, paths and benches, a Little Free Library and a billboard-style mural with Dr. King in a swirl of puzzle pieces that spell out "uniting." Above Dr. King, the phrase "The time is always ripe to do right." On the back, the phrase "Plant seeds of wisdom and watch how they grow." They transformed an empty lot into Scholars Park, boasting a rosebushes and other attractive plantings, playful hardscaped spiral, two benches and a Little Free Library painted by local artist Willie Weaver-Bey and local children. The hope was to counteract the negative forces in the neighborhood – gunshots, litter, neglect – by investing in beautiful spaces for the community.
However, when our walking group observed the two sites in May, the orchard was dry, the grass overgrown, the paths barely recognizable. One of the two benches, now chained together, had its back leg almost bent off. I learned that the library had been "blown up." The mural was untouched but showing signs of wear. Scholars Park had fared better, perhaps because of its proximity to the school and its paved spiral, but the adjacent vacant home's windows had been, I learned, shattered, fixed, and shattered again multiple times. On this day, the windows were in their shattered state.
So why had the mural, spiral, and one library remained unvandalized but not the other library, the bench or the home's windows? It is difficult to pinpoint the reasons. Is education so undervalued by our city that kids do not see the need to self-educate? Is it just that there were no books in the library, making it an easy target for mischievous kids? If there is nothing to do in Unity Orchard, of what use is a bench? If there is nothing to tend in the orchard (fruit trees can take between 2-8 years to bear fruit), why tend the other things in the lot? Why sit in a park when you can hear gunshots ringing?
And back to the broken windows theory, if all around you are homes with broken windows, even one next to a beautiful new pocket park, why wouldn't that become your norm? Why wouldn't you contribute even more broken windows if nothing else was in sight?
However, if you were involved in the building and painting of a tribute to Dr. King or a Little Free Library, if you could see your brushstrokes on a puzzle piece or the library roof, your investment would become a lot more personal. You would own part of it with your labor and would be more likely to become its steward.
For McCollow, the stewardship of the pocket parks and orchards needs to be a partnership between the city initiative, public and private investors, and the residents themselves. With over thirty sites throughout the city, the initiative has to put their maintenance and improvements on a rotating schedule. The city continues to do things like cut grass and the initiative can donate flowers in the summer or pumpkins in the fall, but "Phase II" work, including adding amenities or making repairs to things like the broken Unity Orchard bench, requires funding from foundations.
McCollow then wants to "test the waters and see how much a neighborhood invests in what has been created with their input. How well can they gather their own resources and people power?" It is his way of seeing how important certain amenities are: Is the broken bench important? If so, how can the community repair or replace it? Is the Little Free Library important? If so, how can it be replaced and stocked? To "invest" literally means to "put on the clothes." In the future, the number of community members like Mays who are putting on their boots and garden gloves and making things happen in Unity Orchard, Scholars Park, and Butterfly Park will be a testament to what matters. According to McCollow, a successful HOME GR/OWN site "should be magnetic."
In fact, according to Mays, there has been "renewed interest from residents in the past year about transforming Butterfly Park." In the past, she worked with Professor Sen and his students to create design concepts for a park redesign. She also continues to talk to residents, especially young people, about what they would like to see for the park. And she is thinking big: improved playground equipment, a roller skating rink with ramps, a higher hill for sledding in the winter, exercise stations, a huge butterfly sculpture and, of course, a butterfly garden. She plans to apply for a 2020 MKE Plays grant of $250,000. The initiative, jumpstarted by Alderman Michael Murphy, aims to transform neglected or deteriorating playgrounds throughout the city with a community design and construction process.
But she cannot wait until 2020 to start activating the park. At the end of this month, Mays will organize a community festival in Butterfly Park with the goal of activating the space now and exploring the possibilities for the future. In a sense, the festival could be an informal (and active) design charrette, testing out what residents would like to experience there. The July 28 festival will likely mix food and music, with fun exercise opportunities, and butterfly-inspired art on the sidewalks and hanging from the trees. Mays will also lead a walk for the Mayor's Walk 100 Miles in 100 Days initiative. She assures me that the walk will include Butterfly Park, Unity Orchard, and Scholars Park, and will not ignore the neighborhoods challenges, especially the broken windows. The dream for Mays is to have an actual butterfly garden in a park soon, realizing the park's "butterfly" name.
According to McCollow, "In the 2018 budget, $165,000 was given to ECO's HOME GR/OWN initiative for city-wide beautification, focusing on commercial corridors in the more challenged neighborhoods of Milwaukee. ECO is in the process of receiving Milwaukee Common Council approval of its spending plan." He said that "adding a butterfly garden at Butterfly Park is one of the projects under consideration, subject to beautification plan changes as projects go out for bidding."
And on a recent visit to the park, I ran across a City of Milwaukee inspector who was assessing the playground woodchip levels ("very low"). We both noted that the broken swing I had noticed a few weeks ago had indeed been replaced ("I put in the work order about four weeks ago, so it looks like it was fulfilled," he said). This is good news for the park: it is indeed not completely off the City's radar.
Mays is eager to get her hands – and the hands of residents – in the soil whenever the city is ready. Along with her other dreams for Butterfly Park, she is convinced that a butterfly garden will bring hope to her neighborhood, citing the natural antidepressants in soil: "Soil has a chemical in it that increases your serotonin. It's therapeutic, relaxing, soothing, focusing."
As a creative person, she believes she has a gift and wants to help her neighbors realize their gifts, too. "Not everyone knows what they can do. In order to get people interested, you have to give them a reason. If they are involved in the process of creating a garden, then they will know what they can do. And if kids realize their gifts, then they might tell their parents, who might say, 'I'm going to try that.'"
If Mays and her neighbors continue to flap their butterfly wings, the effects for Sherman Park and Metcalfe Park will certainly be beautiful.