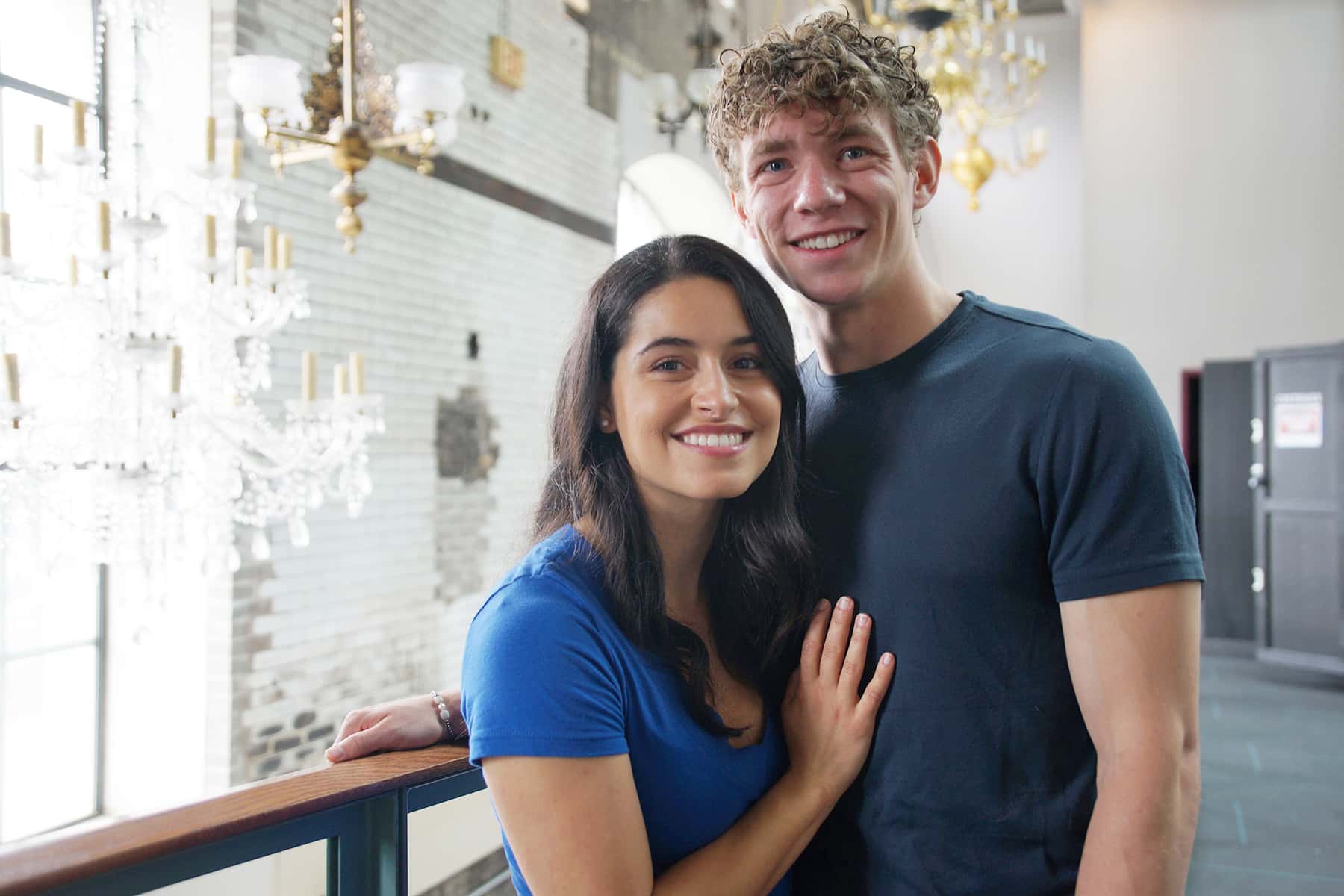 The Milwaukee Repertory Theater offered a sneak preview for its production of the upcoming "West Side Story," with a behind-the-scenes look at a rehearsal session with its cast and choreographer on September 4.
A classic retelling of the greatest love story of all time, the musical masterpiece is filled with legendary songs, explosive and dynamic dance, soaring vocals, an authentic cast, and expert direction by Mark Clements, who is celebrating his 10th Anniversary with the Milwaukee Rep.
"West Side Story" will feature Liesl Collazo as Maria and Jeffrey Kringer as Tony. The iconic American musical from Broadway visionaries Jerome Robbins, Arthur Laurents, Leonard Bernstein, and Stephen Sondheim, will be performed in the Quadracci Powerhouse from September 17 to October 27.
Jon Rua, an original "Hamilton" cast member, is the production's choreographer and an inspirational figure to cast members.
"I just fall into the character and explore how can I physically create the emotional life for how I want them to explore their choices, actions, or whatever." said Rua. "I create the circumstances of the world, but it's pretty easy with this music to get invigorated. The exciting part is how to ground it, yet keep it timeless. This is a period piece, but we are using modern vocabulary so it isn't stuck in a past era. It's been really cool to put my own stamp on this production, but it's also daunting too because anyone who has ever done 'West Side Story' has their own depiction of how it should be."
Nominated for 6 Tony Awards, including Best Musical in 1957, the beloved musical adaptation of Shakespeare's "Romeo and Juliet" broke Rep on-sale records, besting last season's record-holder "In the Heights."
"Jon Rua brings an incredible energy to the rehearsal space," said Kringer. "From day one, he has been able to communicate his vision to us. He wants the show to resonate even more than it has before, especially to Milwaukee's Latino community. That's been a beautiful thing to be a part of. Jon has been able to get Tony and Maria more involved in movements together than they have been in a lot of other productions. It's been a master class every day."
Kringer's father ran the drama program of his high school, but was never forced to join it. Instead, he came to the theatre naturally because of their love for it.
The "West Side Story" musical tells a tale of passion and rival gangs struggling for control of their neighborhood, a story not exclusive to the stage. It is an award-winning adaptation of Shakespeare's classic romantic tragedy, "Romeo and Juliet." The feuding families become two warring New York City gangs, the white Jets led by Riff and the Puerto Rican Sharks, led by Bernardo. Their hatred escalates to a point where neither can coexist with any form of understanding. But when Riff's best friend and former Jet Tony and Bernardo's younger sister Maria meet at a dance, no one can do anything to stop their love. Maria and Tony begin meeting in secret, planning to run away. Then the Sharks and Jets plan a rumble under the highway, whoever wins gains control of the streets. Maria sends Tony to stop it, hoping it can end the violence. It goes terribly wrong, and before the lovers know what is happened, tragedy strikes and does not stop until the climactic and heartbreaking ending.
When Collazo was 6 years old, she saw rehearsals for "West Side Story" at her hometown high school and was captivated by how they created the story. After that, she begged her mother to take her to rehearsals for the next three years. Finally, at age 10, she was allowed to join the stage production.
"This role is really important to me," said Collazo. "I personally migrated from Puerto Rico to the mainland U.S., so I relate to Maria a lot. My grandmother, on my father side, also migrated to New York in the 1950s, before she returned to Puerto Rico. All of my character research has been phone calls to her, and asking her what it was like in that time period in New York. She experience a lot of ethnic tensions, like learning a second language. I grew up bilingual, but she did not. So, this role has been really special for my family."
Based on a conception of Jerome Robbins, book by Arthur Laurents, music by Leonard Bernstein, lyrics by Stephen Sondheim, The Rep's production also includes several public talks and events focusing on the musical's theme and how it corresponds to social conditions today. A discussion with members of the cast and artistic team will follow Friday performances on September 27, October 4, October 18, and October 25. The special event, "Puerto Rican Identity: The Women from the Diaspora," will offer insight into the realities faced by Puerto Rican women living outside their home island on October 17.
"Now 62 plus-years-old, West Side Story is a seminal work of American Theater," said Clements. "So much so that many have some small knowledge of it even if they have never seen it live on stage."
Featuring a soaring score from Bernstein, unforgettable songs include "Maria," "Tonight," "I Feel Pretty," and "America."
The Milwaukee Rep is the largest performing arts organization in Wisconsin in terms of audiences served, and one of the largest professional theaters in the country. Each year, Milwaukee Rep welcomes up to 275,000 people at nearly 700 performances of 15 productions ranging from compelling dramas, powerful classics, new plays, and full-scale musicals.
This video was recorded live during a rehearsal session of "Cool," and the images capture the energy and spirit of the cast members under Rua's choreographic direction.