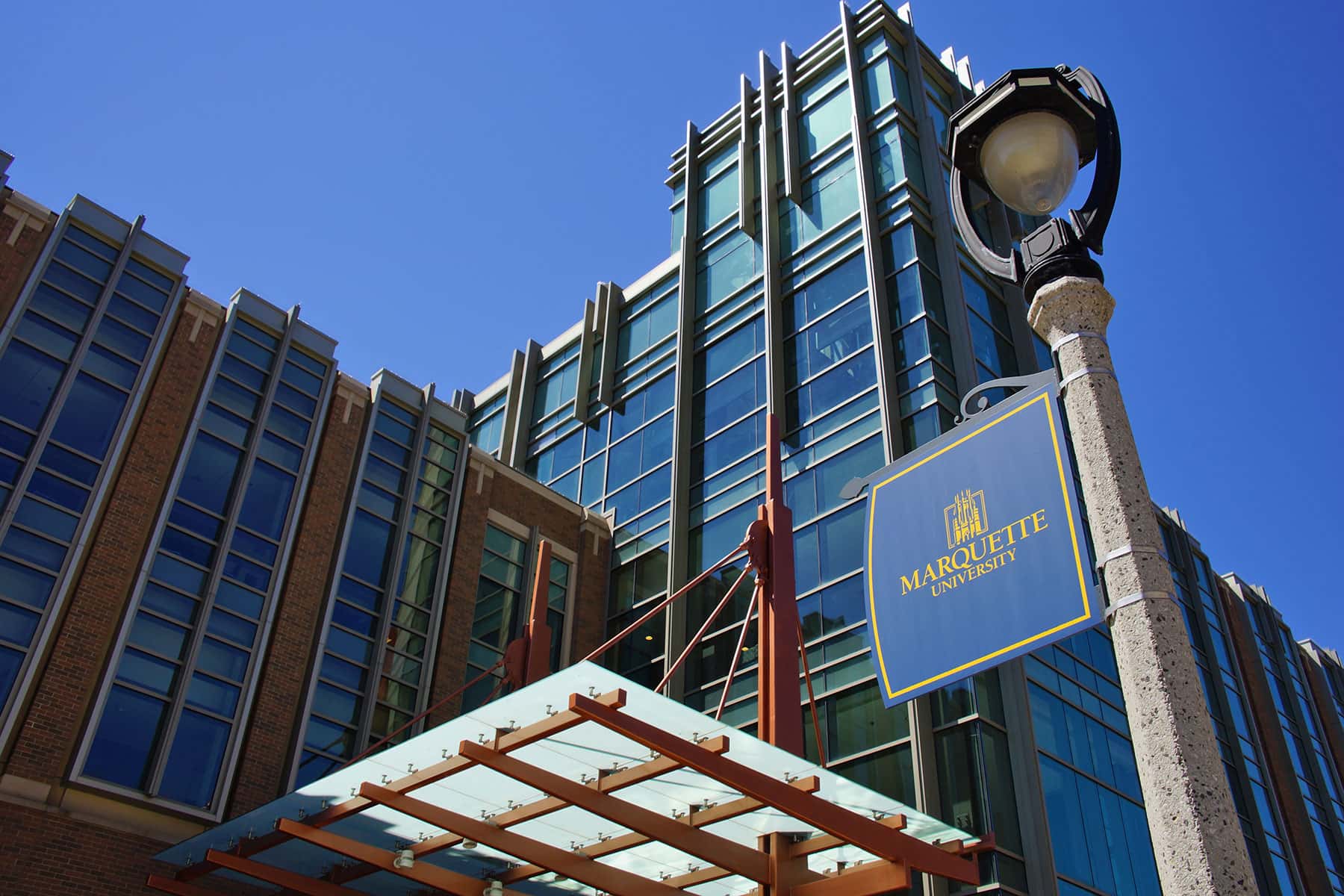 Milwaukee entrepreneur, business executive and philanthropist Michael Cudahy has given $1 million to support five full scholarships, including room-and-board for students attending Marquette University's Opus College of Engineering.
Four students, all of whom are the first in their families to attend college and come from diverse backgrounds, started at Marquette this academic year.
"Mike Cudahy has been a great friend of Marquette University and of mine, and this gift further honors his legacy in Milwaukee," said President Michael R. Lovell. "I know he shares Marquette's deep appreciation for keeping higher education accessible. The lives of scholarship recipients and their families will be forever changed for the good thanks to Mike's continuing generosity."
This is the second major gift Cudahy has given to Marquette. He was the principal donor of Cudahy Hall, built in 1994 and named in honor of his mother, Katharine Reed Cudahy. Cudahy Hall is Marquette's main computing facility.
"I have a deep fondness for the school," Cudahy said. "I have always felt that guys like me should, somehow, pay back society for success. Perhaps, we can help make it happen again with a young potential entrepreneur."
Cudahy also noted that he hoped the surprise gift of an education might help spark success similar to his own for one of the young students receiving scholarship aid. Dr. Kristina Ropella, Marquette's Opus Dean in the College of Engineering, first met Cudahy in her undergraduate days at Marquette while working as an intern for his company, Marquette Electronics, Inc.
"I'm incredibly grateful to Michael Cudahy for this gift that will greatly impact our students and also for first teaching me the true meaning of being a servant leader many years ago," Ropella said. "Gifts like this are such an important part of how we're changing the face of engineering, starting at the most basic level of the students who come through our doors."
Ropella said she always appreciated that Cudahy is "a self-made entrepreneur who trusted his employees to do their work and do it well." She also noted that Cudahy made a major move several decades ago bringing more women into the workforce by starting one of the first corporate day care programs in the nation.
Each scholarship recipient will meet with Cudahy, who specifically sought to assist students who have strong financial needs.
Marquette's growing diversity efforts
This gift reflects the university's continued commitment to provide an accessible education for first-generation students. Marquette has announced many initiatives in the last three years to attract, retain and graduate a diverse and inclusive community of students.
Included are goals to increase the African-American undergraduate student enrollment by 50 percent by 2021 and to increase the school's Hispanic student enrollment by more than 15 percentage points over the next 10 years (leading to a Hispanic-serving institution designation).
Of the current incoming class of students, starting in August 2017, 31 percent are students of color and 23 percent are first-generation students.
In April 2015, Marquette announced that the Majerus Family Foundation gave a gift of $1 million to create the Rick Majerus Endowed Scholarship, honoring the late Marquette alumnus and college basketball coaching legend. The Majerus scholarship provides tuition support to first-generation students in Marquette's Helen Way Klingler College of Arts and Sciences who demonstrate financial need.
"We look forward to continuing our efforts to prioritize life-changing gifts like this one, especially considering the significant need facing so many promising young students," Lovell said.