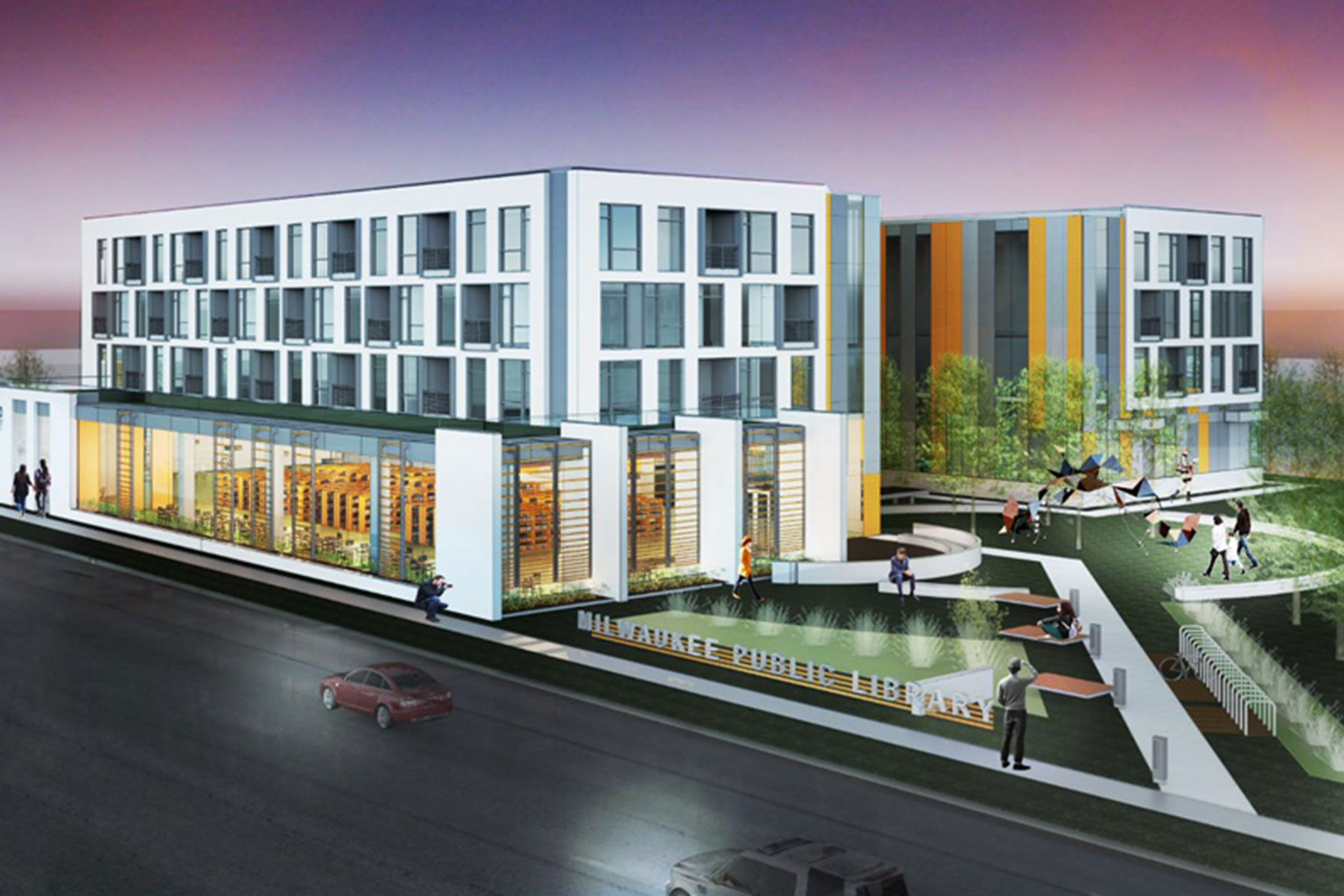 The plan calls for 65 units of mixed-income apartments with a 17,500 square foot library on the ground floor.
Milwaukee Public Library (MPL) received an announcement from the Wisconsin Housing and Economic Development Authority (WHEDA) that the development team of Royal Capital Group and Maures Development Group has been awarded $805,063 in Low Income Housing Tax Credits. The credits will be used to finance apartments to be built above a new library that will replace the aging and inefficient Mill Road branch.
"We are thrilled and grateful for the award from WHEDA for the Good Hope project and look forward to breaking ground on another new state-of-the-art branch for our patrons," said Paula Kiely, Milwaukee Public Library Director. "We have been working to improve the library experience by removing barriers and changing the way people think about libraries and what they offer. Modernizing our spaces allows us to advance our mission to help patrons read, learn and connect."
The new library will be located at 7717 W. Good Hope Road. The apartment building will be designed by Engberg Anderson Architects, and the library by Zimmerman Architects.
"The new library and housing adds vitality and value to the 76th and Good Hope Road area and is a huge step forward for the redevelopment of the 9th District. Also, as a military veteran I am particularly pleased that this project includes 13 housing units set aside for veterans," said Alderwoman Chantia Lewis, whose district includes the new library.
This plan continues the successful replacement of the Villard Avenue and East branch libraries with new mixed-use buildings. The Milwaukee Public Library's Villard Square Branch opened in October 2011. The new East Branch opened in November 2014.
"We're exceptionally excited about this significant investment into a growing part of our community," said Kevin Newell of Royal Capital Group. "We're hopeful that this partnership will be catalytic for other investment opportunities in the 9th District under the dedicated leadership of Alderwoman Lewis."
Mayor Tom Barrett, the Milwaukee Common Council and the Library Board of Trustees have identified $18 million for library redevelopment projects by 2020. MPL anticipates spending $4.5 million on each of the four libraries slated for redevelopment – Forest Home, Mill Road, Capitol and Martin Luther King.
In all, five branch libraries will be renovated or replaced. The Tippecanoe Library was fully renovated in 2015 but remained in the same building. By 2020, MPL will have replaced or updated the entire branch system with 21st century, technology-rich facilities many of which will be part of a multi-use facility.
"Our plan for a mixed-used development with a modern library as the centerpiece to replace the Mill Road branch demonstrates my commitment to a first-rate library system that offers educational resources, new job opportunities and innovative technology to Milwaukee residents," said Mayor Tom Barrett.